2019 Porsche Macan: Tears of Joy, Tears of Sadness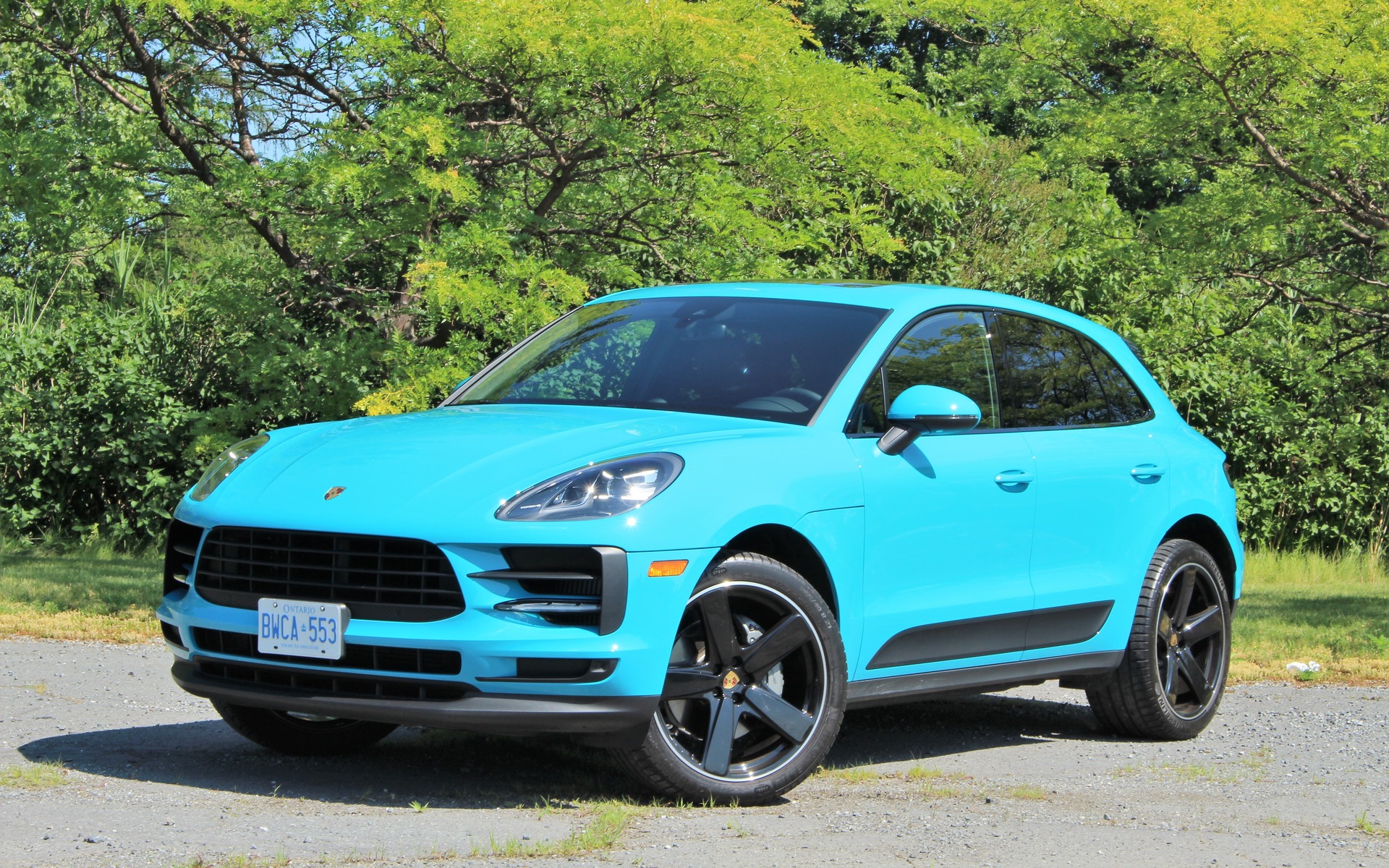 Strong points

Muscular engine
Good cargo and towing capacities
Excellent handling characteristics

Weak points

Crazy price with options
Low on rear-seat room
Fuel economy could be better
Full report
Porsche's future will be electrified, and the new 2020 Taycan is already proving that the company's strategy is to accept no compromises regarding performance and handling. It has been announced that the next-generation Macan will get an electric powertrain, but for now, we get a revised current-generation model that's the brand's best-selling vehicle in Canada and in the United States.
The exterior changes are subtle and only a keen Porsche enthusiast will likely distinguish a 2019 model on the road. Unless of course that Macan wears one of the new paint colours, including the striking Miami Blue we see in these pictures, or Mamba Green Metallic. The taillights now stretch across the tailgate and the headlight clusters are now fully illuminated by LED technology.
There aren't many novelties inside the 2019 Porsche Macan either, at least ones we can easily see at first glance. However, the infotainment screen is now 10.9 inches in size and has a very glossy surface. The on-screen menu layout is the same as what's found in the brand's newer models such as the Panamera, the Cayenne and the 911. Apple CarPlay integration is available at extra charge, but Android Auto isn't offered at all.
The slanted centre console is unchanged, which means the radio volume button is still located on the dash instead of hidden behind the shift lever. The temperature and fan speed rocker switches are still as stiff, but nonetheless easy to use while driving.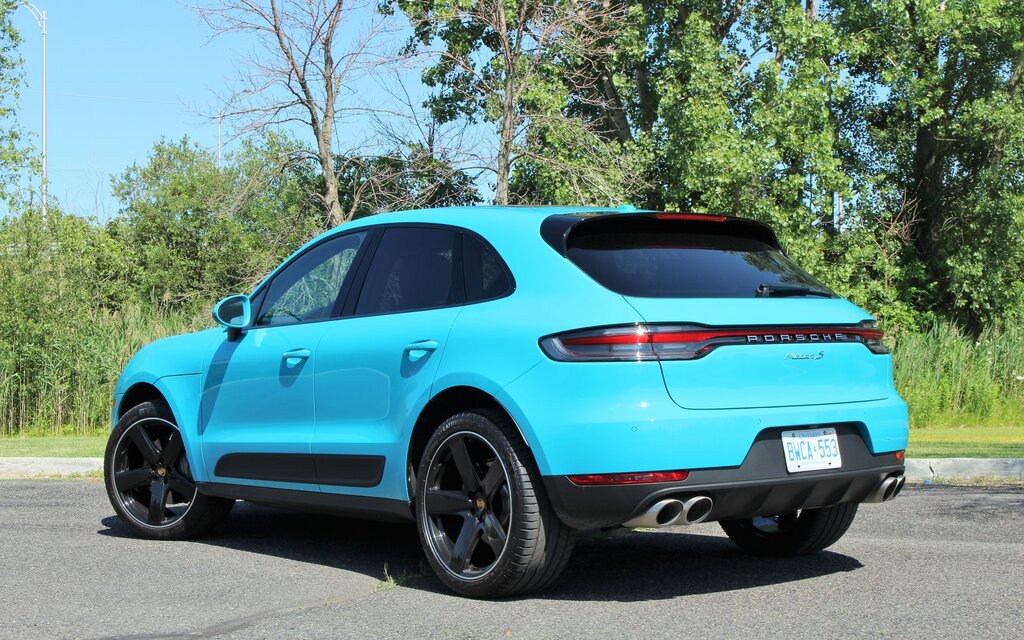 The Macan may be a compact SUV, but its cockpit feels like we're sitting in a subcompact. It's especially tight for back-seat passengers who don't get much legroom. At least those folks get to set their own temperature back there, and heated outboard seats are available as well. As for cargo space, it's rated at 500 litres with the rear seatbacks up, or 1,500 litres with the seats folded flat. That's about average for the segment.
The base 2019 Porsche Macan is still equipped with a turbocharged, 2.0-litre four-cylinder engine and a seven-speed PDK automatic gearbox. Output is rated at 248 horsepower and 273 pound-feet of torque.
Great, but if we want more muscle in this Porsche, the S trim level upgrades us to a turbocharged 3.0-litre V6 that punches out 348 horses as well as 352 lb.-ft. from 1,360 to 4,800 rpm. This is the one we tested, and it's pretty fast. In fact, Porsche claims it can blast from 0 to 100 km/h in 5.1 seconds if we stuff the Sport Chrono package in it. The Macan Turbo has also been revised, which now sports a twin-turbo, 2.9-litre V6 good for 434 hp and 0-100 km/h sprint of 4.3 seconds.
Is the Macan S enough? Absolutely. The little SUV pulls away with a vicious bark, its all-wheel drivetrain clinging to the pavement as it scrambles for grip. We averaged 11.5 L/100 km during our test, which could be a little better. By the way, we've never seen a Macan pull a trailer, but it's good to know it has a maximum capacity of 4,400 pounds (2,000 kilograms)—that's a lot.
As far as performance compact utilities go, this variant of the Macan goes head-to-head with the 385-hp Mercedes-AMG GLC 43 4MATIC in SUV and Coupé body styles, the 348-horsepower Audi SQ5 (same engine as the Porsche) as well as the 355-hp BMW X3 M40i and X4 M40i. They're all in the mid-$60K price range. The 375-hp Jaguar F-PACE S is also a contender, although a little pricier at $70K.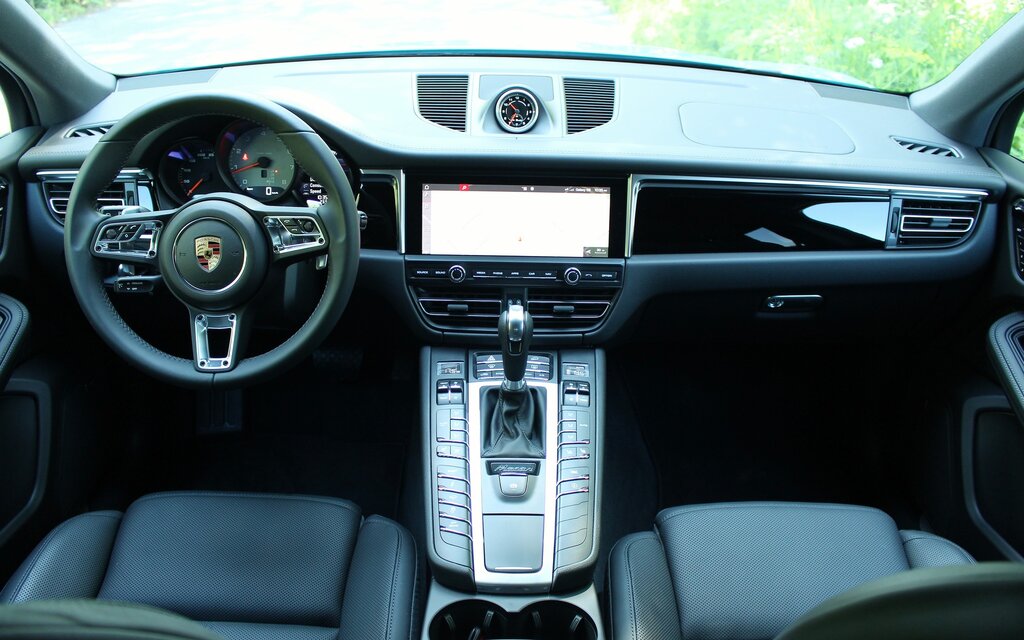 All these hot-blooded SUVs offer blistering performance and handling, but none seems to have this pinned down as smartly as the Macan. This thing behaves like a sports car with extra ground clearance. Oh, there's an off-road setting in the 2019 Porsche Macan too, but seriously, who's actually going to hit the trails in this, especially with its low-profile, 21-inch tires?
Pricing starts at $56,100 before freight and delivery charges, while the Macan S is listed from $63,600 and the Turbo, $94,200. A revised Macan GTS should soon hit the market at about $80K. The S trim provides the most smiles per dollar, and our test vehicle included a slew of options, including an air suspension with Porsche Active Suspension Management (we recommend it), black-painted Sport Classic wheels, a panoramic sunroof, ventilated front seats, a heated steering wheel and a Bose surround sound system, among other things. Total: $86,420. In pure Porsche fashion, things can get really expensive, really quickly.
The Macan is on the small side and if we're planning to haul the family around to school and soccer practice, it would be wider to look at a Porsche Cayenne. It's also easy to get carried away with options and end up with a monthly payment we can't quite swing. However, the Macan is fast and is arguably the best-handling compact luxury SUV on the market. With this level of performance, we're in no rush to see what the fully electric version will be like, but we're pretty sure it will be just as brilliant.
Share on Facebook