2020
Range Rover Evoque

: Take Two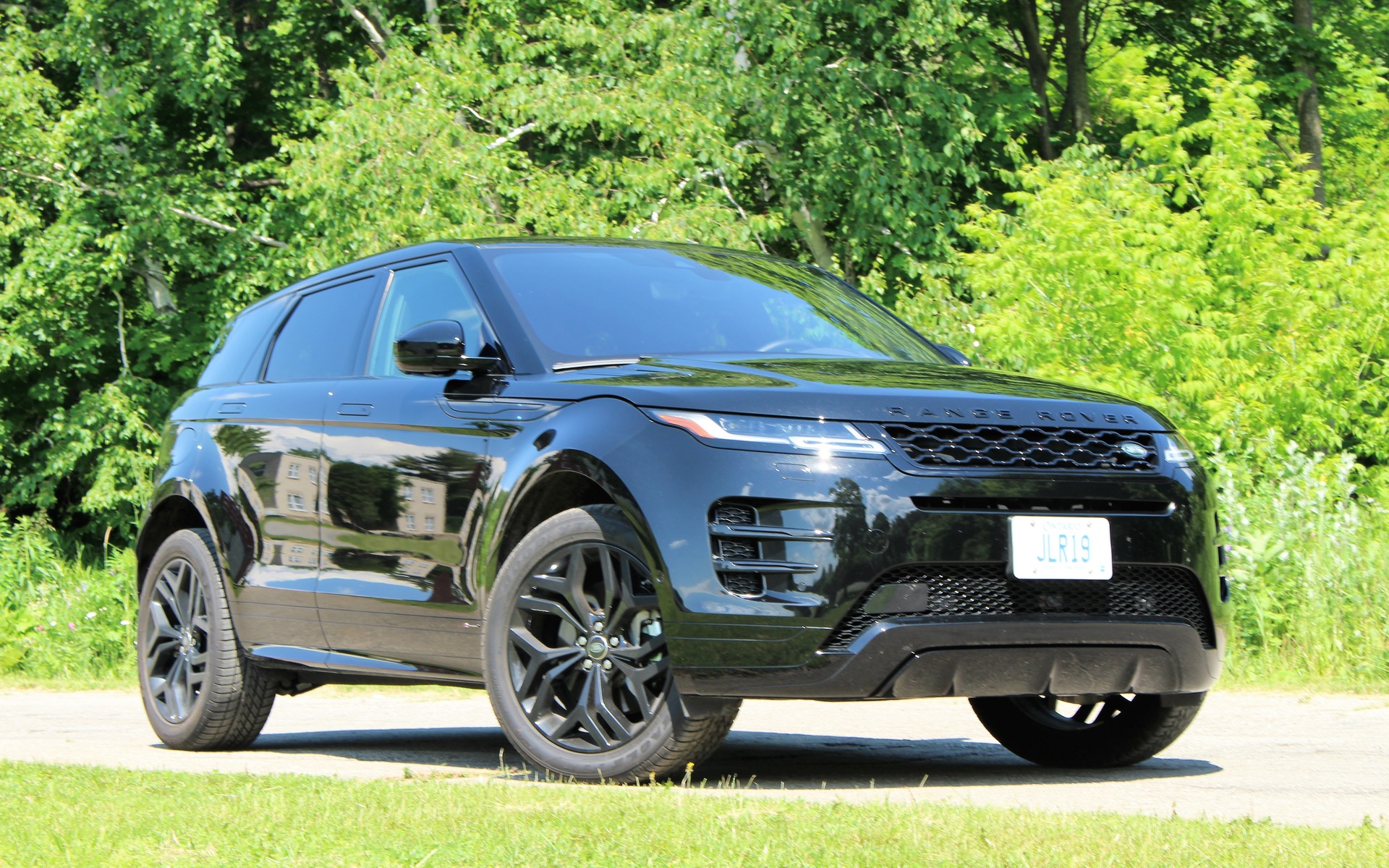 Strong points

Looks good
Great off-road capabilities
Technologically up to date

Weak points

Distracting climate control interface
No fuel economy gain from hybrid system
Needs more rear-seat legroom
Full report
The Evoque shocked the small luxury SUV world when it arrived on the scene back in 2011. Not only was it a breath of fresh air in Land Rover's lineup, but also a sign of things to come from its upper-crust Range Rover sub-brand.
Once the purveyor of fuel-guzzling, but incredibly capable utility vehicles, Land Rover modernised its operations with newfound technologies, lighter materials and smaller-displacement engines. The company is now entering the electrification phase with the introduction of hybrid and plug-in hybrid powertrains.
The Evoque, which arguably triggered this turnaround, has just been redesigned as the second-generation debuts for the 2020 model year, competing once again with the Mercedes-Benz GLC, the Audi Q5, the BMW X3, the Lexus NX, the Infiniti QX50, the Volvo XC60 and the Acura RDX, among others. It still boasts the small, yet stubby shape of its predecessor, but its face is no longer unique, its look now being shared with the Range Rover Velar and, to a certain degree, the Land Rover Discovery and Discovery Sport. As before, the vehicle boasts a sloping roofline and a very short overhang, giving the Evoque a flat butt. On the other hand, the muscular front fenders give it an athletic stance.
Like the first-gen Evoque, the second one is equipped with a turbocharged, 2.0-litre four-cylinder engine and a nine-speed automatic transmission. The P250 mill develops 246 horsepower and 269 pound-feet of torque, while the P300—the one we tested—produces 296 hp and 295 lb.-ft. A 48-volt mild hybrid system has been added to the P300 for 2020, which steps in at speeds of under 17 km/h, replacing the gasoline engine that takes a break. The system works imperceptibly, and if we weren't told it was a hybrid, we wouldn't have noticed.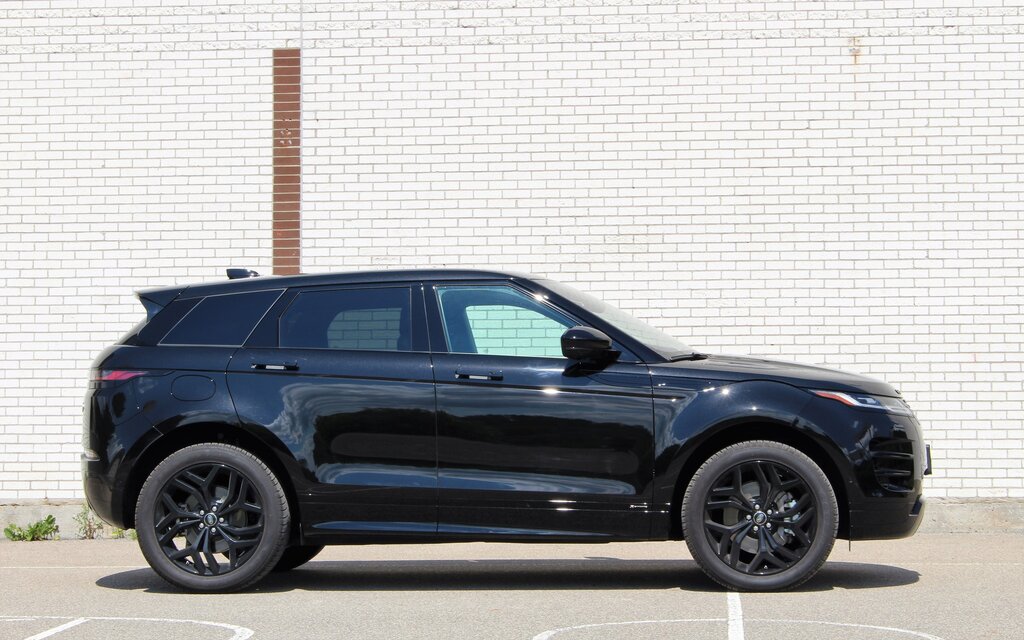 Our observed average of 9.4 L/100 km also didn't reveal its gas-electric assistance, either. We don't know the official city/highway fuel economy numbers in Canada yet, but over in the U.S., the EPA rated the new Evoque at a combined average of 10.2 L/100 km. Ironically, last year's Evoque had a combined figure of 9.6 L/100 km according to Natural Resources Canada.
The 296-hp Evoque can sprint from 0 to 100 km/h in a claimed 6.6 seconds, while top speed is pegged at 242 km/h. So, despite its small-displacement engine, this Range Rover is fairly quick on its feet. On the other hand, there's no high-performance variant of the Evoque yet, while the Range Rover Velar, the Range Rover Sport and the Range Rover are all available with a supercharged 5.0-litre V8 with upwards of 543 horsepower. Too bad.
The Evoque R-Dynamic's cockpit is very modern, with a fully digital 12.3-inch driver instrument panel and a tactile climate control interface. The latter is certainly slick, but most functions require at least two steps and can be quite distracting while driving. Just above, there's a 10-inch infotainment screen that handles audio and navigation functions. Too bad the glossy, convex screen washes out in direct sunlight. Apple CarPlay and Android Auto integration is standard, and we can also communicate with the vehicle through a smartphone or smartwatch app, allowing us to remotely lock or unlock the vehicle, start the engine and check the fuel level.
In addition, the Meridian surround sound systems available in Jaguar and Land Rover products produce excellent sound quality and are amongst the best in the business. Our tester boasted a 15-speaker, 825-watt unit that's a $600 option above the price of the R-Dynamic HSE's 10-speaker Meridian stereo. It's worth it.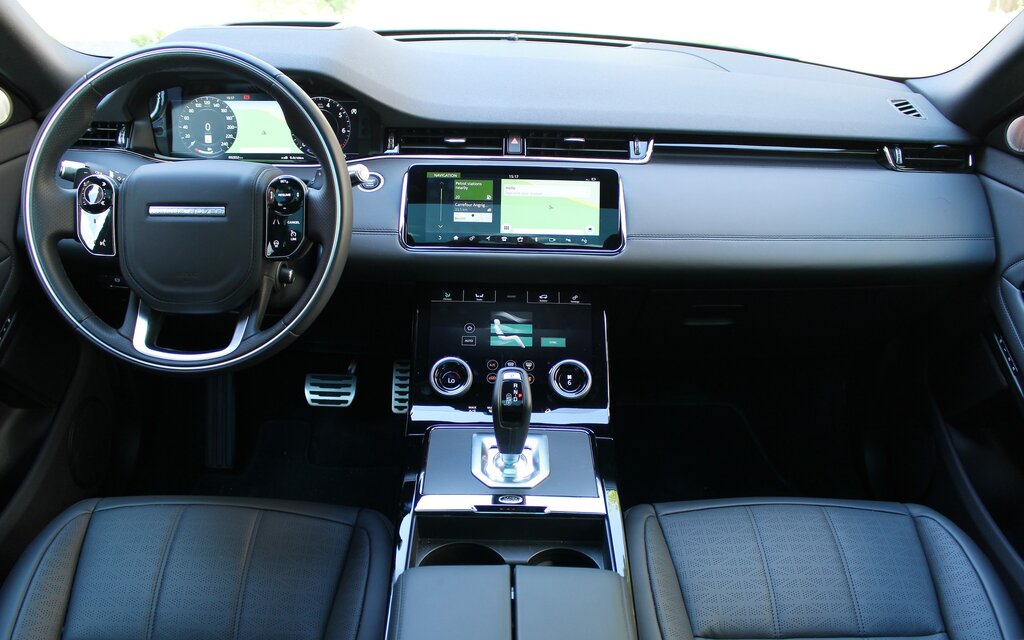 A rear-facing camera's video feed can be projected onto the interior rearview mirror if, for example, we're hauling objects that would obstruct the rear window. A good feature, but said camera is mounted on the roof antenna and its point of view takes some getting used to. There's also front-facing cameras that can project what's happening under the Evoque, as if the front end was transparent. A handy addition during off-road adventures, but more or less practical in the Costco parking lot.
The 2020 Range Rover Evoque is a compact-sized vehicle, so we must obviously expect sufficient space up front and a back seat better suited for two adults instead of three. Rear-seat legroom is particularly precious, trailing all its rivals in that regard. The small side windows cut down on outward visibility and make the cabin feel even smaller. The Evoque is also short on cargo space, with a maximum volume of 1,383 litres when the rear seatbacks are folded down. With all seats occupied, volume is rated at 591 litres—only the Mercedes-Benz GLC and the Lexus NX have a smaller trunk.
The new Evoque starts at $47,950 before freight and delivery charges, which includes the P250 engine and features such as heated front seats and steering wheel, leather upholstery and aluminum trim. Our R-Dynamic HSE test vehicle carried a MSRP of $62,500 and more than $9,000 of options—including a panoramic roof, head-up display, 16-way power front seats with massaging and a 360-degree camera system. A $72K Evoque is quite expensive. The good news is that options are generally split up individually, so we can cherry pick which features we want and end up with a $60K vehicle—a more sensible price.
The 2020 Range Rover Evoque isn't making a splash like the first-generation did, which is normal since the second gen is an evolution instead of a clean-sheet design. It isn't a cookie-cutter SUV and its off-road abilities are undeniable. On the other hand, it could be roomier, and the new hybrid powertrain didn't impress us, either. There's a lot to like about the Evoque, but this market segment is chock full of models that are more fun to drive, more practical and in some cases, more affordable.
Share on Facebook