2019 MINI Clubman ALL4: A Different Kind of Car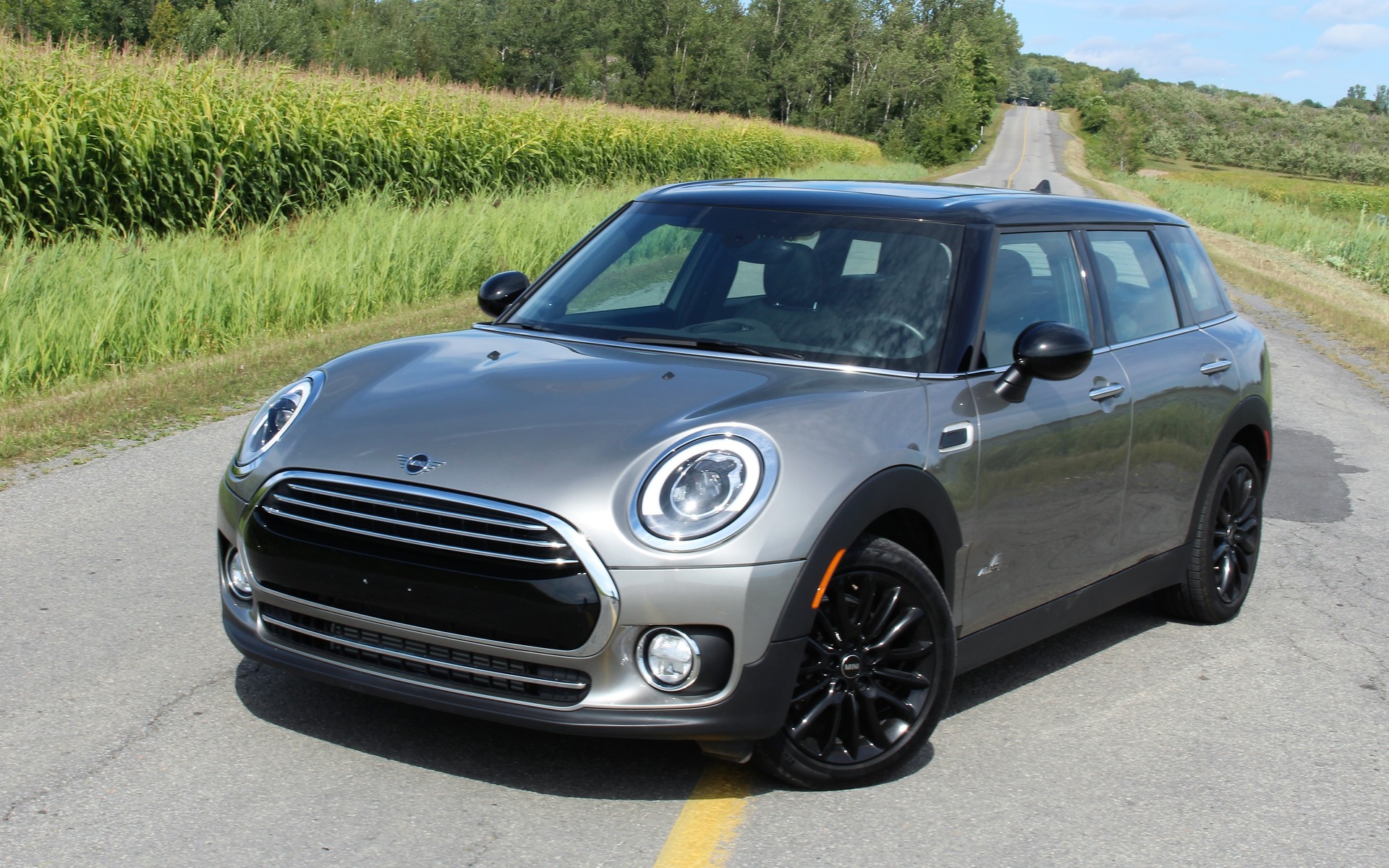 Strong points

Unique design
Fun to drive
Good versatility

Weak points

Requires super unleaded
Limited rear outward visibility
No advanced driving aids
Full report
Looking for something unique in the small-car segment? Tired of the cookie-cutter sedans and hatchbacks that are just too bland to fit your groovy style? Then check out the MINI Clubman.
Sure, it will cost more a month than a Hyundai Elantra GT, a Mazda3 Sport or a Volkswagen Golf, but it's attractive without being too cute, it's fuel efficient and it can be loaded with lots of comfort and convenience features. There are a few compromises, though.
First of all, the base Cooper Clubman is equipped with all-wheel drive and a turbocharged, 1.5-litre three-cylinder engine. The latter develops 134 horsepower as well as 162 pound-feet of torque from 1,250 to 4,300 rpm, so despite its displacement and piston count, it's got the guts to move the Clubman along and doesn't sound terrible all the while. With the optional eight-speed automatic transmission—a six-speed manual is standard—the Cooper ALL4 can zip from 0 to 100 km/h in 9.6 seconds. As modern-day cars go, that's admittedly not very fast, but the generous low-end torque makes us feel like it's quicker than that.
We can also move up to the Cooper S Clubman and its 2.0-litre turbo engine, which develops 189 horsepower, but the price goes up consequently, and so does fuel consumption. Speaking of which, the Cooper Clubman and its three-pot soul sips a combined city/highway average of 9.0 L/100 km. We did better that during our test, with an observed 8.3 L/100 km. The compromise here is that super unleaded is required.
With its all-wheel drivetrain, the 2019 MINI Cooper Clubman is no featherweight at 3,403 pounds (1,544 kilograms), but it's fun to drive nonetheless with dynamic steering and suspension calibrations. There's also a Sport mode to liven up the powertrain's reactivity to throttle input. However, it obviously lacks the sheer agility and playfulness of the brand's smaller cars.
The car's design is unmistakably MINI, but the bigger dimensions allow for a more comfortable rear-seat area than in the MINI 3 Door and 5 Door models. And to give it even more uniqueness, the Clubman's cargo area is accessed through dual doors. A cool feature for sure, but the sacrifice is a centre pillar that drastically reduces outward visibility, and the remaining window surface is blocked by the rear-seat headrests. On a brighter note, luggage space is rated at a decent 360 litres, or up to 1,250 litres with the seatbacks folded down.
The cockpit is just as particular as the exterior, with round shapes found across the dashboard, a minimalistic driver instrument pod and toggle switches located on the centre stack and headliner. The climate controls couldn't be simpler, and the infotainment system is a modified version of BMW's iDrive, which means an easy-to-use interface. Apple CarPlay is optional, but Android Auto isn't available.
The Cooper Clubman starts at $28,690 before freight and delivery charges, and comes lightly equipped, but can be upgraded with one of several trim lines such as Classic ($1,300), Premier ($3,100) and Premier+ ($5,850). Our test car was equipped with the latter, which adds an intelligent key system, a panoramic sunroof, power-adjustable and heated front seats as well as LED headlights and fog lamps. The $1,600 Wired Navigation Package bundles ConnectedDrive Services, wireless charging, Apple CarPlay, navigation and an 8.8-inch touchscreen. The $750 Harman/Kardon sound system with SiriusXM satellite radio is also worth the expense. The tab for the car in these pictures is $41,430.
That's a lot of money, and it's worth noting that MINI vehicles don't yet offer any advanced driving aids such as adaptive cruise control, forward collision warning, lane departure warning, lane keep assist and blind spot monitoring, for example. Past the $35K mark, we could also choose a stripped-down, 228-hp MINI John Cooper Works Clubman, a 288-hp Volkswagen Golf R or a 221-hp Mercedes-Benz A-Class.
MINIs do include four years of free scheduled maintenance, which is good news. If we're more inclined to lease the car instead of buying it, we'll likely won't put much money on it, aside from the monthly payments and gasoline. As for the brand's lacklustre reputation for reliability, things have improved significantly over the past couple of years. Still, we can't expect MINIs to be as trouble-free as a Toyota or a Lexus, at least for now.
The 2019 MINI Clubman is an interesting choice for those who can't imagine themselves behind the wheel of a Honda Civic or a Toyota Corolla, but have the extra coin for a premium car. It's also spacious enough for the family and quite practical, too. It all depends on the sacrifices we're willing to make to be different.
Share on Facebook