2019 Volkswagen Jetta: For the Drive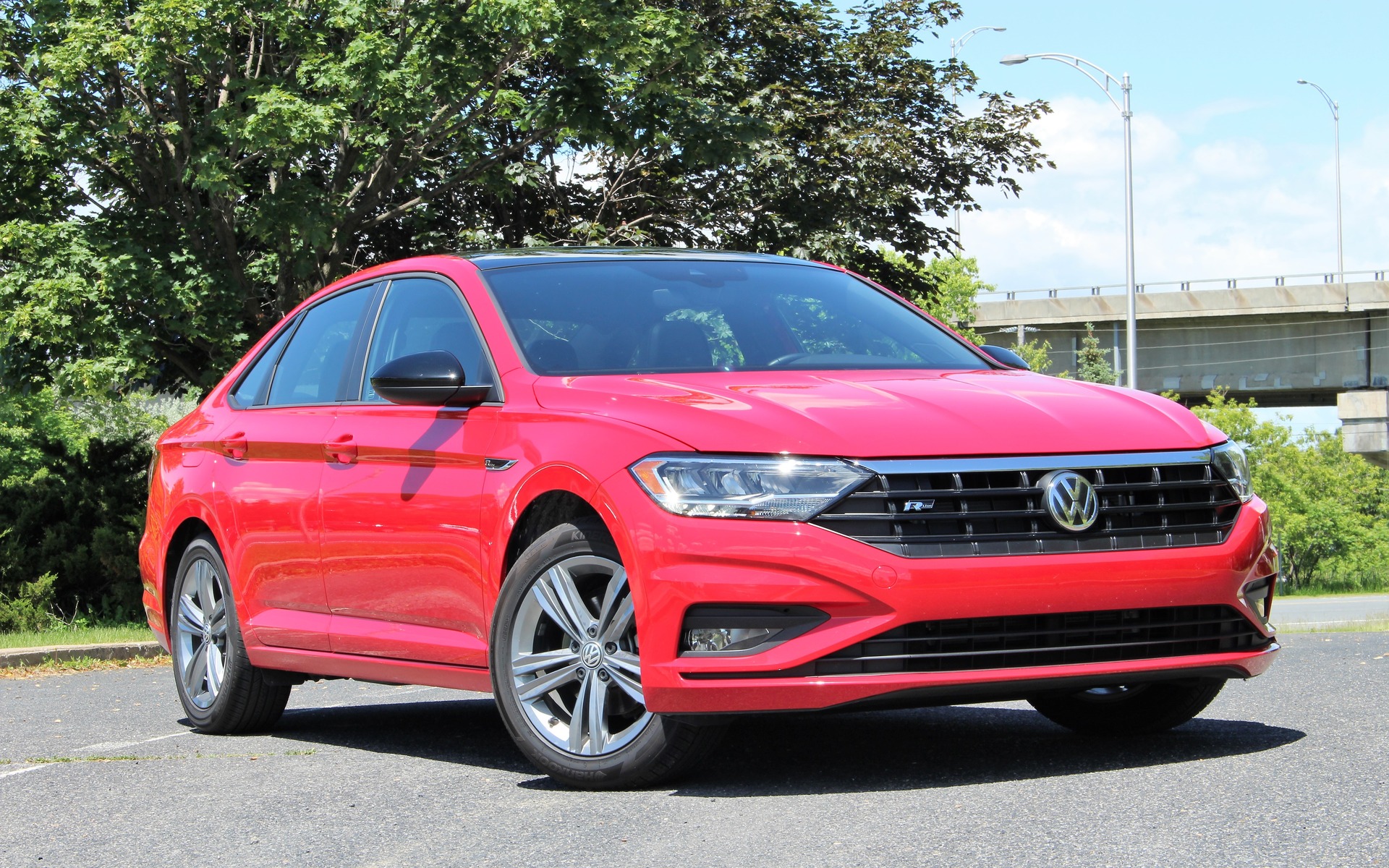 Strong points

Torque-rich engine
Excellent fuel economy
Spacious interior

Weak points

$28K for a heated steering wheel
Less trunk space than before
Some low-rent interior plastics
Full report
For car shoppers on a budget who want some driving excitement, the choices are getting more and more limited as time goes by. Good thing there are still a couple of manufacturers that cater to their needs.
While the Volkswagen Golf is a prime example of what a fun-to-drive car is, the Mazda3 is also one of the most engaging cars in the compact segment. Not far behind, there's the 2019 Volkswagen Jetta.
Rebooted for the 2019 model year, the Jetta's design may not please everyone. Personally, we don't mind the massive front grille and the generally conservative shape, although our test car did benefit from the optional R-Line package. The latter adds 17-inch alloy wheels, black mirror caps, fog lamps and specific bumpers, giving the car an edgier look that could be mistaken for the performance-infused Volkswagen Jetta GLI.
All Jettas except the GLI are equipped with a turbocharged, 1.4-litre four-cylinder engine that develops 147 horsepower. A modest output for sure, and nothing to set our hearts on fire, but it's the torque peak of 184 pound-feet from 1,500 to 3,500 rpm that saves the day. The Jetta takes off with authority and dipping into that torque on the road is both easy and fun. Many other manufacturers now produce good turbo engines, but Volkswagen has mastered the technique a long time ago.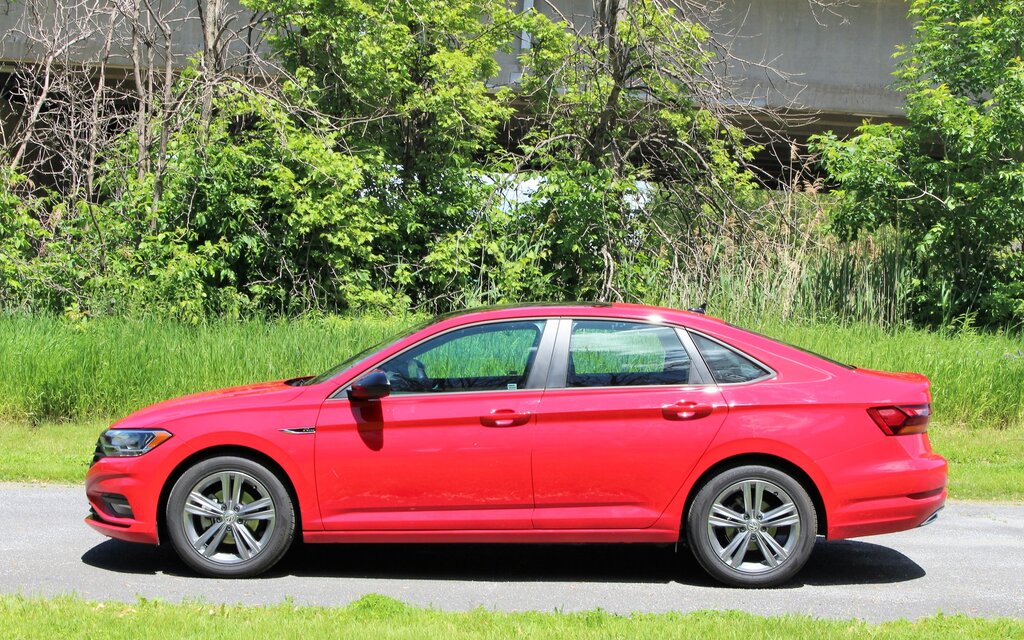 Another point in favour of the Jetta for people who like driving: a six-speed manual transmission is standard in every trim level, not just the base one. And it's an excellent gearbox, too. Otherwise, the optional eight-speed automatic is just as adept at exploiting the engine's power. Both help the car achieve a combined city/highway rating of 7.0 L/100 km—only the Kia Forte can do better in the compact segment, hybrids aside. We averaged 7.2 L/100 km during our test.
Handling is what we expect from a VW product, yet again, the R-Line package plays an important role in this evaluation as it upgrades the car with a limited-slip differential, sport shock absorbers and a front stabilizer bar to keep things under better control. Without these, the Jetta is still an amusing car to drive, though, but a tad less agile.
In true Volkswagen fashion, the cockpit design is tasteful, but conservative, and although some low-rent plastics are to be found, build quality and overall finish are good. The luxury-minded Execline trim benefits from a 12.3-inch digital instrument panel, while the Comfortline and Highline make do with analog gauges and a multifunction trip computer. Apple CarPlay and Android Auto integration is standard across the board, connected to either a 6.5- or 8.0-inch touchscreen that's very reactive to finger input. Some button zones are a little small, though, making them tough to poke while driving.
Front-seat space is more than adequate in the 2019 Volkswagen Jetta, and rear-seat passengers will feel comfortable as well, although the middle occupant will likely wish for more legroom. Trunk space is rated at 399 litres, surpassed by the Honda Civic, but still pretty vast. It's worth nothing that the previous-generation Jetta offered more rear-seat space and a bigger trunk. Oh well.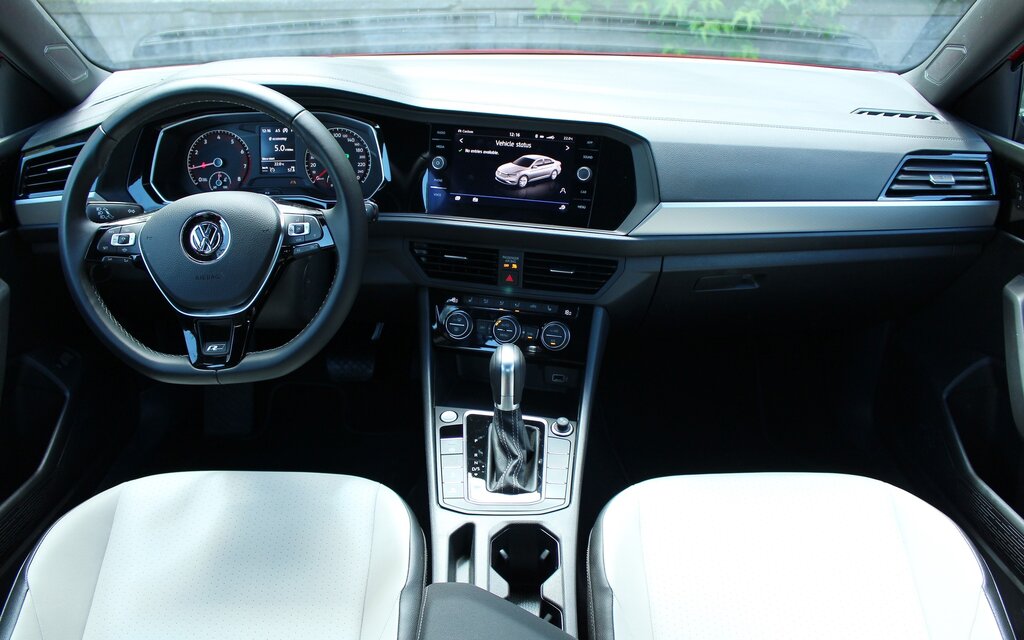 Pricing starts at $20,995 before freight and delivery charges, setting us up with amenities like cruise control, heated front seats, air conditioning, LED headlights and taillights, a height-adjustable driver's seat and more. The $24,095 Highline is the best choice with blind spot monitoring, an intelligent key system, a power sunroof, dual-zone climate control, the bigger infotainment system touchscreen, leatherette upholstery and a leather-wrapped wheel.
The Highline is also the only trim with which we can obtain the R-Line package, and our test car also included adaptive cruise control, heated rear seats, a remote engine starter, a sport steering wheel and autonomous emergency braking, for a total of $28,575.
The $27,695 Execline boasts leather seats, navigation, a power-adjustable driver's seat and ventilated front seats. Unfortunately, the excellent nine-speaker BeatsAudio sound system is only available in the Execline, and if we want a heated steering wheel in the Jetta, we have to dish out another $385. A heated wheel is standard in a $16,495 Forte…
We like the 2019 Volkswagen Jetta's fun-to-drive character, great fuel economy and reasonable price. Otherwise, there's nothing here to really make it stand out against the Honda Civic, the Toyota Corolla, the Mazda3, the Kia Forte and the Hyundai Elantra—for those who are just looking for a good deal and a reliable compact sedan.
Share on Facebook