2019 Mercedes-Benz G 550: As Desirable As Ever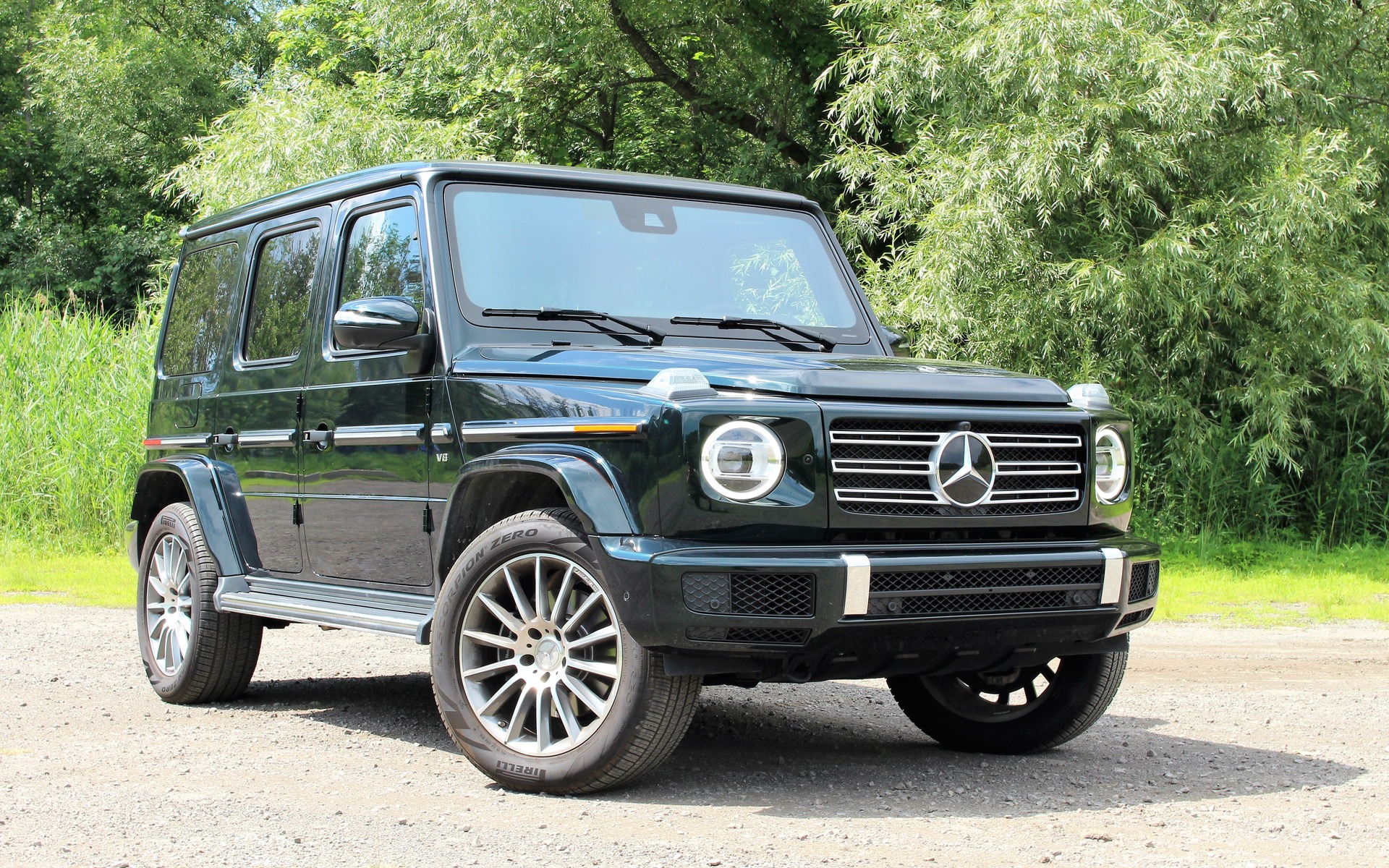 Strong points

Performance and sound
Improved interior accommodations
Much easier to drive than before

Weak points

Always having to slam the doors shut gets irritating
Horrible fuel economy, of course
Still considerable body roll
Full report
There are a few cars and trucks on the market that have achieved such a level of admiration and desirability, that only a major screwup from the manufacturer could tank its sales. The Porsche 911 has reached this level, and so has the Jeep Wrangler. Here's another one: the Mercedes-Benz G-Class.
It's as skilled at climbing the most treacherous terrain as it is confidently cruising down the streets of Beverly Hills. It's stupid fast, sounds like a menace to society and looks as aerodynamic as a very posh tool shed. It raises its middle finger to treehuggers everywhere it goes. For some well-heeled SUV buyers, it's perfect.
The civilian version of the G-Class stayed largely the same for 40 years, as it was introduced to the market back in 1979. However, the German automaker started working on it in 1972. That's a long time ago. Despite its archaic, blocky design and tight interior accommodations—for its size—the Geländewagen became more and more popular as years passed.
Fresh off its first major redesign, the 2019 Mercedes-Benz G-Class doesn't seem to have changed at all. But it did.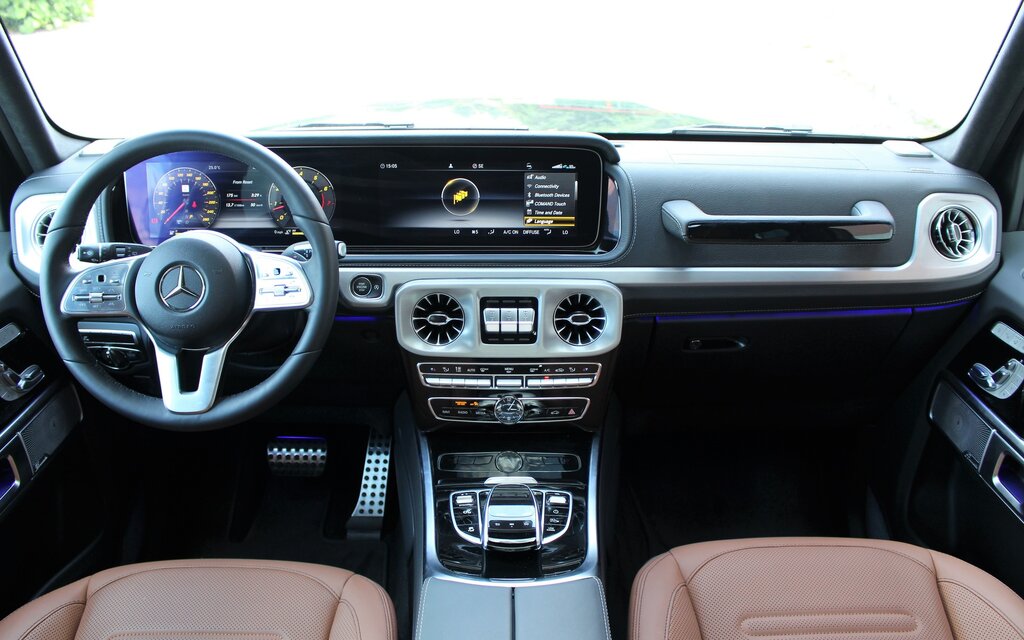 The most important thing the company did right was to not mess with the truck's timeless look, and it indeed isn't easy to distinguish the new generation from the previous one. The most obvious clue is the new LED headlights. The wheelbase has been stretched by 40 millimetres and overall length grew by 53 mm, but the biggest increase in outer dimensions is in width—which increased by 127 mm. Front and rear track were also modified accordingly. Making the G-Class wider not only made the cockpit more accommodating, but it feels better planted on its feet and less top-heavy.
Yet the 2019 Mercedes-Benz G 550 remains a high-riding, 5,551-pound (2,817-kilogram) brick on wheels, and its stability control system has been rigged to intervene at the slightest indication that the SUV's body is tilting. Turn a street corner with a little too much throttle input, and the truck cramps up as it tries to eliminate any trace of body roll. It sounds much worse than it really is.
And it's easy to apply too much throttle input. The G 550's twin-turbo, 4.0-litre V8 develops 416 horsepower as well as 450 pound-feet of torque from 2,250 to 4,750 rpm, connected to a nine-speed automatic transmission. It sounds terrific as it climbs to its 6,800-rpm redline, its exhaust popping during every upshift and crackling at every throttle lift. The 0-to-100 km/h sprint is a done deal in 5.9 seconds. As expected, we averaged 16.0 L/100 km during our test.
If that's not enough, there's the Mercedes-AMG G 63 that belts out 577 hp and 627 lb.-ft., allowing the brute to hit 100 km/h in 4.5 seconds.
Out of the box, both can tow up to 7,716 pounds (3,500 kilograms), in addition to being ready for just about any off-road adventure. The SUV has a two-speed transfer case and three lockable differentials to claw its way up and down mountains as well over the roughest terrain.
How many North American customers will actually take their G-Class off road? That number should be close to zero, but it's nice to know that we could and wouldn't look like a fool doing so. Luckily, the 2019 Mercedes-Benz G 550 is now equipped with electric-assist steering and a multilink front suspension, which makes driving on road much more enjoyable than before. Oh, it's still a truck in every way, but the previous generation's recirculating ball setup was anything but precise for navigating the G through the urban jungle and on the highway.
It was important to preserve as much of the old G-Class' charm in the new one, and the doors were designed to feel just as solid. They're still opened with a pushbutton on the grab handles, and they make that all important "bank-vault" sound when closed. That's great, but those doors need to be slammed shut all the time, like the ones on an old Chevy Monte Carlo, and a soft-close system isn't available, even as an option. There's no intelligent key either.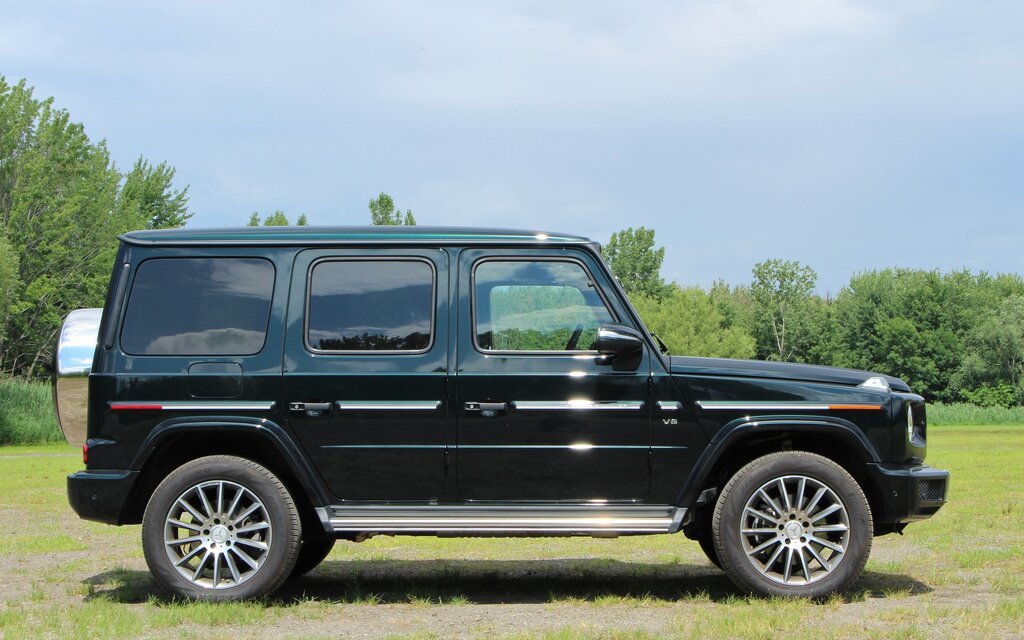 There are several leather trim colours to choose from, some of which require the $4,900 Exclusive Interior Package because it bundles Nappa upholstery, a DINAMICA roofliner and velour floor mats. There are four wood trim options, which can be replaced with a metal weave pattern, piano black lacquer or AMG carbon fibre. We can also treat ourselves to multicontour front seats with eight massage programs. We're worth it.
Unfortunately, the G-Class is stuck with the brand's COMAND infotainment system, which is gradually being replaced by its new MBUX interface in newly introduced products. COMAND is difficult to use while driving and just about any function we're trying to access requires two, three or eight steps. The console-mounted cradle and rotary dial try to be ergonomic, but they're not. At least Apple CarPlay and Android Auto integration is standard, as is the excellent Burmester surround sound system.
Pricing for the G 550 starts at $134,000 before freight and delivery charges, and our tester included almost every available option, bringing the tab to $151,940. The AMG G 63 retails from $167,000.
This may sound expensive—and it is—but let's think about the price for a minute. What other luxury SUV must we buy to draw as much attention and admiration, and to make us feel like we're an NHL hockey player, a hip-hop star or a drug dealer? The Bentley Bentayga? The Lamborghini Urus? The Rolls-Royce Cullinan? These trucks all cost north of $200K.
The new Mercedes-Benz G-Class is a bargain.
Share on Facebook