2020 Ford Escape: Trying to Regain the Lead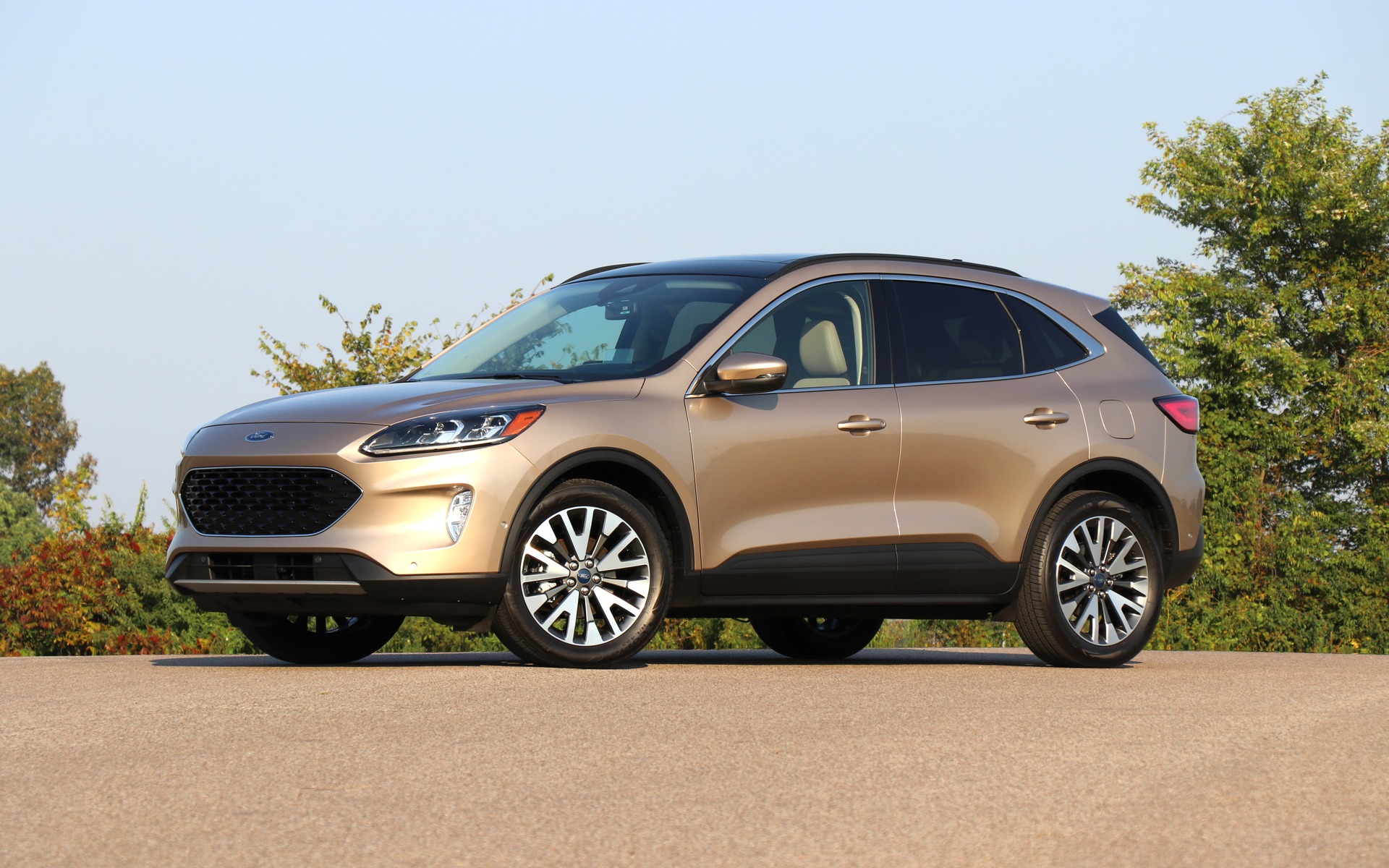 Strong points

Modern lines
Remarkable driving dynamics
More versatile than ever
Hybrid model is back
Improved build quality

Weak points

Base engine doesn't make a strong case
Rear seats don't fold completely flat
Hybrid powertrain available in Titanium trim only
Full report
Twenty years ago, Ford introduced the Escape to take on the popular Honda CR-V and Toyota RAV4. It quickly made a name for itself and became the sales leader after a few short years, despite some quality issues.
Following an update in 2005 and another one in 2009, the Escape was completely revamped for 2013 following the design of the Ford Kuga sold in Europe. With a new body, a new heart and a new way of thinking, hopes were high for this generation of the Escape. However, the CR-V and RAV4 both overtook their blue-oval competitor in North America.
The gap has widened ever since and, for Ford, this is unacceptable, of course.
So, when developing the all-new 2020 Ford Escape, the automaker left no stone unturned. Company executives would have preferred to launch it in 2018 or 2019, but they were also busy with new generations of the larger and more profitable Explorer and Expedition.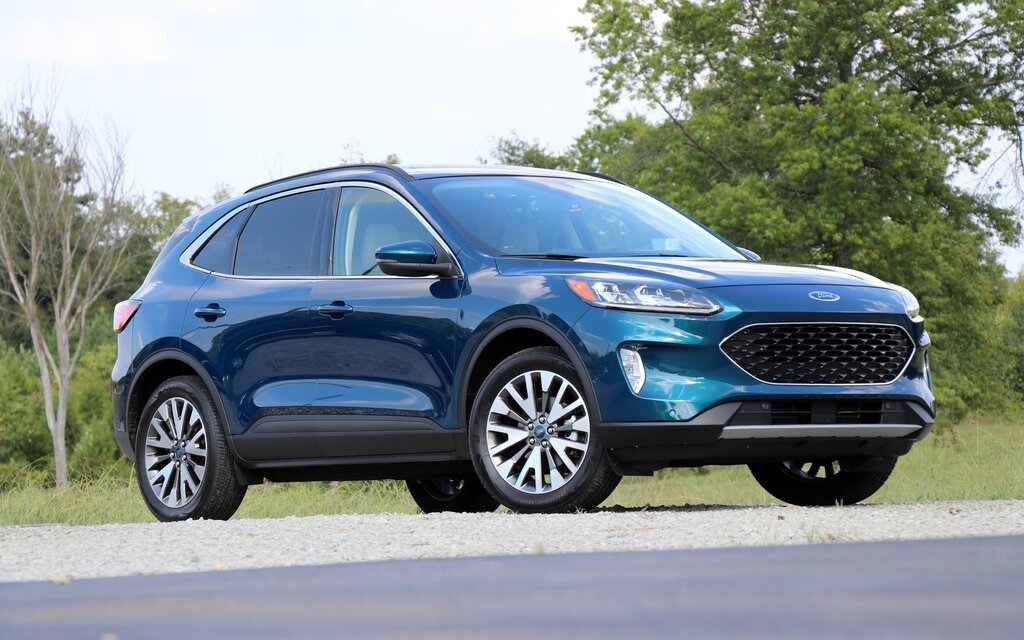 Don't Forget the Bronco
At the same time, Ford is about to make a big splash with the all-new Bronco, which will spawn a family of SUVs similar to Land Rover's Range Rover lineup. A smaller Bronco model, likely based on the Ranger chassis, will debut as a challenger to the Jeep Wrangler.
This explains, at least partly, Ford's decision to make the Escape classier and more upscale than ever. The lines are much sleeker and reminiscent of some of the cars the company is dropping in favour of SUVs and crossovers. Fiesta and Focus customers will definitely take note.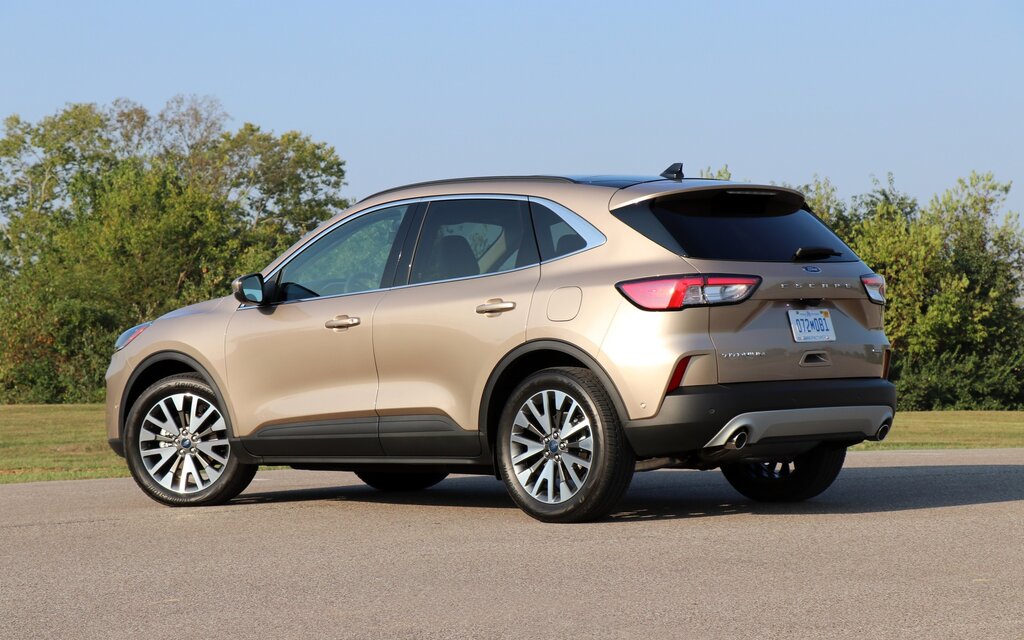 There will be four Escape trim levels in Canada, each one with specific styling and equipment. The S, SE and SEL will feature a new turbocharged 1.5-litre EcoBoost engine with just three cylinders and variable-displacement technology. Rated at 181 horsepower, it can be mated to an all-wheel drive system, which we suspect will become the most popular configuration among Escape buyers.
Why three cylinders? Because Ford thinks it's the ideal way to achieve the best possible fuel economy. And yet, the ratings in the U.S. are not that impressive: 26 mpg in the city and 31 mpg on the highway, roughly equivalent to 9.0 L/100 km and 7.6 L/100 km in Canada.
Available on SEL and Titanium variants is a turbocharged 2.0-litre EcoBoost paired with an eight-speed automatic transmission and all-wheel drive. This engine is also found in the Ford Edge and proves to be a strong, efficient performer. Fuel economy on the highway is actually the same as the base powerplant.
Then you have the return of the Escape Hybrid following an eight-year hiatus. This time, Ford is relying on a naturally aspirated 2.5-litre four-cylinder, an electric motor, a continuously variable automatic transmission and a 14.4-kWh battery. Customers can choose between two- and four-wheel drive, which isn't the case with the RAV4 Hybrid.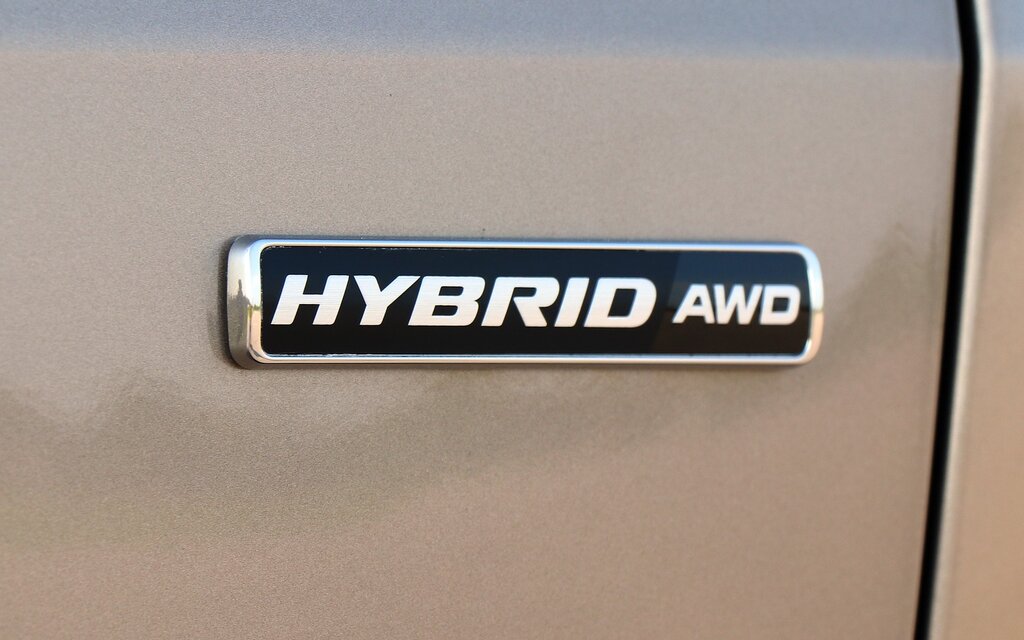 For the Family
Despite featuring a certain number of practical touches, the interior of the Ford Escape has never been known for offering a ton of room. The new 2020 model is still a few litres short of some rivals, but it proves more functional than ever.
Consider the 60/40 split-folding and sliding second-row seats, the revised cargo area and the redesigned centre console where a smaller, rotary-style gear selector frees up precious space. The glove box is so huge that Ford claims you can fit a laptop or even a purse in there. However, the location of the battery prevents the rear seats from folding completely flat, even in non-hybrid models. Another complaint is the transmission tunnel that reduces legroom in the rear. For the record, neither the CR-V nor the RAV4 has this problem.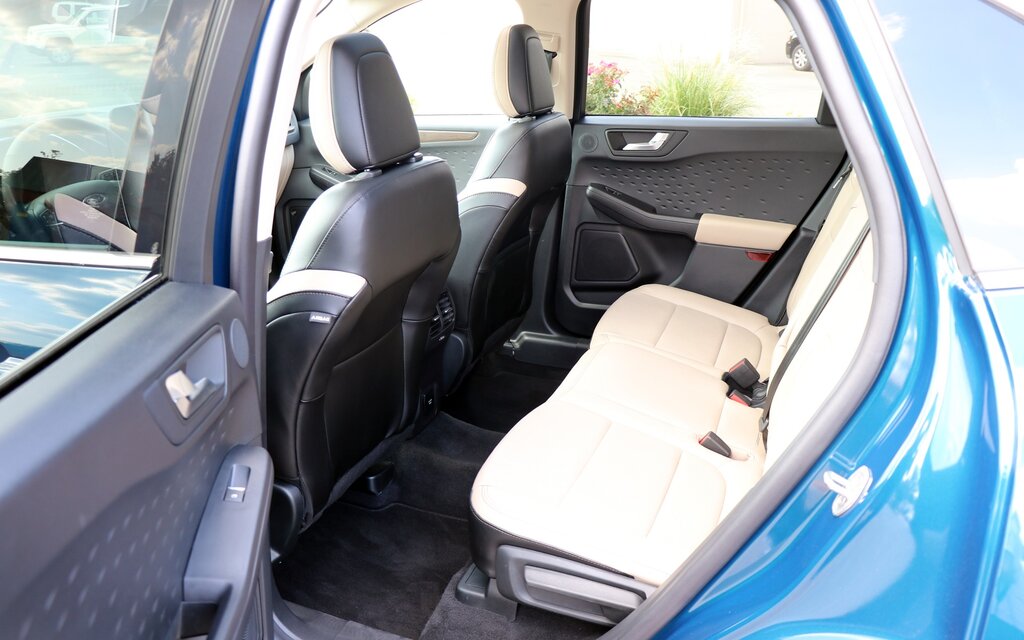 It's easy to sit two kids even if you opt for the biggest child seats on the market. Up front, the buckets are obviously much more comfortable with their multiple adjustments and ergonomic driving position. We also found the various controls to be easy to use, while visibility is excellent thanks to the lower beltline and slimmer A-pillars.
Gadgets?
The 2020 Ford Escape is full of them! Some of the options include head-up display, wireless charging and a 4G LTE hot spot. Select models feature a navigation system, although you'll be better served by Google Maps or Waze. Likewise, SYNC 3 is the default infotainment system, but Apple CarPlay and Android Auto are both included.
Safety is covered by standard Co-Pilot 360 technology, which combines blind spot monitoring, rear cross traffic alert, lane keep assist, forward collision assist with pedestrian detection and auto high-beam headlights.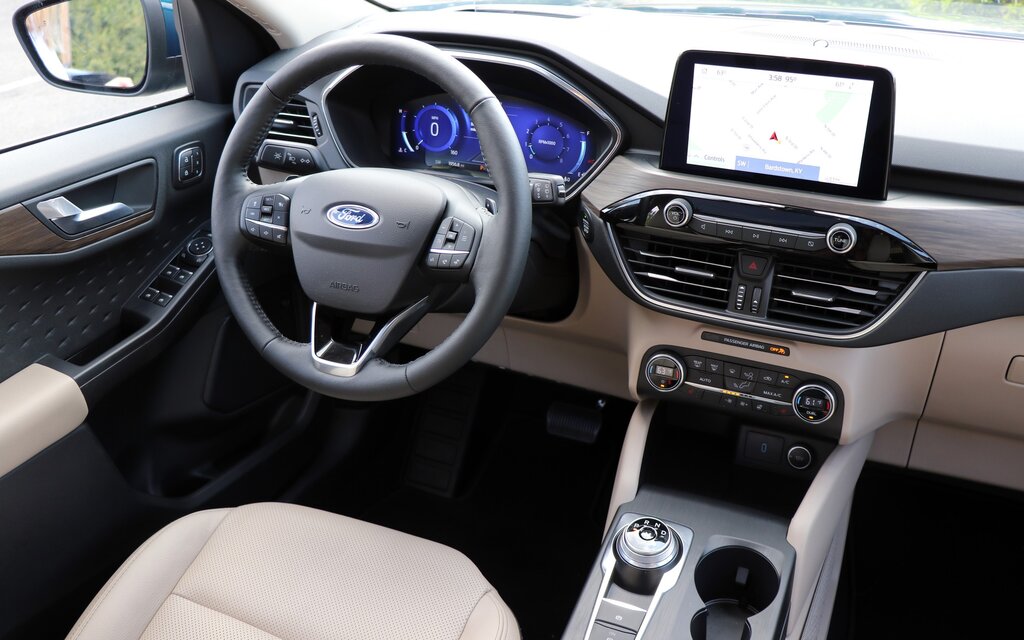 Fun Drive
While old, the outgoing model was more fun to drive than the average compact SUV, like a Nissan Rogue or Mitsubishi Outlander. Precise steering and a responsive engine made up for the excessive body roll and noisy operation.
The 2020 Ford Escape is blessed with a lower profile, wider tracks and improved suspension geometry that together deliver exceptional handling and stability in corners. Steering is even sharper now and the quieter cabin makes the drive more pleasant. Quality levels are up, as well: not a single creaking noise was heard from the three pre-production models we tested. Ford also brags about reducing the weight of the Escape by some 200 pounds (90 kilograms), which surely counts for something.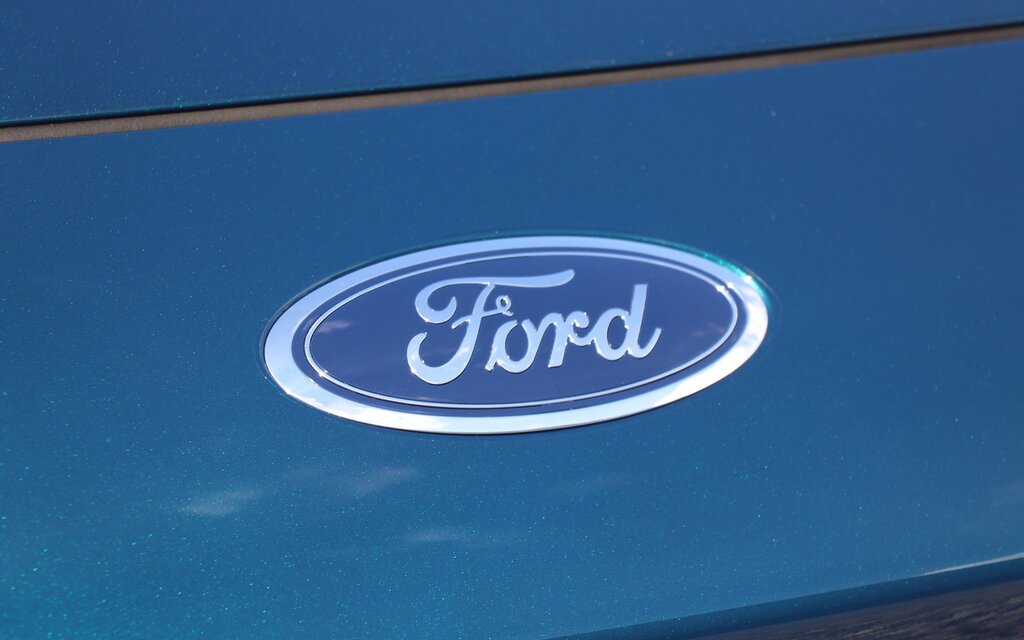 In terms of performance, the 2.0-litre mill obviously takes the crown. Mated to a modern and efficient autobox that makes the available power and torque readily accessible, it's a real treat to push around. The downside is that you will have to spend at least $39,000 (freight and delivery included) to get it.
If you go with the base three-cylinder engine, here's what you need to know. While it might sound a little strange, this new EcoBoost is virtually free of any vibrations, even when the first cylinder shuts off to save fuel. That being said, our test drive was pretty short and limited to an urban area. There's generous torque and good times to be had around town, but we would hesitate to recommend it for regular highway driving.
Why? Because fuel economy is no better than with the 2.0-litre turbo and likely the 2.5-litre engines found in the Mazda CX-5, Nissan Rogue and Toyota RAV4. When it comes to efficiency, Ford's three-cylinders have yet to show any real advantage over the competition's four-cylinders.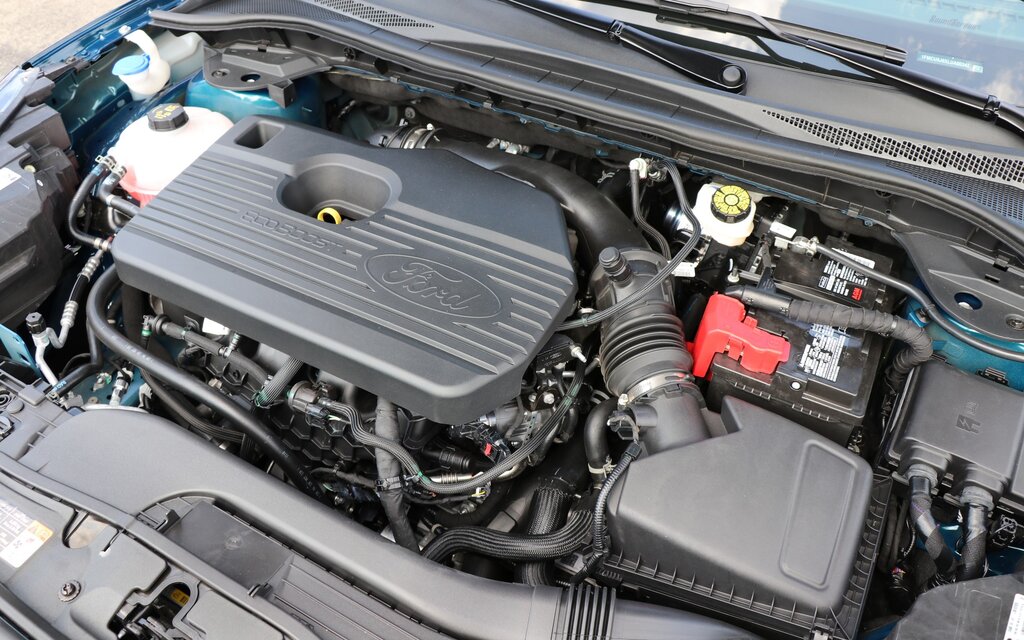 As for the Escape Hybrid, it's a serious threat to the RAV4 Hybrid, which up to now served as a benchmark for efficiency and versatility. Comparisons and back-to-back tests will be necessary to see if the Ford product can match its Japanese rival. After 180 kilometres, we recorded an average of 6 L/100 km. The powertrain is quieter than that of the RAV4 Hybrid, too—either that or the cabin is better insulated against noise. The CVT isn't overly irritating; actually, it's light-years ahead of the one in the original Escape Hybrid in terms of refinement and performance.
Ironically, the 2020 Escape's hybrid powertrain comes standard in Titanium trim and costs $2,000 less than the 2.0-litre EcoBoost. Unlike customers in the U.S., who can also purchase an Escape SE Hybrid, Canadians only have one gas-electric option.
Overall, the new Ford Escape comes across as a seriously well-executed and technologically advanced SUV, one with all the ammunition required to conquer new grounds in the market. And in a few months' time, the automaker will strike back with a plug-in hybrid variant offering an all-electric range of 50 kilometres. Too bad it will come in FWD configuration only. Those who want or need AWD can confidently pick the regular hybrid model and enjoy better fuel economy than with the soon-to-be-axed Fiesta.
Share on Facebook