2019 Nissan Qashqai: Rationally Good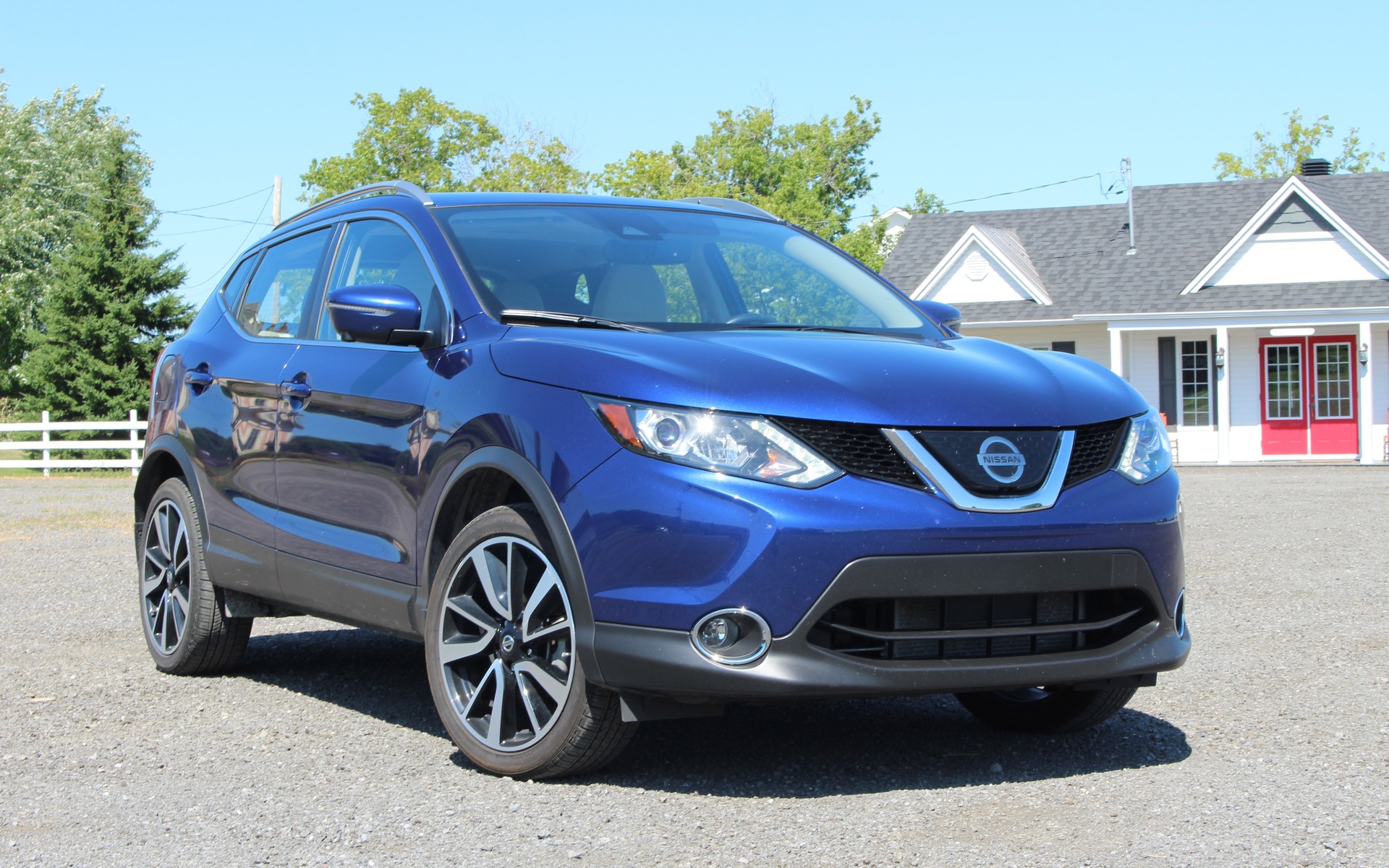 Strong points

Interior space
Low fuel consumption
Lots of standard features

Weak points

Not all that fun to drive
Front seats lacks support on long drives
Some road noise
Full report
Many Canadians are trading in their compact cars for SUVs that offer the added benefit of all-wheel drive. However, to stay within the same price point, many buyers must choose a subcompact-sized vehicle such as the Nissan Qashqai.
There are a dozen others, such as the Honda HR-V, the Hyundai Kona, the Mitsubishi RVR, the Mazda CX-3 and the Subaru Crosstrek, just to name a few. Sure, they're trendy, but are they more versatile than a good compact sedan or hatchback? Some are, some aren't.
The Nissan Qashqai arrived in Canada a couple of years ago, but the current-generation model has been on sale on other markets since 2014. It come along just as the Nissan JUKE was being pulled from the brand's lineup in our country. While the JUKE was small, sporty in character and clearly not a family vehicle, the Qashqai is a more conventional crossover. The recently introduced Nissan Kicks is a more budget-minded vehicle and doesn't offer AWD.
The Qashqai looks pretty good despite its age, with a lumpy hood and bulging fenders that give it an athletic posture. The SL trim rides on 19-inch alloy wheels, enhancing the SUV's sporty appearance, but those tires will be costly to replace.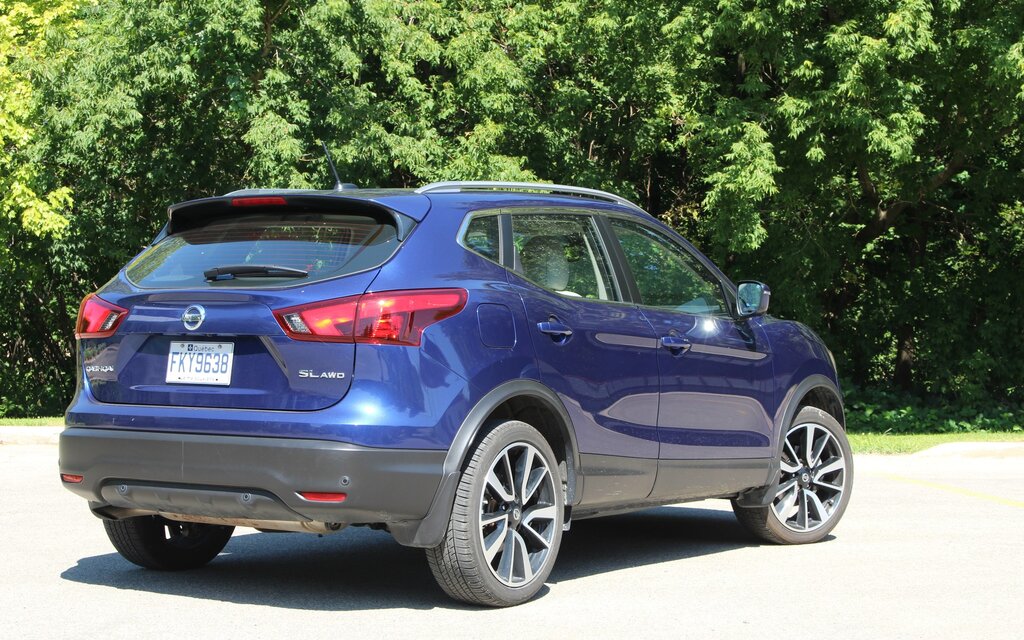 Under the hood, we find a 2.0-litre, four-cylinder engine that develops 141 horsepower and 147 pound-feet of torque, managed by a continuously variable automatic transmission, although a six-speed manual can be specified in the base, front-drive trim. All-wheel drive is an option on S and SV trims, included on the SL.
With AWD, the Qashqai gets city/highway figures of 9.1/7.6 L/100 km, for a combined average of 8.4 L/100 km. Only the HR-V, the Crosstrek and the CX-3 can do better in its segment, and during our summer test, we averaged 8.7 L/100 km in the Nissan.
Like the brand's other utility vehicles, the Qashqai isn't particularly exciting to drive, but isn't a bore either. We'd like the transmission to feel more like a conventional gearbox, and less like it was connected to the engine with a rubber band. But we did end up getting used to it, and if it helps reduce fuel consumption, we'll accept it.
Also, the Qashqai's steering feels vague, but leaving it switched to the Sport setting livens it up a little. On the other hand, the SUV handles just fine with its four-wheel independent suspension, although it isn't as sharp as the Mazda or the Kona.
The 2019 Nissan Qashqai may not be big on the outside, but it offers plenty of room on the inside—for a subcompact-sized vehicle, that is. Rear-seat passengers get a sufficient amount of leg- and headroom, and we have no complaints regarding the front-seat area. Fold rear the rear seatbacks, and we obtain a class-leading cargo area with a maximum volume of 1,730 litres if we play around with the modular floor, which can also double as a grocery divider. It's simple and clever. However, with the rear seatbacks up, the HR-V's trunk is slightly roomier.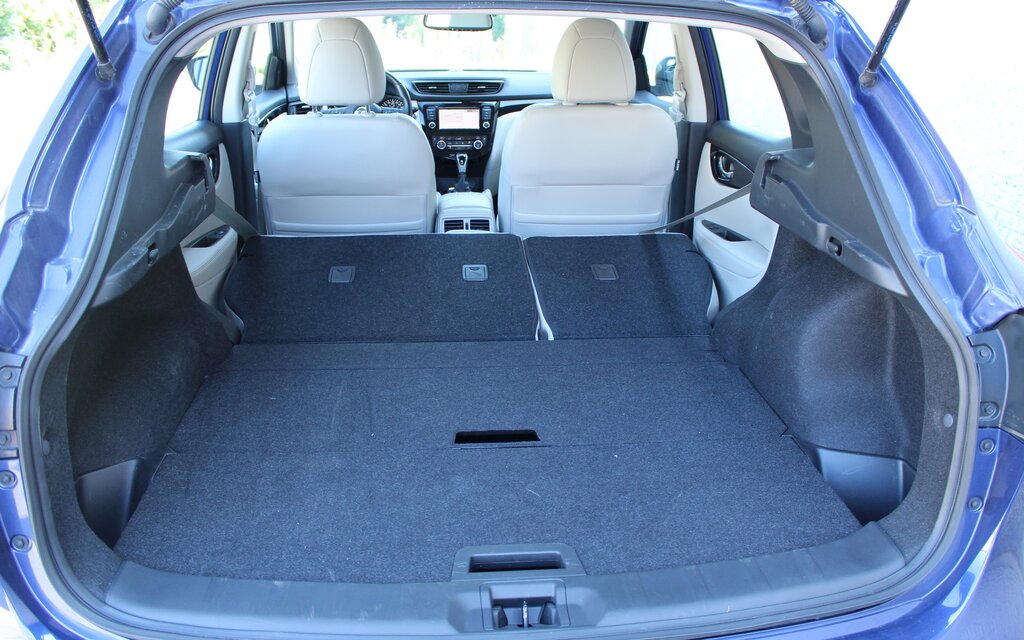 Standard features in the Qashqai include heated front seats, air conditioning, a height-adjustable driver's seat, autonomous emergency braking, blind spot monitoring with rear cross traffic alert and—a new addition—rear-door alert, which warns the driver that he or she might have left a child or an animal sitting in the back seat.
It also gets a four-speaker sound system with seven-inch touchscreen, a CD player, two USB ports as well as Apple CarPlay and Android Auto integration. Not bad for a starting price of $20,198 before freight and delivery charges. Adding an automatic transmission, AWD, cruise control and 17-inch alloy wheels to the base S trim cranks the MSRP up to $25,498.
The SV AWD variant represents the best choice for us, which is priced at $28,298. It adds dual-zone climate control, a power sunroof, remote engine start, a heated steering wheel, an intelligent key and lane keep assist, among other things. Our SL tester gets adaptive cruise control, ProPILOT Assist semi-autonomous driving, navigation, a surround view monitor and leather upholstery. Nice-to-have stuff, but not essential items as they push the final tally over $31,000.
Here's the thing, and this applies to many subcompact SUVs. Apart from AWD, there are several compact sedans and hatchbacks that cost less, consume less fuel and are about as spacious—or more spacious. Such as the Mazda3, the Toyota Corolla, the Hyundai Elantra and the Honda Civic, for example.
It all boils down to how badly we need to be seen in an SUV instead of a regular car. However, if we nevertheless decide that it's going to be the former, the Qashqai is one of the most practical and sensible subcompacts currently on the market, and that's why we like it so much.
Share on Facebook