2019 Hyundai Elantra: Like Vanilla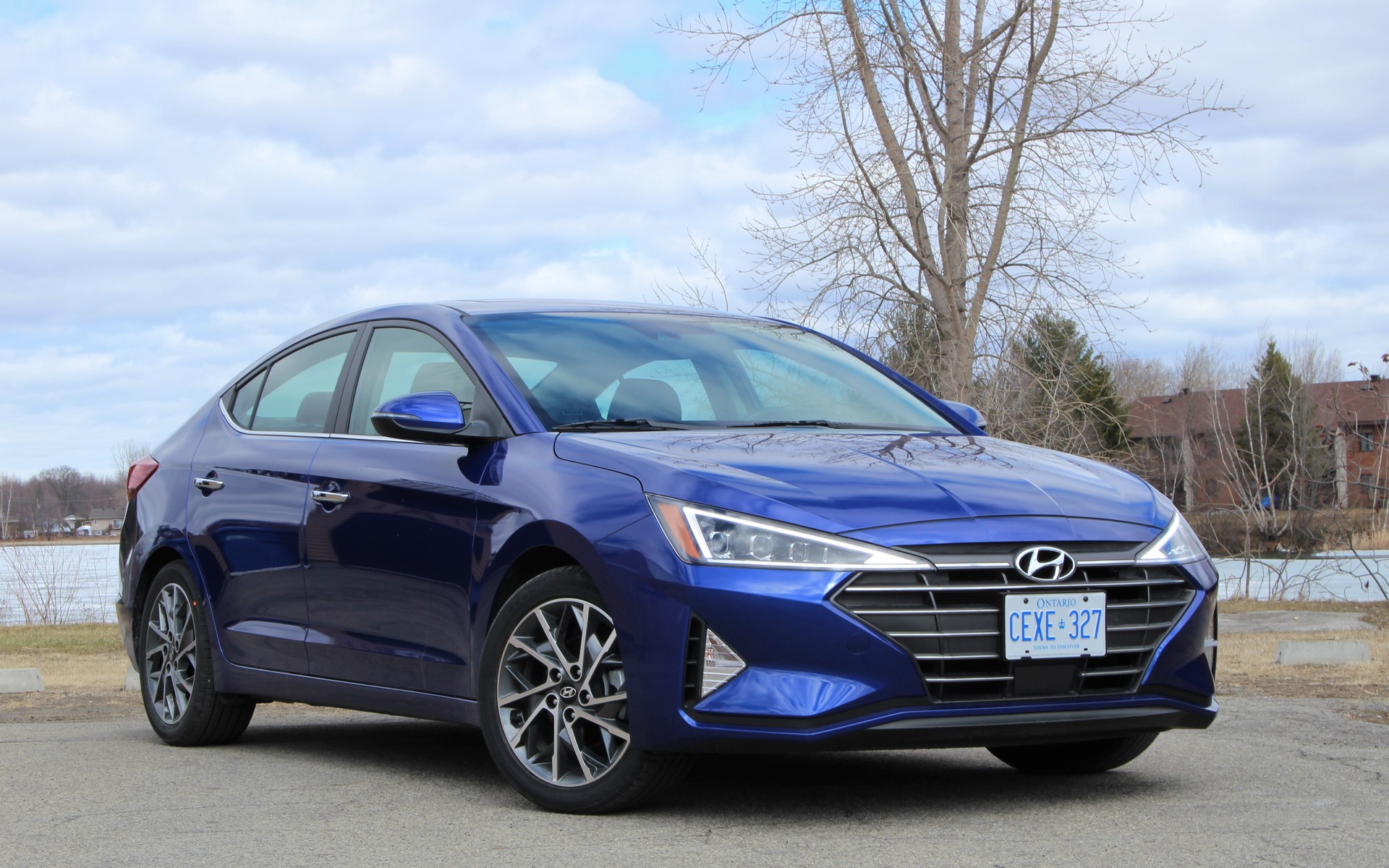 Strong points

Lots of features for the price
Comfortable cabin
Good fuel economy

Weak points

Not the most spacious in its class
Rear-seat legroom could be better
Resale value still a small concern
Full report
Ice cream shops can try all they want to come out with new flavours, and of course people will try them out. However, it's safe to say that vanilla will always remain the most popular one. Aside from its taste, it can easily be matched to any other topping or desert, which makes it extremely versatile.
The same can be said about the Hyundai Elantra. Rivalling stalwarts such as the Honda Civic and the Toyota Corolla, the Elantra gained popularity over time, proving itself as a practical, no-frills compact car that everyone can enjoy. True, the first generation introduced for the 1991 model year wasn't the most convincing product, but improvements in refinement, technology and design helped it become one of the best-selling cars in Canada.
The Elantra got some styling tweaks for the 2019 model year, including a new front fascia that's pretty striking with its triangular shapes and creased hood. The rear end gets reshaped taillights and a flush trunklid, as the licence plate holder has been moved down to the bumper. The differences are so significant that some people might think the car was totally redesigned. Love it or hate it, the new appearance does make the Elantra more distinct in the compact-car segment.
Inside, the upper and lower portions of the dashboard are unchanged, but the climate controls, the air vents and the driver instrument panel have been revised for a slightly more upscale look. Oh, there's a new steering wheel too. Interior space is quite good, although not class-leading, but rear-seat legroom could be better. The low roofline—only the Honda Civic and Honda Insight are lower—cuts into headroom, so the seats are mounted fairly low inside the car. Trunk space is generous.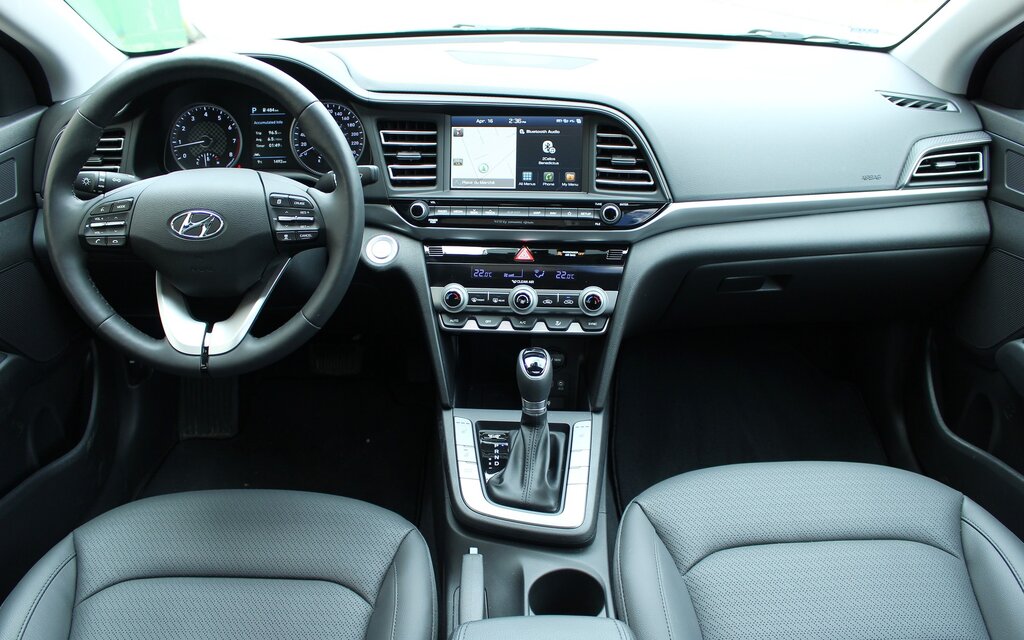 Fit and finish is good, although there are some cost-cutting measures that seem apparent to us, like the absence of rear-seat air vents on the back of the centre console, or the bare trunklid brackets. Minor stuff.
Every trim level includes heated front seats, air conditioning, keyless entry and height-adjustable front seats, in addition to a basic six-speaker sound system with 5.0-inch touchscreen. The latter is a little small for today's standards. A seven-inch display is offered in subsequent trim levels, along with Apple CarPlay and Android Auto integration, while an 8.0-inch screen is installed in the range-topping Ultimate. In all cases, the interface is easy to use with a simple menu layout and right-sized button zones.
Power comes from an Atkinson-cycle, 2.0-litre four-cylinder engine that develops 147 horsepower along with a modest 132 pound-feet of torque. A six-speed manual is standard, while a six-speed automatic is optional in Essential and Preferred trims, included in Luxury and Ultimate variants.
With the automatic tranny, the 2019 Hyundai Elantra boasts city/highway ratings of 8.3/6.4 L/100 km, which isn't too shabby, even if some rivals can consume a few drops less. During our test, we averaged an excellent 7.0 L/100 km. It's worth pointing out that the 2020 Elantra, which is hitting dealerships as this is being written, receives a continuously variable automatic transmission instead of the conventional six-speed unit—which will bring fuel consumption down to a class-leading 6.8 L/100 km on the combined cycle. Well, class-leading if we exclude hybrid powertrains.
We say forget the manual gearbox, which very few buyers choose anyhow, as it soaks up more fuel and isn't as engaging to manipulate as those found in the Mazda3, the Honda Civic and the Volkswagen Golf/Jetta.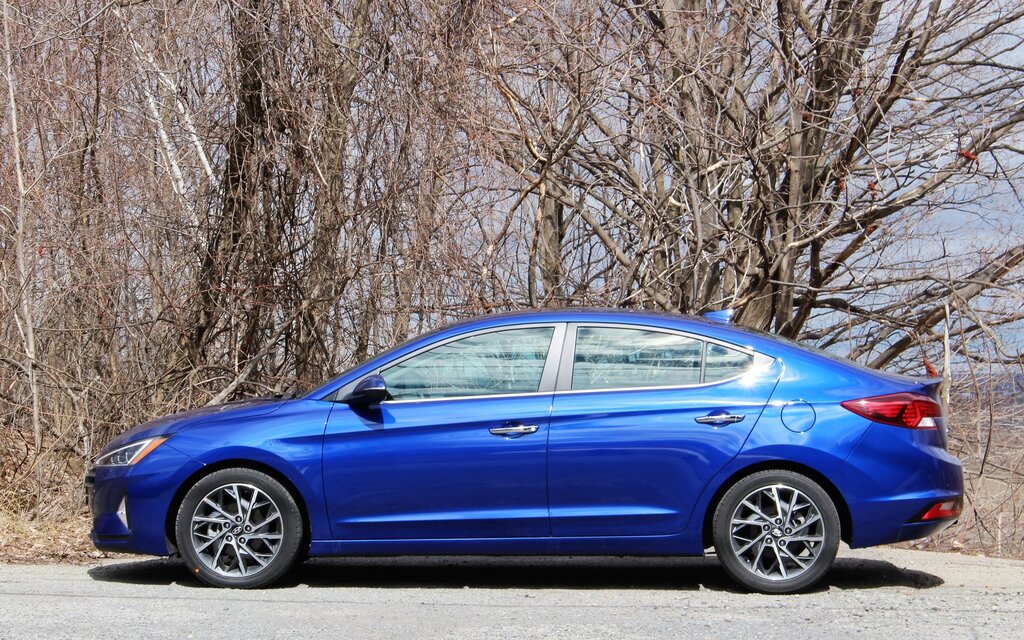 The Elantra is all about comfort and quietness, but can handle a curvy road or two on our trip. The way the car drives is forgettable, which is good because it means it's not too sporty and stiff, not too soft and nauseating. Just right. Those who desire a little more firepower and handling can step up to the Elantra Sport and its turbo, 1.6-litre engine that develops 201 horsepower. This version rivals the Civic Si and the Jetta GLI at a very competitive price, although the car's sportiness isn't quite at the same level.
Pricing for the 2019 Hyundai Elantra starts at $16,999 before freight and delivery charges, or $18,699 with the automatic. If we're willing to spend more money, we can get an Elantra equipped with leather, a power sunroof, heated rear seats, wireless phone charging, dual-zone climate control, an intelligent key, adaptive cruise control and lane keep assist. However, the best deal is the $20,449 Preferred variant that bundles niceties such as alloy wheels, LED daytime running lights, a heated and leather-wrapped steering wheel, blind spot monitoring with rear cross traffic alert and more.
Hyundai also usually offers aggressive lease and finance rates to lure in buyers that could be looking for a low monthly payment. However, the Elantra's resale value isn't as high as those of the Civic and the Corolla, so if we're planning to trade the car in after a few years, it likely won't be worth as much as we think. It's better than it used to be.
Feature-packed, comfortable and priced to sell, the Elantra sedan can be considered a sure bet like the Civic and the Corolla. And vanilla.
Share on Facebook