Ford and Volkswagen Team up on EVs and Autonomous Cars, Too
Earlier this year, Ford and Volkswagen announced that they would join forces to develop commercial vans and medium pickups for key global markets starting in 2022.
Following another round of discussions, the two automakers today said they will expand their alliance to include electric vehicles while also investing in Pittsburgh-based Argo AI, a leading autonomous vehicle platform company, to introduce the technology in the U.S. and Europe.
Ford President and CEO Jim Hackett and Volkswagen CEO Herbert Diess confirmed that Ford will become the first additional automaker to use Volkswagen's dedicated electric vehicle architecture, known as MEB.
The Blue Oval company expects to deliver more than 600,000 European vehicles using the MEB architecture over six years starting in 2023. The leaders did not provide any details about the North American market, however.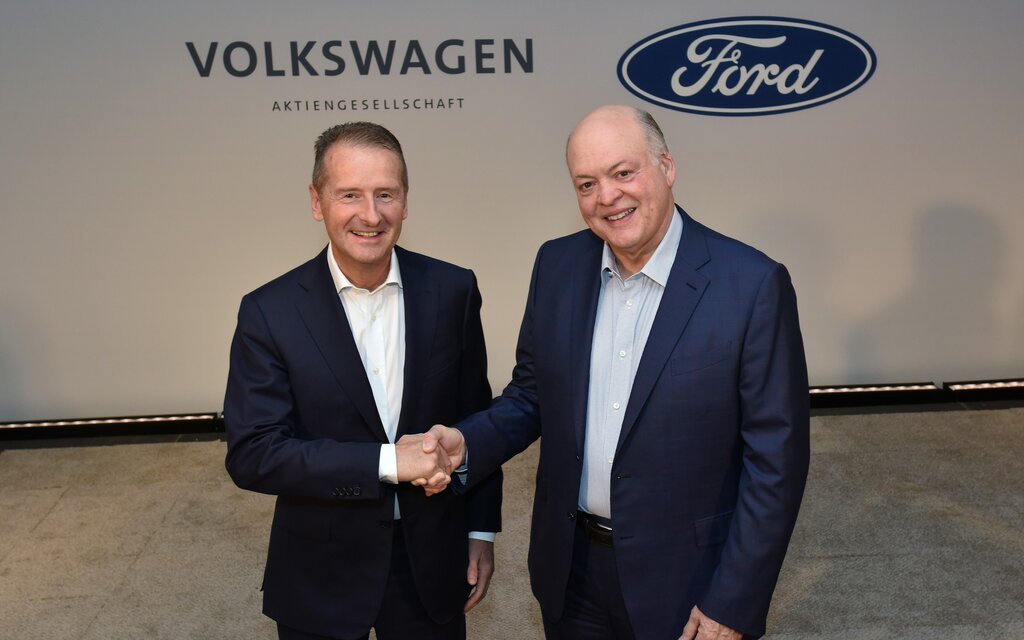 Development of the MEB platform started in 2016—one year after Dieselgate—and so far represents an investment of approximately $9 billion. As previously reported, Volkswagen plans to use it to launch almost 70 new electric models and build approximately 22 million electric cars in the next decade.
For Ford, using the MEB architecture is part of an $11.5 billion investment in electric vehicles worldwide.
Meanwhile, Ford and Volkswagen independently will integrate Argo AI's Level 4-capable self-driving system into their own vehicles, applying it for ride sharing and goods delivery services in dense urban areas.
The pair will have an equal stake in Argo AI and collectively become a majority owner. The remainder will be used as an incentive pool for Argo AI employees. The full transaction is subject to regulatory approvals and closing conditions.
"Our global alliance is beginning to demonstrate even greater promise, and we are continuing to look at other areas on which we might collaborate," Diess said.
It's worth noting that the alliance does not entail cross-ownership in any shape or form and is independent from the investment into Argo AI.
Share on Facebook