2019 Acura RDX: Just in Time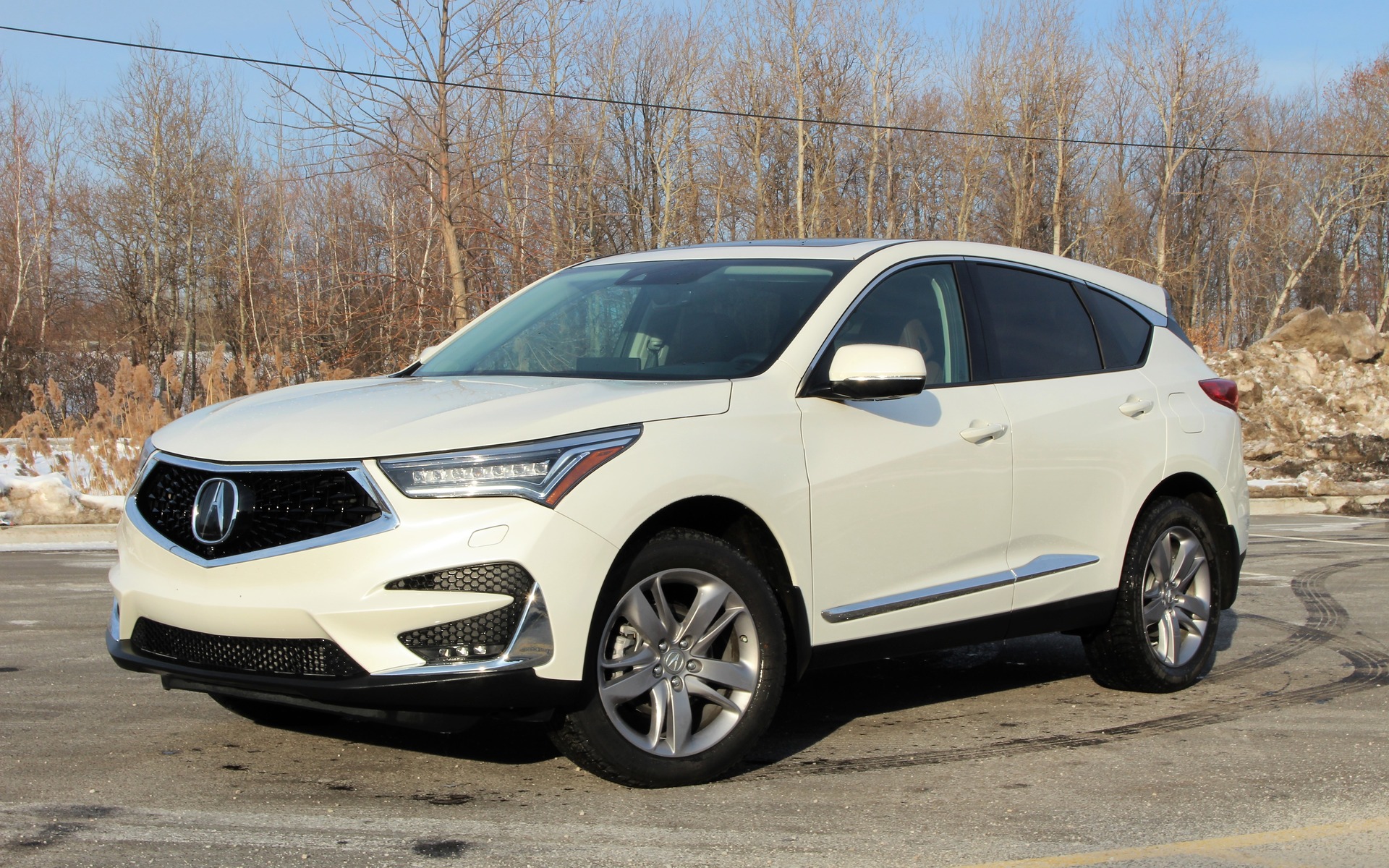 Strong points

Nice interior fit and finish
Edgy design
Willing engine and chassis

Weak points

Horrible infotainment interface
Limited rear outward visibility
Stiff ride
Full report
These days, if a luxury brand portfolio isn't filled with SUVs of all shapes and sizes, it's because someone high up within the company messed up. That person—or it could be a committee—misjudged the shift towards light trucks and are left struggling with declining sales.
We don't know who these people are at Acura, but with over ten models in the subcompact SUV field in North America, there's no excuse for the brand to not offer one. After all, it sells the Acura CDX in other markets.
In addition, the models that are part of the current line-up need to be good—no, really good—to keep up with the competition. To battle the likes of the Audi Q5, the Mercedes-Benz GLC an the BMW X3, among others, Acura needed to nail the new-generation RDX with standout styling, dynamic powertrain and chassis, and a technological upgrade. It succeeded.
Like the first generation, the new RDX relies on a turbocharged four-cylinder engine, and this 2.0-litre mill is quite energetic. With 272 horsepower on tap, and especially 280 pound-feet of torque between 1,600 and 4,500 rpm, this SUV cooks. The 10-speed automatic transmission is almost as quick as a dual-clutch gearbox and when one of the Sport modes is activated, simulated engine sounds fill the cockpit during acceleration. Some like it, some don't.
We capped our wintry test week with an average of 11.3 L/100 km.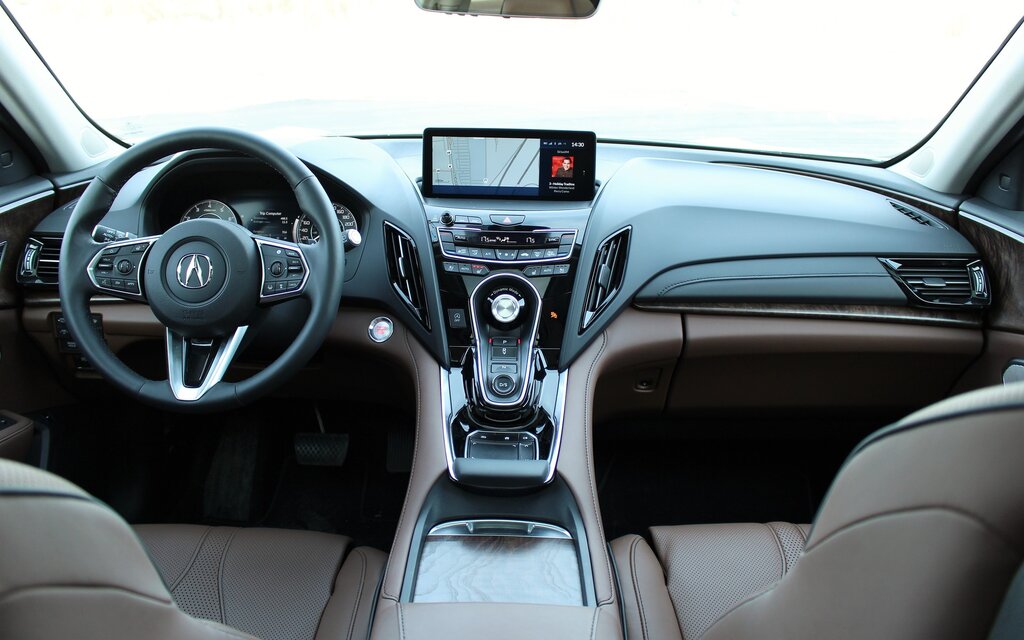 Dynamically, the 2019 Acura RDX is also spot-on. It's quick on its feet, its electric power steering is well calibrated, and the fun-to-drive factor has gone way up compared to the outgoing model. The only criticism we have here is a slightly stiff suspension setup, which can be even more noticeable in the new A-Spec trim that wears lower-profile tires. The Adaptive Damper System that equips the Platinum Elite does little to soften the ride when we're not in the mood to drive like a race car pilot, or when the family is on board.
The SH-AWD hardware is back in the RDX, as effective in the snow than on a twisty country road. Thanks to a bunch of sensors that monitor wheel speed, steering angle and cornering forces, SH-AWD can shift engine torque from 90% up front to 70% at the rear. It can also transfer power from one rear wheel to another to improve handling and preserve stability in foul conditions.
The 2019 Acura RDX isn't a stylistic masterpiece, but it's much more noticeable than the bland, previous-gen model. Of course, it's hard to miss the company's visual signature that splatters a pentagon-shaped grille across the SUV's front end, and to make sure we identify this vehicle as an Acura, the brand logo has almost doubled in size.
To sharpen the SUV's looks even more, the A-Spec variant sheds chrome for blacked-out window frames and lower-body trim in addition to boasting a more aggressive front fascia, a rear bumper diffuser, oval exhaust tips and gunmetal 20-inch alloy wheels. It's tasteful without being overdone.
Aside from a reduction in hip room and front-seat legroom, the new RDX is just as accommodating—or more spacious—in every interior dimension. The cargo area is one of biggest in its class, and the rear seatbacks fold flat to ease loading of bigger objects. There's even a concealed cargo bin underneath the load floor.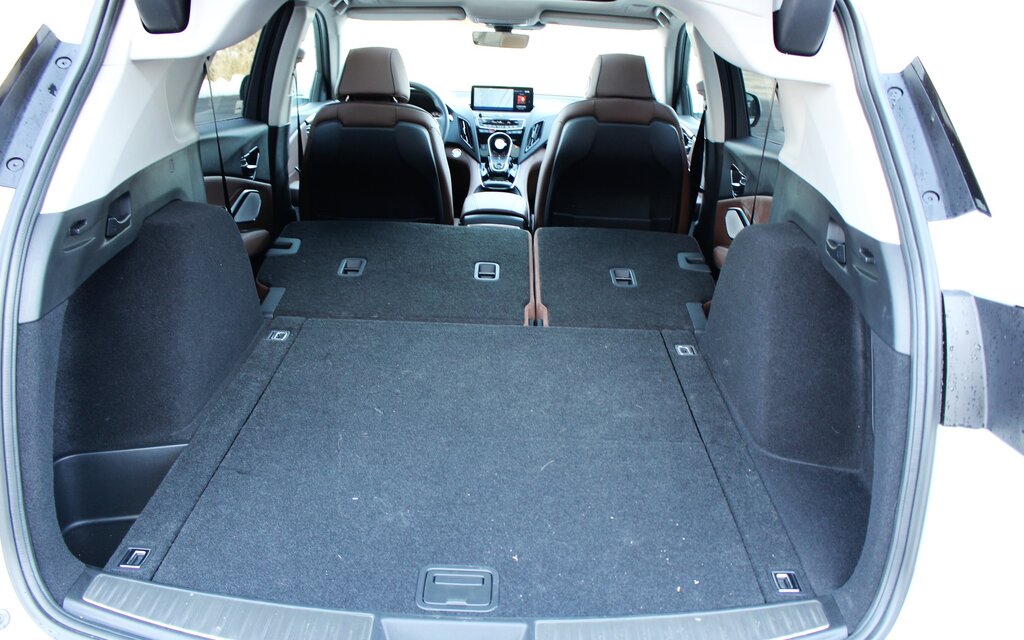 Base versions of the RDX get leatherette upholstery, but the A-Spec benefits from a mix of genuine leather, Alcantara and contrast piping. Our Platinum Elite tester is all dressed up for the ball with elegant perforated leather and contrast stitching. The dashboard design is sophisticated, rich-looking and the controls are generally well laid out. We also like the sliding centre armrest, allowing drivers to get comfy no matter how close to they are to the steering wheel and pedals.
While every RDX gets a comprehensive infotainment system with an integrated Wi-Fi hotspot (data subscription required), up to four USB ports, Apple CarPlay integration—but not Android Auto—and a 10.2-inch screen, the more expensive trims enjoy surround sound systems with 12 or 16 speakers.
The major flaw in the 2019 Acura RDX is the infotainment control interface, which relies on a touchpad interface. This system is extremely hard to use while driving, it's distracting, and it didn't get any less irritating after a week of fiddling with it. As much as we love the RDX overall, this could be a dealbreaker.
There are other things that make the RDX less enjoyable. Like the unintuitive push-button transmission controls and the limited rear outward visibility due to the fat pillars and small backlight. However, they're minor issues compared to the infotainment system.
Starting at $43,990 before freight and delivery charges, the 2019 Acura RDX offers a wide range of features, a strong powertrain and excellent driving dynamics. It also feels solid and its cockpit is well executed. It undercuts its German competition by a few thousand dollars and benefits from strong resale value.
As sales are sagging, the new RDX arrived just in time to spread a little joy into Acura dealerships and give a serious look at what's in store for the brand in coming years. Let's hope its energy is channeled into the next-generation MDX and, eventually, new SUVs to the lineup.
Share on Facebook