2019 Volkswagen Arteon: The Rebirth of the Sedan?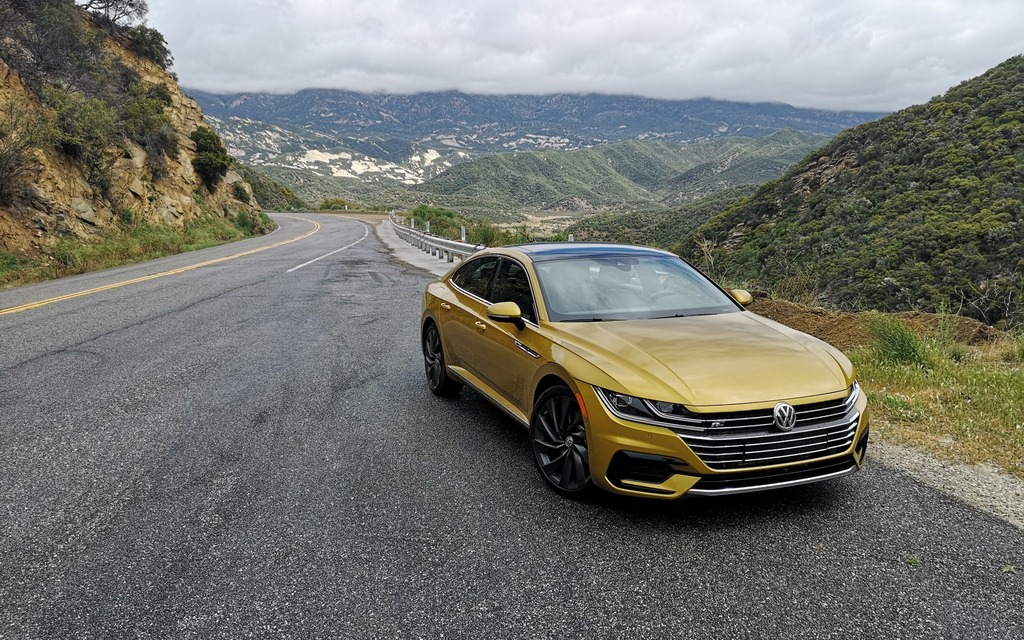 Strong points

Magnificent styling
Generous interior room
Outstanding ride quality

Weak points

Only one engine available
Priced like a luxury car
Is there a need for this model?
Full report
For the average Joe, art essentially comes down to one question: do you like what you see or not? Historians, meanwhile, can spend countless hours analyzing creations and developing complex theories to explain their origins and meaning.
After a hiatus of several years, Volkswagen has finally hit the market with the 2019 Arteon, a four-door coupe viewed by many as the spiritual heir to the late CC. For others, it's just a premium-looking midsize sedan trying to make a splash in the modern sea of SUVs and crossovers.
The name of the car is a fusion of the words "Art" (as described above) and "Eon," which is typically associated with high-end Volkswagen models such as the old Phaeton or the Chinese-spec Phideon.
The 2019 Volkswagen Arteon effectively becomes the German automaker's new flagship in North America… at a time when SUVs like the redesigned Tiguan and the all-new Atlas get most of the attention. Does that make sense? The Car Guide headed to Santa Barbara, California to find the answer.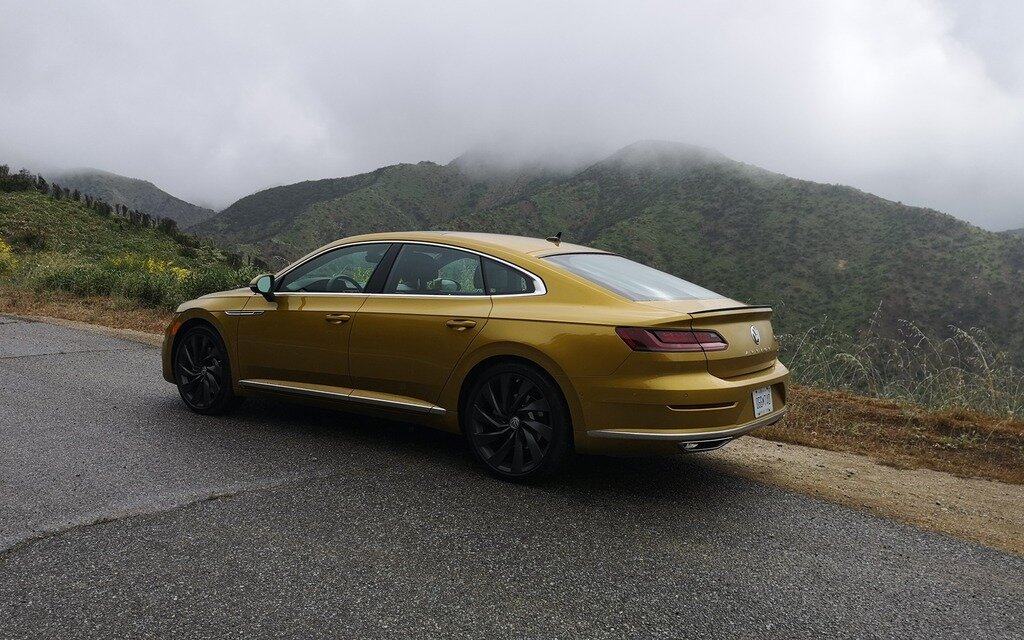 A Masterful Stroke
Aesthetically, the Arteon marks a clear departure from pretty much every other car on the market right now. Just look at the big horizontal grille, the gigantic hood that gives the front end a unique profile and the flowing roofline that really turns the sedan into a four-door coupe. In a world full of cookie-cutter vehicles, this Volks immediately stands out.
Motivation comes from a turbocharged 2.0-litre four-cylinder engine rated at 268 horsepower and 258 pound-feet of torque. It is mated to an eight-speed automatic transmission and 4MOTION all-wheel drive system as standard. This is the lone powertrain option offered by the 2019 Arteon, mind you.
Dynamic chassis control allows the driver to choose from three drive modes: Comfort, Normal and Sport. In addition, you can adjust 12 individual settings for a more personalized driving experience.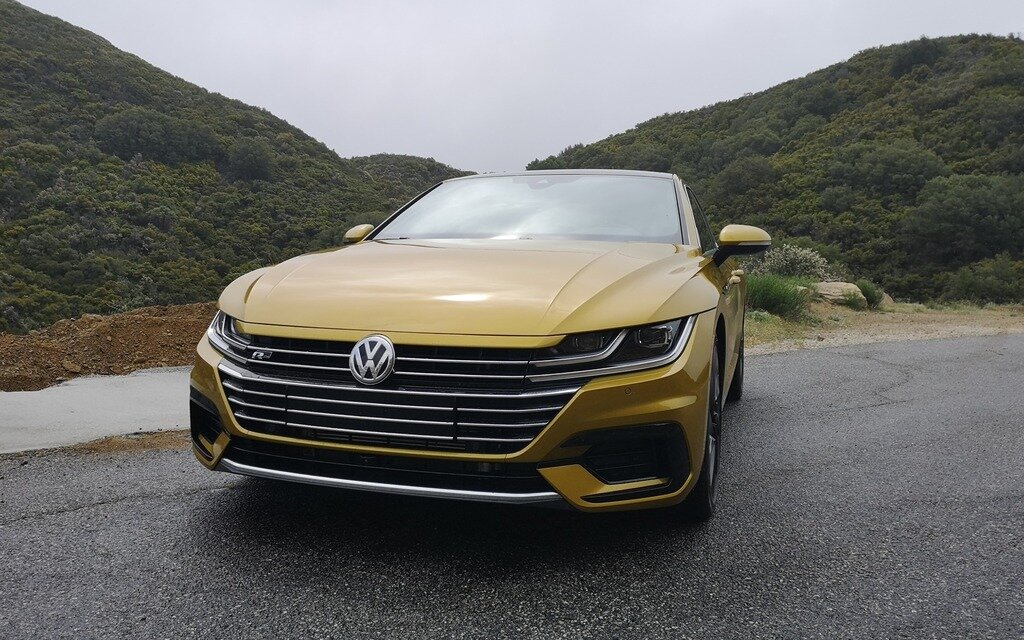 Skilled, but not Necessarily Sporty
On the road, the 2019 Volkswagen Arteon delivers fairly decent acceleration. However, a V6 engine with more low-end torque would certainly make things more interesting, especially in straight lines and out of corners. The autobox is nicely calibrated and grip is never a problem thanks to a rigid chassis, the aforementioned 4MOTION system and a smartly tuned suspension.
Overall, the Arteon is not what we would call a sporty car, though. It's more of a refined sedan that makes a conscious effort not to bore people behind the wheel.
The interior features highly comfortable seats and a very ergonomic, albeit stark-looking dashboard. The combination of materials and textures will be familiar to anyone who has spent time in various Volkswagen and Audi models.
The driving position is good and visibility is minimally obstructed thanks in part to frameless front side windows that result in thinner A-pillars. There's a generous amount of space both up front and in the rear. As for cargo, you can fit 563 litres under the hatch, which is not too shabby.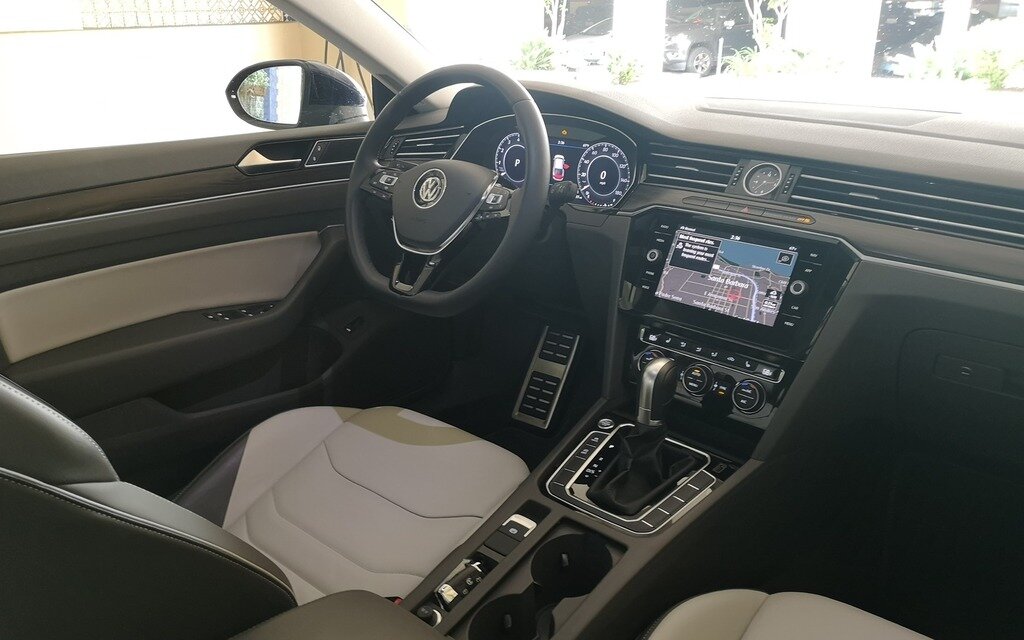 Will it Sell?
In Canada, the 2019 Volkswagen Arteon comes in a single trim level called Execline and starts at $47,995. For an extra $2,995, the R-Line package adds some flair in the form of 20-inch wheels, R-Line badges, aluminum door sills and an R-Line multifunctional steering wheel with paddle shifters.
Want some help on the road? The Driver Assistance package can be tacked on for $2,095. At that point, you don't even need to do the math to realize the Arteon is priced like a well-equipped Audi A4 or BMW 3 Series.
Unlike past works of art that are shrouded with mystery and intrigue, we know why the Arteon exists. Volkswagen says it wants to be different and have a car—not another SUV—as its flagship vehicle. The brand also has a rich tradition of sedans which the new Arteon is somewhat paying tribute to. It's like Volkswagen is shouting: "Hey, look at us, we're still a cool company and we do things our way!"
VW executives admit that the Arteon will not make a big difference in their bottom line. And it may not signal the rebirth of the sedan, either. Art is about turning dreams into reality, and no matter how you look at it, the Arteon generates attention and puts the German automaker in the spotlight.
Share on Facebook