2019 Mazda CX-9: The Gymnast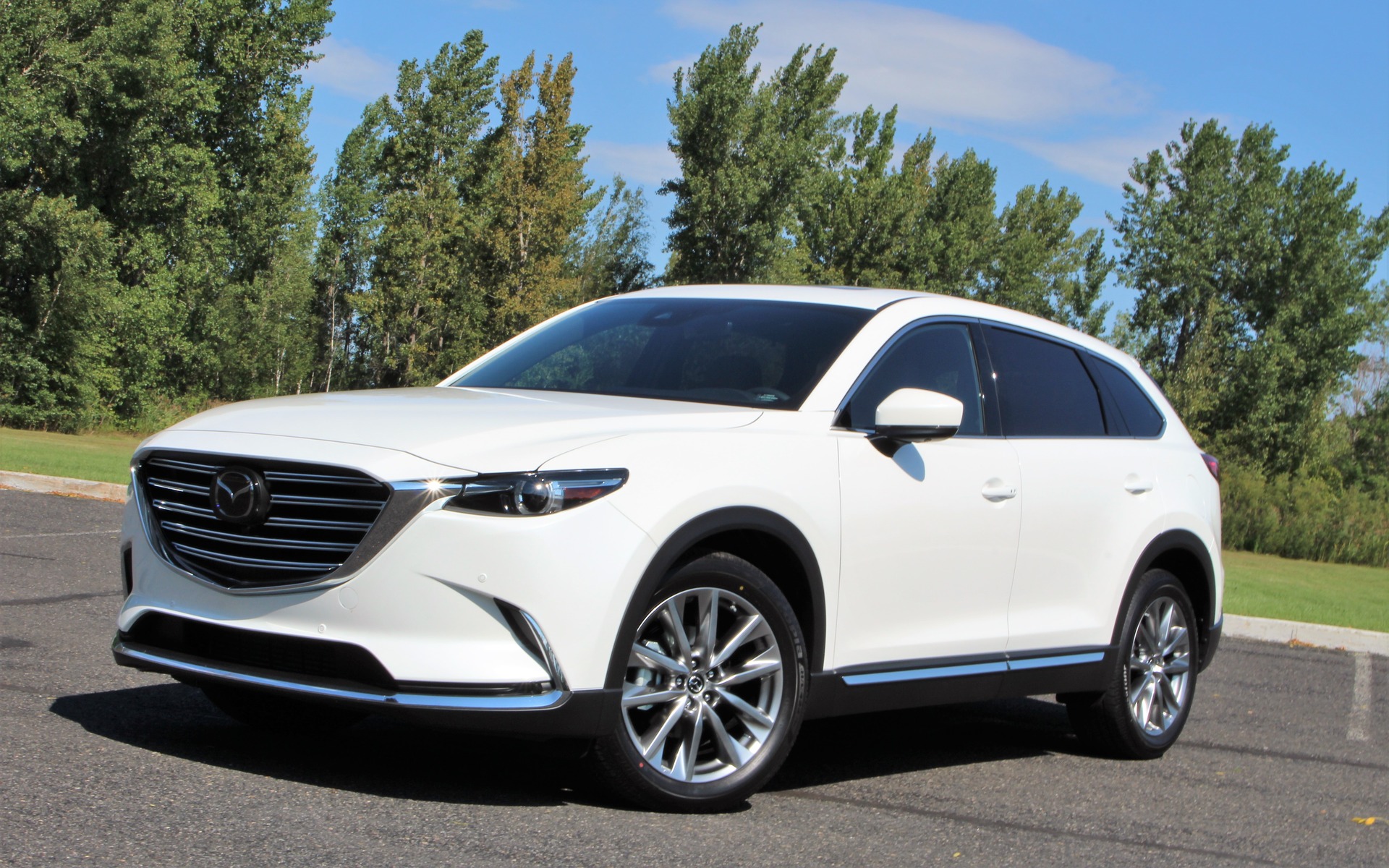 Strong points

Agility and driving pleasure
Good fuel economy
Excellent interior fit and finish

Weak points

Tight front-seat footwells
Low towing capacity
Small cargo area
Full report
For mainstream brands, successfully selling a midsize, three-row SUV isn't an easy task. The average number of children in North-American families isn't rising, so the need for such a big vehicle isn't always justified. And each model in this segment must battle about ten competitors.
The number is about to grow, as the all-new 2020 Hyundai Palisade and 2020 Kia Telluride are hitting the market, and for a few extra bucks a month, buyers can even move up to luxury-brand newcomers such as the 2020 Cadillac XT6 and the 2020 Lincoln Aviator.
Manufacturers must scratch their heads figuring out what can make their model stand out from the rest. However, for Mazda, it's easier because their brand philosophy concentrates on driving pleasure. As a result, the 2019 Mazda CX-9 can be considered one of the most engaging SUVs to drive in its category.
Obviously, it's impossible to make a big, high-riding utility vehicle handle like a Mazda MX-5. Yet the CX-9 has this sense of agility that seems to be lacking in its rivals. It isn't equipped with a big, powerful engine, but a modest turbocharged, 2.5-litre four-cylinder mill. It develops 227 horsepower—or 250 with 93-octane fuel, although the engine can run on regular—but the interesting number here is the 310 pound-feet of torque that peaks from only 2,000 rpm. Acceleration isn't neck-snapping, but the CX-9 blasts off swiftly and the six-speed automatic downshifts quickly, especially in Sport mode.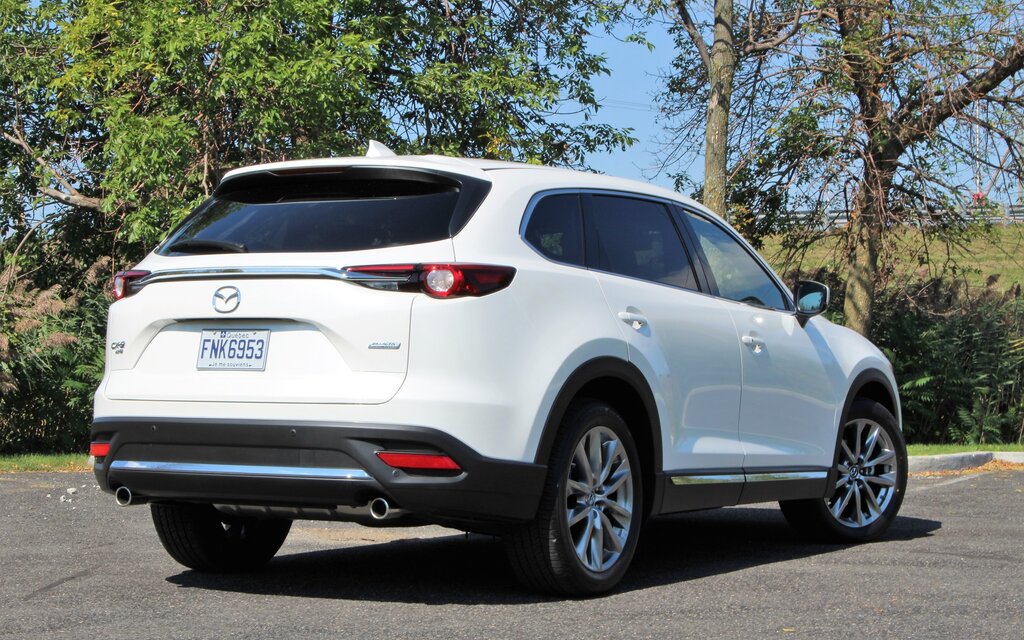 While most three-row, all-wheel-drive SUVs boast a combined city/highway rating that hovers between 11 and 12 L/100 km, the 2019 Mazda CX-9's is pegged at 10.5 L/100 km—among the most efficient in its segment. With a lot of highway mileage, it's possible to hold an average below 10 L/100 km, but in real-world driving, a figure of 11 is more realistic.
The Mazda may consume a little less fuel than its adversaries, the trade-off is a maximum towing capacity of 3,500 pounds or 1,588 kilograms. Meanwhile, when properly equipped, most midsize SUVs can tow up to 5,000 pounds, and the Dodge Durango is the only one that can be equipped with a V8 engine for a max capacity of 7,200 pounds.
As a people mover, the 2019 Mazda CX-9 fares well, even though it's not as roomy inside as in the Chevrolet Traverse or the Honda Pilot. The second-row seat mechanisms were a little stiff in our test vehicle, so moving them forward to access the third-row seat required a fair amount of elbow grease. All but the base GS trim level gets two USB ports tucked away in the second-row fold-down armrest, but rearmost occupants don't get any, and only the front-seat area gets a 12-volt socket.
The SUV's driving position is excellent, the seats are comfy for long drives, while fit and finish is above-average in its class. Our Signature tester even benefits from wood trim on the door panels and centre console, in addition to Nappa leather upholstery. We just wish the lower portion of the centre stack wasn't so fat, as we're constantly rubbing our leg against it. While we're nagging, there's no panoramic sunroof available, and Mazda figures people will prefer spending their money on digital tablets for the kids instead of a built-in rear-seat entertainment system.
Cargo space isn't the CX-9's forte, either. With all seats occupied, there's 407 litres of space left for groceries and hockey bags. Even with the third-row seat folded into the floor, we only get 1,082 litres of space, smallest in its segment. To make the CX-9 as agile and light on its feet as it is, some compromises had to be made.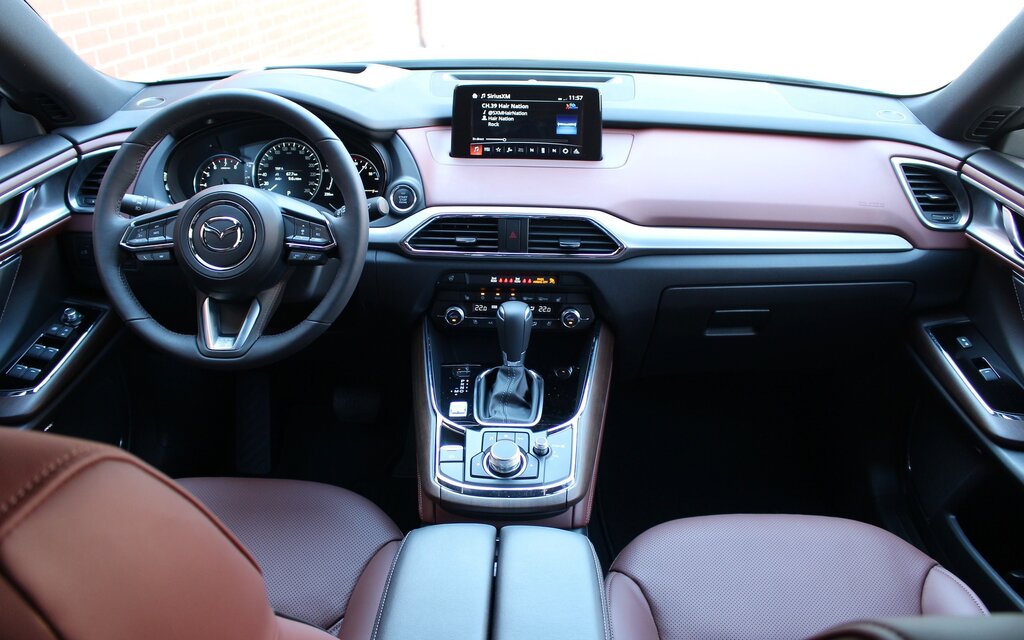 Starting at $36,700 before freight and delivery charges for the front-drive GS, the 2019 Mazda CX-9 is competitively priced. It includes blind-spot monitoring with rear cross-traffic alert, 18-inch wheels, three-zone climate control, heated front seats and cloth upholstery.
It also gets the excellent Mazda Connect infotainment system with seven-inch screen—GS-L, GT and Signature variants get an eight-inch display—and console-mounted multifunction knob and volume dial that eliminate the distraction of having to stretch our arm to control the system. For 2019, Apple CarPlay and Android Auto integration has been added, which many people will appreciate, although switching between Mazda's operating system and these is a little fussy—it all depends what features you regularly use.
We'd move up to the $40K GS AWD, however, which adds the brand's very capable i-ACTIV system for the winter season as well as advanced safety features such as adaptive cruise control, autonomous emergency braking with pedestrian detection, lane-departure warning and lane-keep assist. A 12-speaker, Bose surround sound system is included in GT and Signature variants, the latter topping out at a reasonable $51,500.
With good looks and a fun-to-drive character, the 2019 Mazda CX-9 has a lot to offer and succeeds in being something unique in its category. Think of it as the gymnast of the group. However, we still like the idea of a good V6 engine in a vehicle this big, and if towing capacity and cargo space are top priorities while we're shopping for a three-row SUV, the CX-9 might not be the ideal choice.
Share on Facebook