Mercedes-AMG Presents GT R Roadster in Geneva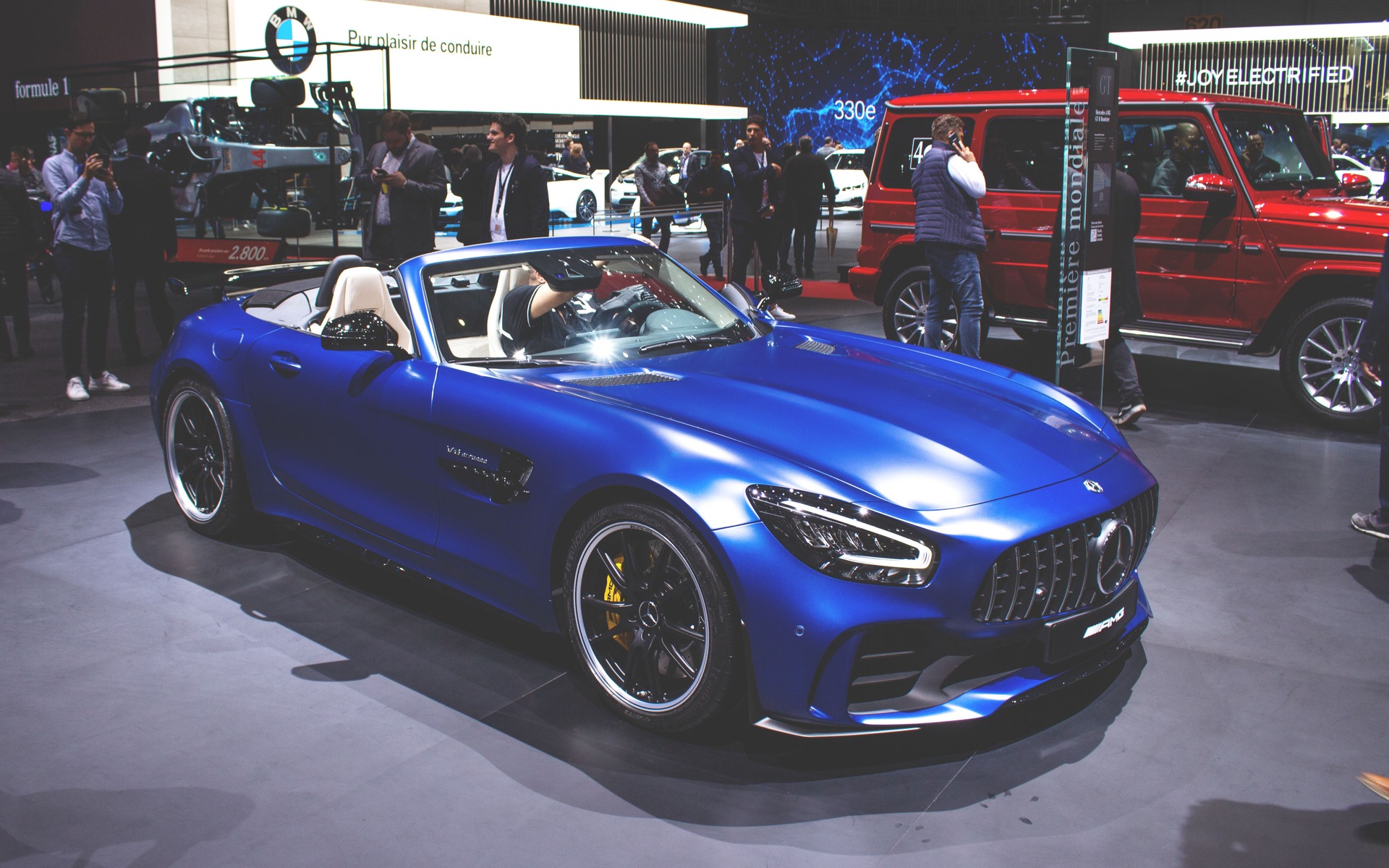 Quite frankly, the number of trim levels of the Mercedes-AMG GT coupe and roadster is quite puzzling. Some model years, the company offered the base GT along with the GT S, the GT C and the GT R. The next year, only two of these trims were available, at least in Canada. And now, there's the Mercedes-AMG GT 4-door Coupe with different trim level names to mix everyone up again.
However, it's always been clear that the GT R was the most powerful and the most exhilarating amongst the coupes and roadsters, and now, there's a new Mercedes-AMG GT R Roadster that has just appeared at the Geneva Auto Show.
We don't know why the company waited so long to introduce the GT R Roadster, but production will be limited to 750 units worldwide. It will compete against the Porsche 911 Turbo Cabriolet, the Audi R8 Spyder and the Lamborghini Huracán Spyder, among other high-powered beasts.
It's equipped with a dry-sump, twin-turbo, 4.0-litre V8 that belts out 577 horsepower and 516 pound-feet of torque, connected to a seven-speed, dual-clutch automated transmission and a rear-wheel drivetrain. A sprint from 0 to 100 km/h in the GT R Roadster should take as little as 3.6 seconds, and top speed is pegged at 317 km/h.
From a styling standpoint, there's little difference between the new Roadster and the GT R Coupe, aside from the power-folding soft top. They boast an active aerodynamics system located underneath, right before the engine, which is basically a carbon-fibre panel that extends by 40 millimetres depending on which drive mode is chosen. This glues the car to the pavement and reduces lift at high speeds. The Roadster gets the same massive rear wing as the coupe, designed to increase downforce.
Inside, Exclusive Style Nappa leather upholstery is standard, as is the AIRSCARF neck-heating air vent system. The seats are heated and ventilated for comfort during all seasons.
The AMG DYNAMIC SELECT system allows the driver to choose between Slippery, Comfort, Sport, Sport Plus, RACE and Individual drive modes. However, the GT R also comes with AMG DYNAMICS, a regulation system that tweaks the stability control program according to the driver's desires, with Basic, Advanced, Pro and Master settings. In a nutshell, the GT R's handling and character are totally configurable.
No Canadian pricing has been confirmed for the 2019 Mercedes-AMG GT R Roadster yet. However, the GT R Coupe is listed from $183,000 and Roadster models are about $15K more expensive than the coupes, so we can safely assume the GT R Roadster will cost about $200,000.
Share on Facebook