2019 BMW Z4 sDrive30i: No Need to Worry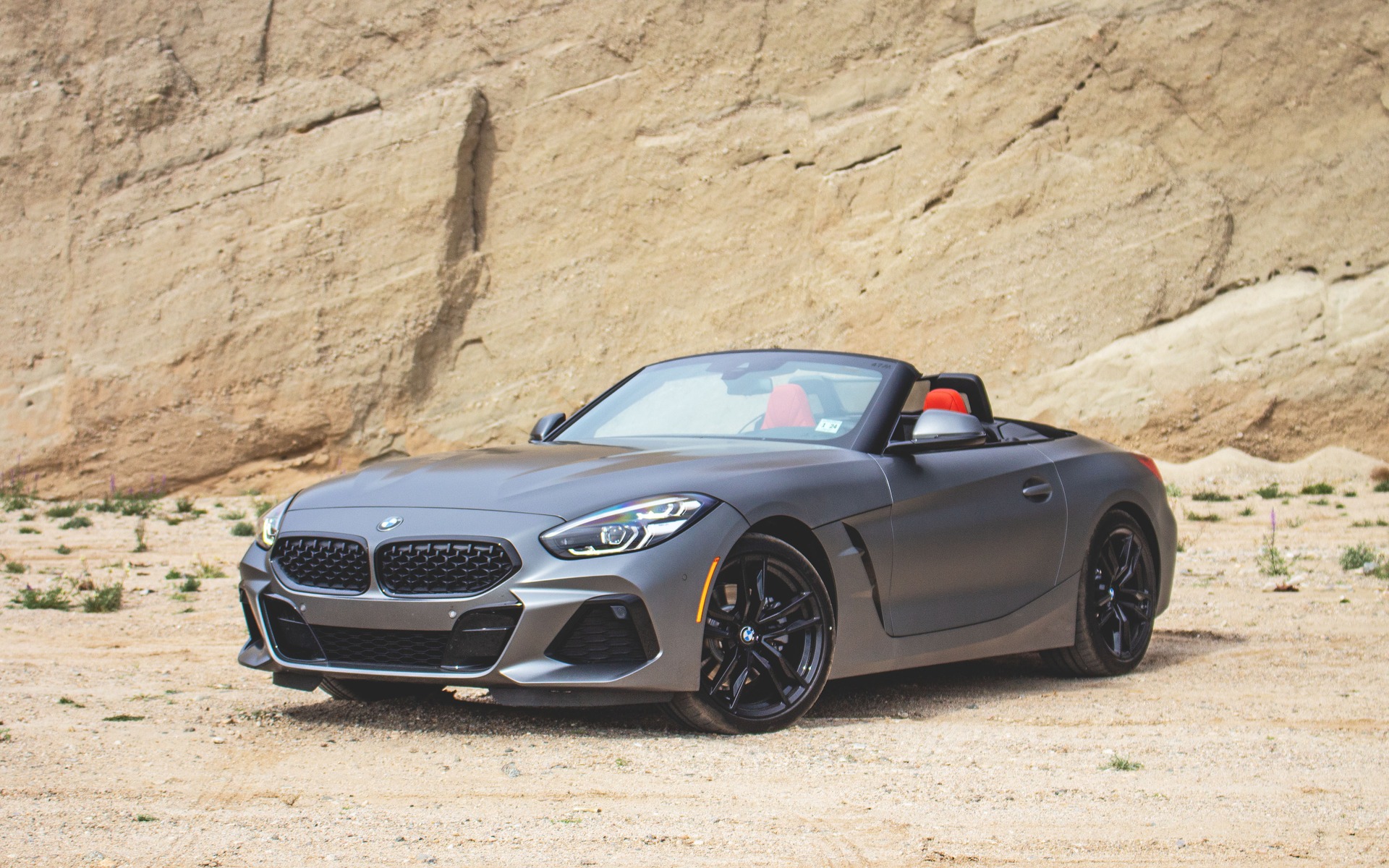 Strong points

Distinguished styling
Meaty four-cylinder engine
Spacious and comfortable cabin

Weak points

No manual gearbox
Lame engine note (sDrive30i)
iDrive can get confusing for some
Full report
PALM SPRINGS (California) – After a three-year hiatus, BMW's drop-top roadster returns with an all-new face, built on an entirely updated platform and powered by two new engines. Exciting.
But we were worried. Worried that this new Z4 would be too big, too soft and far from its roots (the Z3). Add to that the fact that it shares almost all its mechanical components with the 2020 Toyota Supra, and you end up with a car that's not exactly receiving all the attention it deserves.
Turns out we had no reason to worry. After driving it in California's Palm Springs region, we can attest that the 2019 BMW Z4 is the right kind of roadster.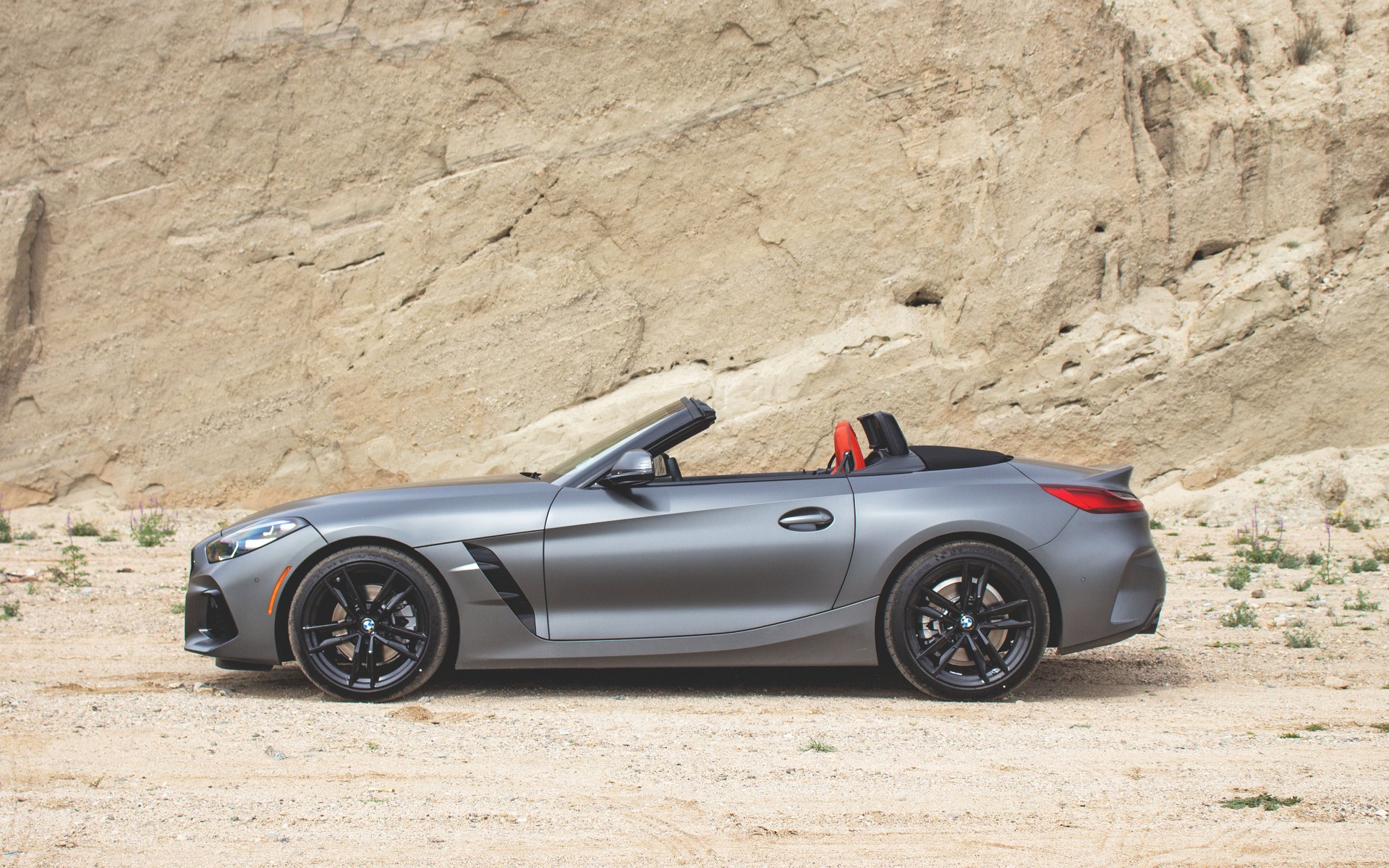 In the Other Car's Shadow
The Toyota Supra's renaissance generated so much commotion that the poor Z4 quickly disappeared in the shadow of its mechanical cousin. And that's unfair when you think about it, because the return of a convertible sports car within BMW's lineup should enthral any automotive enthusiast, especially considering that this type of car is getting rarer and rarer.
But that doesn't prevent the Z4 from having good competitors, because it has a few. Think Mazda MX-5, Audi TT, Alfa Romeo 4C, Mercedes-Benz SLC and Porsche 718 Boxster.
At first sight, the Z4 does indeed look different due to its angular design, a language we're beginning to see across BMW's lineup. At least, it maintains the classic roadster proportions with its long nose, wide hips and pushed-back cabin. Honestly, this is a good-looking car.
With its new Z4, BMW promises a return to form by making the car lighter and more agile, qualities that had been lost in the last-generation car which had become too lazy and—ahem—too American.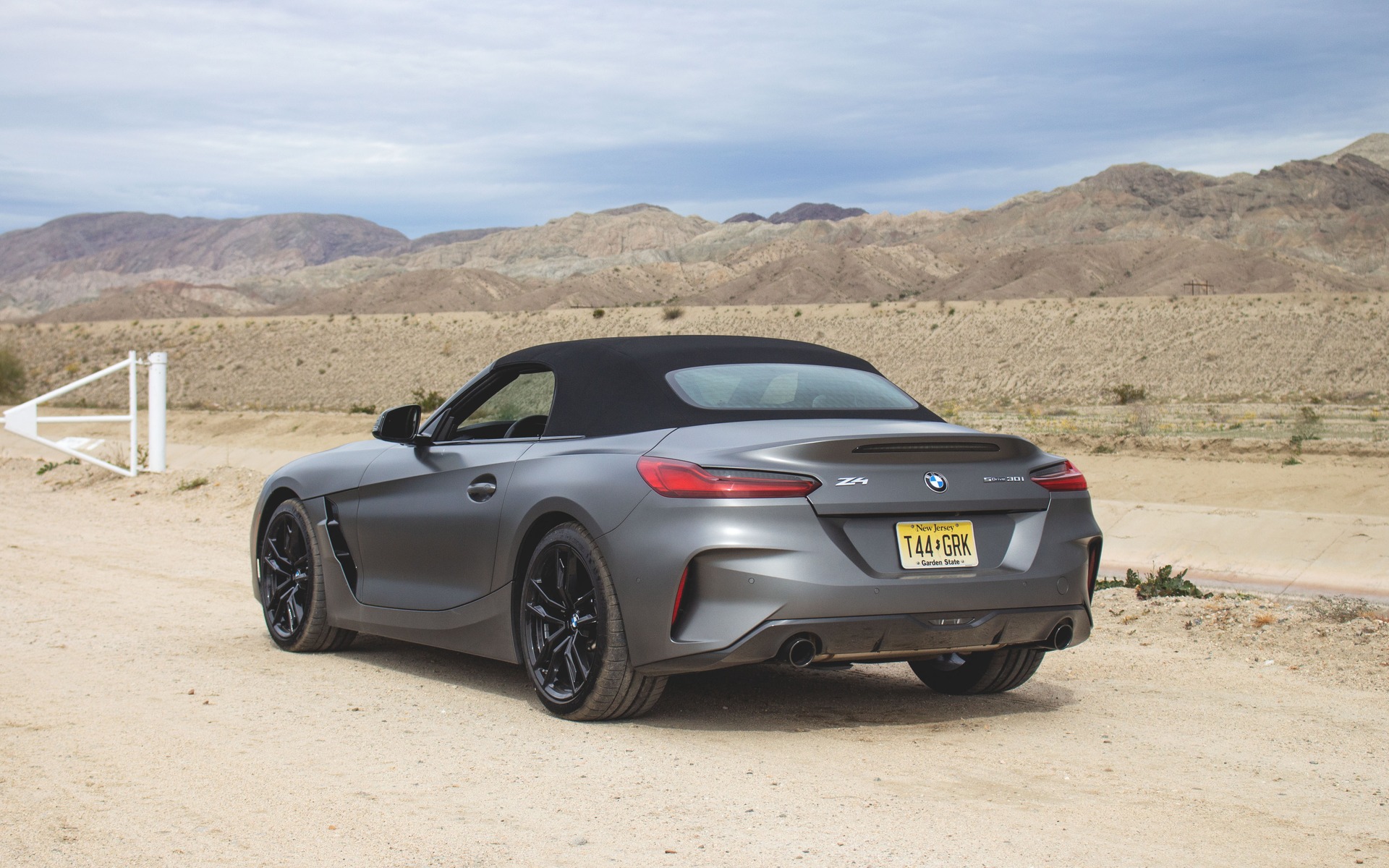 This all starts with a ragtop, allowing the car to lose a few pounds on the scale, but not a whole lot, as this Z4 only weighs five kilograms less than its predecessor (1,491 kg vs 1,496 kg). That roof does remain electric, because, after all, we are talking about a BMW.
For 2019, the roadster comes in only one trim level, the sDrive30i, which is powered by a 2.0-litre turbocharged four cylinder good for a claimed 255 horsepower and 295 lb.-ft. of torque. An M40i will soon be added to the lineup, powered a 3.0-litre single turbo straight six pumping out 382 horsepower and 369 lb.-ft. of torque. Yes, that's the same engine as in the Supra, but it makes 47 extra horsepower here.
The biggest disappointment, at least for enthusiasts, is the death of the manual gearbox for all Z4s. Gone are the three pedals for this roadster. The only available transmission across the board is an eight-speed automatic. Don't worry, the Z4 remains rear-wheel drive.
Curious to find out what the small engine felt like, we focused on the sDrive30i model during our drive.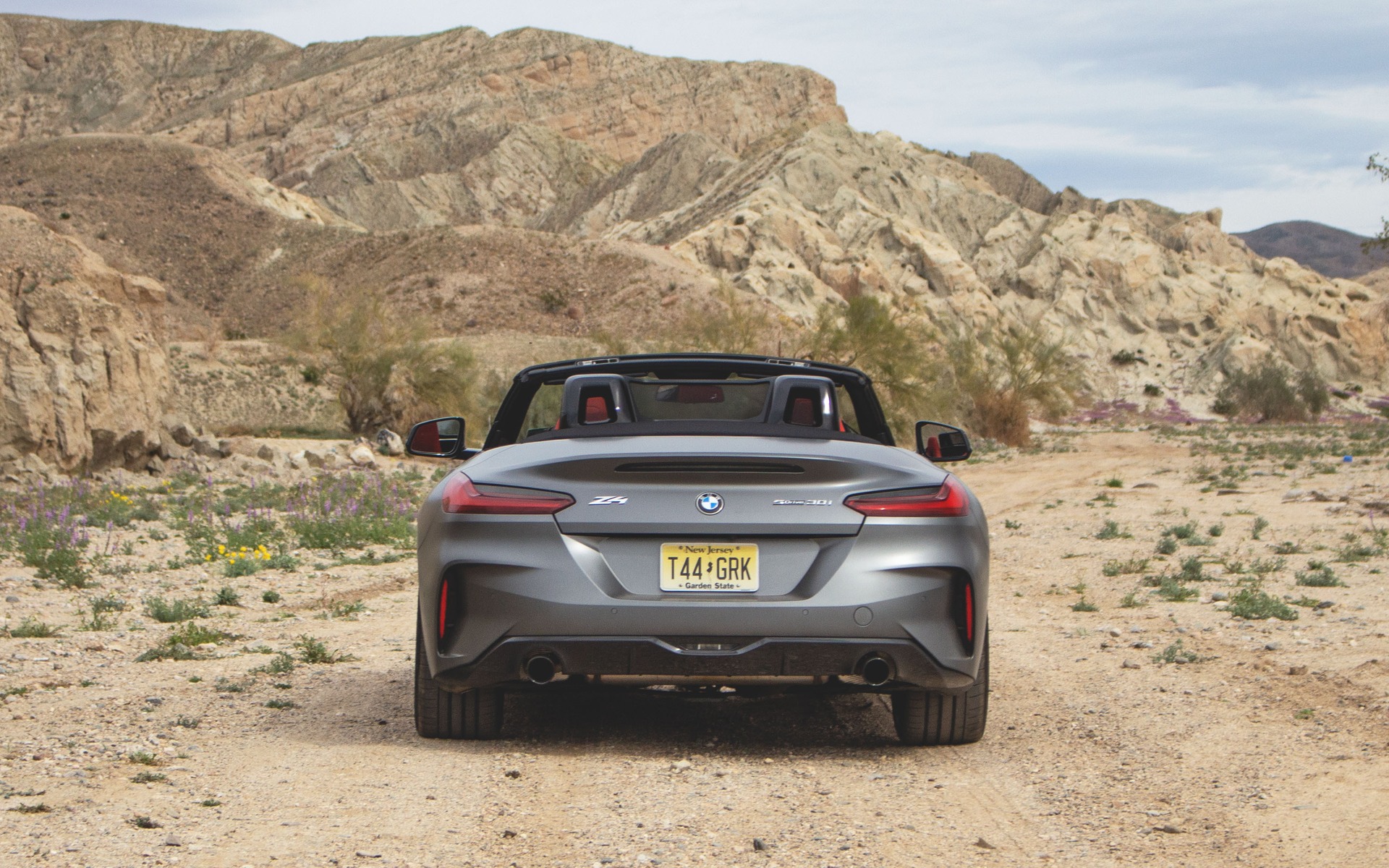 Sun and Wind
Our drive took place on Box Canyon road, just a few kilometres east of Thermal raceway where BMW was hosting its annual Test Fest event.
It's a typical California road which slithers its way through a dry desert and stubby rock-filled mountains. Essentially, this is the kind of place where you want to drive a roadster with the wind in your hair.
The moment you turn the steering wheel in a Z4, there's a sensation of lightness. Enter a corner hard, and the car emits no chassis tweaks or unwanted flex. This is a super-solid machine, great news for a convertible, but even better news for the Supra.
The fact that the Z4 is considerably wider than the car it replaces (1,864 mm vs 1,790 mm) certainly helps. That, and the optional adaptive suspension our car was fitted with. Together, they contribute at making the roadster ultra stable and drama-free at high speeds, without affecting the car's newfound agility. There's a sensation of confidence and ease behind the wheel of this car. The Z4 feels bigger than it actually is.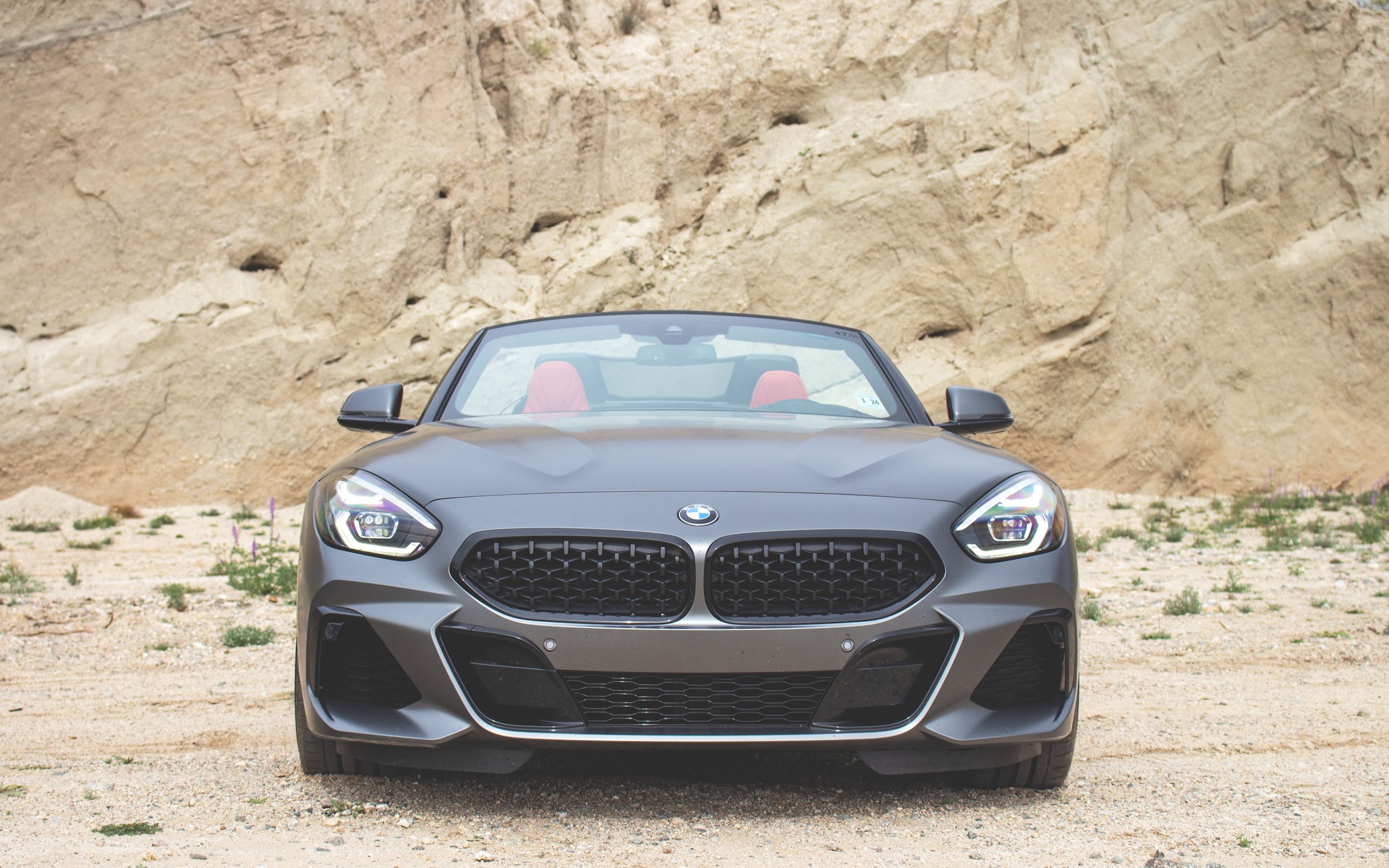 And the steering is not bad either, at least, for an electronic setup. BMW seems to have figured out a way to calibrate these systems just right lately. There's just enough retroaction here to sense what the front wheels are doing. It's less organic than a hydraulic system, of course, but the Z4's steering shouldn't disappoint hardcore performance junkies.
We were also pleasantly impressed by the four-cylinder's low-end torque. It kicks in at just 1,500 rpm, followed by a subtle and short delay. Turbo lag is minimal and the engine will let you rev it all the way to the near-7,000 rpm redline. For its size, it's a brawny little mill, allowing the Z4's base variant to be satisfyingly quick off the line.
BMW says the sDrive30i will sprint from a standstill to 100 km/h in 5.2 seconds. That's quick by any standard.
What we didn't like, however, is the way that engine sounds, especially considering it's been amplified from all angles through the car's sound system, along with fake backfires that resonate throughout the exhaust system. It's fun at first, but quickly gets irritating. We much prefer the organic sound of the six-cylinder engine.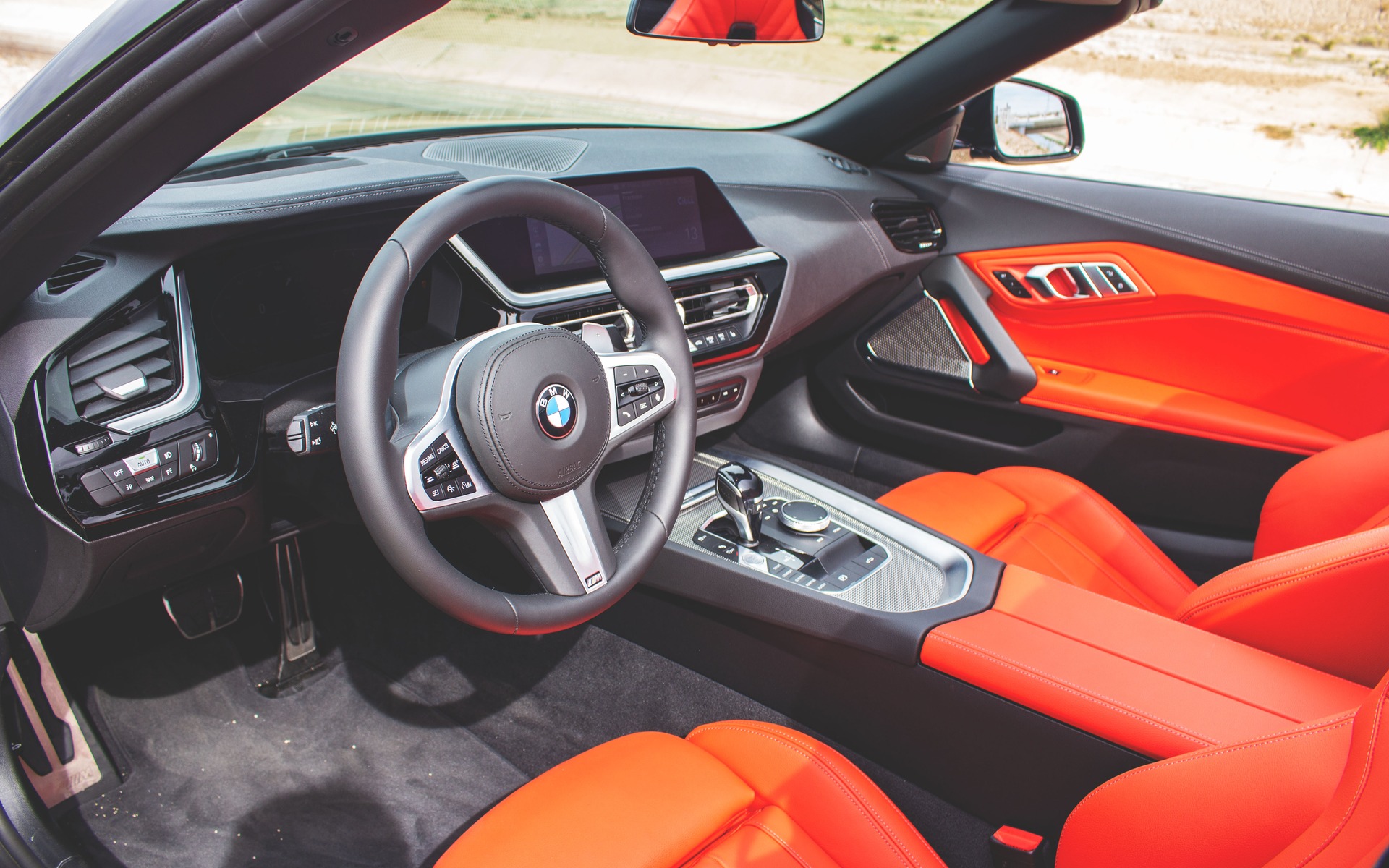 A Good Bimmer Always Feels Good
When you stop to think about it, we all expect a BMW sports car to be quick and handle well, and on those points, the 2019 Z4 certainly delivers. And like any good BMW, its cabin is of utmost comfort.
Although this car doesn't have rear seats, the front-seat area is spacious, even for tall people. The front seats can be pushed back far, and inclined without obstruction, just like in a sedan, and they offer just the right amount of support. Our tester was dressed up with a dashing red-on-black interior, which helped at making it feel special. And although that dashboard does bear some resemblance to the Supra's, the Z4 gets its own bespoke design, differently shaped air vents and an entirely different gauge pod.
As for BMW's iDrive infotainment system, we believe it has evolved to near perfection.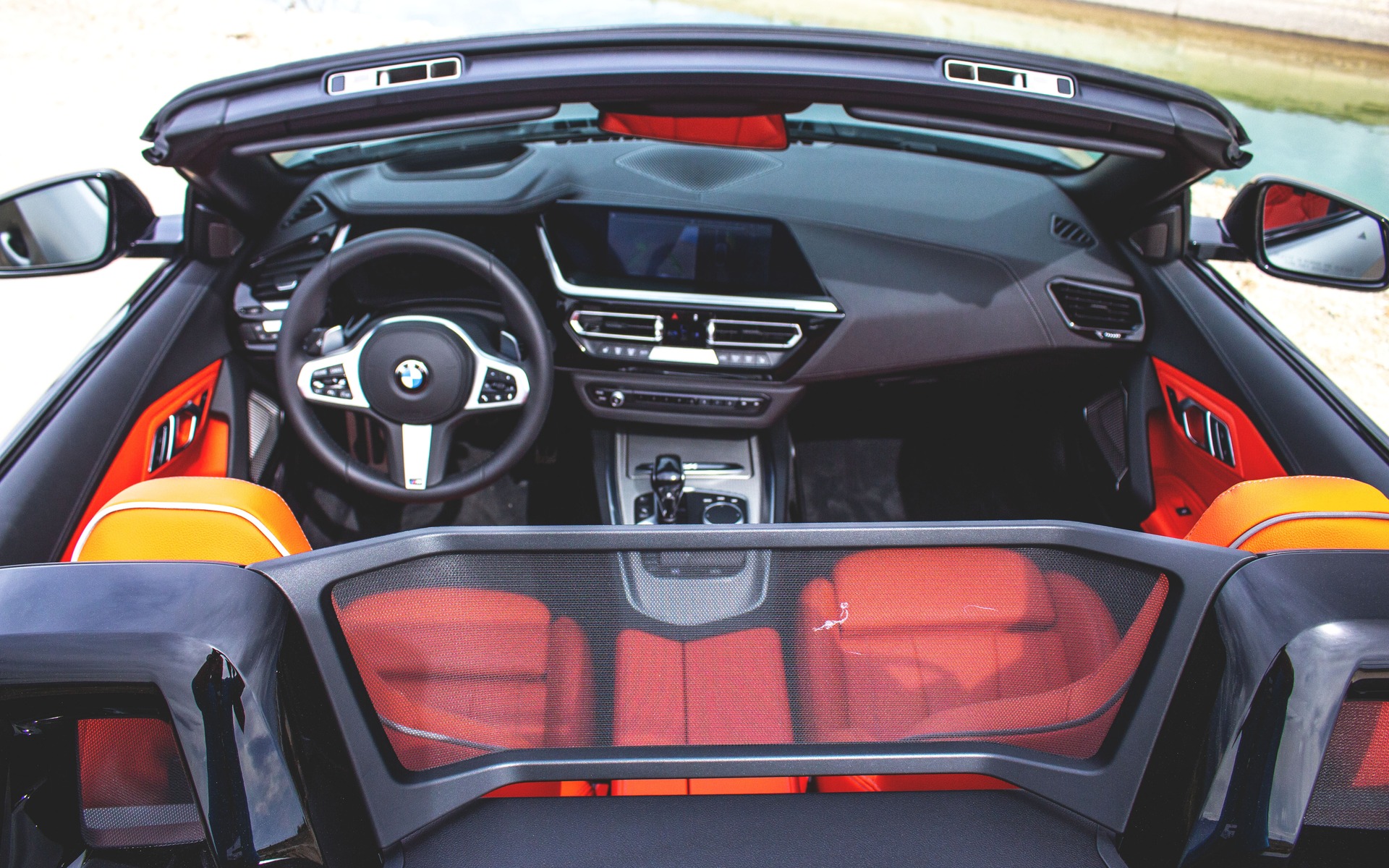 Once one of the worst systems on the market, it's become a leader in ergonomics, operated either by physical controls or a touchscreen, and incorporating all the latest connectivity tech. It's one of the greats. But as in all BMW products of late, it's cluttered with an overabundance of menus and features which could prove confusing for non-tech-savvy drivers.
Essentially, BMW's roadster left us to return stronger, slimmer and more exciting. And it brought with it the engineering know-how we expect from a BMW. The Z4 is brilliant, nothing less.
Share on Facebook