The 2020 Ford
Super Duty

Promises to be Even More Powerful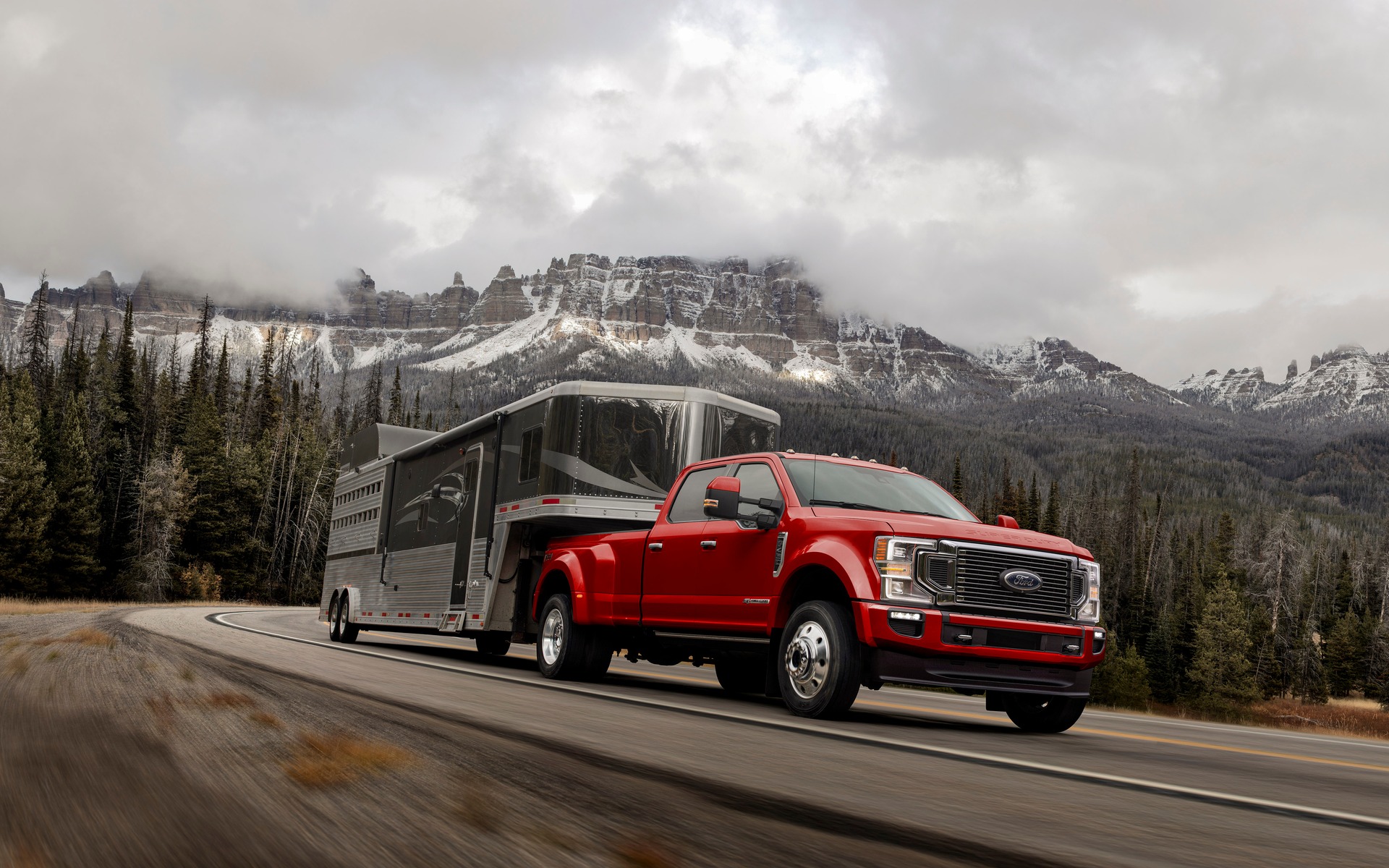 DEARBORN (Michigan) – It's official, the work truck war is once again upon us. In the span of only a few months, we saw the all-new Chevrolet Silverado HD, the Ram HD, and the Sierra HD. Inevitably, Ford responds with its 2020 Super Duty.
We were in Dearborn, just outside Detroit, to assist Ford's North American unveiling of the beast.
Still no Numbers
Scheduled for our market this fall under the F-250, F-350, F-450 and F-550 variants, the new Super Duty promises to be more powerful than ever, even though Ford didn't want to share any technical specifications with us. We therefore have no idea how much horsepower and torque this thing makes, or how much weight it can tow or carry in its bed.
At least, from what we know so far, the Super Duty should be quite strong. Two engines power it; an all-new 7.3-litre V8, or a significantly modified version of the Power Stroke 6.7-litre turbo-diesel V8.
When asked about the diesel engine's torque output, Mike Pruitt, the Super Duty's chief engineer, simply responded by stating that his team anticipated the 1,000 lb-ft of torque Ram recently declared with its rig.
"Our truck will be the most powerful," he said with a slight grin on his face.
The current turbo-diesel Super Duty churns out 925 lb.-ft. of torque and can tow up to 31,500 lbs. (14,541 kg). The new GM brothers both make 910 lb.-ft. of torque and can pull between 30,000 lb (13,607 kg) and 35,500 lb (16,102 kg). It will be interesting to see how the Ford will position itself within the segment.
As for the new gasoline engine, Ford claims it'll be the sturdiest V8 engine in the segment thanks to a new cam-in-block, overhead valve architecture, an iron block, a forged steel crankshaft, as well as variable-valve timing port injection.
All this furious might will be channeled through an all-new ten-speed automatic gearbox, essentially a fortified version of the one found in the standard F-150. It's only 6.5 lbs. (2.9 kg) heavier than the old six-speed and occupies the same space in the engine bay.
Of course, this new work truck will incorporate the latest towing technology, like Ford's Pro Trailer Backup Assist system, which uses cameras and sensors to help guide the driver, like what's offered in the competition.
As we're writing this, Ford only speaks of King Ranch and Limited trim levels, either in simple or dual-wheel configuration, but there' still no talk of an off-road specific model to compete against the GMC Sierra HD AT4 and Ram 2500 Power Wagon.
However, Ford claims that it's not done unwrapping its Super Duty lineup, and that "something else is coming." We'll have to wait a few months in order to get the full portrait of Dearborn's new workhorse.
Share on Facebook