Exclusive

2020 Hyundai Palisade: Well Trained and Ready to Fight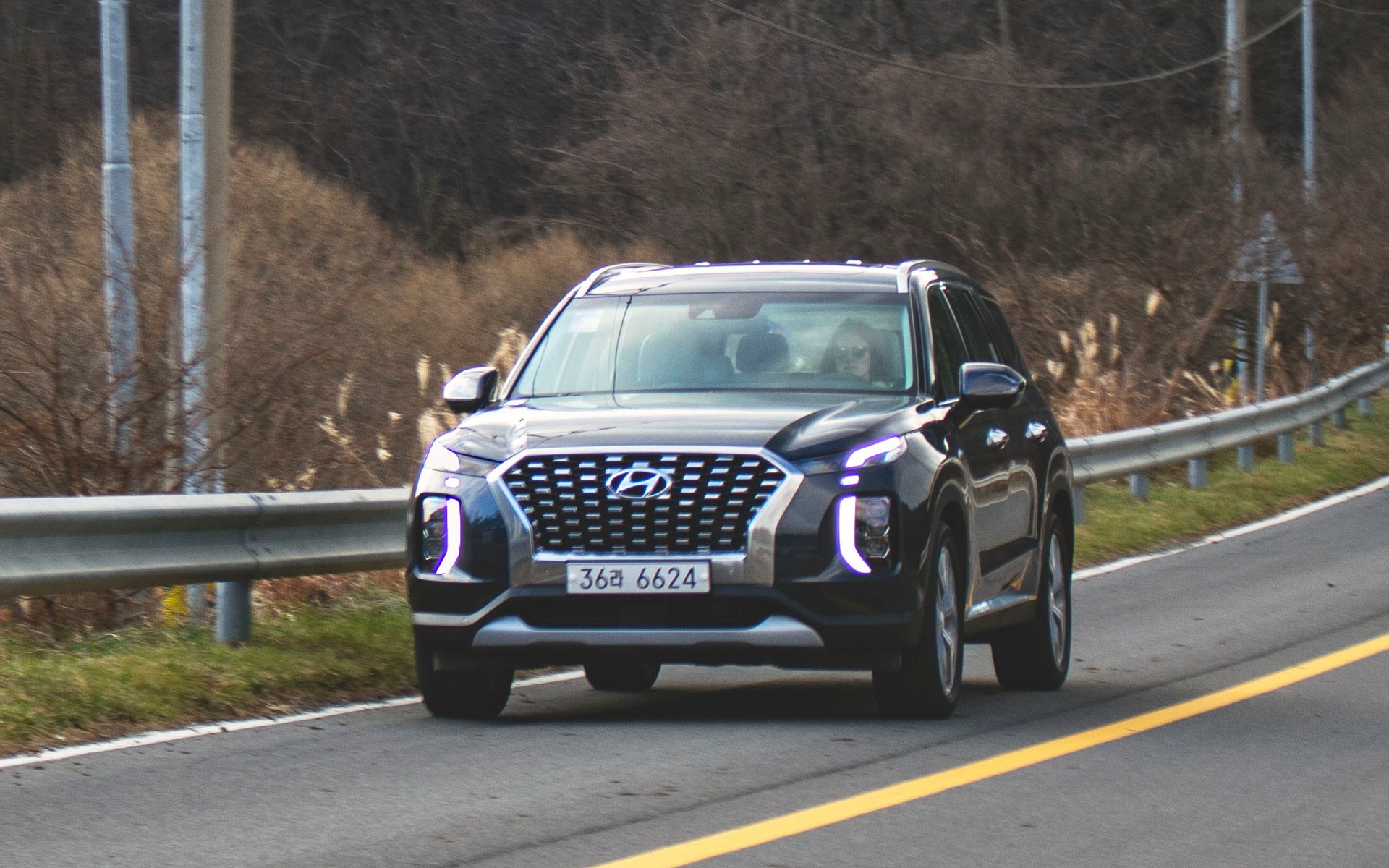 SEOUL (South Korea) – Yup, it's another SUV! Surprised? We're not. With industry titans such as the Honda Pilot, Toyota Highlander and Ford Explorer generating massive sales each year, it's only fitting that all carmakers offer at least one eight-passenger SUV within its lineup. Inevitably, the Koreans are also following the trend.
All that being said, we can't do otherwise but applaud Hyundai for its latest people hauler. The Palisade isn't only a well-executed midsize SUV; it'll likely hurt its Japanese, American and German rivals when it hits showrooms next summer.
One Engine and a Lot of Comfort
The Palisade is an important vehicle for Hyundai, and not just here in North America where consumers are addicted to SUVs, but also in China where the carmaker wants to increase its market share.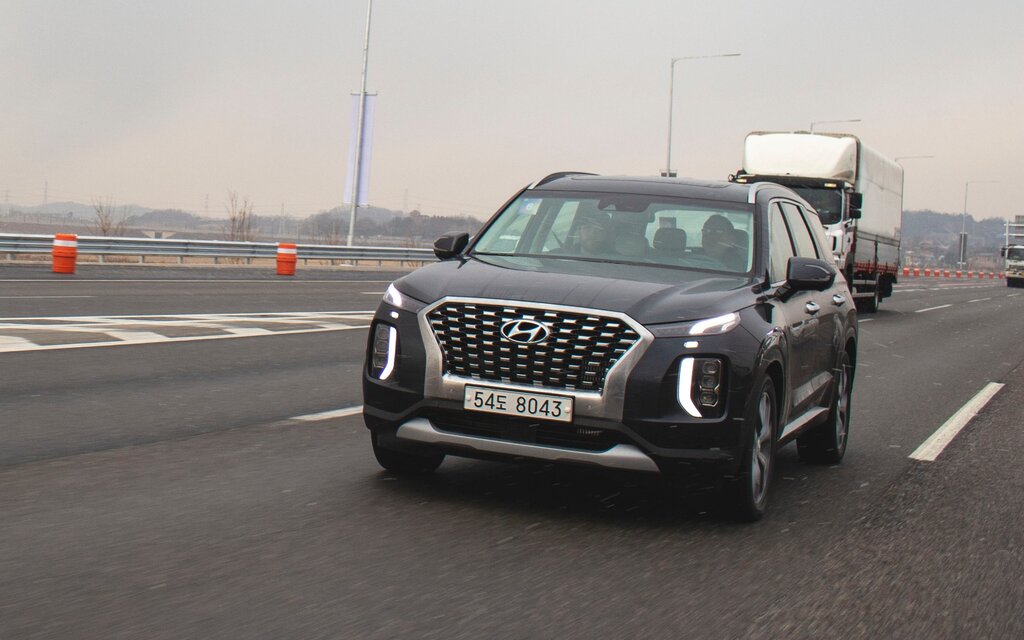 Inevitably, this is a big vehicle; the largest Hyundai ever built as a matter of fact. Capable of hauling up to eight passengers and tow 5000 lbs. (2268 kg), it comes right smack in the playing field of rivals such as the Honda Pilot and Subaru Ascent. Except the Palisade comes standard with this maximum capacity, while some competitors require a tow package.
In North America, only one engine will power it—a naturally aspirated, Atkinson-cycle 3.8-litre V6 good for 291 horsepower and 262 lb.-ft. of torque. It's mated to an eight-speed automatic gearbox. Hyundai says the vehicle will come standard with front-wheel drive, while HTRAC all-wheel drive will come as an option. But according to Jean-François Taylor, public relations specialist at Hyundai Canada, the Palisade will undoubtedly come standard with AWD on our market.
However, it's the ingenious use of interior space that impressed us the most with this one. The Palisade may seem enormous from the outside, but it's actually shorter (4980 mm) than a Honda Pilot (4991 mm) a Ford Explorer (5046 mm) and a Nissan Pathfinder (5041 mm). Meanwhile, cargo capacity behind the second row of seats is rated at 1296 litres, which makes it more cavernous than a Toyota Highlander (1197 litres) and an Explorer (1243 litres).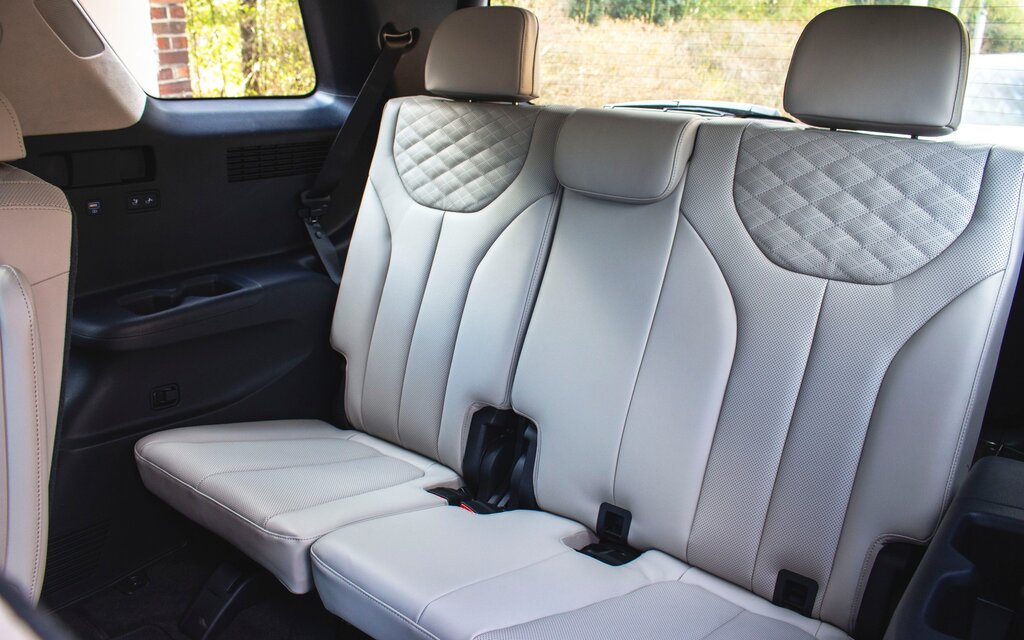 Hyundai's new rig is also very comfortable. Immensely comfortable. While our test vehicles were pre-production units—with still no pricing details in sight—the Palisade can be equipped with high-end materials such as wood trim and sumptuous quilted leather seats—both front and rear—with an easily accessible third-row bench that's surprisingly comfortable for adults.
That's actually what Hyundai is trying to do with this thing: redefine consumer expectations. After all, its "raison d'être" has always been value, and with the Palisade, it's trying to push that envelope even further.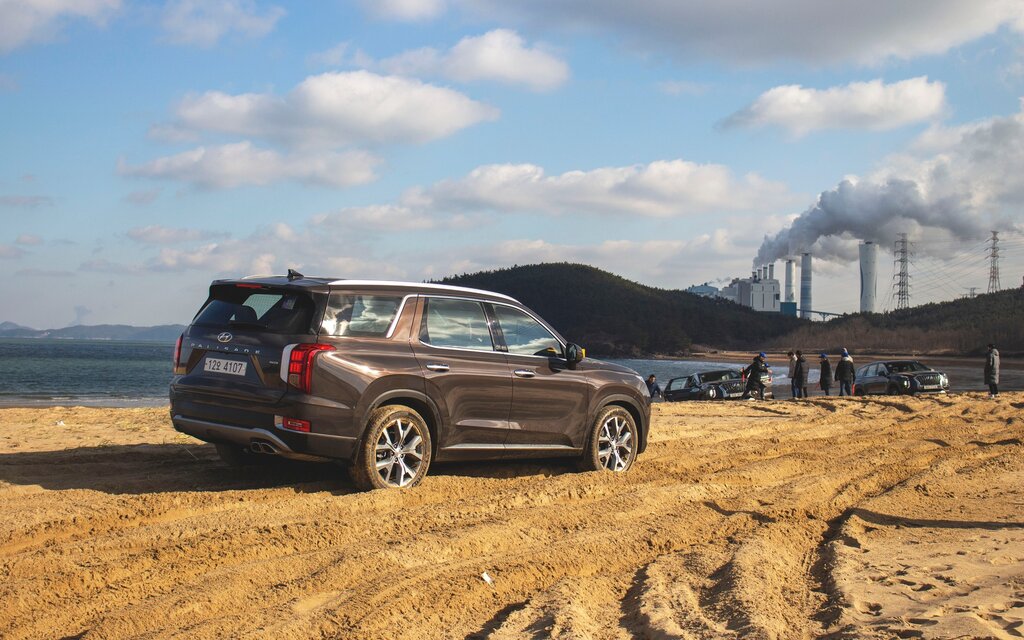 Diesel and Sand
On the road, the Palisade continues its premium vehicle demeanour by way of an extremely quiet and solid composure over rough roads. And let's not forget the serenity of its cabin. We were, however, disappointed to find four-cylinder diesels under the hoods of our test SUVs. While we like the idea of such an engine, it won't be available on our market. It was therefore frustrating to have to deal with a presentation that praised the V6, and not get a chance to try it!
Hyundai says the media program we were attending was destined to the Korean market, where consumers prefer diesel over gas. We'll get a chance to drive the V6 before its official release.
The drive did nevertheless allow us to sample the automatic gearbox as well as the available drive modes, which significantly alter the vehicle's driving dynamics. The Palisade gets a total of seven modes, selectable via a console-mounted knob dial through two categories: Drive (urban driving), which houses Comfort, Eco, Sport and Smart modes, and Terrain (off-road driving) with Snow, Mud and Sand modes.
Out of all the modes, Smart was by far our favourite. Inspired from the Kia Stinger's setup, it automatically alters the vehicle's transmission, throttle response and steering feel according to your driving style. And the system works rather well.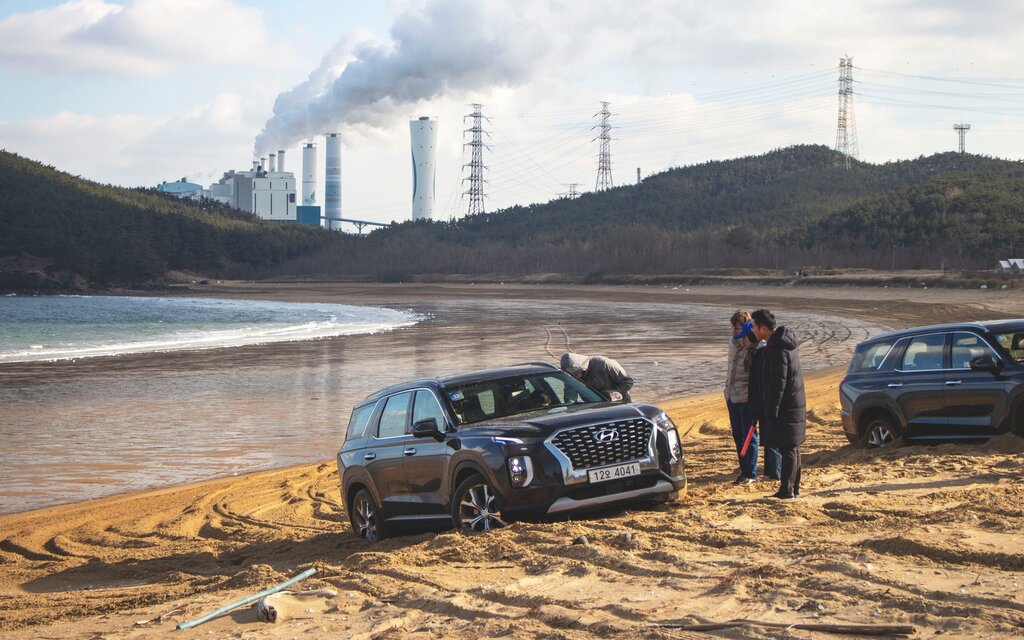 For off-road driving, it was the Sand mode that allowed us to go play on the beach. Like the Palisade's other modes, the system modulates traction control and the anti-lock braking system to ensure maximum traction in tricky situations. On our end, it proved quite capable, as we had no issue plowing through thick sand and water with our big guy.
Of course, a modern eight-passenger SUV wouldn't be complete without the most recent safety and connectivity toys, and on that front, the Palisade doesn't disappoint. It comes standard with an eight-inch touchscreen—or 10-inch as an option—as well as an abundance of USB ports located at clever locations around the cabin, such as on the backsides of the front seats to accommodate rear passengers.
Its infotainment system is also entirely new. First introduced on the fuel-cell Hyundai Nexo, the new interface now allows you to customize widgets on the home screen to your liking, like on a smartphone. Apple CarPlay and Android Auto integration is also standard.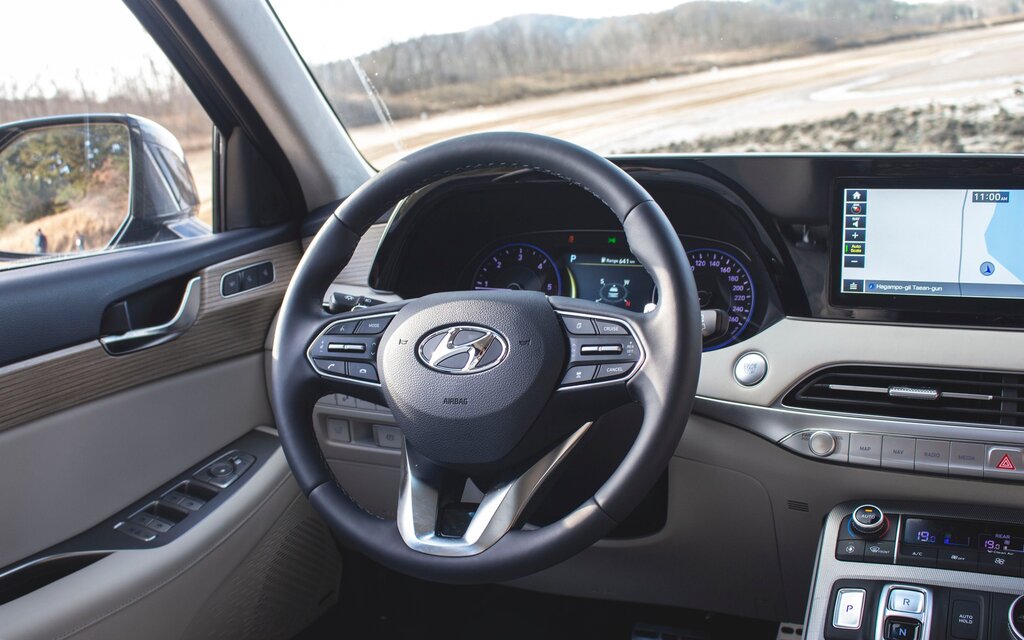 A Full Package
Furthermore, our Palisade was juiced up with a plethora of cool tech, such as an integrated intercom that allows front passengers to discuss with people in the back rows. There are also cameras located all around the vehicle, one of which detects objects in your blind spot, similar to Honda's LaneWatch system.
We were however disappointed to not find an integrated entertainment system for rear passengers, something its rivals offer in upper trim levels. And the lack of an electrified powertrain, in 2020, is a bit of a letdown. A plug-in hybrid Palisade would undoubtedly be a sales hit, especially considering Hyundai already has the technology for it.
But hey, as of next summer, a lot can happen. While our first contact with the 2020 Hyundai Palisade was a preliminary one, it still allowed us to dress a portrait of the vehicle as a whole.
Simply put, midsize SUVs have something to worry about, because when the Palisade will hit the market next year, it will arrive well trained and ready to share a few punches so it can ensure its dominance within the segment.
Share on Facebook