2018 Mitsubishi Outlander PHEV: The Next Logical Step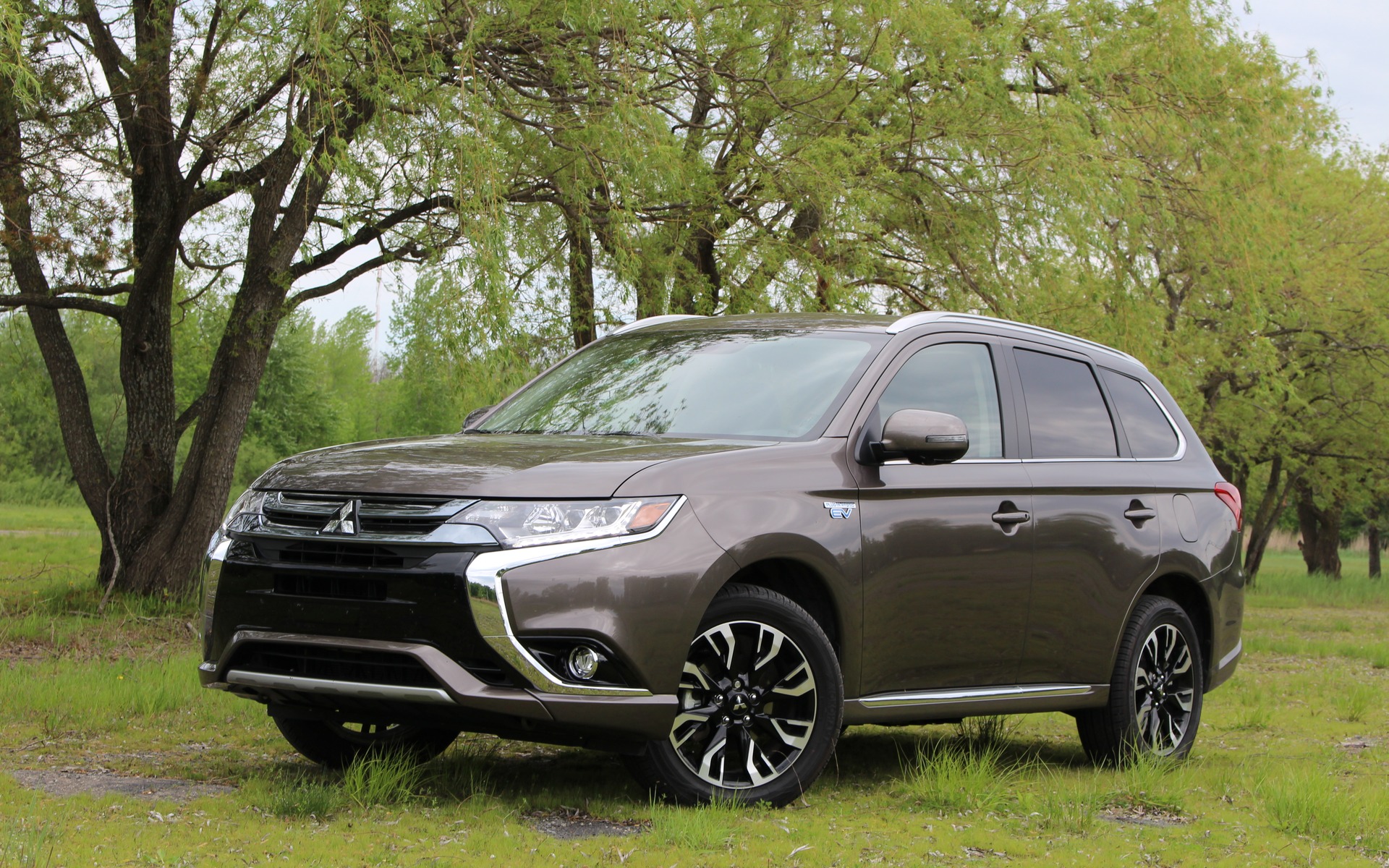 Strong points

Reasonably good EV range
Spacious cabin
Capable all-wheel drive system

Weak points

Could be more efficient once the battery is drained
Some low-rent interior furnishings
Low on driving pleasure
Full report
To be honest, we don't know why manufacturers took so long to introduce a plug-in hybrid SUV in Canada. Stuffing such a powertrain in a car is obviously a good idea, but the fuel savings aren't all that high, as today's sedans and hatchbacks are already very efficient to begin with.
There's more potential for efficiency in a larger vehicle, one that can comfortably accommodate a family and that's priced for the average working class. The Mitsubishi Outlander PHEV has been around for a few years now in other markets, and has been such a success that the manufacturer didn't feel the need to introduce it here.
Despite waiting so long to import it to Canada, the Outlander is still the only mainstream, plug-in hybrid SUV available here. Actually, that's not true: there's also the MINI Cooper S E Countryman, but it's smaller, has a shorter EV driving range and costs about the same as the Mitsubishi.
Very little compromises have to be made when choosing the plug-in Outlander. There's plenty of room for five passengers and lots of cargo space with a volume of 968 litres behind the rear seats, or 1792 with the seatbacks folded. And it can still tow up to 1500 pounds (680 kg), if we're looking to pull a trailer.
The 2018 Mitsubishi Outlander PHEV is equipped with a 2.0-litre four-cylinder engine, two electric motors and a single-speed transmission. Although the automaker doesn't publish an official combined output, the gasoline engine produces 117 hp and the two electric motors each produce 80 hp, but we can figure that the system develops about 200 horsepower. The powertrain can run in series hybrid (the gas engine charges the batteries), parallel hybrid (the gas engine drives the front wheels) or fully electric (the gas engine is shut off) modes as needed.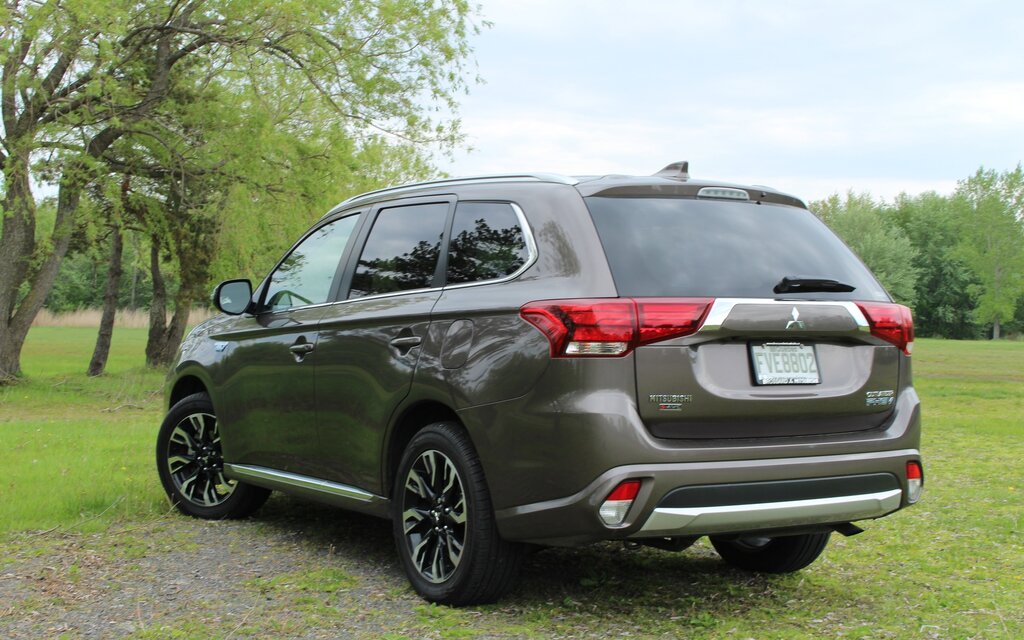 With a full charge, the plug-in Outlander will provided an estimated 35 kilometres of range running solely on electricity. Obviously, that all depends on our driving habits, the outside temperature and if we're rolling on the highway or on city streets. Electrified vehicles are usually more efficient in the urban jungle, or stuck in traffic. On a 240-volt charger, it takes 3.5 hours to fill up the battery, but the there's also a quick-charge port—very few PHEVs have that, if at all—that provides an 80% charge in about 25 minutes.
There are also some nifty features such as a Charge button, allowing us to replenish the 12-kWh battery pack while we're driving on the highway, for example. A Hold button keeps the battery charge, switching the powertrain to a hybrid mode instead of quickly wasting that precious energy on a highway stint. There's also a Lock button for the AWD system, which sets a fixed 50:50 torque split on the driveline for a more reassuring drive on snowy surfaces.
Alas, when the battery is drained, fuel economy is not that spectacular. The SUV's trip computer indicated more or less 8.0 L/100 km after driving an hour or two, without stopping for a recharge. It's still pretty good for an AWD vehicle, but the Toyota RAV4 Hybrid, which doesn't need to be plugged in all the time, can do a little better, and costs less to purchase.
On the other hand, in provinces like Quebec and British Columbia, there are government rebates to make a PHEV or EV purchase more interesting. And in certain areas, plug-in vehicles are allowed on HOV lanes even if we're along in the vehicle, and get free access to toll bridges and ferries. Like many PHEVs, and unlike the RAV4 hybrid, the Outlander can be programmed to pre-heat or cool down its cabin remotely, while it's plugged in. Stepping into a toasty cockpit on a bitter cold winter morning is pretty sweet.
Plug-in hybrid powertrain aside, the Outlander is a mix of hit and misses. Fit and finish is good overall, but the design feels old. There's a lot of piano black trim which quickly gets dusty, and the fake wood trim on the centre console will fool no one. The infotainment system has a fair amount of features, but its touchscreen could be more sensitive. And is it really asking too much to get an auto up/down feature for all four side windows, not just an auto down function for the driver?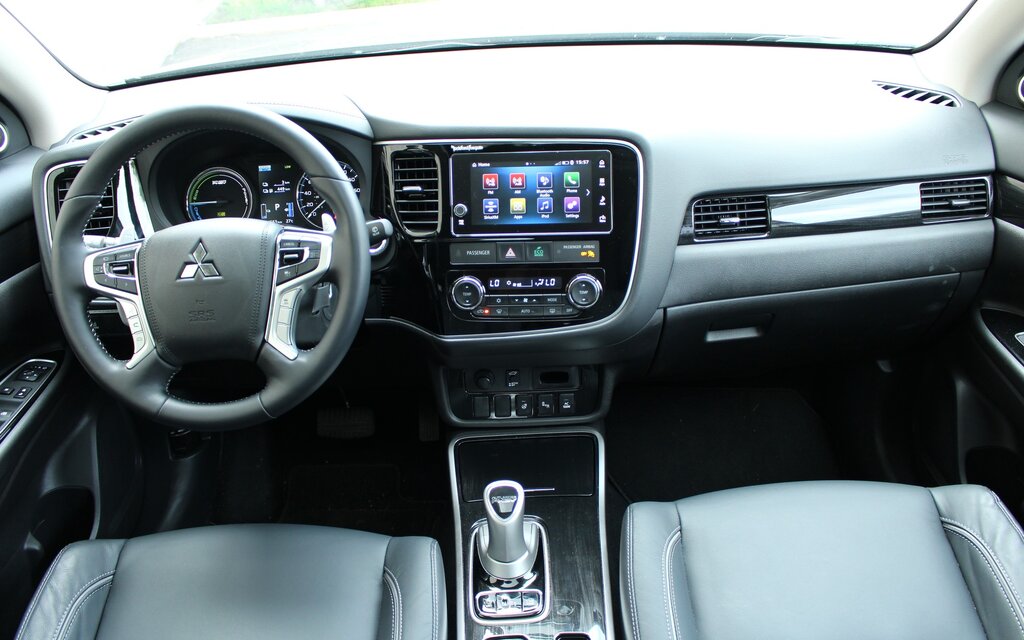 In Europe, Mitsubishi has equipped its Outlander PHEV with a 2.4-litre engine that's slightly more powerful, and that's slightly more efficient, but for now, the Canadian market must do with the 2.0-litre mill. Maybe we'll get it in 2020. Or 2021. Or won't get it until a new-generation Outlander comes around, but there are no announced plans for that yet.
Priced from $43,198 before freight and delivery charges, the 2018 Mitsubishi Outlander PHEV comes reasonably well equipped with heated front seats, dual-zone climate control and a decent sound system. The GT S-AWC adds a power sunroof, a power liftgate, leather upholstery, a 710-watt Rockford Fosgate audio system, adaptive cruise control and more for an MSRP of just over $50K. It's not a steal for a compact-sized SUV, but if we crunch the numbers and figure out that we won't be spending much on gasoline, we'll recover the initial investment over time.
Factor in Mitsubishi's good reputation for reliability and its generous powertrain warranty—10 years or 160,000 km, whichever comes first—and we end up with a very likeable family hauler.
The Outlander PHEV isn't perfect. It's not all that fun to drive, its platform doesn't feel as stiff as those of newer SUVs, and in the looks department, there are more stylish vehicles out there—although that's a subjective matter. However, if the idea of buying a plug-in hybrid vehicle appeals to us, and we have a family to haul, Mitsubishi's PHEV is an alluring choice. It's been a while since this Japanese automaker had a hit on their hands, and it deserves all the attention it's getting right now.
Share on Facebook