2018 Toyota Highlander Hybrid: The Precursor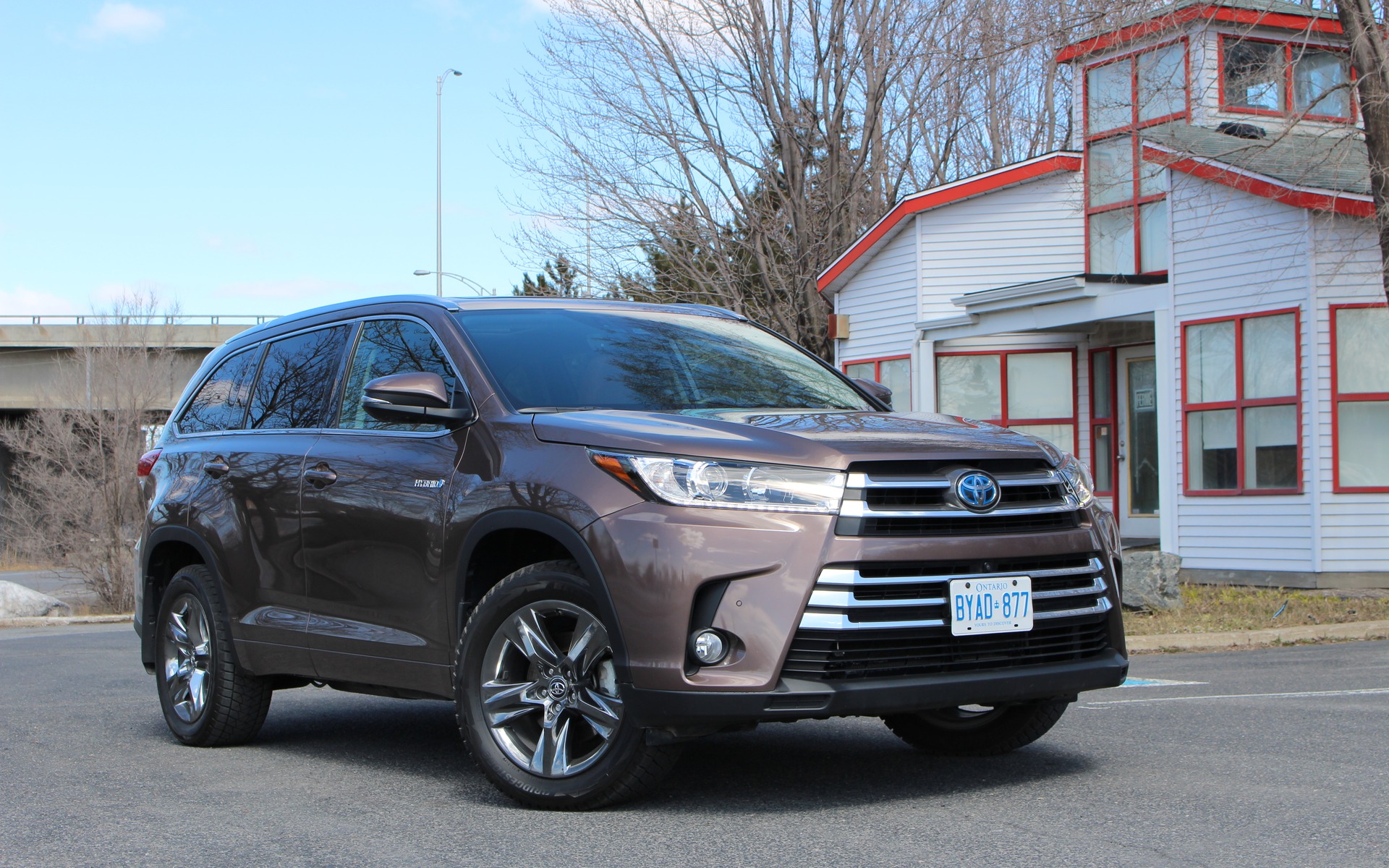 Strong points

Fuel efficiency, especially around town
Roomy cabin
Excellent reliability record

Weak points

Seats lack support on long trips
Smaller fuel tank on hybrid version lowers driving range
High entry price
Full report
In North America, the midsize, three-row SUV segment clobbered the minivan market after the minivan annihilated the big station wagons that use to rule the roads come family vacation time. These SUVs offer room for up to eight passengers, or five people and their luggage, they can haul tow a trailer, and they're even available with all-wheel drive for the winter season.
However, only one of them can consider itself to be truly fuel efficient. In a mainstream segment that rounds up the Chevrolet Traverse, the Dodge Durango, the Ford Explorer, the GMC Acadia, the Honda Pilot, the Hyundai Santa Fe XL, the Kia Sorento, the Mazda CX-9, the Nissan Pathfinder, the Subaru Ascent, the Toyota Highlander and the Volkswagen Atlas—let us catch our breath for a second—, only the Highlander can be equipped with a hybrid powertrain.
And yet, hybrids have been around for almost twenty years now, while the Highlander Hybrid was introduced in 2005. Why hasn't anyone tried its luck at competing with Toyota? Oh, more and more rivals are now offering turbocharged four-cylinder engines, but they still can't match the Highlander's overall efficiency.
With city/highway ratings of 8.1/8.5 L/100 km, the 2018 Toyota Highlander Hybrid is not only a versatile vehicle, but it's cheap on fuel. Its powertrain consists of an Atkinson-cycle 3.5-litre V6, three electric motors and an electronically controlled, continuously variable automatic transmission, for a combined output of 306 horsepower. All-wheel drive is also included thanks to the positioning of electric motors on both front and rear axles, although in the snow, it doesn't feel quite as capable as, say, Subaru's full-time AWD setup.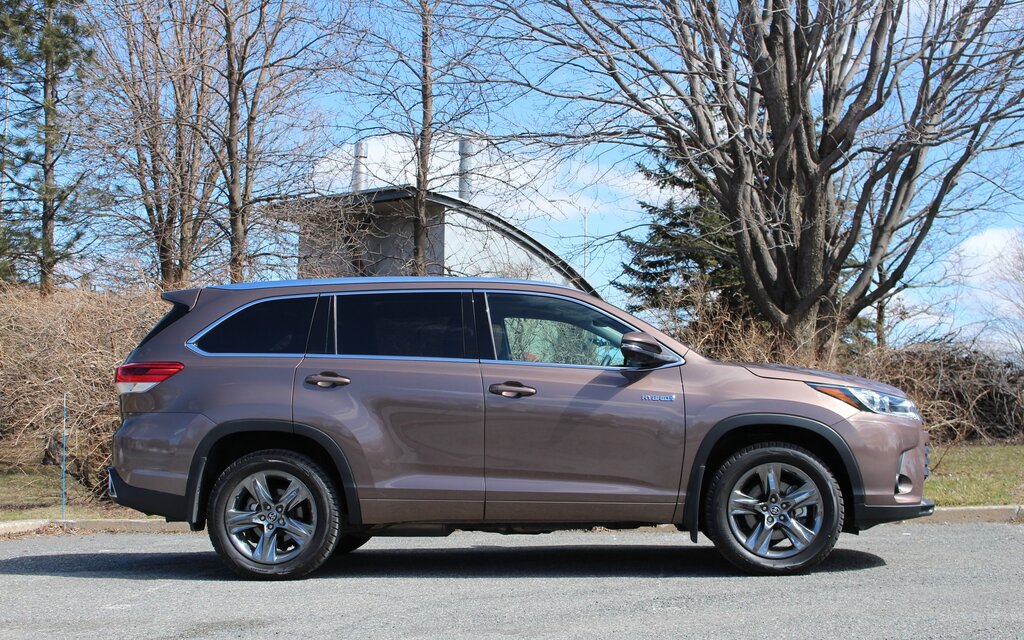 The Highlander Hybrid is plenty quick, with generous torque at launch from the electric motors. They reduce the V6 engine's workload so it can consume less fuel, and it works; we averaged 9.1 L/100 km during our test. No other three-row, AWD SUV can be as consistently efficient in city driving.
Just like in all Toyota hybrid models, there's an EV mode button that, when pressed, shuts off the V6 engine for distances of between one and two kilometres, depending on how much energy is left in the battery pack. And that's at speeds of less than about 45 km/h. And we have to be soft on the throttle. It doesn't seem like much, but every burst of EV driving helps lower the fuel bill.
Unlike the Mitsubishi Outlander PHEV and several models sold by luxury brands such as BMW, Mercedes-Benz and Volvo, the Highlander can't be plugged in. That means in Quebec and British Columbia, there are no provincial rebates to sweeten the deal, and we're not allowed in the HOV lanes if we're riding alone in the vehicle, like we can do aboard a PHEV or an EV.
The Highlander is a roomy vehicle, with plenty of space for front- and second-row occupants. The third row is fairly easy to access, and although it's a little tight, adults can actually survive short trips back there.
When all seats are occupied, cargo space is obviously reduced by a significant amount, with room left for only a couple of bags. Flipping down the third-row seatbacks results in a volume of 1189 litres, which is much better. With all the rear seats are folded, the Highlander's 2339-litre cargo area is average for the segment. By the way, the hybrid version's towing capacity is set at 3500 lbs. (1588 kg) compared to 5000 (2268) for the non-hybrid version.
The 2018 Toyota Highlander is starting to look its age, and the SUV should be redesigned within the next couple of years. However, it's far from being an eyesore, and the interior design is tasteful and functional. The eight-inch infotainment screen is fairly reactive to finger poking, and the menu layout takes some getting used to. Apple CarPlay and Android Auto integration aren't available.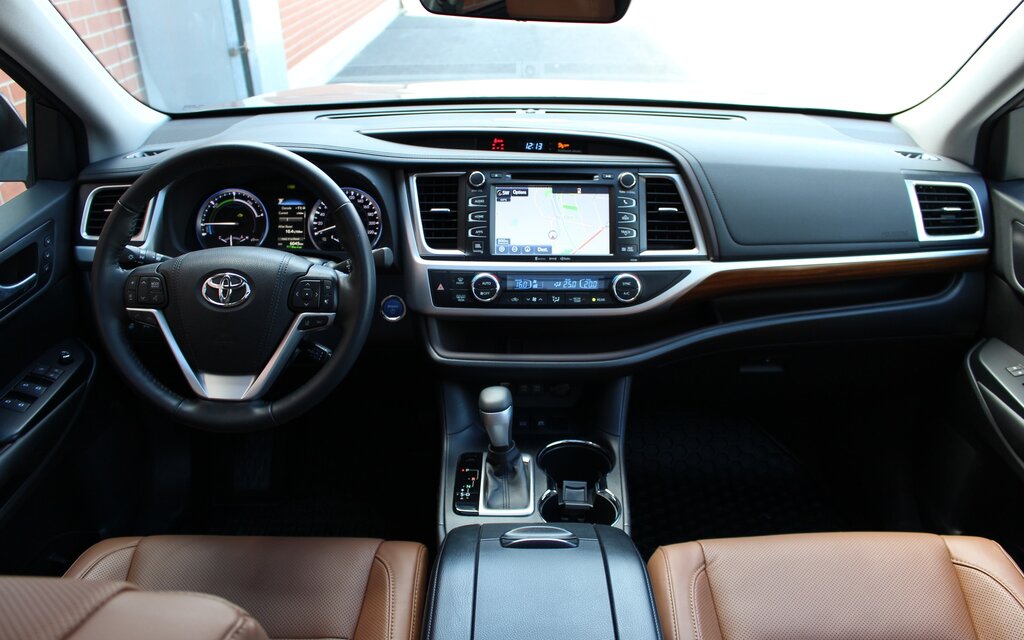 No Highlander can be considered a blast to drive. However, its suspension and steering were recalibrated a couple of years ago, which improved things a little. We disliked the front seats for their lack of comfort over long distances.
Priced from $50,950 before freight and delivery charges, the 2018 Toyota Highlander Hybrid admittedly doesn't come cheap, but it includes features such as leather upholstery, heated front seats, three-zone climate control, navigation, pre-collision warning with pedestrian detection, auto high beams, lane keep assist and adaptive cruise control.
The $56,955 Limited trim also adds a heated steering wheel, a 12-speaker JBL sound system, heated second row-captain chairs, ventilated front seats, a 360-degree camera system, front and rear park sonar, a panoramic sunroof and 19-inch wheels. All that's missing is a luxury-brand badge.
The Highlander's hybrid technology is dated, but still very competitive, and the next-generation should be normally more efficient. It's a precursor in a world where electrified vehicles will become more and more popular. In the meantime, city or suburb dwellers who need a family vehicle of this size will appreciate the fuel savings without the need to plug it in. In addition, this SUV's excellent reputation for reliability and strong resale value makes it an easy vehicle to recommend.
Share on Facebook