2019 Kia Forte: The Smart Sedan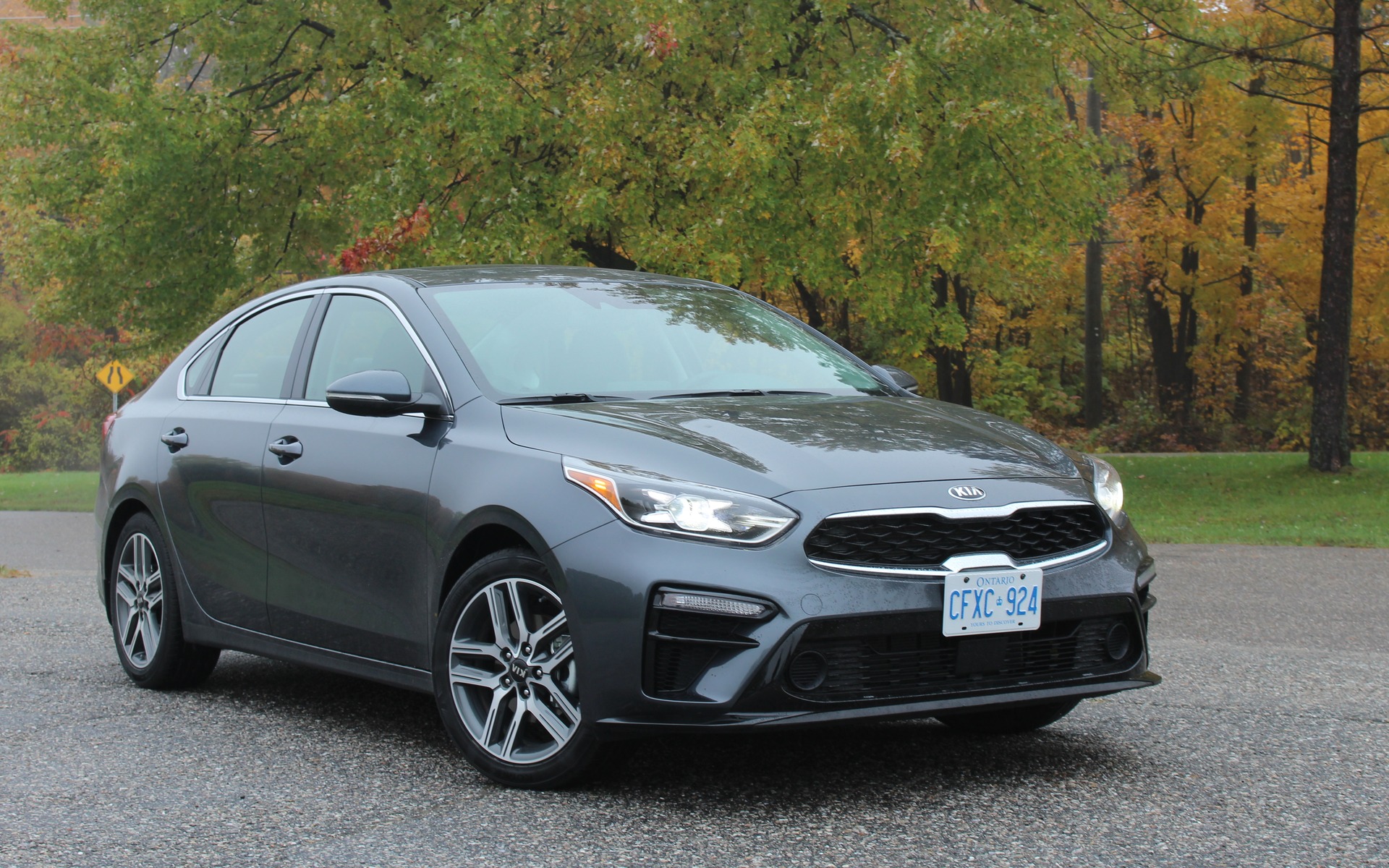 Strong points

Impressive bang for the buck
Fuel-efficient powertrain
Smart looks

Weak points

Seating position not suited for everyone
Fat front pillars block outward view
Engine lacks character
Full report
MONT-TREMBLANT, Quebec – The Forte hasn't had it easy ever since it was introduced for the 2010 model year. At the time, it represented a good leap forward compared to the Spectra it replaced, with much-improved refinement, a more engaging drive and a more attractive design. However, competing in a segment that includes the Honda Civic, the Toyota Corolla and the Hyundai Elantra is anything but a walk in the park.
Consumers flock to those three segment leaders by brand recognition, by a reputation of reliability (especially in the case of the Civic and the Corolla) and by an excellent value factor (especially in the case of the Elantra). Now in its third generation, the Forte must continue to boast the qualities that defined it ten years ago, but with more technology, more style and a more dynamic character.
It starts with a new platform that's shared with the current Hyundai Elantra, which is stiffer than before, and though the car's wheelbase is unchanged, overall length and width have increased. That amounts to a slightly more spacious cockpit, although rear-seat legroom is down quite a bit. The trunk now boasts a volume of 434 litres, making it the current leader in the compact-sedan segment in that regard.
Kia says the front seats have been redesigned for greater comfort, and are lighter than before. However, taller folks might find the headliner a little close their forehead and the seat cushion can't be lowered too much because it's already near the floor. That prevented yours truly from feeling totally at ease during the drive. In addition, the steeply raked windshield requires wide front pillars that obstruct the view at intersections. Back-seat passengers will have a little trouble sliding their toes under the front seats, but otherwise, there's a good amount of space.
Every Forte is equipped with a 2.0-litre four-cylinder engine that runs on an Atkinson combustion cycle, which consumes less fuel, but produces a little less torque. A six-speed manual is available on the base LX trim level—giving the Forte an attractive entry price of $16,495 before freight and delivery charges—but the vast majority of buyers will choose the brand's new Intelligent Variable Transmission. It works pretty much like a continuously variable automatic, but uses a steel chain instead of a push belt, and delivers on the company's promise of reducing the rubber-band effect normally associated with this type of transmission. Kia's IVT also includes a manual mode and eight pre-programmed gears, and even simulates gear swaps by itself during spirited driving.
The Forte gets three drive modes, including Normal, Sport and Smart. The latter replaces an Eco mode under relaxed driving, but can quicken the car's reflexes when it senses that the driver is pushing for it. The Sport mode does its best to squeeze the most out of the engine, and is actually quite useful. Otherwise, the 2.0-litre four is a rather unexciting mill and can get noisy at high rpm, but it does the job just fine.
As for fuel economy, the 2019 Kia Forte's city/highway/combined ratings are set at 7.5/5.9/6.9 L/100 km with the IVT. That's actually very good, as the only compact sedan that can beat those numbers is the Honda Civic equipped with its optional turbo 1.5-litre engine. The Forte's combined average is also a half-litre less than the Elantra's, which has the same engine, but matched to a six-speed automatic. We averaged 7.2 L/100 km during our drive from Ottawa to Mont-Tremblant.
The Forte also confirmed Kia's claim about improved cabin quietness, and although this isn't a performance-oriented car, it is rather amusing to drive, with a well-calibrated steering—which firms up slightly when the Sport mode is activated—and a well sorted-out suspension.
In addition to standard heated and height-adjustable front seats, heated steering wheel, air conditioning as well as leather-wrapped wheel and shift knob, the 2019 Kia Forte features an eight-inch touchscreen with Apple CarPlay and Android Auto integration. Adding the automatic transmission to the LX trim also bundles forward collision warning, lane keep assist and driver attention alert, all for $18,995.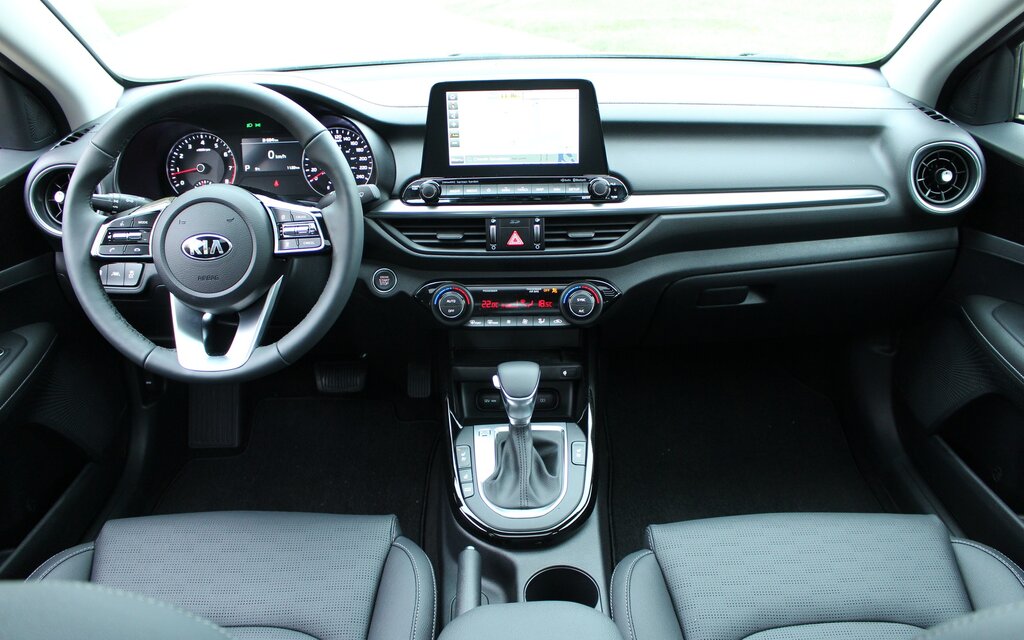 The $20,995 Forte EX is expected to be the volume seller in Canada, with a projected take rate of 49%. It benefits from blind spot monitoring with rear cross traffic alert, 16-inch alloy wheels, LED headlights, a cleverly placed wireless charging pad and high beam assist.
Next comes the $22,495 EX+ that benefits from 17-inch alloy wheels, LED taillights, a power sunroof and LED interior lighting, while the $25,095 EX Premium obtains dual-zone climate control, leatherette upholstery, a power driver's seat, UVO Intelligence Telematics—allowing the owner to lock/unlock the doors and start the engine remotely with a smartphone, free for the first five years—, an intelligent key, adaptive cruise control and advance forward collision avoidance assist. Finally, the $28,065 EX Limited piles on navigation, HD Radio, a 320-watt Harman/Kardon sound system, ventilated front seats and heated rear seats.
As for the new design, well, that's up to the consumer to decide, but we think it looks pretty good—at least in EX trim. It definitely stands out compared to the blandness of a Nissan Sentra, a Civic or a Corolla. Our only concern here is the rear bumper-mounted turn signals, which should raise the repair costs in the event of a simple fender-bender.
Our first encounter with the 2019 Kia Forte was impressive. It does have its shortcomings, but so does the other compact sedans. Overall, it performs well, it's quite efficient and its new automatic transmission is intelligently variable, and not variably intelligent. The car offers plenty of features at an affordable price, and it looks smart.
Will it topple the Civic, the Corolla and the Elantra off the compact-sedan podium? Despite all its qualities, and no matter how hard Kia tries to make this a brilliant car, it won't. But over time, if the Forte keeps improving like it just did, and becomes a household name like its main rivals, it will climb the sales charts and bring good fortune to the brand. A redesigned five-door Forte should also be revealed soon, and we can expect a sportier SX variant with a turbocharged engine to appear at some point—although Kia didn't confirm anything yet. In the meantime, for those who want something new and different, the redesigned Forte is worth a look.
Share on Facebook