2019 Audi e-tron Quattro: Driving the Prototype in Namibia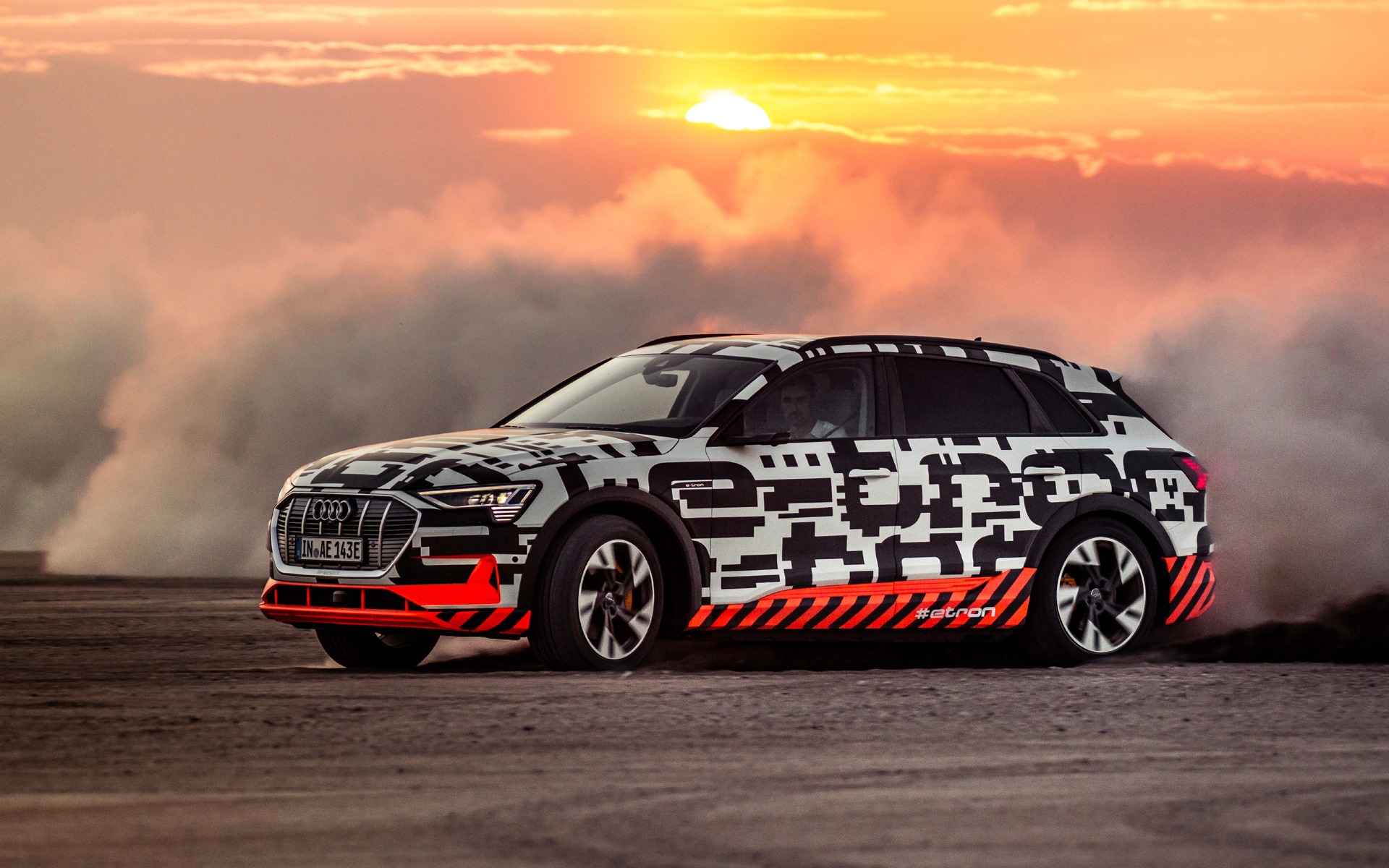 Strong points

Very high torsional rigidity
Performance levels on par with a regular SUV
Specific electronically regulated all-wheel-drive
Very quiet and comfortable at all speeds
High-tech interior

Weak points

Weight is high at 2490 kilogramss
Sure to be expensive
Availability sure to be limited
Full report
BITTERWASSER, Namibia – There's a gathering storm over the horizon on the wide expanse known as the Salt Pan in Bitterwasser, on the edge of the Kalahari Desert in Namibia. A huge dust cloud is getting bigger and bigger, and you quickly realize that this sandstorm isn't caused by the wind blowing through the Namibian savannah, but by a silent all-electric SUV strafing the land at speed. It's hot, very dusty and eerily quiet here, and this is the location for our first drive of pre-production prototypes of the 2019 Audi e-tron quattro.
Why Namibia and why Bitterwasser? Simply put, this harsh and unforgiving environment presents numerous opportunities to test Audi's fifth all-wheel-drive system, developed specifically for the fully electric e-tron quattro. The surface of the Salt Pan, made up of a mix of salt, sand and dust, closely resembles that of hard-packed snow, and the over 35-degree-Celsius heat is a good test for the two liquid-cooled electric motors powering the car.
A Quick Introduction
If you have read our report from the world premiere of the Audi e-tron quattro in San Francisco a few weeks ago, you can skip the next two paragraphs. If you have not, here's a quick rundown on what the e-tron quattro is all about.
It's an all-electric SUV powered by twin electric motors, one for the front axle and one for the rear. These two motors get their energy from a 95-kWh battery, developed and built by Audi. This battery, which is located under the floor of the vehicle, is about the size of a double bed and weighs 699 kilograms.
Audi engineers claim that the e-tron quattro will have a range of 400 kilometres, which seems conservative when you take the size of the battery into account. In "boost" mode and with launch control engaged, the e-tron quattro will go from 0 to 100 km/h in 5.7 seconds, impressive when you realize that the vehicle weighs close to two and a half metric tons, tipping the scales at 2490 kilograms. Peak horsepower and torque are rated at 402 horsepower and 490 pound-feet in boost mode.
Charging Times?
In North America, when plugged into a conventional 220-volt charger delivering 9 kilowatts, a full charge will take 10 hours. Plugging the car to a faster 50-kilowatt DC charger can provide an 80% charge in 80 minutes. If the charger delivers 100 kilowatts, that time is halved to 40 minutes. Over in Europe, drivers will also be able to plug into a 400-volt, 150-kilowatt charger to get an 80% charge in 30 minutes.
What's it like to drive?
Whether on the Salt Pan or off-roading through the soft dunes, the e-tron quattro feels like it has been carved out of a single block of granite, as the vehicle's structure is incredibly stiff. When questioned on this point, Audi engineers were quick to point out that the torsional rigidity of the e-tron quattro is some 45% higher than that of a conventional SUV owing to the fact that the floor of the vehicle is made up of its large battery.
On a special part of the off-road course, it was possible to balance the vehicle with two wheels on the ground and the other two in the air, with all doors opening and closing without any problem.
Quattro for Electric Drive
On a special dynamic handling course laid out on Bitterwasser's Salt Pan, we were able to drive the e-tron quattro at speed while trying out the vehicle's specific all-wheel drive system. As this is an electric vehicle powered by two separate motors, electronic components play a key role in apportioning torque where it is needed, and selectively braking independent wheels as required in order to maintain stability.
With the electronic stability control system on, the e-tron quattro behaved just like a conventional SUV, with smooth, always-in-control dynamics. Switching to ESC Sport made the vehicle more playful, allowing for controlled slides with the system only intervening during the countersteering phase on corner exits.
It is also possible to switch the system off completely and to make the e-tron quattro a full-on drift machine, which is a lot of fun on a closed course with nothing to hit. At 2490 kilos, the e-tron quattro is rather heavy, but the axle load weight distribution is a perfect 50/50.
Pricing and Availability
Canadian pricing has not yet been finalized, but pricing for the United States has been announced at USD$74,800 for the Premium Plus, USD$81,800 for the Prestige variant and USD$86,700 for Edition 1 versions. In Canada, Audi has set-up a reservation on its consumer website through which customers can reserve a vehicle by placing a $1,000 deposit.
The e-tron quattro will be available in Canada in the second quarter of 2019. We came away impressed with our first drive of pre-production prototypes of the 2019 Audi e-tron quattro and look forward to driving the actual series production model later this year. Stay in touch.
Share on Facebook