2018 Mitsubishi
Eclipse Cross

: Getting with the Times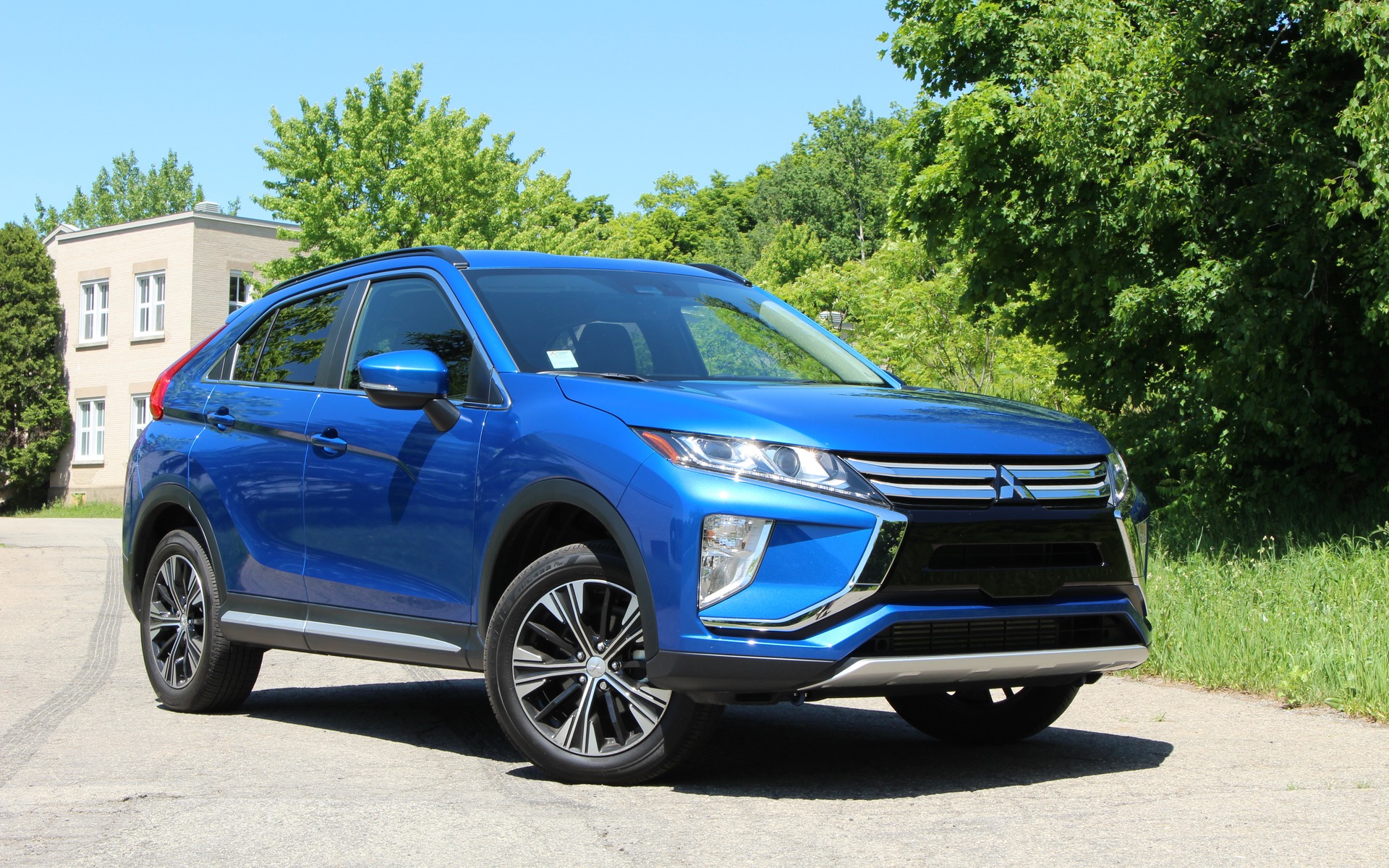 Strong points

Unique looks
Good interior fit and finish
Great AWD system

Weak points

Distracting infotainment system interface
Small cargo area
Unimpressive fuel economy
Full report
When I look at Mitsubishi's current model lineup, nostalgia inevitably kicks in after thinking about the great products that were engineered and sold by what is one of Japan's oldest automotive manufacturers. Performance-infused cars such as the Mitsubishi Eclipse GSX of the 90s, the Galant VR-4 sedan, the Mirage Turbo hatchback, the 3000GT sports car and the Lancer Evolution series boasted the brand's know-how in regards to turbocharging, all-wheel drive and many other high-tech gadgets.
They're all gone.
Today, North-American consumers want SUVs instead of sports cars, and we can't blame Mitsubishi for concentrating its efforts on this type of vehicle for our market. Still, its brand awareness still includes the keyword "Eclipse," which probably explains in part why its newest SUV is called the Eclipse Cross, seeking to attract a younger clientele as well as empty nesters with trendy, four-door coupe styling.
The 2018 Mitsubishi Eclipse Cross also brings turbocharging back to the brand after the departure of the much-loved Lancer Evolution. However, it's more for fuel economy and emissions purposes than raw performance. This 1.5-litre four develops 152 horsepower as well as 184 pound-feet of torque that peaks between 2000 and 3500 rpm. Sure, the Honda CR-V's engine—also a 1.5-litre turbo—offers 38 more ponies, but at least the Eclipse Cross benefits from sufficient torque down low for quick launches.
On the other hand, the continuously variable automatic transmission smothers some of the engine's willingness, and makes it noisier than we'd like when accelerating to merge onto a busy highway. That's admittedly a shortcoming we can address to most CVTs on the market, so we shouldn't make a big deal about it here. However, let's not be fooled by the manual mode with eight preprogrammed gears, and especially, the aluminum wheel-mounted shift paddles that seem directly lifted from the Lancer Evo; they don't make the SUV more exciting to drive.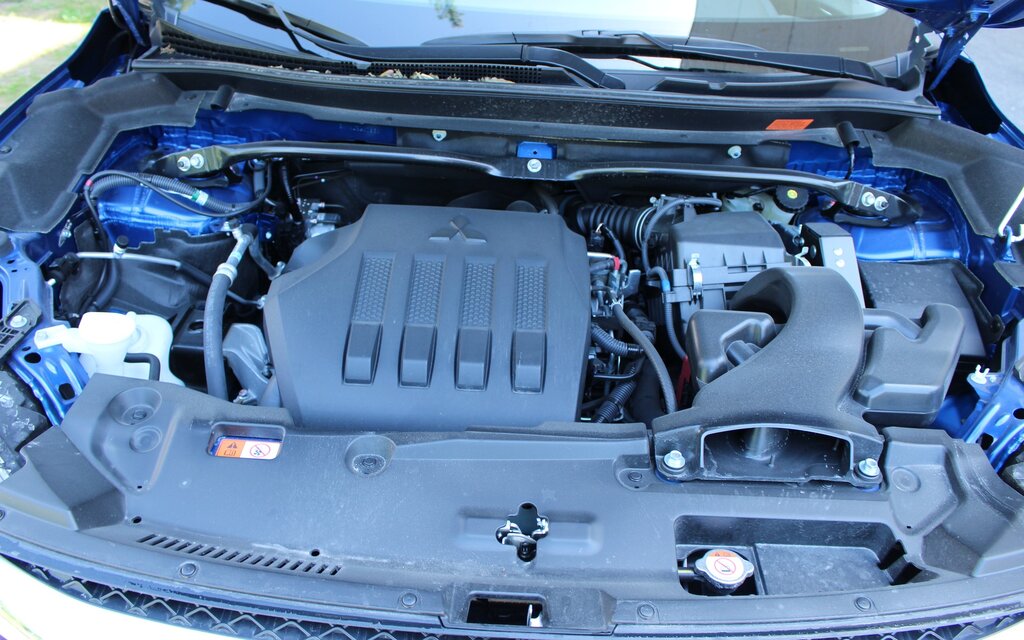 As for fuel economy, well, it could honestly be better. The 2018 Mitsubishi Eclipse Cross's city/highway/combined ratings of 9.6/8.9/9.3 L/100 km can't match those of the CR-V (8.0 L/100 km combined), the Chevrolet Equinox (8.9 L/100 km) or the Subaru Forester (8.2 L/100 km), among others. The 1.5-litre engine, developed by Mitsubishi just before joining the Renault-Nissan Alliance, can't even beat the aging Mitsubishi RVR's combined rating of 9.2 L/100 km. We averaged 9.5 L/100 km during our test.
S-AWC, for Super All-Wheel Control, provides the Mitsubishi with excellent traction for the seemingly endless winter season. It can control the amount of torque sent front to rear, but also between the rear wheels for maximizing grip on slippery surfaces and for enhancing the SUV's road manners. Every trim level is equipped with 18-inch wheels, the same suspension and steering calibrations, and we wish the Eclipse Cross' ride wasn't so stiff. Handling is far from breathtaking, but the vehicle isn't boring to drive either. A noteworthy detail: its 10.6-metre turning circle diameter is among the best in its segment, which means it's easy to park at the shopping mall.
Inside the Eclipse Cross, there's a mix of old and new. The steering wheel, climate controls as well as various buttons and switches are shared with other Mitsubishi models, but the seven-inch infotainment touchscreen and touchpad interface are new. Said touchpad works pretty much like the one in Lexus products, which means it's very distracting to use while we're driving. Mitsubishi should've copied Mazda's interface instead. At least Apple CarPlay and Android Auto integration comes standard, but Android can only be operated through the touchscreen—Google's fault, not Mitsubishi's.
Overall, we like the interior fit and finish. The mid-grade SE's fabric seats include a snazzy pattern and contrast stitching that make us think the company invested a little more to create an upscale appearance, yet the lack of auto up/down power window switches does the opposite. There's plenty of room for two adults in the back seat, as long as we make sure not to bang our heads on the low roofline while climbing aboard. Sitting three people across is possible on short distances, though.
Due to its size, the Eclipse Cross offers subcompact SUV cargo space with a volume of 640 litres, or 1385 with the seatbacks folded. That's on par with the RVR, and much less than in a CR-V, an Equinox or a Forester, for example. If we need room, the brand also sells the Outlander.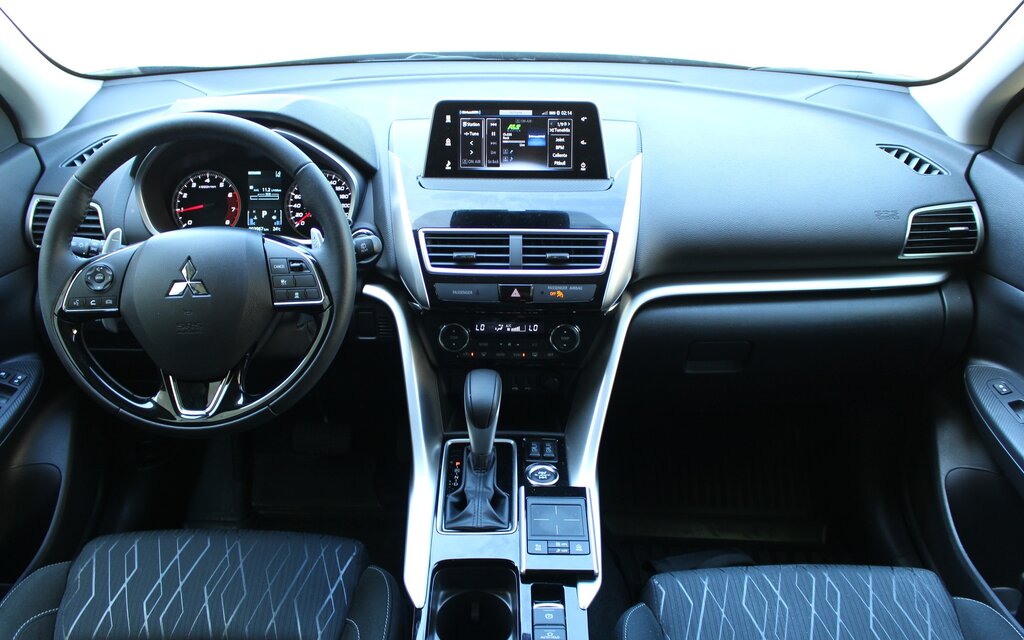 The 2018 Mitsubishi Eclipse Cross' base price is set at $27,798 before freight and delivery charges. The standard feature list includes heated front seats, the automatic climate control and the aforementioned infotainment system, but that's about it. The $29,998 SE trim, which adds blind spot monitoring with rear cross traffic alert, power-folding mirrors, a cargo cover, leather-wrapped wheel and shift knob, rain-sensing wipers and an intelligent key system, is a better value. The GT packs a heated steering wheel, heated rear seats, a panoramic sunroof, adaptive cruise control, forward collision warning, head-up display, leather upholstery and more, all for $35,998.
To sum it up, the Eclipse Cross is an interesting new SUV. It's not the most spacious, sportiest, most efficient or most comfortable, and has nothing in common with the brand's sports cars that have been objects of desire for many people. However, Mitsubishi is simply getting with the times and offering what today's buyers are searching for. It looks different than anything else in the compact segment—which is a good thing in a sea of general blandness—and benefits from an excellent warranty.
Mitsubishi vehicles are reliable because their components have been tried and tested over time, and despite some new technologies introduced here, the Eclipse Cross could be just as trouble-free. For those who prefer keeping their vehicles for the long run, that's definitely a thing to consider.
Share on Facebook