2019 BMW X5: Technological Evolution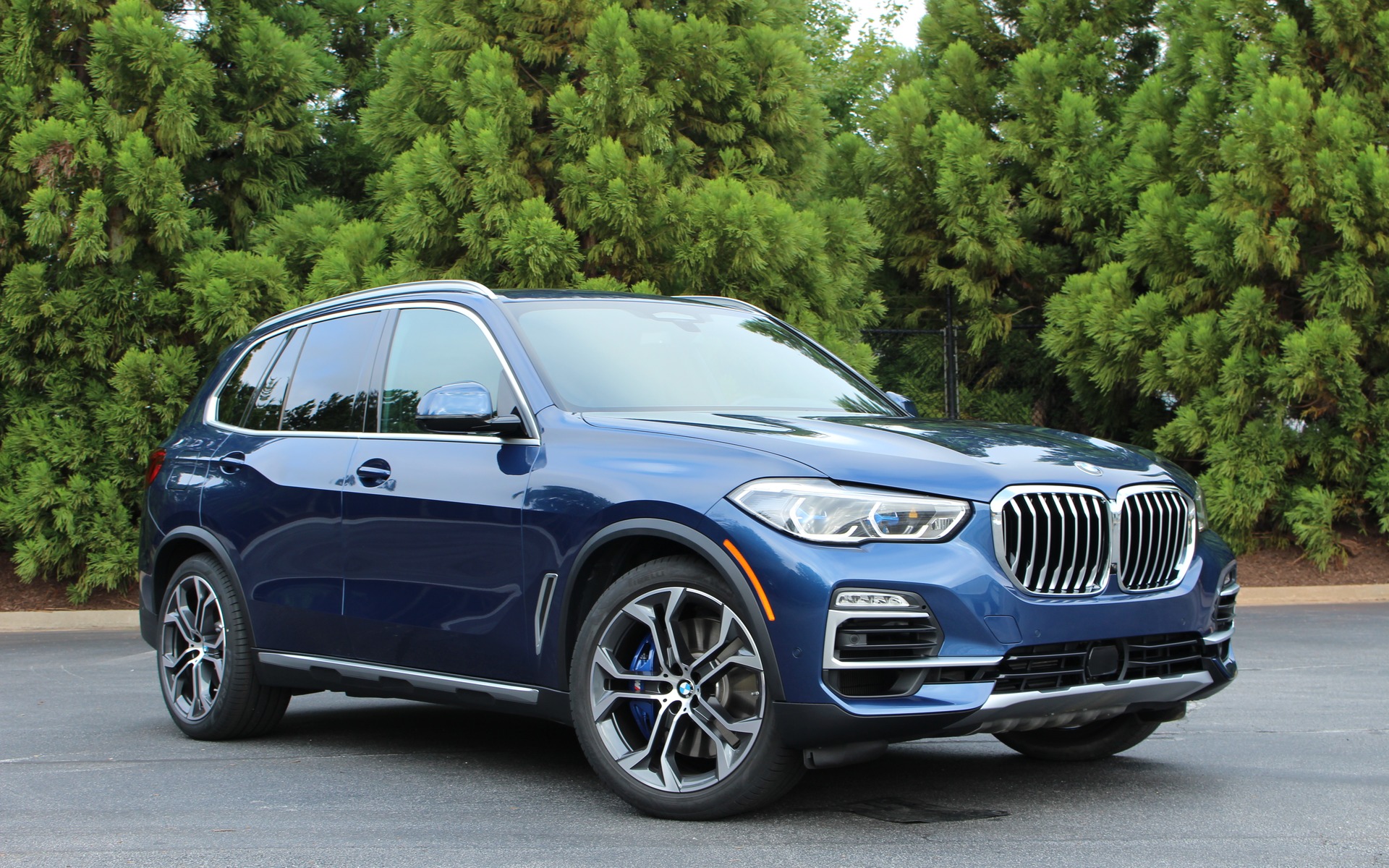 Strong points

Excellent base powertrain
Stylish cockpit
Stuffed with technological improvements

Weak points

Looks like the old X5
Goodbye diesel engine
Heavier than before
Full report
ATLANTA, Georgia – while some manufacturers are just entering the luxury SUV segments, BMW is celebrating the 20th anniversary of its midsize X5. Now in its fourth generation, this utility vehicle has changed a lot over the years, yet retains a resemblance to the original model that hit the market for the 1999 model year.
Obviously, the BMW X5 has gained power, finesse, sophistication and luxury throughout its 20-year career, and the new generation needs all the improvements it can get to battle the Audi Q7, Mercedes-Benz GLE, Volvo XC90, Range Rover Sport and Acura MDX, among others.
It's admittedly difficult to distinguish the new X5 from the outgoing generation. Its kidney grille is bigger, there are fewer straight lines in the vehicle's profile and the round, bumper-mounted fog lamps are gone, but the overall shape has evolved more than it has changed.
The 2019 BMW X5 does get many new features, such as optional Laserlight headlights—which can be identified with their blue X-shaped trim—that can project a non-glaring high beam at a distance of up to 500 metres. And for the first time, an X5 can roll off the assembly line with 22-inch alloy wheels, which are standard on the xDrive50i trim and optional on the xDrive40i.
Speaking of trims, the Canadian market will get two of them at launch. The xDrive40i, available with either a five- or seven-passenger seating configuration, is equipped with a turbocharged 3.0-litre inline-six that develops 335 horsepower and 330 pound-feet of torque. The spec sheet may sound identical to the previous X5's turbo six, but it's actually a newer design and produces 35 more horsepower in addition to being more fuel efficient. How much more efficient? We don't know yet, as official numbers haven't been published yet. What we do know is that on paper, the X5 gained about 240 pounds, which inevitably has an impact on fuel economy.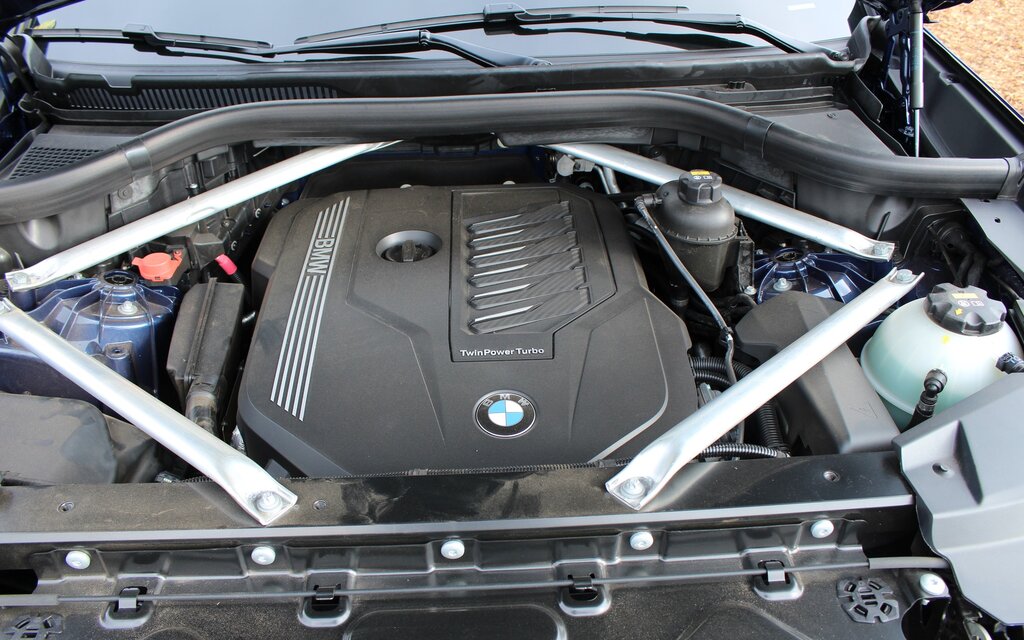 The five-passenger xDrive50i boasts a revised twin-turbo, 4.4-litre V8 that belts out 456 horsepower and 479 pound-feet of torque. According to BMW, the xDrive50i can blast from 0 to 100 km/h in 4.7 seconds, 0.8 second quicker than the xDrive40i. Both engines are connected to all-wheel drive and an eight-speed automatic transmission.
For now, the diesel-powered xDrive35d won't be returning to Canada, but a plug-in hybrid version called the xDrive45e will arrive in 2020 as a 2021 model. The outgoing X5 xDrive40e PHEV made do with a turbo four-cylinder engine that helped produce a combined 308 horsepower, but the new model will sport a turbo six for a total of 394 hp. In addition, the EV's driving range will rise from 23 kilometres to about 60—or more than 80 km according to the very optimistic European test cycle.
On the roads and highways of Atlanta, we drove the xDrive40i, and to be honest, the 3.0L six is more than enough for the daily grind. It's smooth, and despite a slightly higher torque peak—1500 rpm versus 1200 in the old engine—there's plenty of muscle down low for passing slower traffic and peeling rubber at stoplights.
Another new feature is the optional Active Integral Steering, or a four-wheel steering system, that is said to enhance manoeuvrability in city traffic and provide quick lane changes at highway velocities. It does work, but the steering wheel feels very light. And if we're looking for long-term reliability and lower maintenance costs, this is a feature we wouldn't regret skipping.
Current owners who find their X5 a little snug might be disappointed with the model's interior dimensions. Aside from a little more rear-seat legroom, there isn't much difference here. Even cargo space is unchanged at 650 litres with the rear seats up, 1870 litres with the seatbacks folded.
The on-road portion of our drive was pretty uneventful for evaluating the 2019 BMW X5's xDrive system, but we did hit the trails for what amounted to some seriously challenging terrain. The SUV's new Offroad Package adds a two-axle air suspension, a rear differential lock, underbody protection and four driving modes—sand, rock, gravel and snow.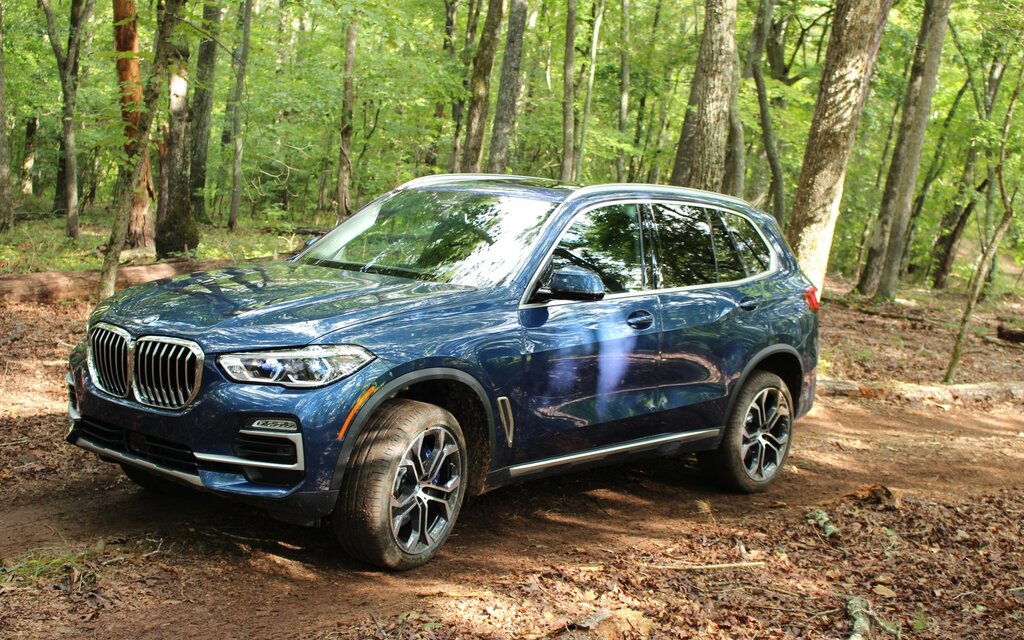 Using a console-mounted rocker switch, we can also raise or lower the vehicle's suspension, up to 40 mm for off-roading, or down by up to 40 mm for loading the cargo area. It also lowers itself automatically by 10 mm at 140 km/h to improve aerodynamics, and by 20 mm at 200 km/h for high-speed stability. The X5 performed amazingly well on the off-road course, even though the vast majority of owners likely won't hit the trails as we did.
The 2019 edition finally adds some flair to the X5's interior design. The centre stack climate controls are more stylish, although the rotary temperature dials are replaced by rocker switches that are a little harder to use while driving. Overall fit and finish is beyond reproach, as it should be. An optional feature called Crystal Clarity adds crystal elements to the shift lever, the iDrive knob, the engine start button and the audio volume knob—some may like the look, but it's not our style.
A fully digital, 12.3-inch screen replaces the classic driving instrument panel, which can be configured in various ways just like what Audi and Mercedes-Benz offer in their vehicles, while the infotainment screen is of the same size. The company calls this display BMW Live Cockpit Professional. Neither one is touch sensitive.
BMW's Operating System 7.0 is now on board in the X5, and Live Cockpit Professional includes an adaptive navigation system, a 20-Gb hard drive for storing music, two USB ports, Bluetooth connectivity and an on-board Wi-Fi hotspot (data package required). The new OS presents a revised and configurable menu layout, with up to ten pages of tiles for accessing the system's features. Said access can be performed through the iDrive controller, voice command or gesture control. User profiles can also be set up and sent to a cloud server, to be downloaded into another BMW model with the same interface.
There's also a bunch of electronic gadgetry available in the X5, such as a Reversing Assistant that memorises the path taken during a parking manoeuvre—like entering a garage, for example—and automatically perform the same path in reverse. All the driver has to do is modulate the gas and brake pedals, and the vehicle will do the rest. Pretty cool.
Sometime in 2019, iOS and Android phone users will be also to activate their device as a digital key, eliminating the need to carry the X5's keyfob around. Then again, isn't flashing a BMW key in a bar one of the perks of ownership?
A lot of work has been put into the 2019 BMW X5, although saying that gives the impression that the outgoing model needed major improvements. It didn't. On the other hand, with a brand-new Mercedes-Benz GLE on the way, BMW simply can't afford to stay idle. The new X5 is a more sophisticated machine, and a slightly more attractive one, that has evolved well. Pricing has been set at $71,000 for the xDrive40i, before freight and delivery charges, and at $86,000 for the xDrive50i.
Share on Facebook