What About the Total Protection Package?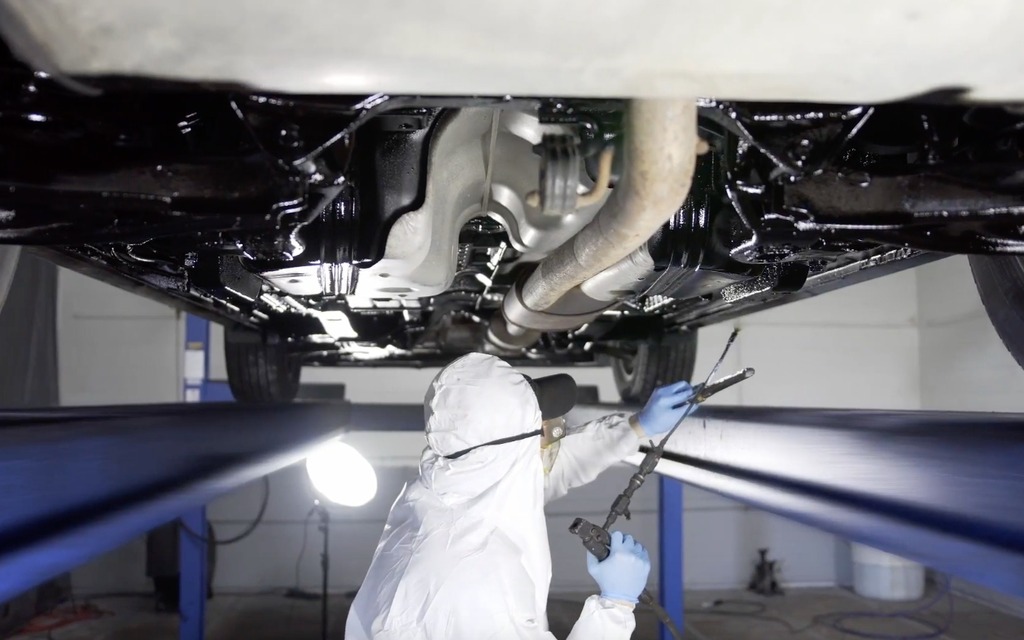 If you plan to keep your new, or nearly new vehicle for years to come, our Total Protection Package is the tailor-made protection service for you. With almost 60 years of experience, the design of this package provides ultimate protection inside and out, top to bottom. Improve comfort, appearance and residual value with the Total Protection Package and preserve that "like new look, feel and smell."
Rust Protection – Our Permanent Rust Protection is the only process with written specifications for every vehicle, so we know exactly where, and how, to process your vehicle to afford maximum structural protection. Our factory-trained and certified technicians coat the underbody of your vehicle with a thick, abrasion-resistant sealant with rust inhibitors, which seals out salt, moisture and dirt.
We then apply a special sealant through the doors and body panels, which penetrates 100% of the critical seams to seal out air, moisture and salt that cause rust. We back this service with the strongest full repair warranty in the industry.
With an annual renewal program, we inspect for, and touch up, cracks and abrasions in the sealants to ensure peace of mind and maximum protection for the long haul.
Sound Barrier – The same rubberized asphalt protective sealant used on the underbody for the Permanent Rust Protection is then sprayed 4 times thicker, for a sound deadening quality that is unmatched. With the addition of the Sound Barrier, we can ensure that you are getting the best underbody protection available on the market. This has been shown to reduce up to 4 decibels of noise, resulting in a quieter ride and minimized road vibration.
Inner Guard with Germ Defender – Think of this as interior detailing on steroids. First of all, your vehicle interior will be cleaned and 99% germ free, thanks to our patented oxy-powered, anti-bacterial detergent application, stain removal and state-of-the-art shampoo hot water extraction system.
Once we have your vehicle back to that "like new" look, feel and smell, it's so easy for you to take the next step to not only clean it, but also to protect you, your family and your vehicle's interior. Anti-bacterial cleaners will clean your interior momentarily; but almost immediately bacteria will return. Germ Defender is like a microscopic "bed of nails," puncturing the cell walls of microbes such as bacteria, mold, fungus, mildew and germs, preventing their return for up to a year. Germ Defender is Health Canada registered and exclusive to the Ziebart network in Canada.
Our Inner Guard with Germ Defender will provide guaranteed fabric protection to prevent stains from penetrating into your vehicle's carpet and fabric. We then condition and protect your vinyl and leather against UV rays and cracking, providing full interior protection on all materials.
Diamond Gloss Paint Protection – Don't confuse Diamond Gloss with waxes and over-the-counter products, silicon polishes, etc. Those products are a generation or two behind. Diamond Gloss is a proprietary resin-based protective barrier between your paint and the outside elements. Diamond Gloss adheres to the paint molecules of your vehicle, enhancing the paint pigments, while protecting your vehicle from harsh environmental contaminants such as acid rain, pollution, tree sap, UV rays, bug splatter, bird droppings, salt and other appearance-aging elements.
Preparation of the vehicle surface is critical. The process begins with a complete exterior chemical bath, followed by clay bar removal of contaminants. Our 3-2-1 paint correction process and machine polishing restores maximum shine and lustre to your vehicle. Orbital application of the Diamond Gloss, followed by a buff polish locks in the shine and tough paint protection.
You truly have Total Protection: Permanent Rust Protection secures the structural protection of your vehicle; Sound Barrier fortifies this defense, reduces road noise and vibration; Inner Guard with Germ Defender restores, preserves and protects your interior; and Diamond Gloss seals in the shine on the outside.
Share on Facebook