2019 Audi e-tron Quattro: This is the Production Vehicle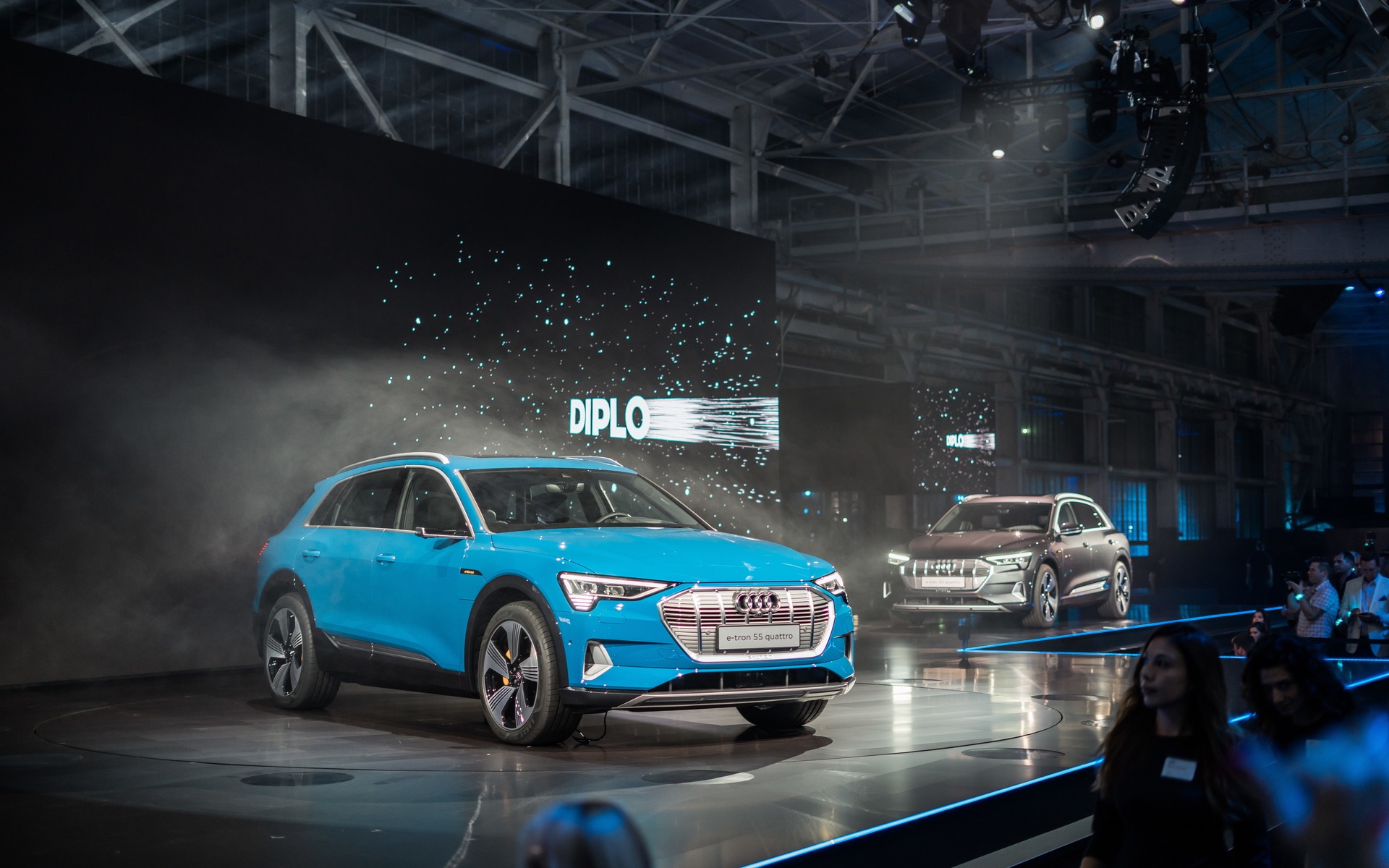 SAN FRANCISCO, California – The Car Guide flew to San Francisco for the world premiere of the 2019 Audi e-tron quattro electric-powered SUV. A prototype of the e-tron quattro was shown at the Geneva Auto Show earlier this spring and, since then, about 250 test vehicles have been driven by Audi engineers on four continents in diverse climate conditions for calibration and fine-tuning. Now, Audi is ready to launch its all-electric SUV on the market.
The e-tron quattro is a five-seater electric SUV that slots in between a Q5 and a Q7 in terms of size, although it is lower, and powered by two liquid-cooled electric motors, one for each axle. The front-to-rear torque split is controlled electronically and rear side-to-side torque vectoring is achieved through selective brake application. The concept car was powered by three electric motors, one for the front axle and one for each rear wheel, but this arrangement was dropped in favour of a single motor for the rear axle in the production vehicle. Dual rear electric motors could make a comeback as part of a performance package to be introduced at a later date.
400 kilometers of range
The electric motors get their power from a 95-kWh liquid-cooled battery, designed by Audi, and made up of 432 cells arranged in 36 12-cell modules in a box-in-a-box configuration designed for crash protection. The battery, which weighs 1541 pounds (699 kilograms) and is about the size of a double bed, is located under the floor and the rear seat, giving the e-tron quattro 400 kilometers of range.
The charging port for the battery is located on the left side of the vehicle, just ahead of the driver's door, and the e-tron quattro is fitted with two inputs, one for conventional alternative current charging and the second for faster direct current charging, with charging times dependent on the energy source.
In North America, when plugged into a conventional 240-volt charger delivering 9 kilowatts, a full charge will take 10 hours. Plugging the car to a faster 50-kW DC charger can provide an 80 percent charge in 80 minutes. If the charger delivers 100 kilowatts, that time is halved to 40 minutes. Over in Europe, drivers will also be able to plug into a 400-volt, 150-kW charger to get an 80 percent charge in 30 minutes. With a 350-kW charger, the time for an 80 percent charge drops to 12 minutes.
Why an 80% charge and not 100%? Because the battery requires a slower rate of charge to get that last 20 percent of energy, and that will extend the charging time and cost to the consumer. Electric car owners who are familiar with this issue typically get their battery down to 10 or 20 percent or less, plug into a fast charger and get back on the road with a battery at 80% after a 30-minute charge.
Performance
The e-tron quattro tips the scales at just under 5500 pounds (2490 kilograms), so close to two and a half metric tonnes. Despite this very high weight figure, Audi engineers claim that the e-tron quattro can sprint to 100 kilometres per hour in 6.6 seconds as the powertrain develops 265 kilowatts of power, which equates to 355 horsepower, and 561 Newton-metres of torque or 414 pound-feet. The vehicle also features a "boost mode" that delivers 490 pound-feet of torque and 402 horsepower.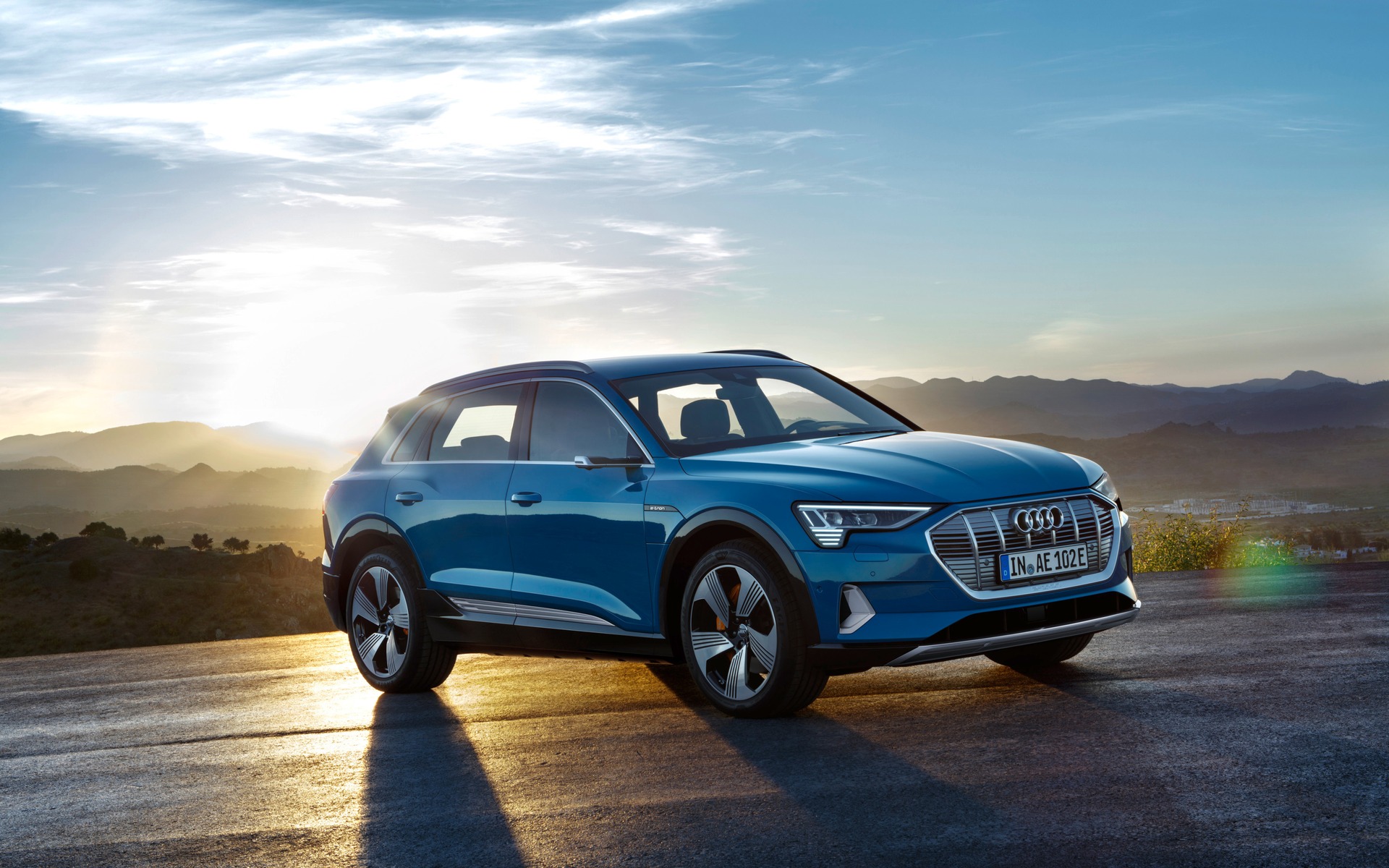 Design
With regards to exterior design, the e-tron quattro looks very much like a conventional SUV with distinctive design elements such as headlights and taillights fitted with horizontal bars. The Singleframe grille features a controllable cool-air inlet with movable louvers that close when cooling is not required and open to allow for cooling airflow. The conventional side mirrors are replaced by cameras and OLED screens fitted to the inside of the doors.
Dual touchscreens are located on the centre console, just like on the A6/A7/A8 sedans or the Q8 SUV, and a third screen is located to the lower left of the steering wheel while the virtual cockpit replaces the conventional instrument cluster for a very high-tech look. Even the shape of the shifter has been designed to provide a convenient resting place for the driver's arm when interacting with the touchscreens. All these screens come alive when the driver turns the car on in what Audi designers describe as the "ceremony" that greets driver and passengers. Rear-seat legroom is more than what is available in a Q5 while cargo volume is almost the same as in the Q8.
Pricing and availability
Canadian pricing has not yet been finalized, but in the United States, the 2019 Audi e-tron quattro has been announced at USD$74,800 for the Premium Plus, USD$81,800 for the Prestige variant and USD$86,700 for Edition 1 variants. In Canada, Audi has set-up a reservation form on its consumer website through which customers can reserve a vehicle by placing a $1,000 deposit. The e-tron quattro will be available in Canada in the second quarter of 2019.
Share on Facebook