2018 Honda Clarity Plug-in Hybrid: Fantastic in Every Way Except One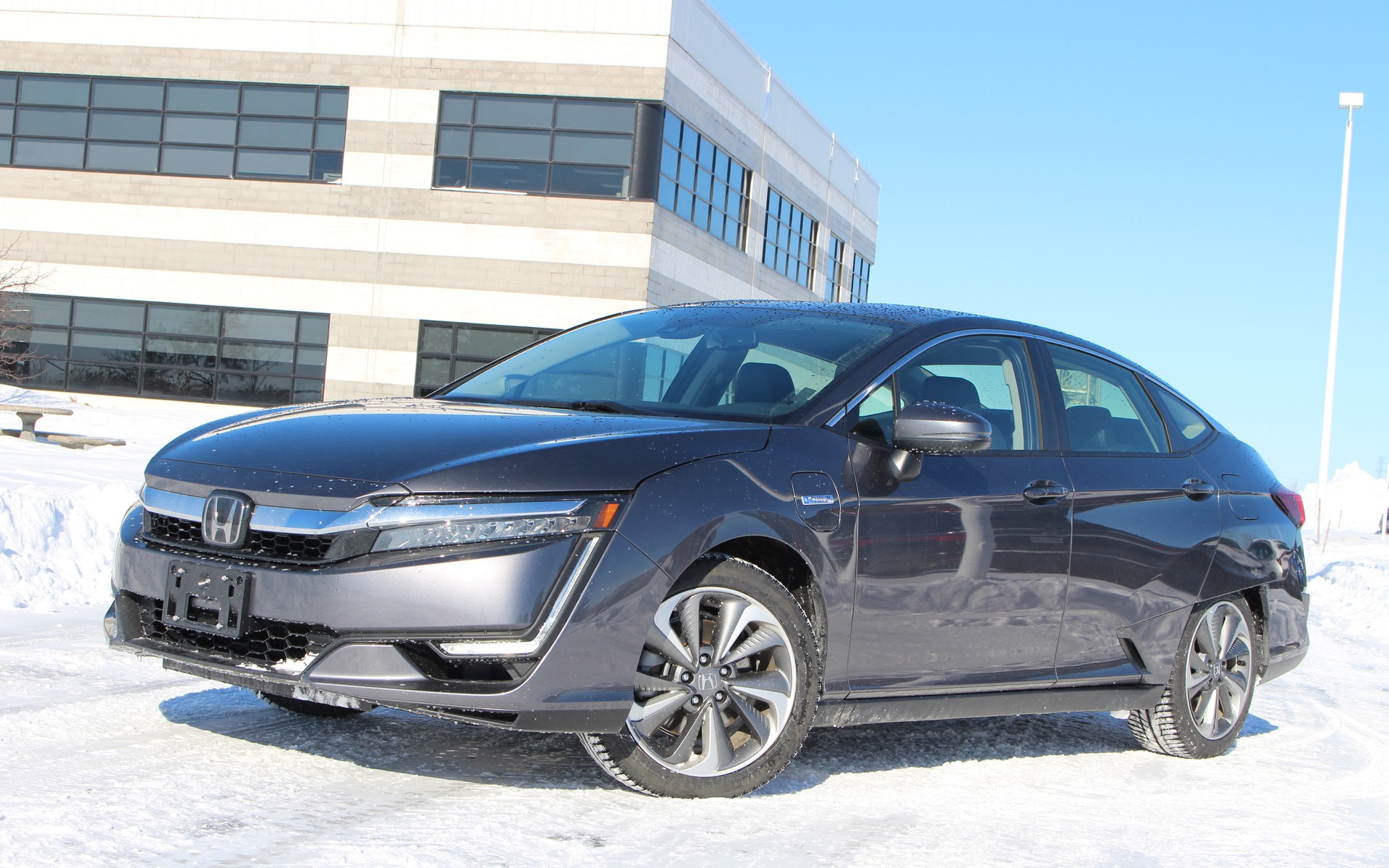 Strong points

Refined drive
Comfortable and spacious cockpit
Efficient drivetrain

Weak points

Styling that won't please everyone (anyone?)
No heated rear seats or steering wheel
Unlikable infotainment system interface
Full report
I just don't understand how a company like Honda, which builds some of the most popular models on the market year after year, can green-light an exterior design such as the 2018 Honda Clarity's. To be fair, the automaker takes few styling risks, and the relative blandness of their products results in cars and trucks that aren't an eyesore ten years down the road.
Obviously, beauty is in the eye of the beholder, so we'll limit ourselves to saying that Honda didn't do itself a favour here. The Clarity's questionable looks, with its electric-shaver front-end styling and partially covered rear wheel arches, might turn off buyers who'll miss out on an otherwise excellent midsize sedan.
In the U.S., there are three variants of the Clarity—fully electric, hydrogen fuel cell and PHEV—but only the latter is offered in Canada for now. When the hydrogen refuelling network grows, maybe the automaker will change its mind about the fuel cell version. The fully electric Clarity has a driving range of only about 142 kilometres, which is clearly insufficient in today's market.
That leaves us the PHEV which is the best of the three anyway. It's powered by an electric drive motor that develops 181 horsepower and 232 pound-feet of torque, connected to the front wheels via a single-speed transmission. Acting as an on-board generator, or as assistance to the main electric mill in certain driving conditions, is a 1.5-litre four-cylinder engine, which cranks out 103 hp and 99 lb.-ft. and is connected to an electric generator motor. Combined output is rated at 212 hp.
The 2018 Honda Clarity Plug-in Hybrid's powertrain works more or less the same way as the Chevrolet Volt's, its main competitor. It smartly switches between full EV, series hybrid and parallel hybrid drive modes according to driving conditions and how much energy is left in the 17-kWh battery pack. So which car is better?
The Volt is more of a four-door coupe, with compact-sized dimensions and just enough room for four adults. There's a middle seat in back, but it's way too small for comfort and there's no legroom for someone who would actually try to sit there. The Clarity is longer, wider and roomier, and its trunk is bigger too—439 litres compared to 301 for the Chevy.
The Honda's interior design isn't as funky as its bodywork, while fit and finish is surprisingly good. Even the woodgrain trim in our test car didn't look plasticky. The roofline is low, so headroom is a little precious, but otherwise, there's plenty of space.
There is one thing that bothers us big time, and that's the company's Display Audio infotainment system, which lacks a physical volume knob and whose touchscreen isn't all that reactive to finger poking. In addition, many on-screen button zones are too small or too slim, which is distracting while driving. We're also not too impressed with the strip of odd-shaped transmission buttons that replaces a conventional shift lever. The overall operation isn't very intuitive, but since humans are generally uncomfortable with change—or maybe it's just us—we'll just say that it takes some getting used to.
The Clarity is ultra quiet, not only because of its electric powertrain. The cabin seems to have been well isolated, an important factor in an EV in which we'd usually hear more road noise. When the four-cylinder lump comes to life, it makes its presence felt at higher rpms, but is generally smooth, and there is no noticeable driveline harshness. Simply put, this Honda is hushed and refined.
On a full charge, the 2018 Honda Clarity PHEV delivers a driving range of up to 77 km, according to Natural Resources Canada. During our winter test with the heated seats and climate control system on full blast, the best we could achieve was about 55 km. In comparison, the Chevrolet Volt's maximum range is set at 85 km. In both cases, the combined city/highway average once the gasoline engine kicks in is 5.6 L/100 km, so the Clarity and the Volt are pretty close in terms of energy consumption. The Honda can be fully charged in 2.5 hours on 240-volt current, while the Chevrolet takes 4.5—although the 2019 Volt Premier gets a quicker charger that cuts that time in half.
Once the battery reaches its minimal state of charge, the car's range is rated at 475 km in the best conditions. The fuel tank contains only 26.5 litres, so the Toronto-to-Montreal trip will necessitate at least one stop at the gas station.
Behind the steering wheel are paddles allowing the driver to choose the regenerative braking level while coasting. There are four settings, and none of them is aggressive enough to allow for serious one-pedal driving, as is the case with electric vehicles such as the Chevrolet Bolt EV, the Nissan LEAF and the BMW i3. In addition, the system reverts back to its normal setting after a few seconds, unless we activate the Sport drive mode, which turns off every time we kill the engine. A thoughtful touch, but we're not sure how many people will end up using this feature.
Another area where the Clarity has an edge over the Volt is price. It starts at $39,900 before freight and delivery charges, and before provincial rebates—up to $8,000 in Quebec after taxes, up to $5,000 in British Columbia before taxes. Ontario also offered a rebate of up to $13,000, but the program was cancelled on July 11, 2018.
For that sum, Clarity buyers get a fair amount of features, such as LED headlights, dual-zone climate control, heated front seats, adaptive cruise control, lane keep assist and an infotainment system with eight-inch touchscreen and Apple CarPlay/Android Auto integration. Leather upholstery, navigation and satellite radio, among other things, are included in the $43,900 Clarity Touring.
Still, heated rear seats and a heated steering wheel would've been nice, items that can be found in the Volt. And as if the exterior styling of the Clarity isn't a dealbreaker, the choice of paint colours might be, as the base trim level is only available in grey or white in Canada, while the Touring variant also offers teal and red.
Overall, though, the 2018 Honda Clarity Plug-in Hybrid is a better family car than the Volt. It boasts a more comfortable interior and a more refined drive, with the only sacrifice being a few kilometres down on the maximum driving range. It also costs about three thousand dollars less than the Chevy.
Now, about that exterior design…
Share on Facebook