Rezvani Tank: Urban Assault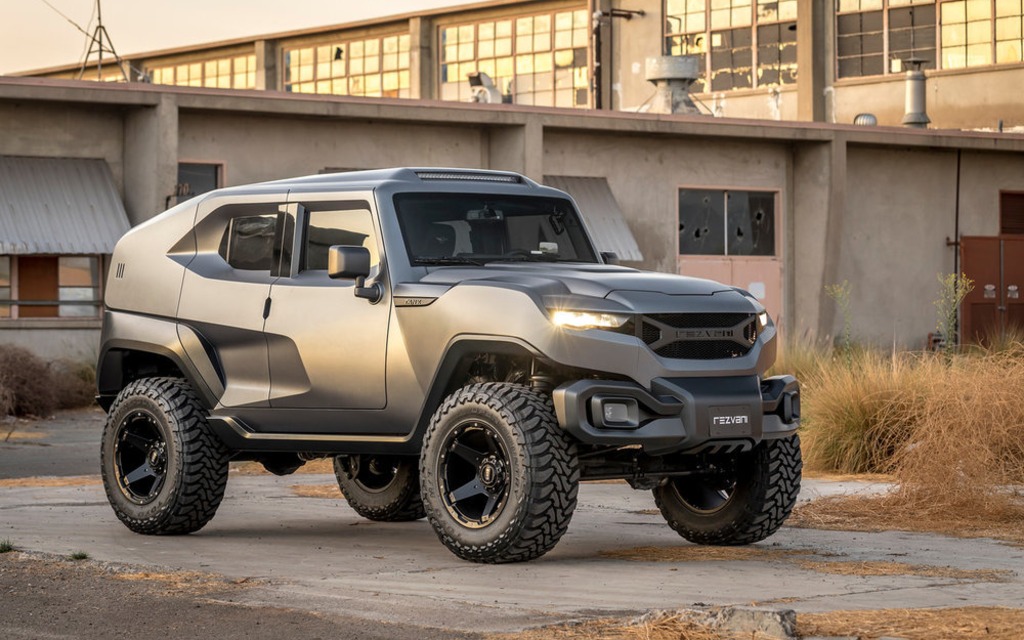 Since the current market trend favours utility vehicles, there are now many to choose from, and there's one to satisfy the needs and wants of just about everybody. And in the United States, a little automaker has decided to slip itself into the lucrative luxury SUV segment.
Founded by Ferris Rezvani, the company that bears his name shouldn't have too much difficulty setting itself apart from the mass of powerful and expensive trucks with its new model, called the Tank.
A four-door SUV qualified as a "tactical urban vehicle," the Tank seems to be based on the Jeep Wrangler's architecture, boasting a jaw-dropping, futuristic military design that wouldn't seem out of place in the Halo video game series. With an overall length similar to that of a midsize SUV, it's otherwise larger and higher than full-size vehicles, including the Mercedes-Benz G-Class. The SUVs of the defunct Hummer brand look like toys beside Rezvani's new creation.
And yet, the company claims a curb weight of only 4300 lbs. (1950 kg), which seems light given the sheer size of the Rezvani Tank. We must admit that the puffy bodywork wrapped around the Wrangler Unlimited's cockpit deceives the eye.
As standard, we get a 6.4-litre HEMI V8, courtesy of Fiat Chrysler Automobiles, that produces about 500 horsepower. Or, optionally, the supercharged 6.2-litre Hellcat V8 that belts out 707 hp. To the four-wheel drive system, we can add one of two off-road packages, which raise ground clearance and include FOX shocks. The brakes count on 16-inch discs up front, pinched by eight-piston callipers.
The Rezvani Tank offers an elegant cabin, with seats wrapped in fancy leather upholstery. Otherwise, one can quickly spot trim pieces of the Jeep on which the vehicle is based. Among the standard and optional features, we find a night vision camera system, head-up display, a suede headliner and more. This brute is available starting at USD$159,000.
The Tank Military edition is even more extreme, with B7-level bulletproof armour, an underbody protection against explosions, a beefed-up suspension, a rear smokescreen system, sirens, an intercom system with external speakers, gas masks and a hyperthermia kit. All starting from USD$259,000.
According to Rezvani Motors, the Tank can be serviced at any FCA dealership around the world, and this monster is street-legal as well. Anybody interested?
Share on Facebook