2018 Mazda MX-5 RF: Simplify Your Life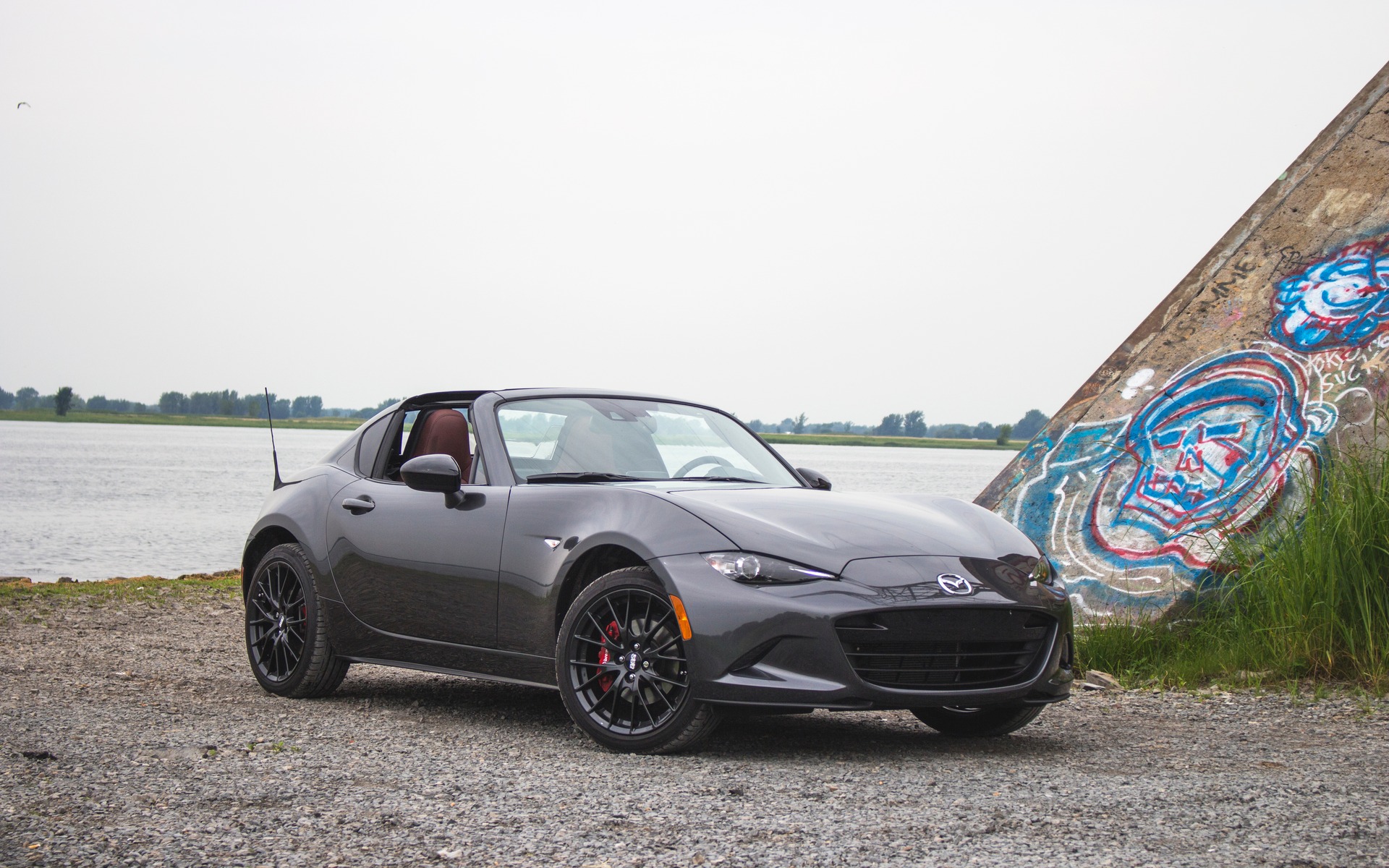 Strong points

Undeniable driving pleasure
Light footprint
Reliable and cheap to run

Weak points

Still a little cramped in there
Can get expensive fast
Deserves a hint of extra grunt
Full report
As I'm writing this, Mazda has already announced an updated version of its little roadster. The 2019 Mazda MX-5 will feature slightly more power from its naturally aspirated 2.0-litre four cylinder. You might imagine then, that reading a review of the 2018 model is irrelevant. Well, not exactly. Because many Miata-faithful argue that an MX-5 doesn't need more grunt, that it was never the idea behind the car. I agreed. Until I didn't.
While I'm looking forward to getting my hands on the extra-26-horsepower car, I took the 2018 model for a drive, because it's still a spectacular machine. And, well, that's what you do in an MX-5. You drive.
The Challenge of Avoiding Clichés
At this moment in time, it's very hard to write anything original about the Mazda MX-5, because everyone has said what has to be said about this little gem; that it's arguably the best possible interpretation of what a roadster should be.
I'd like to centre my review on two things: the RF model, and the extra (or lack of) power. RF means Retractable Fastback, and that's the car you see here. It adds a power retractable hard top to the MX-5, which creates a beautiful coupe-like appearance once the entire system folds back into place in a mechanical origami of fine-tuned engineering.
The hard top, which reduces headroom by 1.5 cm, bumps the price up to $39,100 before freight and delivery charges (compared to $31,900 for a base soft top), and adds an extra 113 pounds (51 kg) to the car. That's the kind of upgrade that would enflame your traditional MX-5 enthusiast. These people quickly get edgy the moment alterations are made to their dear lightweight sports car.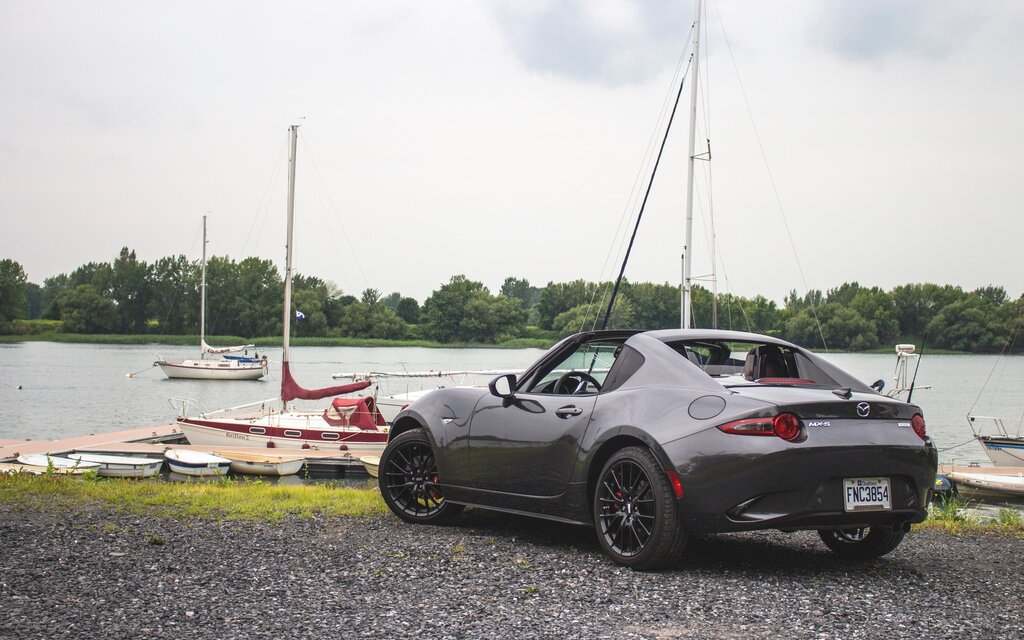 I say to you: get over it, because the MX-5 RF is arguably the best-looking Miata ever conceived. And it's not like the ragtop model is gone. It's still around, at a cheaper price too. Besides, with that coupe demeanour, the MX-5 looks like a proper sports car, especially when painted in Machine Grey Metallic and fitted with the optional, $4,400 Sport Package, which includes a svelte set of 17-inch matte black alloy wheels and Brembo brakes, like my GS trim tester.
Rowing Through the Gears
As I sat there rowing through the impeccably short and precise manual shifter (Mazda will sell you an MX-5 with an automatic, if you insist), revving the snot out of the 155-hp 2.0-litre engine, wind in my hair, the sun cooking my forehead, sweat pouring down my back, I contemplated on the arrival of this new, more potent engine, which Mazda claims will pump out 181 horsepower and 151 lb.-ft. (+ 3 lb.-ft.) and feature a higher, 7500-rpm redline (versus 6800 rpm).
Ok, I admit that after driving many cars this year, the MX-5 now feels very underpowered. I mean, even a base Honda Civic hatch makes over 170 horsepower now, and although the aluminum-intensive MX-5 only weighs about 1100 kg (2400 lbs.), it's frustrating to get your doors blown off by a Honda Pilot SUV when you're behind the wheel of a sports car.
I know, that's not what the MX-5 is about, and I'll get to that a minute. But still. A bit more power, like that 26-horsepower bump Mazda is promising, in a world where everything is turbocharged and fast, doesn't sound all that bad.
What's There is Still Excellent
Meanwhile, the current engine remains a gem. So the 2018 car would make a great purchase if your local dealer needs to get rid of one at a rebate. It revs freely and makes power all the way to its redline while emitting a satisfying exhaust note. The clutch is light, pedals are perfectly spaced for heal-and-toe driving, and while it lacks low-end torque, the car will still hit 100 km/h in a respectful 6.5 seconds, on par with some sport compact cars like the Honda Civic Si and Ford Focus ST.
And I'm always impressed with the levels of grip these little cars generate. Handling is the MX-5's strong suit. I challenge you to take one on in larger sports cars, like a Mustang or a Camaro, on a tight, twisty back road. Good luck chasing the little one. The MX-5 carves corners like a kart, and because it's so small and light, the road suddenly widens, completely modifying your perception of what it means to attack an apex, encouraging you to push it harder.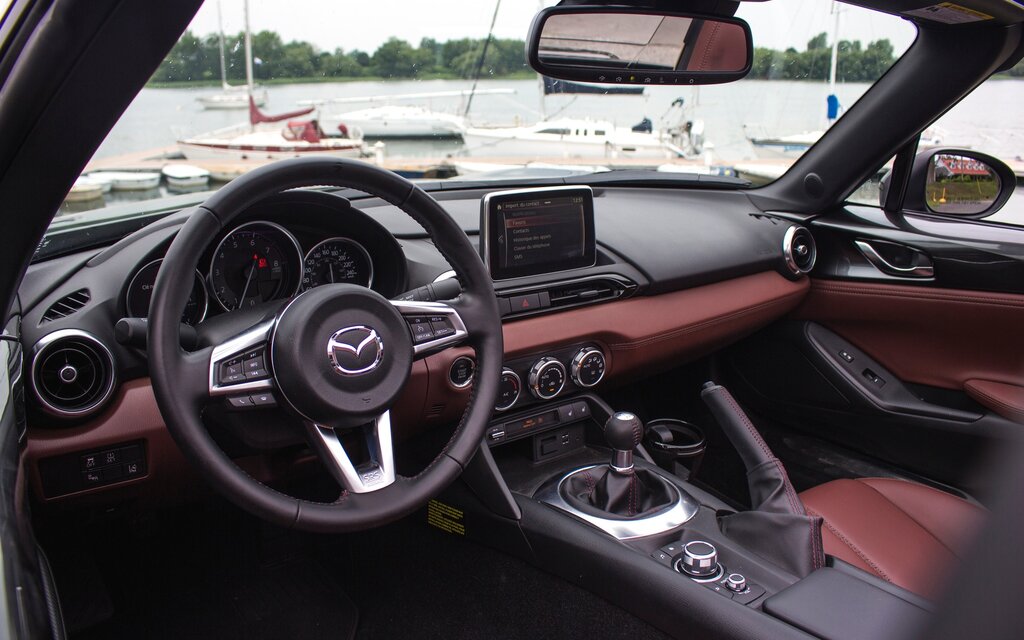 Mazda has also done a fantastic job of leaving body roll apparent. The MX-5 isn't as tight as you'd expect, it leans and wiggles around, feeling a bit "soft" around the edges. That's no coincidence. Mazda engineers calibrated the chassis and suspension so you always feel what the car is doing, as if it was always at the limits of adhesion, all while remaining compliant and comfortable on rough roads.
This in turns translates into much more communication from the machine, resulting in a need to be more alert behind the wheel. So when driving an MX-5, you always feel as if you're going super fast; like you're about to lose control, when in fact, you're not going anywhere quickly. That little rear end can be easily corrected at the turn of the wheel when it decides to act up. Because yes, the rear will kick out if you let it.
In my case, I took the car down to Mount Washington to drive it far, and to climb the mountain up the Auto Road. The car never complained. Being tiny allowed it to carve its way through the SUVs and minivans that were also attempting to get atop the highest peak in the eastern United States. The MX-5's upgraded Brembo brakes never overheated when coming back down. And the entire ride only cost me $60 of 91 octane gas. Also, my tan is now on point.
Sure, it's still cramped in there for a six-footer and there's little to no cargo space, except an ok-sized trunk. The infotainment system can get annoying, especially when using navigation. And the steering wheel isn't telescopic (it will be in 2019). But hey, in a world dominated by bloated, gas-guzzling SUVs, super-expensive sports cars, and semi-autonomous safety features, it feels amazing to drive a car that forces you to simplify your life instead of making it more complicated. Long live the roadster indeed. Long live the Miata.
Share on Facebook