2018 Karma Revero: Back to Life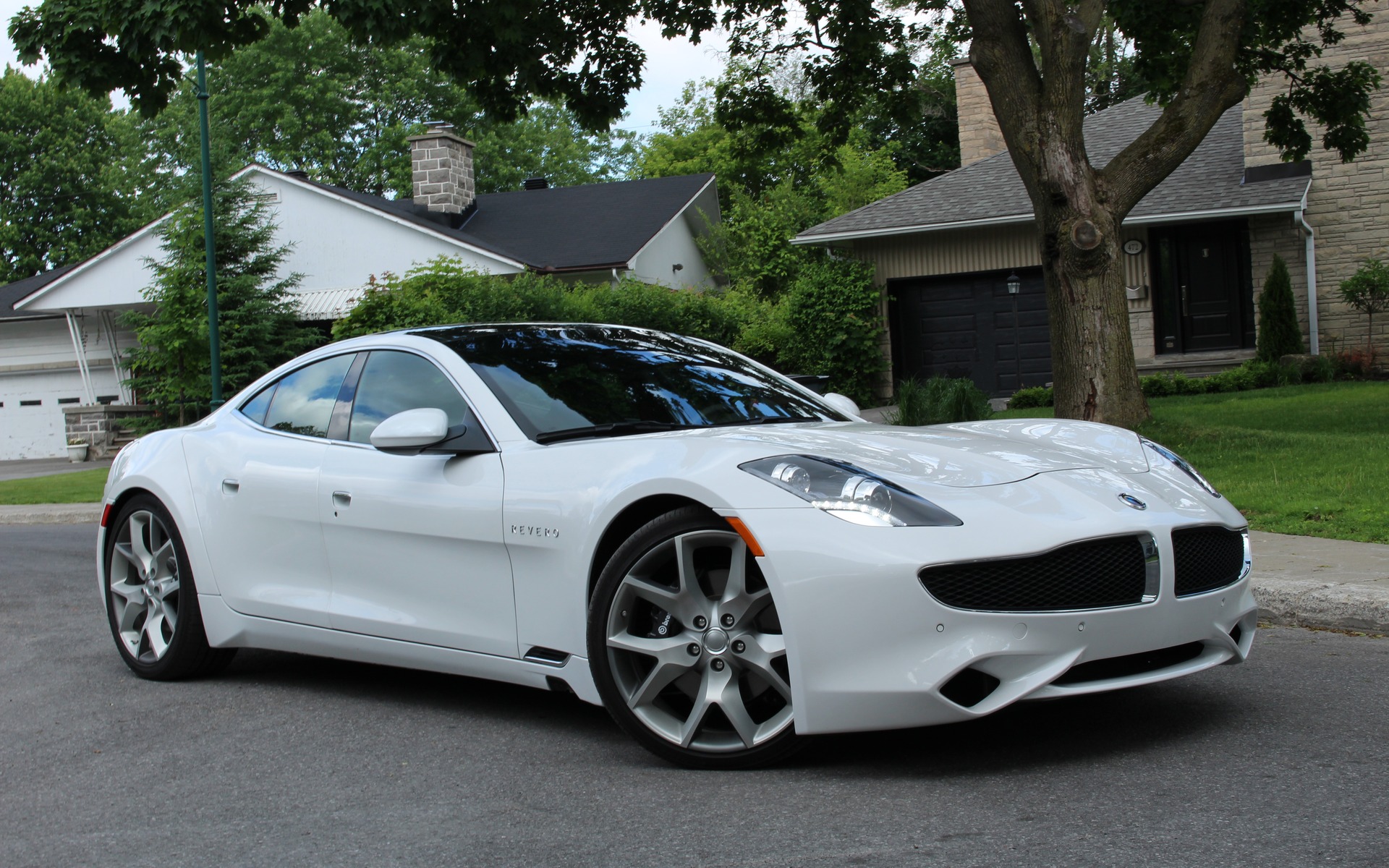 Strong points

Stunning looks
Luxurious cockpit
Zero-emissions driving

Weak points

Limited range
Unknown reliability
Tight accommodations and small trunk
Full report
It's difficult not to talk about the Revero without mentioning its tumultuous childhood. Created by Henrik Fisker, automotive designer and entrepreneur who penned cars such as the BMW Z8 and the Aston Martin DB9, the Fisker Karma hit the market in 2011 as a luxury plug-in hybrid sedan. After about a year of sales, Hurricane Sandy hit the East Coast of the United States, wiping out more than 300 just-built units, while the company's sole battery supplier filed for bankruptcy. Fisker wasn't able to recover from those two major blows to the stomach, and the automaker went belly-up in 2013.
However, the car's stunning design and—at the time—advanced powertrain convinced a Chinese company called Wanxiang to pick up the pieces and bring the Karma back to life. It bought Fisker's assets and designs in addition to the failed A123 Systems battery company and after a couple of years of readjustments, the sedan is back on the road. The brand is now called Karma, and the car is now called the Revero.
Mechanically, the 2018 Karma Revero is largely unchanged from the Fisker Karma. It's equipped with two electric motors connected to the rear wheels, which produce a combined 403 horsepower as well as a staggering 981 pound-feet of torque. A turbocharged, 2.0-litre four-cylinder engine producing 235 hp acts as on-board generator to keep the car moving along after the battery pack reaches its minimum state of charge. It's important to note that the gasoline engine isn't connected to the wheels. The car's drive mode system offers three settings, including Sport, Sustain (to preserve the battery level) and Stealth (fully electric).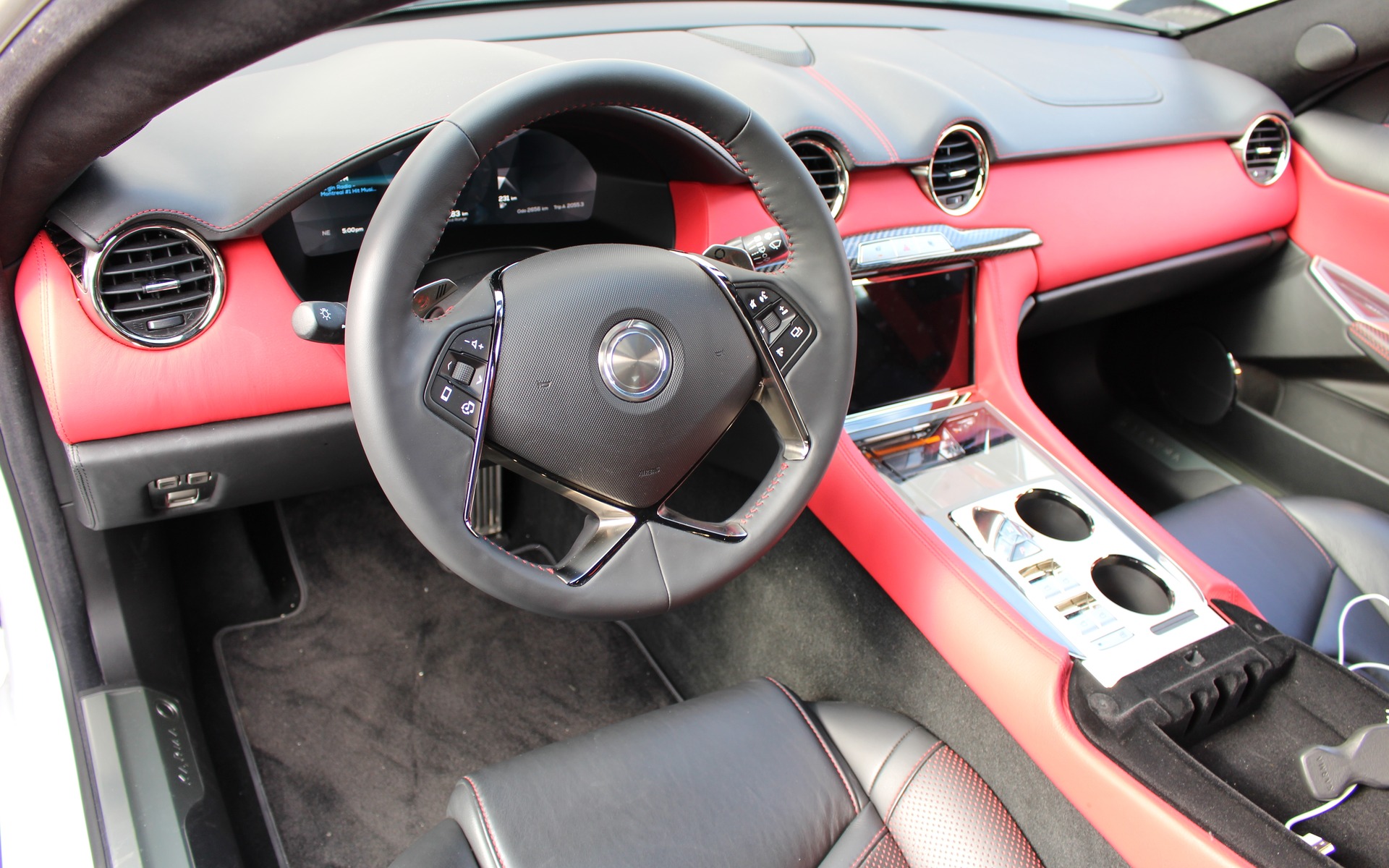 In Sport mode, the Revero can blast from 0 to 96 km/h (0-60 mph) in a claimed 5.4 seconds and reach a top speed of 200 km/h. It's fast, but we're definitely not talking about Tesla-grade performance here. The Karma wasn't conceived at the start as a drag-strip racer, and it also weighs 5400 pounds (2449 kg). That's a lot for a four-passenger sedan that doesn't have a Rolls-Royce or Bentley emblem on it.
In Stealth mode, the powertrain is more relaxed in order to maximise energy consumption, and the 0-96 km/h dash takes 6.9 seconds. In the U.S., the Karma's fully electric driving range is estimated at up to 50 miles (80 km), but in Canada, according to the test procedures dictated by Natural Resources Canada, the car's range is rather estimated to 60 km. Thanks to a 6.6-kW on-board charger, a full energy fill-up on a 240-volt outlet takes about 3.75 hours.
As far as PHEVs go, the Revero's range is higher than all other models sold on our market, except for the Chevrolet Volt, the Honda Clarity. But wait—since the combustion engine doesn't propel the car in any way, shouldn't the Karma be considered an EV instead? Well, yes, in the same vein as a BMW i3 with the Range Extender option. However, even the manufacturer is marketing the car as a PHEV, so we'll stick to that. An EV with a 60-km range wouldn't be too enticing anyway.
As for total range, it's a little disappointing. The 2.0-litre four was sourced from General Motors, originally purchased years ago by Fisker. According to Karma, these unused crate engines have been thoroughly inspected by GM technicians, and there's enough supply to last through the Revero's production cycle. However, not only do these engines require super unleaded fuel, but the car's combined city/highway rating is 11.5 L/100 km. Combine that with a 36-litre fuel tank, and the result is an extra NRCan-rated range of 328 kilometres. A Tesla Model S can do better on battery power alone. Simply put, we can cover long distances in the Karma as long as we stop for fuel, but it's better to maximize its EV-only range by plugging it in as often as we can.
During our brief drive, the 2018 Karma Revero displayed a solid drive and a quiet cabin. The gas engine starts up when we select Sport and Sustain modes, but it isn't very noisy. In Stealth mode, the car emits a faint electronic "creeping" noise in order for blind or visually challenged people to hear its presence.
On the other hand, the cabin itself is pretty tight. The car's timeless styling comes at the expense of interior room, and climbing into the Revero feels a little like putting on a glove. Outward visibility isn't that great, but otherwise, once we're strapped in, at least all controls fall easily within reach. The two rear-seat occupants will feel confined, though, and with a volume of only 195 litres, the trunk is small and shallow.
The Revero's infotainment and climate control system had to be redesigned, and Karma's supplier actually did a good job. The touchscreen is responsive, the menus are easy to use while driving, and we even get Apple CarPlay and Android Auto integration, if that's what we prefer using. Karma tops it off with an eight-speaker stereo.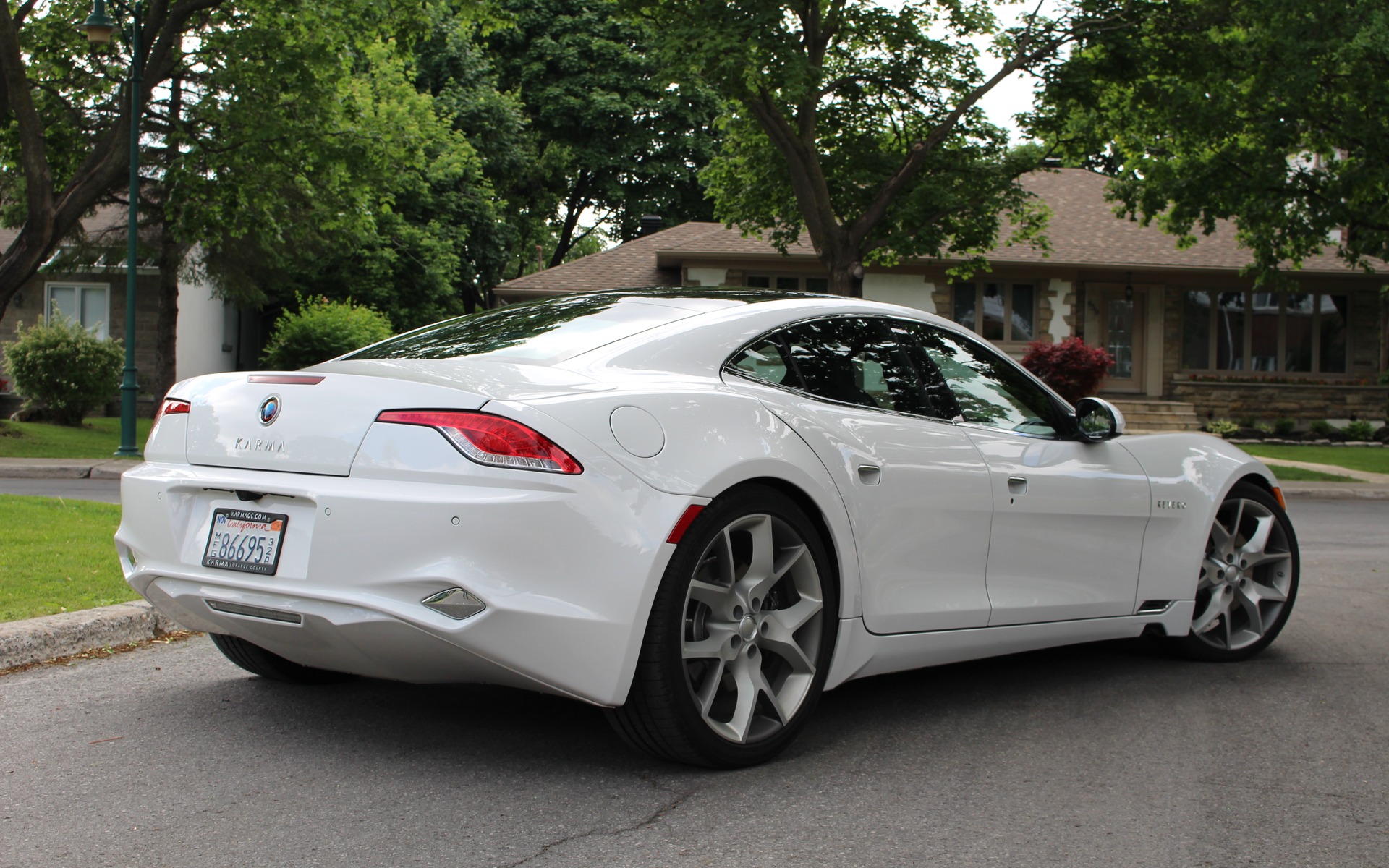 As is the case with Tesla vehicles, the Revero is connected to the Internet and can receive over-the-air firmware updates. If an owner has a software issue with the car, Karma's customer service team can try to fix it through remotely.
On the safety front, the car includes forward collision warning, lane departure warning and a rearview camera, but not much else. Blind spot monitoring would be nice, but it's not available. Since we're on the subject of lacking features, there's no heated steering wheel, although we do get front and rear heated seats.
The 2018 Karma Revero is an intriguing machine. It's more than a toy, but it doesn't pretend to be a suitable replacement for a Mercedes-Benz S-Class or a Porsche Panamera—or even a Tesla Model S. Priced at $149,000 before freight and delivery charges in Canada, it's also expensive, but we do get an exclusive and fairly environmentally friendly sedan, one that will also draw attention wherever it goes. The folks at Karma said that many owners use the Revero as a daily driver, which doesn't surprise us at all.
There currently are three Karma dealerships in Canada—Montreal, Toronto and Vancouver—and the company expects to sell about 50 units a year in our country, while it's planning to sell between 200 and 300 units in the United States.
If all goes well, the Revero's success will pave the way for a next-generation model as well as an SUV. Regarding the latter, the company is supposedly already working on it.
Share on Facebook