2018 Honda Odyssey: Technovan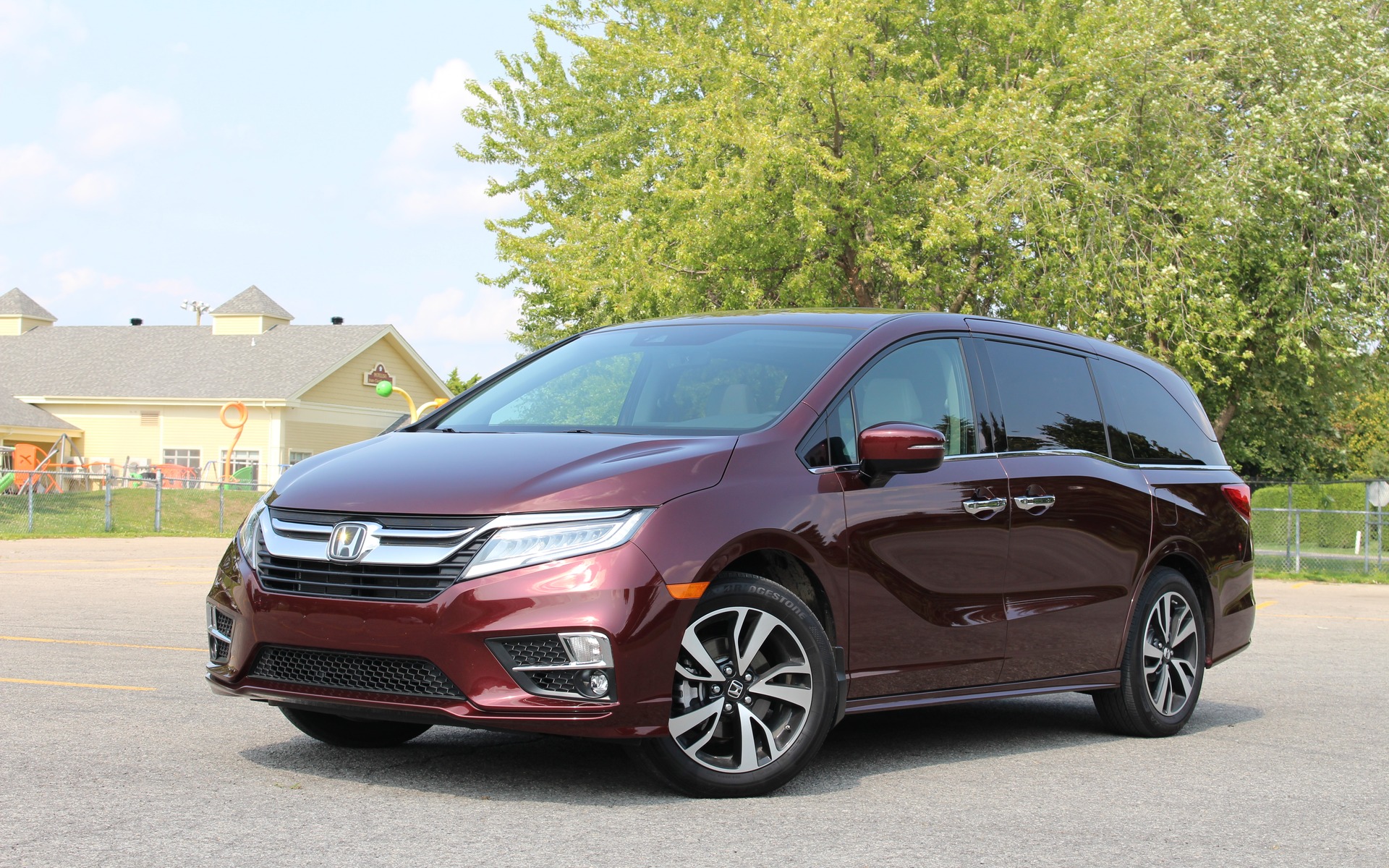 Strong points

Lots of gadgets for everyone
Reasonable fuel economy
Cargo space galore

Weak points

Stiff suspension
Wide turning diameter
More interesting trims are pricey
Full report
Let's stop pretending we're not parents for a while and figure out what we really need in a family vehicle. Taking the kids to hockey practice, carpooling, going camping, heading to the cottage, fetching the groceries; all these tasks require a spacious vehicle, one in which everyone fits without arguments and complaints.
To accomplish these parental responsibilities like a boss, nothing beats a minivan, and the Honda Odyssey is a compelling choice.
Obviously, the minivan model selection isn't as wide as it used to be, but each one—the Odyssey, the Chrysler Pacifica, the Kia Sedona, the Toyota Sienna and the prehistoric Dodge Grand Caravan—has its qualities and shortcomings.
And although parents don't want to be seen driving minivans, kids actually love them. There's plenty of space for everyone in the Odyssey, and in the second row, the bench can shed its middle cushion and convert itself into two individual chairs. The latters can slide left to right to either keep them as far apart as possible, or wedged together to create somewhat of a loveseat. These seats can also be removed, but that requires a fair amount of elbow grease, because they're bulky and heavy. The Pacifica's Stow 'n Go system is neat, because its seats can all be folded flat into the floor, but the second-row chairs a re much less comfortable than those of the Odyssey.
Like in all other minivans, with a little tugging and pulling, the third-row bench can fold up and swivel itself into the floor, creating a flat load surface and a class-leading cargo volume of 2526 litres behind the second-row seats. Even with all the seats occupied, the Honda can still carry 929 litres of cargo, which is still commendable. With a minivan, no need to think about how we're going to fit everything in like playing a game of Tetris—we can just throw everything in.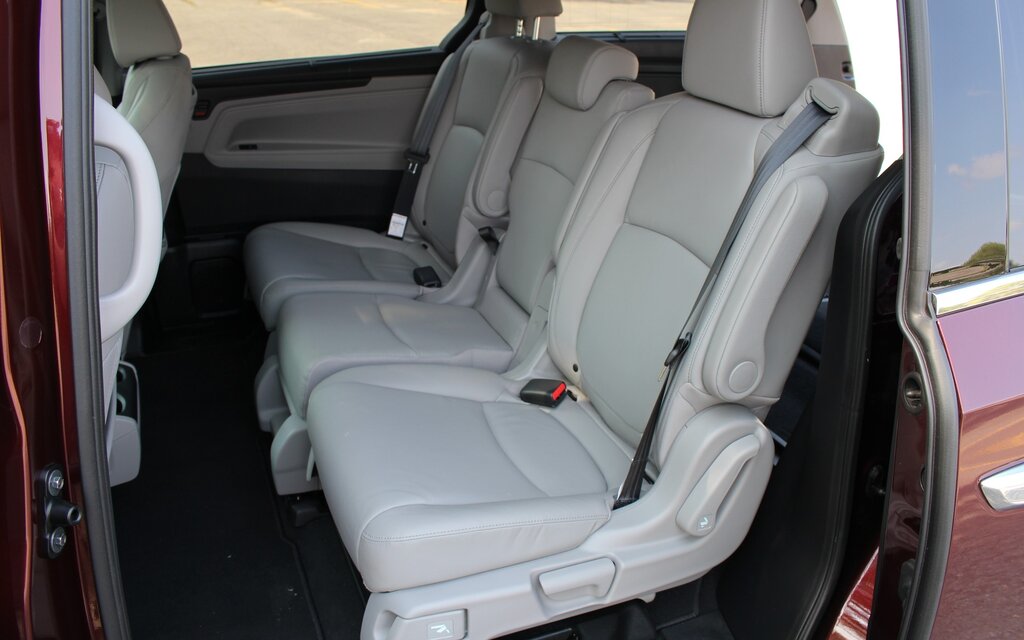 The Odyssey's cockpit also offers some cool features, which we may or may not use all that often. The Cabin Talk system—similar to what's also found in the Sienna—allows parents to speak to the kids through a PA system, which is great if they're far away in the third row or wearing headphones connected to the rear-seat infotainment system. The latter is required to get Cabin Talk.
Using a ceiling-mounted camera, CabinWatch displays what's happening in the back seats on the infotainment system screen, making it easier to pinpoint the troublemaker during an argument. The "How much farther?" app of the entertainment system—similar to what's also found in the Pacifica—gives rear-seat occupants a graphic display of the journey still ahead, if a destination was punched into the navigation system.
CabinControl is an app that allows passengers to connect to the 2018 Honda Odyssey's infotainment and climate control systems, and set the rear-seat temperature in addition to queuing up music on a playlist for everyone to enjoy—or not, if we're not into the same genre of our kids. Finally, there's on-board Wi-Fi tethering allowing up to eight devices to connect to the Internet—although a data package is required at extra charge. Obviously, all these features aren't available in the base trim levels, which means investing at least $40K in an Odyssey.
The Honda's new infotainment system is quite modern, with a fairly reactive touchscreen and a menu layout that isn't too complicated to use. A few more real buttons around the screen, in order to access the main functions, would be nice, though. Alternately, Apple CarPlay and Android Auto integration is standard.
All versions come with a 3.5-litre V6 that develops 280 horsepower, while a nine-speed automatic transmission is included in all trims except the top-shelf Touring, which benefits from a 10-speed unit and slightly better fuel economy. Power is more than adequate, providing the minivan with a 3500-lb. (1588-kg) towing capacity—the segment norm—and fuel consumption that's on par with its competitors. We averaged 11.2 L/100 km, just a few tenths higher than the combined city/highway number.
The 2018 Honda Odyssey drives well, and feels solid on the road, with little road noise filtering into the cabin. However, the suspension is a tad on the stiff side, which can get tiresome around town. Parking manoeuvres aren't as easy as they used to be compared to the previous-generation Odyssey, as the turning diameter has increased from 11.2 metres to 12.1. Basically, going from best to worst among minivans.
A base Odyssey can be had from $34,890 before freight and delivery charges, but moving up a step to the EX trim adds a built-in vacuum cleaner, power-sliding side doors and a sunroof, among other niceties. A loaded Odyssey Touring breaks the family piggy bank at more than $50K; at that price, it's hard not to recommend a fuel-efficient Chrysler Pacifica Hybrid instead, which starts at about the same price, but benefits from government green-vehicle incentives—up to $8,000 in Quebec (after taxes), up to $14,000 in Ontario (after taxes) and up to $5,000 in British Columbia (before taxes). Also, the Sedona is more affordable, and the Sienna has a better reliability record.
All this doesn't mean the Odyssey isn't a solid choice, because it is. It does everything well, but doesn't soundly beat its competition at anything. If we like the Honda's looks, drive and gadgets, it's a choice to consider, and one that will hold its value for a long time. In addition, choosing it over a Pilot or a CR-V is making our lives as parents much easier—even if we don't look cool driving a minivan.
Share on Facebook