2019 Jaguar I-PACE: the EV Battle is Upon Us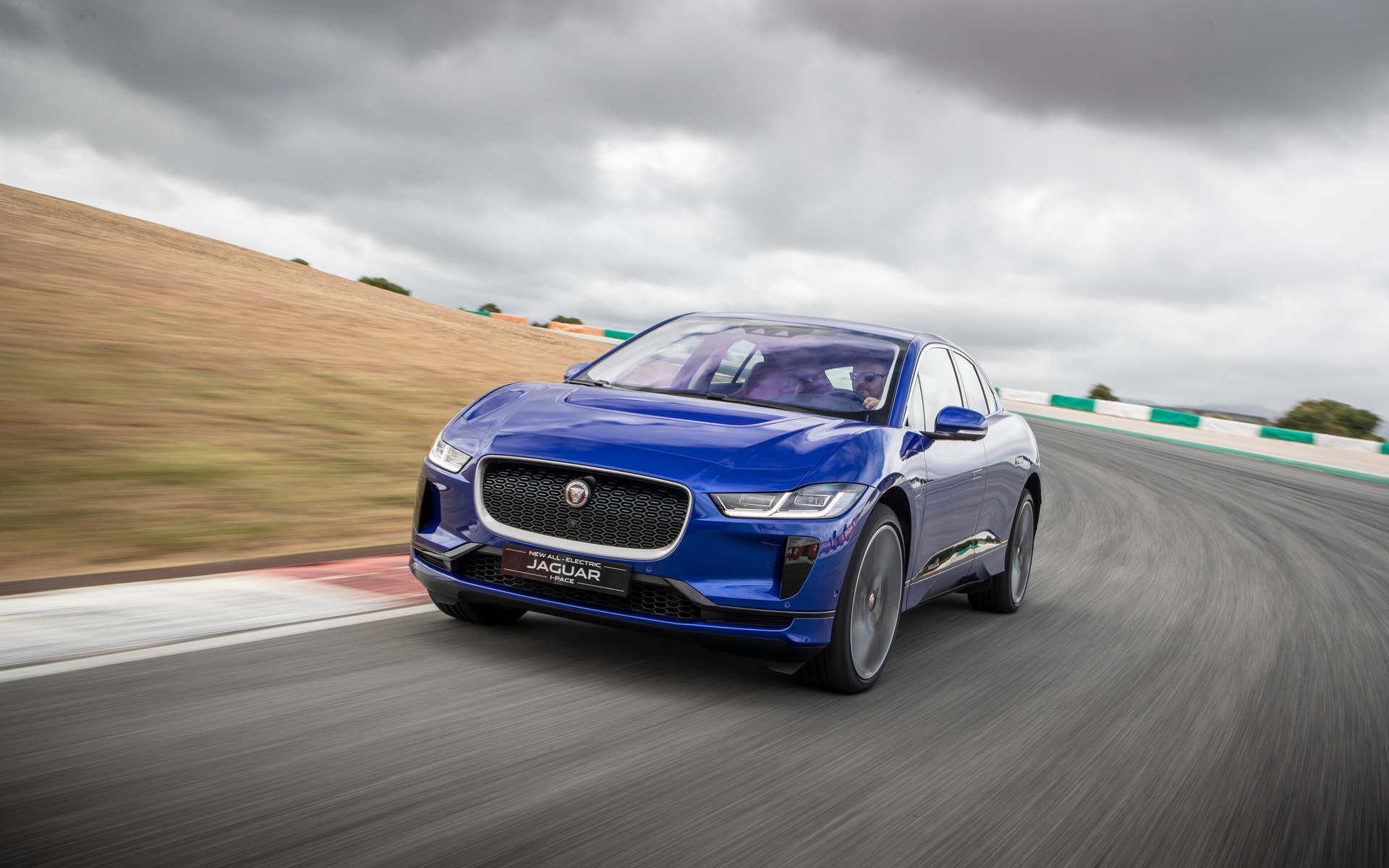 Strong points

Stunning design
Impressive performance
Spacious cabin and cargo space

Weak points

No towing capacity
Only two regenerative braking modes
High price tag
Full report
ALGRAVE, Portugal – When I asked John Lindo, director of public relations at Jaguar Land Rover Canada, about the availability of the 2019 Jaguar I-PACE when it hits showrooms this September, his response was brief but clear: "we are building them, and they will be available."
This is one of the many reasons why the British carmaker's first all-electric vehicle is so important. On top of being absolutely gorgeous, practical and ultra quick, consumers will be able to drive home with one the day it hits our market, a quality some of its competitors can't exactly brag about.
Finally, Elon has a Rival
When Elon Musk's battery-powered cars hit our market ten years ago, everyone was eager to see which mainstream carmaker would be the first one to respond. Since then, we've been blessed with a few "attempts" in the form of the Nissan LEAF, the Chevrolet Bolt EV, the Volkswagen e-Golf and the Hyundai Ioniq. Good for them! But as interesting as these vehicles all are, they don't even come close to the level of sophistication, design, performance and unquestionably cool factor associated with Tesla products.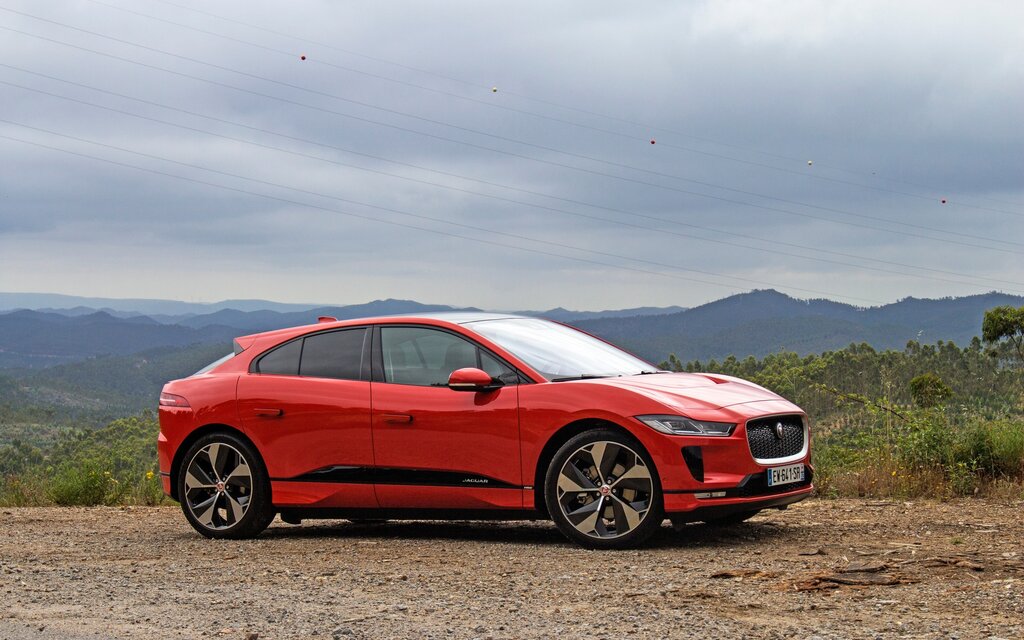 Who would have imagined that Jaguar would be the first real competitor? We sure didn't, rather betting our money on something Japanese, German, or even Korean. But here we are, at the turn of 2019, with a fully viable and ready-to-drive British retort. And it's an absolutely mind-blowing product, if I may add.
Here's what you need to know: the 2019 Jaguar I-PACE is a compact crossover composed 94% out of aluminium. It's powered by a 90-kWh battery. All-wheel drive comes standard thanks to two motors pumping out a total output of 394 horsepower and 512 lb-ft of torque. It does 0-100 km/h in 4.8 seconds, and its battery, covered by the manufacturer for up to eight years or 160,000 km, gives way to an estimated 386 km of total range. Oh, it also sells for an entry price of $86,500 before freight and delivery charges.
Boom! Here it is, EV fans, the first-ever Tesla fighter.
Kicking a lot of Ass
Is this even surprising? After all, it's exactly what Elon Musk wants; some genuine competition. And judging by his attitude since he arrived in the car world, and let's not forget the fact that he shared his patents with the entire planet, it's evident that he's been wanting to disturb the force, all while pushing big-name carmakers to turn towards electrification. Mission accomplished, I'd say, because the I-PACE is the answer to Elon's question, but more importantly, it's an electric vehicle put together by automotive enthusiasts, which makes it just that much cooler.
That incredibly attractive face comes, of course, from the creative mind of Ian Callum, the man who's at the head of design at Jaguar Land Rover. The guy's resume is filled with glorious modern achievements such as the Jaguar F-TYPE, the Range Rover Velar and the Aston Martin Vanquish.
The I-PACE continues in the same direction with stubby proportions, a wide stance, a young and modern look and unquestionable Jaguar-esque hips reminiscent of some of the brand's grand classics such as the E-Type.
And like any good electric car, whose dual motors and batteries nestled within the floor take up very little space, the rather tiny I-PACE is incredibly spacious, giving way to two usable storage areas; a small frunk (26 litres), and a rather deep trunk hatch (716 litres). That cabin isn't too bad neither, offering as much passenger space as some midsize vehicles.
Crank it up!
I can already hear some of you complaining behind the screen: "the Tesla Model X P100D in Ludicrous mode eats this thing for breakfast!" Sure, the Jag is over a second slower to 100 km/h than the California-based SUV, but it also sells for $20,000 less. And let's not forget the fact that a well-equipped Model X can easily climb to $200,000.
Don't worry, performance junkies, the I-PACE is quick enough and extremely fun to drive. We drove it on the streets of Portugal, in the magnificent Algavre region, where we were given the opportunity to test it out over a two-day period on near-endless winding roads, narrow villages and one of the best race circuits in the world. We were even treated to a bit of off-roading.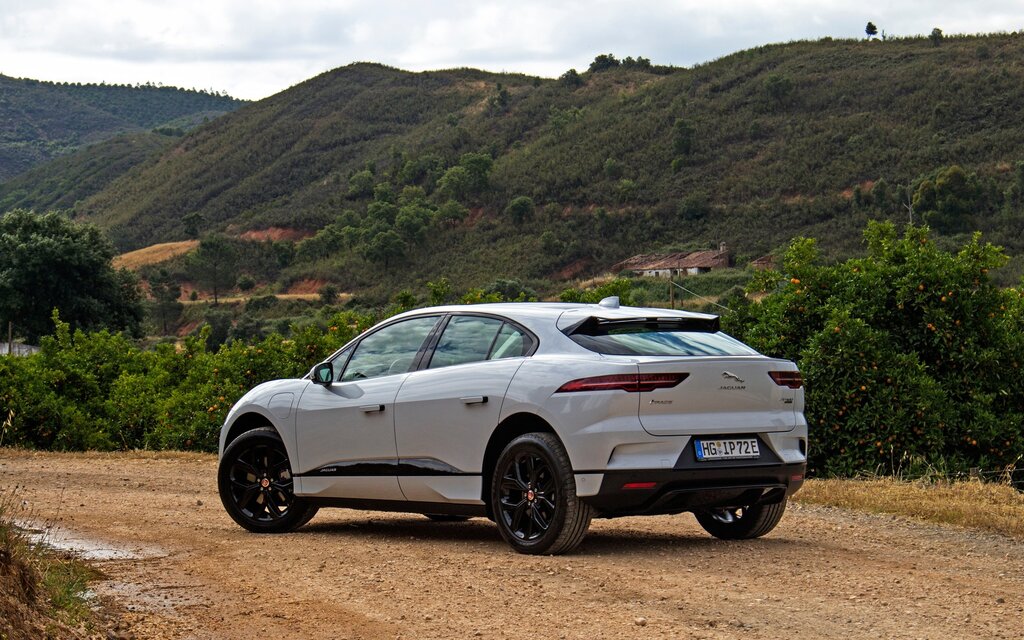 To nobody's surprise, the instantaneous torque supplied by those electric motors allows the I-PACE to bolt out of a corner without too much fuss, all while submerging its occupants in one of the most interesting "engine notes" I've ever experienced in any car. Jaguar doesn't hide the fact that the turbine, almost spaceship-like roar that floods the otherwise quiet cabin at full throttle is synthesized, but it ironically adds character to the little crossover, adding to the thrills caused by its brutal acceleration. You can even increase the madness through the car's infotainment system, or simply turn it off. Of course, mine was on full blast.
These are the minor details that add up to making the I-PACE a desirable vehicle that's in tune with the times. Its spacious cabin, front and rear, is also quite pleasant to look at with a beautifully styled dashboard that integrates both physical and touch-operated controls. Everything is well laid out and easy to reach, and the same can be said about the infotainment system, which is always pretty and enjoyable to operate. However, the glossy finish does add quite a fair amount of glare on a sunny day, and the system itself does not incorporate Android Auto / Apple CarPlay.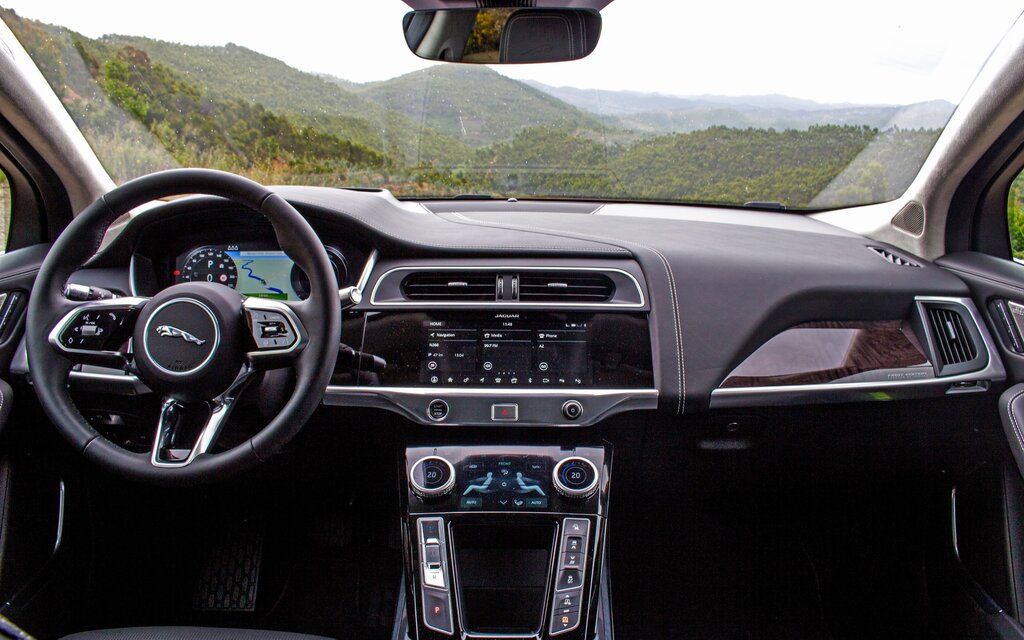 Listen, I could continue filling this web page with compliments, but I'm asked to keep these write-ups short and concise, so I'll end by saying this: the 2019 Jaguar I-PACE is the first vehicle in a long time that has had me hyped up from the moment I laid eyes on it, to the moment I walked out of its cabin. And the entire time I was driving it, I was honestly digging deep to find faults.
I could say that I'm somewhat disappointed with the fact that there's no official towing capacity rating (although engineers speak of 750 kg or 1500 lbs., which is not backed up by Jaguar), a somewhat high price tag and the fact that its regenerative braking system only has two modes, contrary to an e-Golf, a Bolt EV or a Mitsubishi Outlander PHEV which pull more flexibility from the system.
That all being said, the final product is so accomplished, revolutionary and spectacular, that it's all but forgiven. The EV battle is officially among us folks, and the future of the automobile looks up to being a lot more exciting than it has ever been.
Share on Facebook