2019 Kia Sorento: Refreshed and Ready for Adventure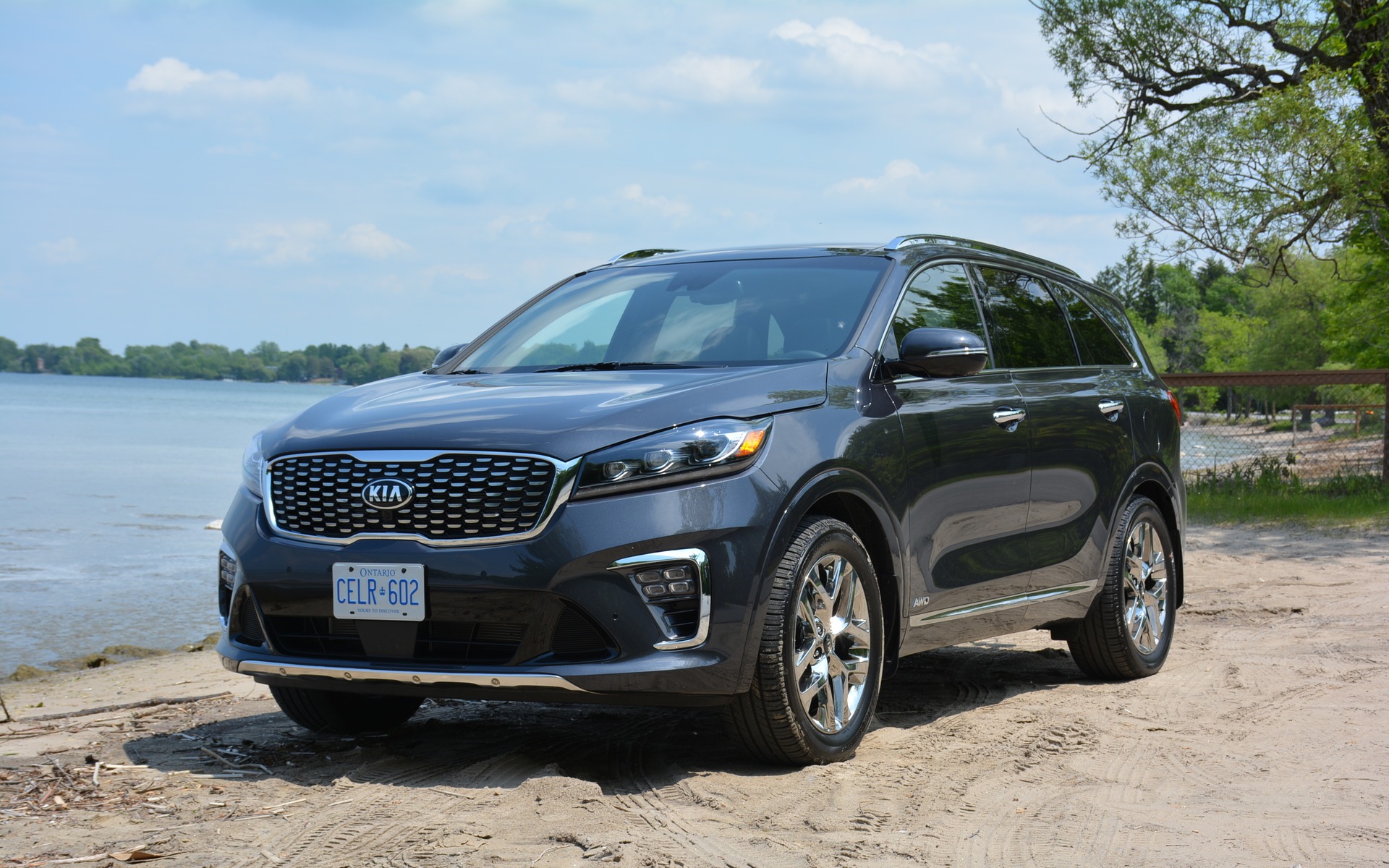 Strong points

Compact three-row SUV
Smooth and quiet performance
Strong value proposition
Decent fuel economy

Weak points

Seating comfort in SXL trim
V6 can feel sluggish at times
Interior improved, but not premium
Full report
MUSKOKA, Ontario – Kia has long been perceived by consumers as a brand with a strong value proposition. Over the past few years, Kia has tried to maintain those consumer benefits, while instilling a culture that's equally focused on technology, performance, comfort and design.
According to Ted Lancaster, vice-president and COO, Kia Canada, that plan all comes together in the refreshed 2019 Kia Sorento SUV. "The Sorento is a vehicle that will force us to change how we look at our products. We don't want consumers to simply focus about its great value; this new Sorento can achieve much more."
And for that reason, Kia hosted its first drive program of the Sorento in the Ontarian cottage country of Muskoka. It created an opportunity for the compact/midsize SUV (it's best described as a tweener between those segments) that only gets a 40-mm bump in length from its outgoing version to showcase its versatility and practicality in an environment best suited for family travel, adventure, camping, trailering and fun.
The Sorento is unique in that its large in size compared to the Honda CR-V, Nissan Rogue and Toyota RAV4 compacts; while being small in stature when put up against other three-row SUVs such as the Honda Pilot, Nissan Pathfinder and Mazda CX-9. A small three-row package can be an enticing selling point for many, but did Kia go far enough in making its 2019 utility hauler stand out from the massive crowd?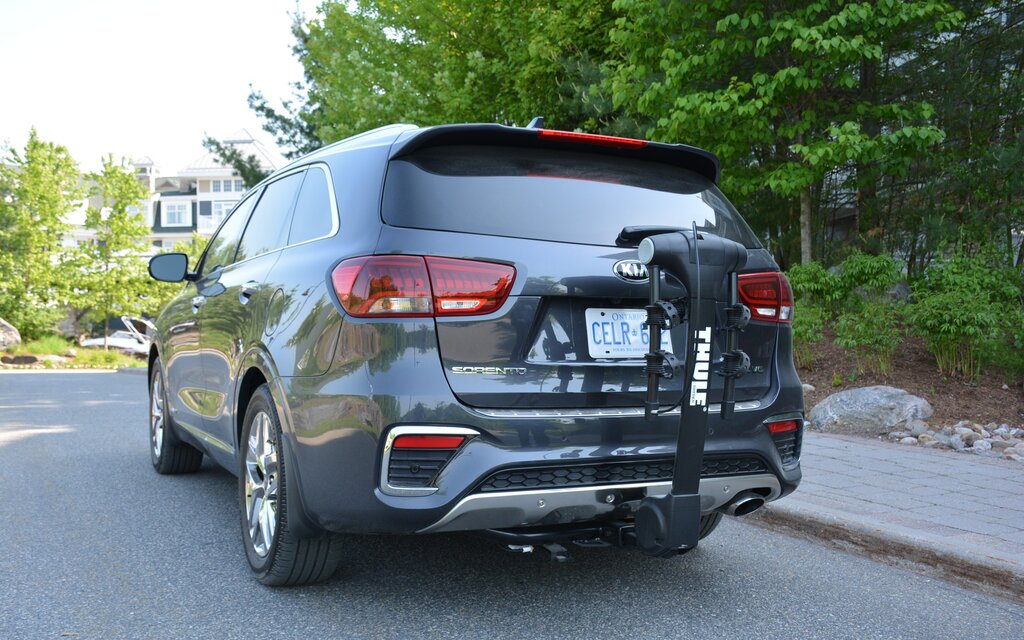 Changes for 2019 bring a practical and modern vibe
Plenty of changes are found in the refreshed Sorento, but potentially the most appealing to consumers is the return of its better-selling, seven-seat configuration for its base engine. The seven-passenger Sorento can now be had with all its engines, allowing for a three-row SUV to be purchased as low as $32,495, and that includes all-wheel drive.
On top of that small, but large change (a common theme with the Sorento), the SUV gets spruced up both inside and out. Its striking front fascia sets the tone with two tiger-nose grille designs split between its four trim levels. Chrome hot stamping inserts in the upgraded grille offered up on its top SX and SXL trims may be persuasive enough to convince some consumers on an upsell that's only further enhanced by an all-new LED fog light design. Other new standout features include various wheel designs, including a blinged-out SXL version, LED taillights and newly sculpted rear bumper.
Improvements continue on the inside with new standard seven-inch display audio (eight-inch with navigation and Harman/Kardon premium audio system for SX and up) that now has Apple CarPlay and Android Auto throughout the trim line, as well as a rearview camera, and surround-view monitor for SXL customers. A feature that many will enjoy is a wireless charging pad for both Android and iPhones starting at the LX AWD trim.
Enhancements to its steering wheel, instrumentation graphics, centre console, as well as soft-touch materials and accent trims improve the Sorento's look and feel from its outgoing version, but it doesn't reach the level for it to be labelled luxurious or premium. Luckily, many of those thoughts are forgotten in the first and second row with ample headroom and legroom to go about, including heated second-row seating on SX and above. Third-row seating is geared towards smaller kids.
Quiet and smooth ride
Kia has opted to drop its 2.0-litre gas engine and go to battle with two direct-injected gas engine options: a base, 2.4-litre mill producing 185 hp and 178 lb.-ft. of torque and the top-tier, 3.3-litre V6 reaching 290 hp and 252 lb.-ft. of torque. There was talk of a diesel coming back into the fold, but a final decision has yet to be made, as Kia explores whether it goes diesel or possibly with an electrified variant.
The current base engine retains its six-speed automatic transmission, but the V6 gets a new eight-speed automatic that provides a smooth drive thanks to a more seamless interaction between engine and transmission. Simultaneously, it improves on fuel economy up to 8% with the V6s that are rated at 12.5 L/100 km in the city and 9.7 L/100 km on the highway. On this first drive program that only had V6s, I managed to achieve a combined 9.7 L/100 km mark while being predominantly on the highway.
Outside of the base front-wheel-drive LX, all other Sorentos receive all-wheel drive for additional balance and traction. On this drive throughout cottage country, traction never posed a problem and came off as a smooth and quiet operator geared for comfort as it glided over bumps and took away most road noise. It confidently steered around some twisty roads with precision, but needed a wider turning radius when U-turns were brought into the equation. Braking was found to be one of its best attributes as it came to gradual and effortless stops with quick responsiveness.
From a performance perspective, there was nothing that stood out from the ride, which in the SUV market, isn't a bad thing. Initial acceleration was fine in Sport mode, but sluggish in Eco, Comfort or Smart mode (the latter is designed to anticipate the driver's steering preferences, jumping between the three modes), but those issues go away at cruising speeds.
Acceleration is truly a low-level concern in the SUV buying process, but still a factor in some decisions. If the V6 seems simply average, it begs the question how underpowered the four-cylinder may be? It would still have to be tested for an accurate review, but my initial thought would be to opt for the LX V6 at $34,795 over an EX 2.4-litre at $32,495.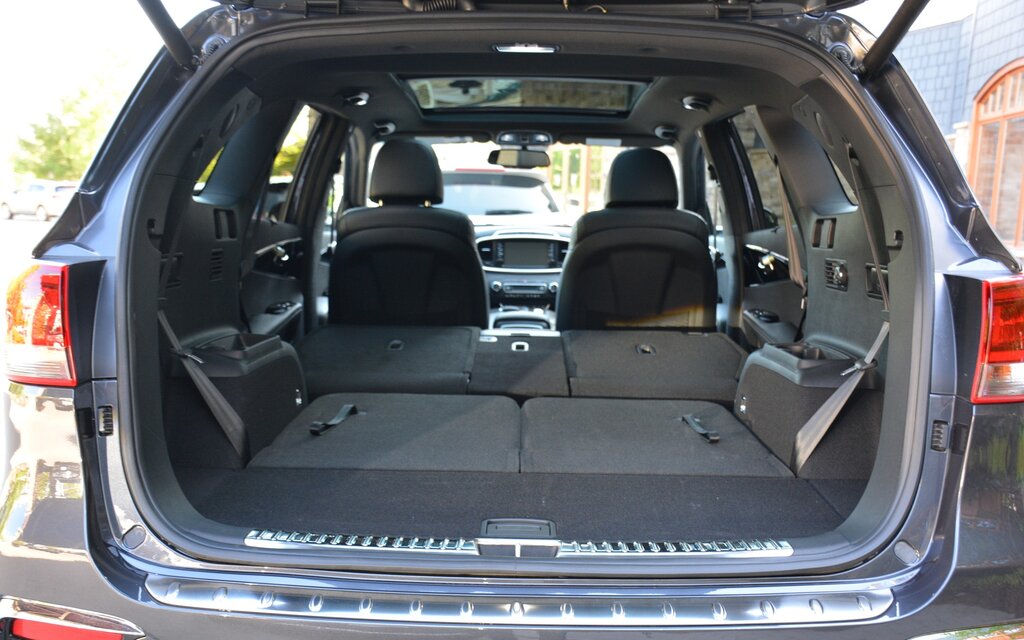 Verdict
With a growing influx of compact and midsize SUVs, the refreshed 2019 Kia Sorento does its job at staying relevant through an improved design and expansion of its three-row configuration to go with its continued value proposition, up to 5000-lb towing capacity and Top Safety Pick+ accolades.
The drive is more focused on comfort over sportiness and there's nothing wrong with that. The Sorento is a practical buy, especially for those looking for three rows of seating, and at $34,795 that can even include a V6 engine with all-wheel drive (base front-wheel drive is $27,995). It's only at the top-tier levels where the Sorento starts at $44,865 for the SX and $48,865 for the SXL where those purchases become questionable when actual premium SUVs from BMW and Mercedes-Benz start coming close in price.
If families stay within the bottom two-tiers, the Sorento purchase would be a wise one with impressive standard touches including heated front seats, heated and leather steering wheel, a seven-inch touchscreen and Apple CarPlay and Android Auto.
Kia may not want to focus on its value proposition, but in the end, the 2019 Kia Sorento displays a strong one that only gets better with added design, versatility and a top safety label that allows for confident adventuring.
Share on Facebook