2018 Ford EcoSport: the Fiesta Suits Up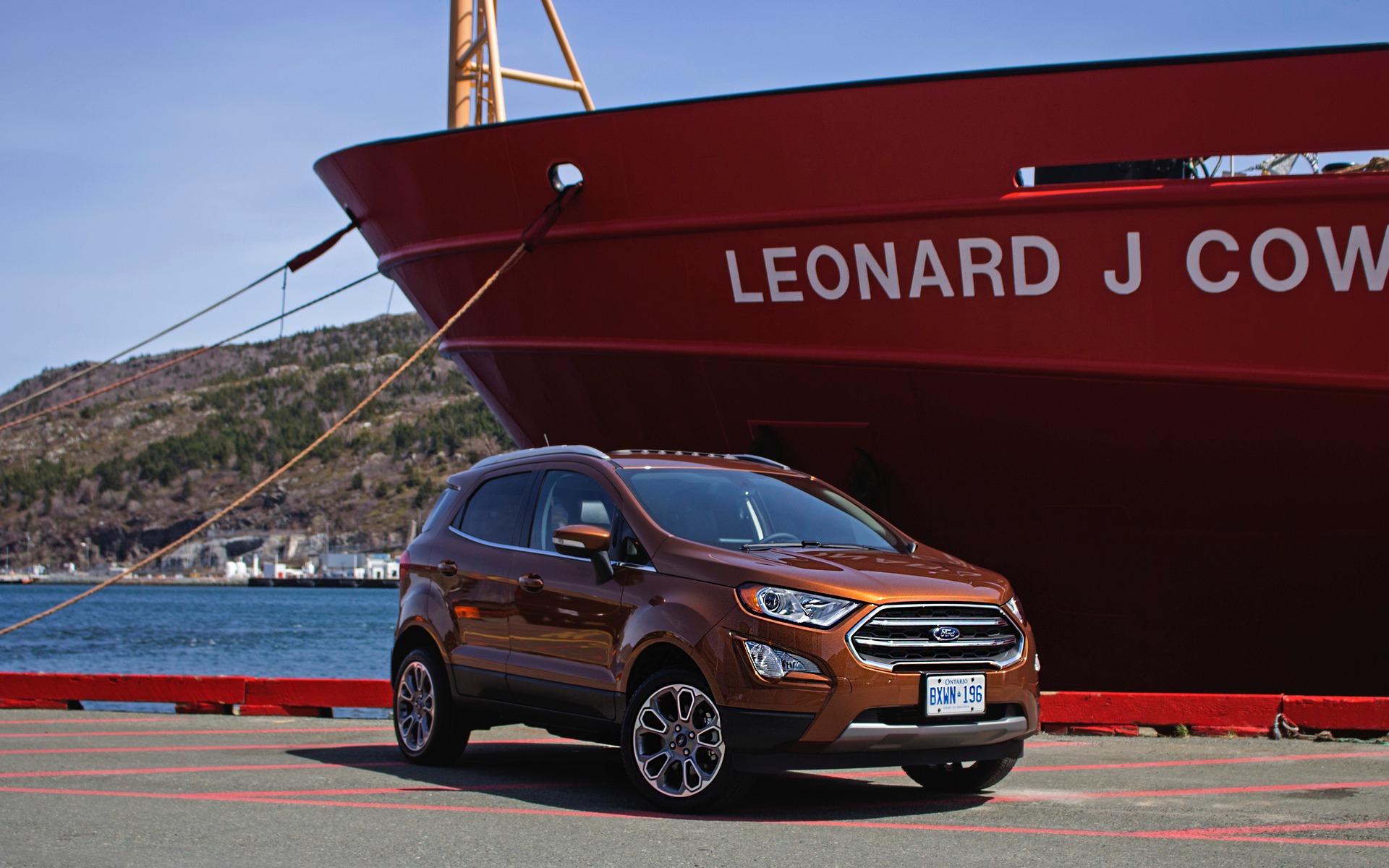 Strong points

Nimble chassis, playful handling
Spacious trunk
User-friendly tech

Weak points

Horizontal opening tailgate
Compact-SUV-grade fuel consumption
Tight rear seat
Full report
SAINT-JOHN'S (Newfoundland and Labrador) – In 2018, when a consumer walks into a car dealership, the first acronym that comes out of his or her mouth is "SUV"! No matter the price. No matter the size. No matter the fuel consumption. The people request a sport utility vehicle. Understood?
In response to the intriguing phenomenon, Ford, which still didn't offer a subcompact SUV in its North- American lineup, takes its subcompact Fiesta, lifts its suspension, crams an all-wheel-drive system underneath a more upright body, and voilà! What they've come up with is the 2018 EcoSport.
While a bit late to the party, it joins what is currently the fastest-growing segment in Canada. It was on the roads of Newfoundland that we had a chance to take it for a spin.
An American Born in India
The Ford EcoSport isn't exactly new. Like its direct competitors, the Nissan Qashqai and Honda HR-V, it's been selling in other markets for quite some time now. As a matter of fact, our EcoSport is built in India, a country where consumers have understood the benefits of a tiny utility vehicle for quite some time now.
And that really is the EcoSport's most endearing trait. It's small, and so is its carbon footprint. This means that in a cramped city like Montreal or Toronto, where parking can often be scarce, Ford's little ute is nimble and easy to park. It would also look great in the driveway of one of those miniature houses, which also seem to be fashion for anyone looking to downsize their life.
Two engines are offered, including a 1.0-litre turbocharged three cylinder pumping out an impressive 123 horsepower and 125 lb.-ft. of torque. This brilliant little mill only comes with a front-wheel drivetrain. A naturally aspirated 2.0-litre four, good for 167 horsepower and 149 lb.-ft. takes care of powering all-wheel-drive models. A six-speed automatic is the only transmission offered across the lineup.
Styling-wise, the EcoSport borrows styling cues from both the Fiesta and the Escape. I personally find it looks like an Escape that shrunk in the dryer, and from the rear, it's literally a box on wheels. I guess you can call that cute. But that's all subjective, so you may judge for yourself.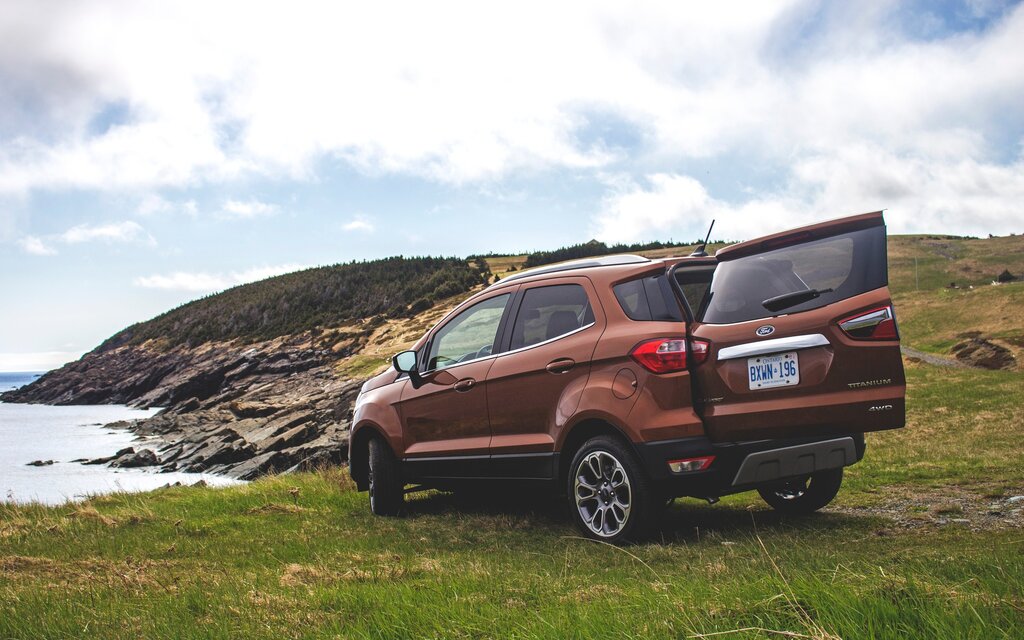 That tailgate Though
The EcoSport's tailgate opens horizontally instead of vertically like its competitors. This led to complications during our drive in tight parallel parking spots or when the vehicle was parked close to a wall. The door simply couldn't open entirely. This makes us wonder if the EcoSport was even engineered for urban life in the first place. Ford should know that a vertical tailgate takes up less space than a horizontal one. Honda and Toyota learned that lesson with the CR-V and RAV4. At least this one opens on the right side.
But in the EcoSport's defence, once that hydraulically assisted door is wide open, it gives way to a rather spacious little trunk, 592 litres actually. Fold that rear seatback flat, and you'll get a total of 1415 litres, making the tiny Ford more spacious than a Chevrolet Trax (1371 litres) and a Hyundai Kona (1296 litres), and almost identical to a Kia Soul (1402 litres) and a Jeep Renegade (1438 litres). Only the Honda HR-V gives way to loftier total cargo area at 1631 litres.
Unfortunately, the same can't be said about that rear seat which, although giving way to plenty of head clearance, proves rather tight around the legs, especially for tall people. Nothing can be said against the front seats, however, which proved comfortable with ample leg, head and shoulder clearance.
The EcoSport boasts a well-put-together cabin. It's youthful, attractive and surprisingly quiet for the segment. The standard tech includes two available fast-charging USB ports on the dashboard, which are easily accessible. A 6.5-inch touchscreen with physical controls and Android Auto / Apple CarPlay compatibility comes on SE and SES trims only. SYNC Connect with its eight-inch touchscreen is available on the higher Titanium version. It's an attractive interface that's easy to operate, albeit comprised of a few complex functionalities. The system also incorporates some neat toys such as FordPass, which allows owners to control some the car's functionalities from their smartphone.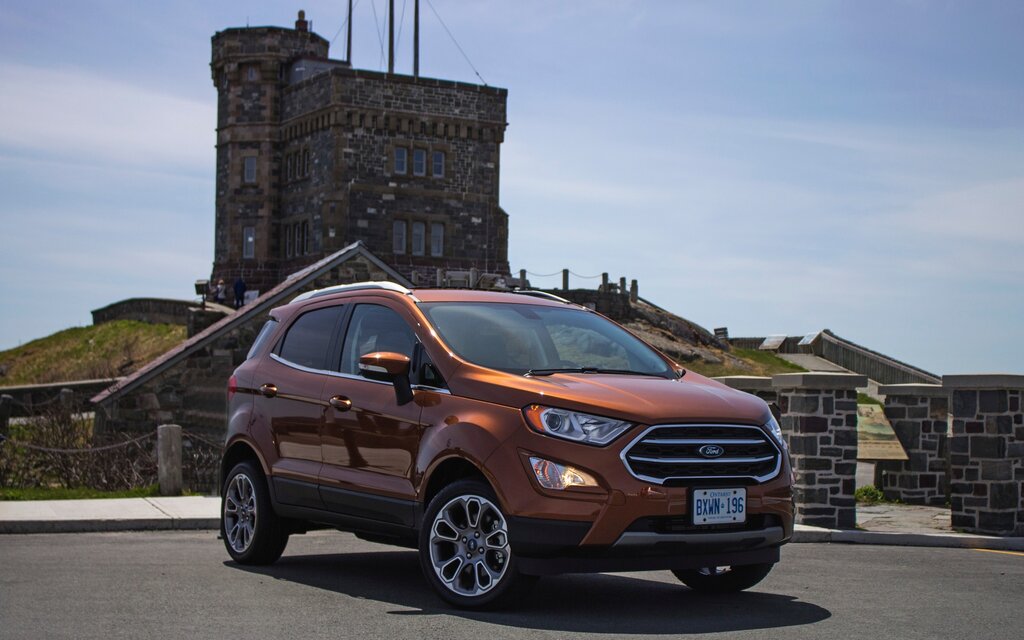 The Fiesta's Soul
On Newfoundland's steep inclines and twisty roads, the EcoSport proved immensely fun to fling around corners thanks in part to the Fiesta's platform. While its suspension is a bit on the stiff side, the vehicle encourages spirited driving through a solid and stiff chassis and well weighted steering feel.
Power isn't the EcoSport's best asset, but we didn't notice a difference between the three- or four-cylinder engines, mostly because of the drivetrain each mill is associated to. The three cylinder offers a satisfying amount of low-end torque for its size, and the 2.0-litre has no issue propelling the all-wheel-drive system, but both engines quickly run out of puff when solicited during inclines. And while that automatic gearbox smoothly shifts from one cog to the next, it violently downshifts if you dare put your foot down a bit too far in an attempt to extract power from the tiny engines.
So, why opt for a subcompact SUV versus a compact one? If your answer is fuel efficiency or a lower price tag, please keep reading. During our test run, we couldn't get an all-wheel-drive EcoSport under the 8 L/100 km mark. Some compact SUVs, such as Ford's own Escape, Mazda's CX-5 and Honda's CR-V pull similar numbers, all while offering more cabin and cargo space.
As for price, we'd strongly recommend sticking to S and SE trims with all-wheel drive, because at $29,399 and $31,099 for SES and Titanium AWD variants, before freight and delivery charges, the EcoSport starts entering compact SUV territory.
That all being said, while these types of vehicles often don't make much sense on paper, they remain very desirable to consumers, and Ford understands this. At least, when pitted against its stiff rivals, the EcoSport is competitive. And with the way the auto industry seems to be leaning these days, it should have no problem selling like a champ.
Share on Facebook