2018 Volkswagen Golf Alltrack: Please Buy One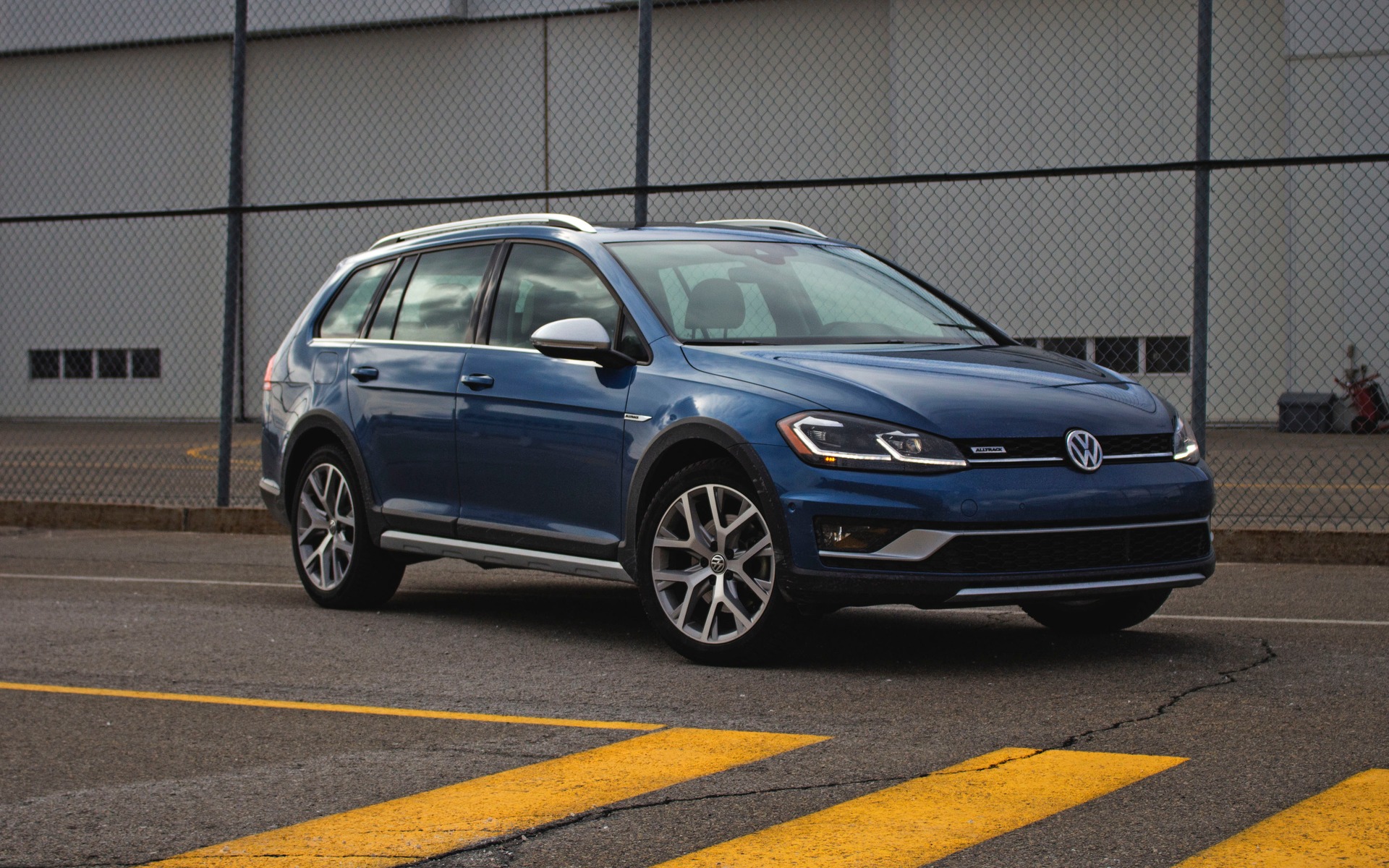 Strong points

SUV practicality and ruggedness, carlike handling
Refined and quiet cabin
Can be had with a manual

Weak points

Much pricier than a regular SportWagen
Okay fuel consumption
Off Road mode is a gimmick
Full report
If you find my headline a little desperate, that's because the car you see here, the 2018 Volkswagen Golf Alltrack, is under serious threat. People aren't buying cars anymore. The phenomenon has become so major that some carmakers, such as Ford, have given up on selling automobiles altogether. Within the next two years, Dearborn will sell pickup trucks and SUVs. And a Mustang. That's what North-American consumers want, apparently.
So, the 2018 Volkswagen Golf Alltrack. It's a case in point that even if automakers dish out cars that are just as spacious and off-road capable as SUVs, consumers simply don't give a damn. As I'm writing this, a young couple is probably signing the sales bill to a shiny new Tiguan, even if there's a pretty little wagon sitting behind them in the same showroom. It's sad, really, because these consumers will never realize what they're missing out on…
The Base for all Volkswagens
Don't get me wrong, the Tiguan is a good SUV, currently among the best. And why is that? Because it's based on Volkswagen's absolutely brilliant MQB platform, which also underpins pretty much all the VW lineup, from the Golf, all the way to the almighty Atlas. MQB has proven to be a solid and refined architecture that helps make Volkswagens fun to fling around a on a country road.
But the Golf was the car on which the platform was first conceived, tested, and built for. And it is, without argument, the best possible execution of the architecture. As a matter of fact, the seventh-generation Golf is so good, that many have dubbed it the benchmark on which other compact cars are judged.
So Why Not Just Get the Golf?
The Alltrack is essentially a lifted Golf SportWagen, which is in reality a stretched version of the Volkswagen Golf we all know and love. And that's why it's so good. The wheelbase is actually the same as the regular car (264 cm) but gains an extra 31 cm in total length, allowing for a much loftier cargo area. A five-door Golf will swallow 1500 litres of your gear with the rear seats folded down. The SportWagen/Alltrack, on the other hand, brings that number up to 1897 litres. That's more cargo space than a Mazda CX-5 SUV, by the way.
The Alltrack trim is for consumers desiring a little more ground clearance than a car. The wagon was raised 3.5 cm, giving it an edge over a conventional all-wheel-drive car in the event of a heavy snowfall, or ideal for driving down a muddy dirt road around your cottage. In this trim, the Golf competes against cars such as the Subaru Outback, or even the Audi A4 allroad. The VW is of course more affordable than the Audi, but less spacious than a similarly priced Outback, yet still larger than a Crosstrek.
In all fairness, if you don't need the extra road clearance and plastic "tough guy" cladding, we'd suggest sticking to a conventional all-wheel-drive Golf SportWagen. It sells for almost ten grand less (MSRP of $25,695 vs $34,345), but you'll still get all the cargo and MQB brilliance.
Evidently, 4MOTION all-wheel drive comes standard for the Alltrack. It's a tried and tested Borg Warner-based system which underpins everything all wheels driven at VW, from this humble little wagon all the way to the almighty Golf R.
We tested the system on a frozen lake this winter, and it's a truly competent one that can send up to 90% of the car's available power to the rear wheels when slippage is detected, even if it's essentially front-wheel biased. The Alltrack also comes standard with much more upscale equipment such as leather seat surfaces and a Fender premium audio system.
There's even an Off Road mode as well as hill descent control for when things get a little tricky. The system essentially fiddles with the ABS system and the engine's throttle all while laterally "locking" the axles through some electronic braking wizardry. It's frankly kind of a toy; so don't expect to take this thing through the Moab. We are talking about a lifted station wagon here.
There's a Lot to Like
My tester came fitted with a butter-smooth six-speed, dual-clutch automatic. However, all Golf Alltracks and SportWagens are available with a slick-shifting six-speed manual. I repeat: this all-wheel-drive German wagon comes with a manual. A manual. This wagon offers it.
But wow, what a competent little battle wagon on twisty roads! While not as rugged as an Outback off road, the Alltrack is much more dynamic and rewarding than any Subaru wagon can ever be. Its levels of refinement, both in interior appointment and driving pleasure, are Audi-grade, and the car itself looks dashing to say the least. Sure, the higher centre of gravity does indeed add a bit more body roll, but it barely unsettles the Golf's rock-solid road composure.
You'll want to fling this car hard in a corner, because the well-damped springs, precise turn-in, and that potent little 1.8-litre turbocharged four will reward you for doing so. That's the same engine as in the standard Golf by the way, pumping out an identical 170 horsepower and 199 lb-ft of torque. Surprisingly, the car feels just as peppy as its five-door counterpart, even with the added heft of all-wheel drive.
As for the rest, the Alltrack features a well-put-together, airy, if somewhat spartan cabin. Seats are supportive and comfortable, and rear-seat head and leg clearance are ample. All controls are clear and simple to operate; I particularly admire how Volkswagen has conveniently integrated semi-autonomous safety technology to a point where it's all but intrusive. Meanwhile, Volkswagen's 8.0-inch touchscreen-operated infotainment system remains a leader in terms of ergonomics and user experience. Controls are easy to comprehend, menus are quick to find and the interface is attractive, clean, and simple. Android Auto / Apple CarPlay are of course compatible.
If you can afford the premium price tag for added ground clearance, some plastic fenders and a gimmicky Off Road mode, then the 2018 Volkswagen Golf Alltrack makes a compelling case for not buying that SUV. And if you're still finding excuses to get the cheaper Tiguan, ask your sales rep to throw you the keys to an all-wheel-drive SportWagen before signing anything. The faith of the automobile relies on your final decision.
Share on Facebook