2018 Ford F-150 Power Stroke: the "Little" Workhorse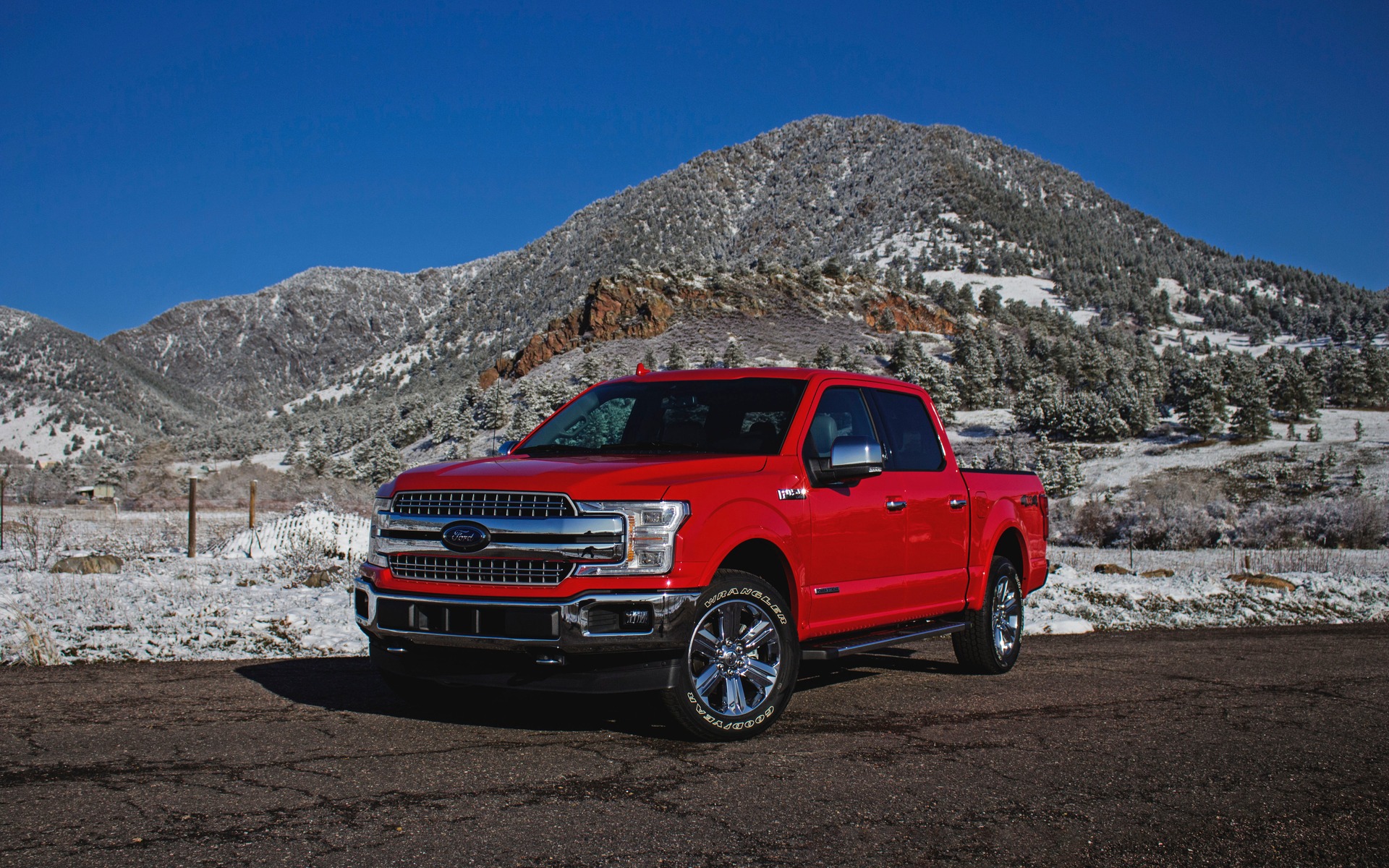 Strong points

Massive torque
Impressive fuel economy
Segment-leading towing capacity

Weak points

Laggy automatic gearbox
Diesel V6 not as refined as a V8
Lacks power at high speed
Full report
DENVER, Colorado – Ford's been teasing us for quite some time with the idea of a diesel-powered F-150. It' finally among us, and while its engine is more French than American, at last, Ford will sell you a half-ton work truck with decent fuel economy. We sampled the rig in the American Rockies, and here's our verdict.
Lion Heart
In reality, the Power Stroke moniker slapped on the side of this truck stands for an engine, and nothing more. This remains the same tried and tested Ford F-150 recipe that's proven so popular among North American consumers. At the moment, the truck is offered with either a naturally aspirated, 3.3-litre V6, twin-turbo 2.7-litre and 3.5-litre V6s, or a 5.0-litre V8. The Power Stroke joins the family as a 3.0-litre, turbo-diesel V6.
It's the only diesel option in the F-150 lineup and competes directly with the Ram 1500 EcoDiesel. Its engine is heavily based on the Lion architecture, conceived by the PSA Peugeot Citroën alliance, an engine which also powers some current Land Rover vehicles. However, Ford gave it its own bespoke American truck-ready components, such as a forged crankshaft, a variable geometry turbo, and a dual-stage oil pump.
Power is rated at 250 horsepower and 440 lb.-ft. of torque. The only available gearbox is a ten-speed automatic, the same as in the entire F-150 lineup (except the base 3.3-litre V6). Evidently, consumers may choose between a 5.5-foot (168 cm) or 6.5-foot (198 cm) bed, as well as a regular or SuperCrew cabins.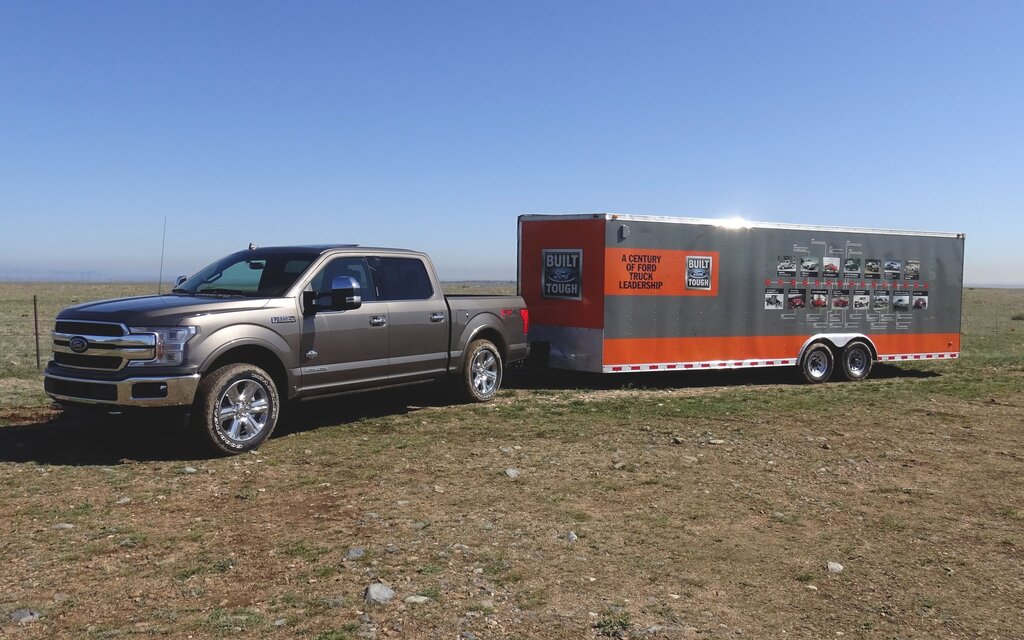 Large Trailers and Plenty of Mud!
Our test period was comprised of five separate programs: dynamic drive, towing capacity, payload capacity, fuel consumption, and off-road course. Upon my arrival, the trucks were sitting there under a blazing American Midwest sun, all painted in various colours, and configured in different ways. Some were hooked up to horse trailers; others had their boxes filled with dirt bikes, small trees or wood planks. One of the trucks was even hauling a military grade Hummer H1!
During my dynamic drive through the Rocky Mountains, my bright red, short box, 4x4 Lariat model did a formidable job of dealing with the steep inclines. The diesel engine is surprisingly quiet, you only hear a bit of valve action at idle, and the instant low-end torque that surges at 1500 rpm makes this a peppy half-ton rig off the line. Sadly, the same can't be said about that ten-speed automatic. It's laggy, taking several seconds to actually downshift when gunning the throttle.
I then brought my shining red pickup in the mud, where we were asked to try the F-150's off-road capabilities. While the entire experience appeared somewhat useless, I took pleasure in handing a truck back to Ford covered in mud.
My second test was done towing a huge 8000-lb. (3628-kg) trailer through the mountains. With a total towing capacity rated at 11,400 lbs. (5170 kg), the Power Stroke is currently the best in the segment, more so even than a Ram 1500 EcoDiesel (9290 lbs. / 4214 kg) or even a V8-powered F-150 not fitted with the tow package (9000 lbs. / 4082 kg).
Again, it was the engine's massive torque that impressed me the most, allowing the truck to launch hard off the line, even with that enormous bright orange box on wheels trailering behind. That V6 may be strong off the line, but it lacks the power needed at higher speeds. I couldn't get my truck to drive faster than 60 mph, even with the pedal to the floor. After all, this isn't a V8.
Ironically it was under heavy load that the automatic gearbox began to shine. Never did it hunt for gears, but instead, it hung onto the proper ratio the entire way, even during the steepest inclines.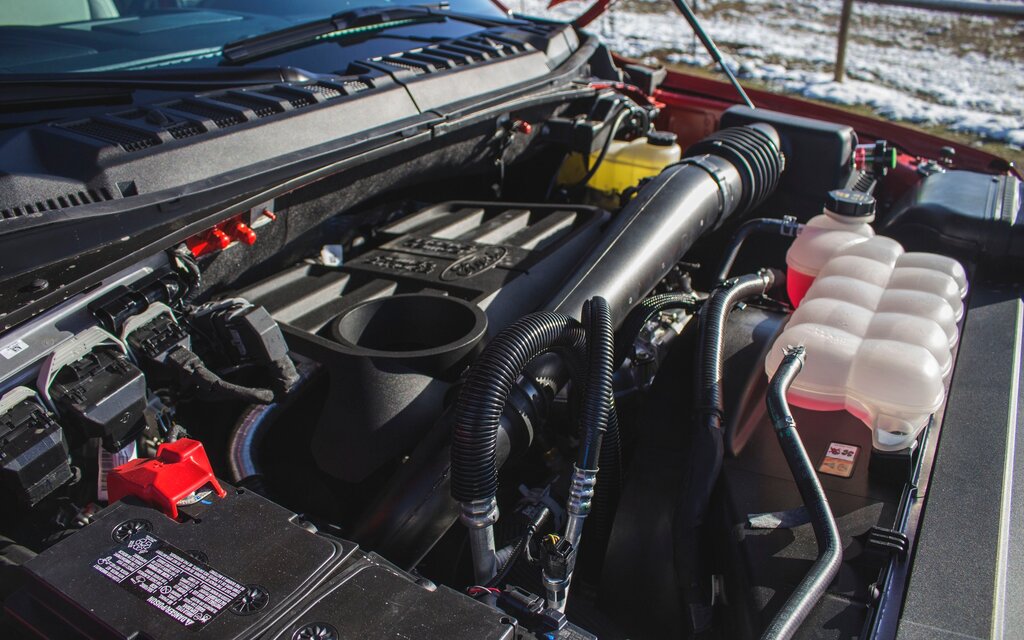 Impressive Fuel Economy
The last section was comprised of a fuel economy test, where I was asked to hop inside a two-wheel-drive model, set it into Eco mode, and drive 10 miles (16 km) through a pre-determined urban course made of inclines and flat roads.
On my end, I managed a 31.8-mpg (7.4 L/100 km) combined average, impressive considering the size of the rig I was driving. Some journalists on location pulled better numbers; recording a 38.5-mpg (6.1 L/100 km) average. That's the same as a 2018 Hyundai Accent. Wow!
On paper, a four-wheel-drive model is rated at 10.7 L/100 km combined. We recorded 20.8 mpg (11.3 L/100 km) average in our bright red example. That's not bad.
As for replacing the diesel fluid essential for operating modern diesel vehicles, or more commonly known as AdBlue, Ford declares it only needs to be refilled every 16,000 km.
So the Power Stroke powertrain adds another trick up the F-150's sleeve that should help it remain at the top of the North-American truck sales war. That diesel engine features class-leading fuel economy and massive torque, providing consumers seeking a genuine work horse the best of both worlds. Let's just hope increasing diesel prices won't prevent it from selling well.
Share on Facebook