2018 Chevrolet Traverse: Bigger, Smaller, Better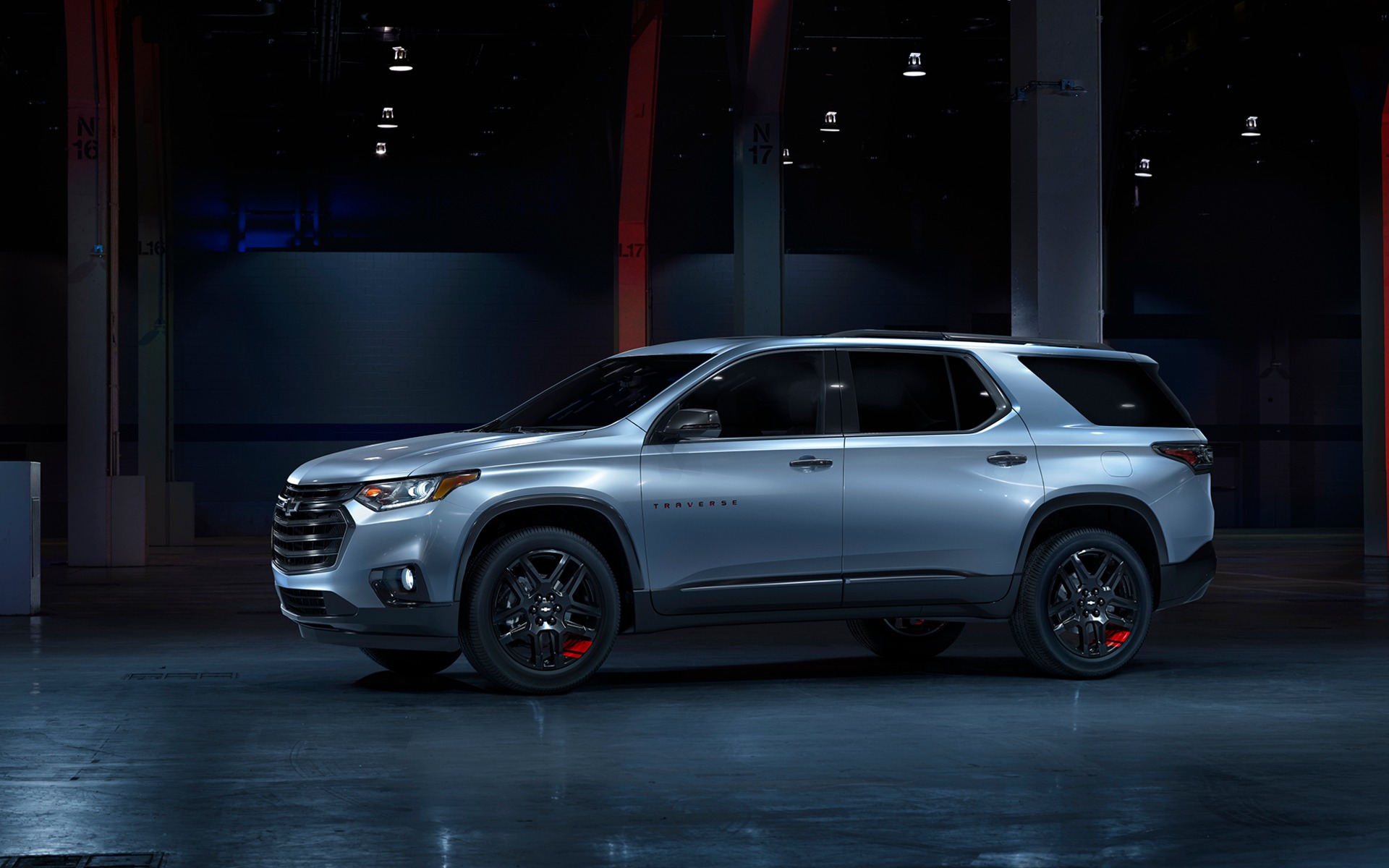 Strong points

Plenty of interior room
Great infotainment system
Solid ride

Weak points

Still consumes quite a bit of fuel
Some cheap interior plastics to be found
Less cargo space than before
Full report
When General Motors launched its quartet of midsize SUVs back in 2007 and 2008, namely the Chevrolet Traverse, the GMC Acadia, the Buick Enclave and the short-lived Saturn Outlook, it shook things up in the segment by maximising interior space in a—relatively—small package.
They were big on the outside, but huge on the inside. The Traverse's cargo space was class-leading by far, and even surpassed that of the full-size Chevrolet Tahoe. So, plenty of room for the family to go on road trips. It was the modern-day rendition of the classic American station wagon.
Then, GM let its SUVs age gracefully, and although sales remained strong, these vehicles were lagging from a technological standpoint. And from day one, although powered by a V6 engine instead of small-block V8s, they sucked down fuel at a noticeable rate. Ten years later, the Chevrolet Traverse along with its Acadia and Enclave siblings received a much-needed redesign.
On the outside, the SUV has grown in every possible dimension, while its wheelbase was stretched by 50 millimetres. And yet, just like the first-generation Traverse, the new one manages to hide it well with well-balanced proportions and short overhangs. Headroom is up, shoulder room is up and hip room is up. There's a slight drop in front-seat legroom, but second- and third-row occupants benefit from more space for their legs and feet.
That rearmost seat is important for yours truly, because with three teenage kids and a planned trip to New Hampshire during the holiday break, making sure everyone has their space is key to a peaceful and enjoyable commute. Of course, almost every GM vehicle includes—or is available with—an OnStar 4G LTE Wi-Fi hotspot, which makes the kids extremely happy. And when they're busy watching movies or playing games on their smartphones and tablets, front-seat parents are happy too. On the other hand, after an initial 3-month/3-gigabyte (whichever ends first) trial period included with the vehicle purchase, GM's on-board Internet hotspot requires a data subscription that starts at $15 a month. With kids, the bill will climb pretty quickly.
No problem in regards to seat comfort during the trip either. Aside from the base LS trim, all other versions of the SUV get an eight-way power driver's seat, and from the LT True North grade up, the front passenger benefits from a six-way power-adjustable seat. Both provide power lumbar support.
The Chevrolet MyLink infotainment system is pretty good, with an eight-inch touchscreen in most trim levels, big button zones as well as Apple CarPlay and Android Auto integration if that's what we prefer using. There's also a bunch of USB ports in all rows of seats to keep everybody's devices running on a full charge.
Where the 2018 Chevrolet Traverse falls short compared to the previous generation is cargo space, despite the bigger exterior dimensions. With all seats in place, the difference isn't noticeable, but with the third-row section folded down, cargo volume drops from 1991 litres to 1637. With all rear seats tucked away, the 2018 Traverse boasts a 2781-litre cargo hold, while the old Traverse had an echo-y 3296 of space. The Honda Pilot is now the max cargo-capacity champ among midsize SUVs at 3092 litres, but the Traverse is still very roomy.
Under the hood, we still find a 3.6-litre V6, which now develops 310 horsepower. It sounds great and provides plenty of muscle for hauling the family and their belongings. We averaged 11.6 L/100 km during our test, which is reasonable considering the all-wheel drivetrain, the cold weather and the vehicle wearing winter rubber. Towing capacity is rated at up to 5000 pounds (2268 kilograms) with the trailering package that's included in all but the LS and RS trim levels.
Speaking of the Traverse RS, it's only available with a front-wheel drivetrain and a turbocharged, 2.0-litre four-cylinder engine that develops 257 horsepower. The redesigned Traverse is lighter by about 300 pounds compared to the old model, which partly justifies this smaller engine option. Sure, it consumes about 1 L/100 km less fuel around town compared to the V6, but on the highway the difference is negligible. It's best to stick with the six-cylinder engine and equip the Traverse with AWD anyway.
Pricing starts at $35,300 before freight and delivery charges, but that's for the base, front-drive LS. Adding all-wheel drive jacks the price up to at least $38,300. We suggest stepping up to the better-equipped LT or LT True North editions, which are priced between $43K and $48K. If we like the Redline package's sportier appearance, we have to choose the Premier at a cost of at least $54K, and that's starting to get expensive.
The 2018 Chevrolet Traverse is vastly better than its predecessor, and a lot more modern too. Its provides a solid ride and despite the diminished cargo volume, it remains one of the most spacious in its category. It's still plagued with cheap-looking plastics here and there, but the overall finish has improved quite a bit. The Traverse has caught up with the competition in terms of technology and driving dynamics, but doesn't revolutionise the category like it did ten years ago. Right now, the Chevy is an excellent choice in the seven- or eight-passenger, midsize SUV segment, but GM can't rest on its laurels for too long, and must improve it on a regular basis—unlike what they did with the first generation.
Share on Facebook