2019 Chevrolet Corvette ZR1: Behold the Beast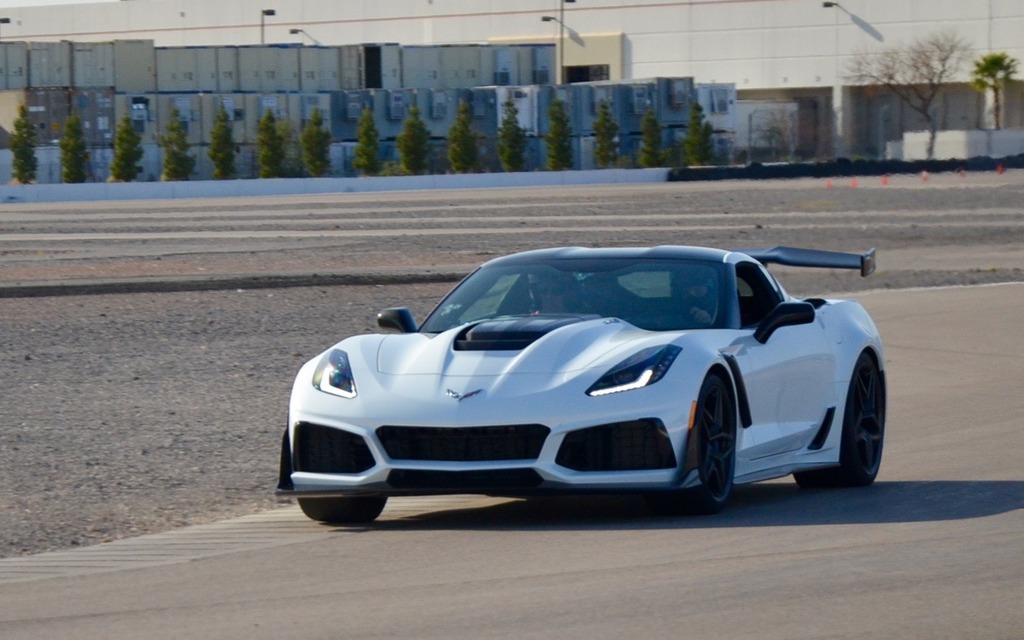 Strong points

Phenomenal power
Very efficient braking
Excellent dynamics
Unbeatable performance for the price

Weak points

Not everyone likes the look
Limited rear visibility
Lack of storage compartments in the cabin
Performance tires are averse to rain
Full report
LAS VEGAS, Nevada – I was sent for a ride of the ZR1 on a road circuit right beside the Las Vegas Motor Speedway. And when I got into the car, Tony Kanaan, winner of the 2013 Indianapolis 500 and IndyCar driver for A.J. Foyt's team, greeted me with the phrase: "This thing is a beast." He was at the wheel and I rode shotgun for a few laps. Was I disappointed not to drive the ZR1? A little, but not overly so, and here's why.
Before I became an automobile journalist, I was a driving instructor at the Jim Russell School at Circuit Mont-Tremblant, and I spent about 10 years teaching in single-seat race cars and sports cars. And I would coach students from the passenger seat. This experience came in handy today, as it helped me appreciate Kanaan's professional driving skills and really feel the car's reactions from a passenger's perspective. This was critical to my survival when I had a novice at the wheel of a high-performance car beside me on a track.
Before we get to the ride, here are some specs. The 2019 Chevrolet Corvette ZR1 is powered by a supercharged, 6.2-litre V8 engine that develops 755 horsepower. It can reach 60 miles per hour in 2.85 seconds, 100 miles per hour in 6 seconds and slays the quarter-mile in 10.6 seconds at a speed of 134 miles per hour.
The ZR1's top speed is 212 miles per hour (340 km/h) and it generates 950 pounds (430 kilograms) of downforce at 202 miles per hour (325 km/h). The ZR1 also clocked in at 2 minutes 37.25 seconds on the Virginia International Raceway, where it was faster than a Ford GT. With that out of the way, let's get back to the test drive.
I gave Kanaan the green light to go all out without holding back, and it was on. Right out of the pits, the ZR1 flexed its muscles. The circuit was very tight, but with a few long straightaways and faster corners. Deceleration when braking was impressive, as the ZR1 comes with Brembo ceramic composite brakes.
I noticed that Kanaan turned the wheel very fluidly and rarely had to make slight steering corrections, meaning the car entered corners with pinpoint precision. Kanaan took one of the big, fast corners in flatout acceleration, and we could really feel the downforce. It pins the car to the ground even when you're nowhere near top speed. At wide-open throttle, the engine sounds like your typical big V8 with the added bonus whine of the supercharger that draws a maximum amount of air into the engine.
The ZR1 demonstrated excellent dynamics in Kanaan's expert hands. He mentioned that the brakes resisted the torture he put them through driving lap after lap at high speed all afternoon. After a few laps, it was time to slow down the pace and take a cool-off lap. That's when Kanaan delivered his most astute observation of the day: "This thing handles just like a modern racing car and yet it's easy to drive. Even when I braked a little late for a corner, you saw that the car tucked in very well. I missed the apex a little bit, these things happen sometimes."
We entered the pits chuckling and with big smiles under our helmets.
It was a brief, but intense first encounter. In light of this short drive, it's obvious that 2019 Chevrolet Corvette ZR1 buyers will get a car with absolutely unbelievable performance potential. The Corvette ZR1 will be available in Canada beginning in summer 2018 at the price of $140,495 for the coupe and $145,495 for the cabriolet. That's unbeatable performance for the price. It's simply fantastic!
Share on Facebook