Jeep Unveils its Concepts for the 52nd Annual Moab Easter Jeep Safari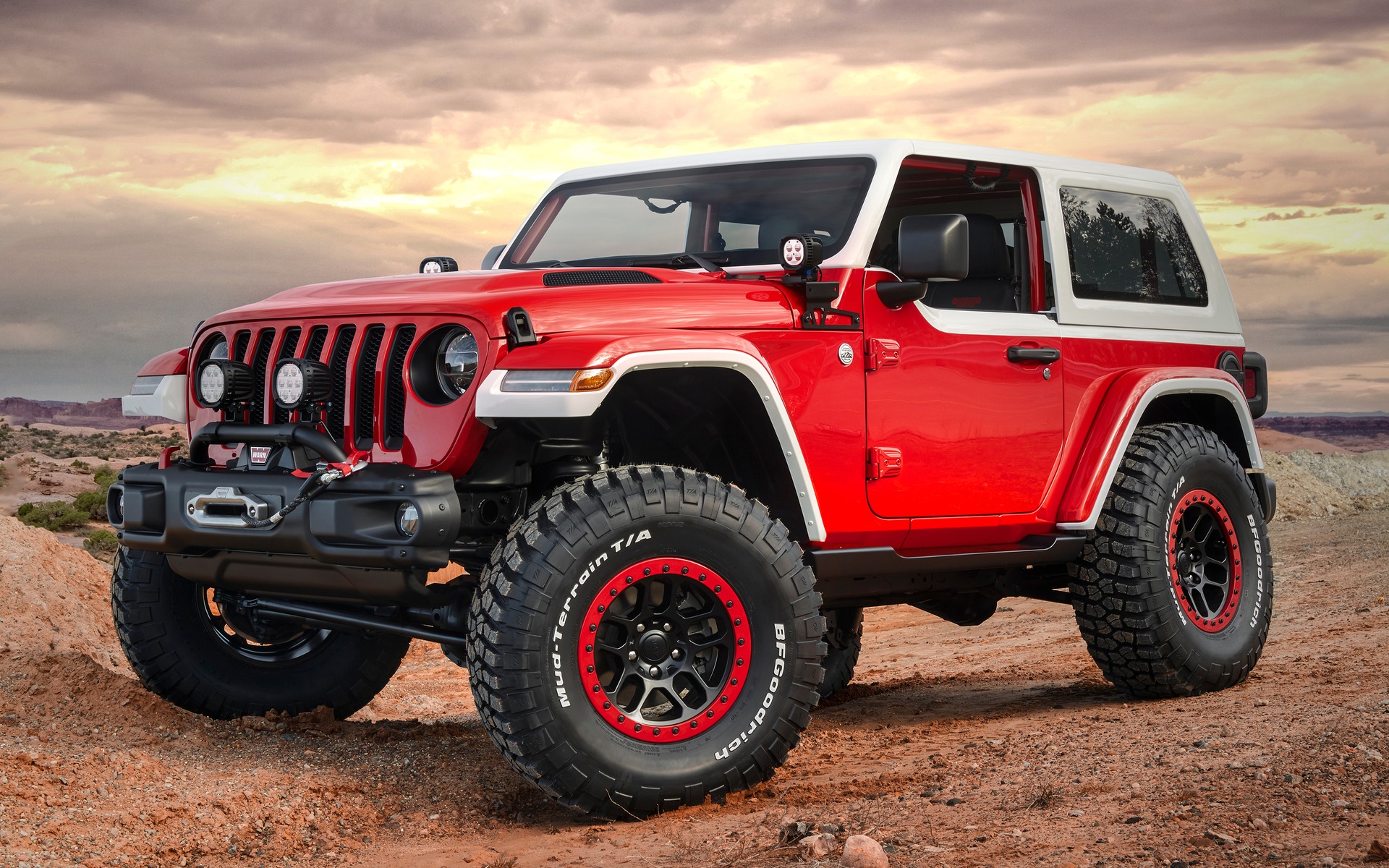 For this year's Easter Jeep Safari, Fiat Chrysler Automobiles has once again come up with a bunch of outrageously cool concept vehicles, and it definitely doesn't seem to lack creativity.
Jeep and Mopar worked together to create seven vehicles that will be on display at the 52nd annual meet, where thousands of people will gather for a week of serious off-roading. Here are those concepts.
The Jeep 4SPEED is a bare-bones, lightweight concept based on the 2018 Jeep Wrangler two-door. It boasts carbon-fibre hood, fender flares and rear tub as well as perforated aluminum panels to reduce the vehicle's weight. Its ride height has been elevated by two inches compared to a stock Wrangler, and it powered by a turbocharged, 2.0-litre four-cylinder engine matched to an eight-speed automatic transmission. This concept was "built 4SPEED"… get it?
The Jeep Sandstorm is a two-door truck based on the Wrangler that features a heavy-duty suspension that is said to handle both the everyday drive and tackle sand dunes. It gets a vented carbon-fibre hood, high-clearance fender flares and chopped rear doors, while the vehicle's cockpit includes a spare-tire cage, leather upholstery and a racing-inspired instrument cluster. Under the Sandstorm's hood lurks a Mopar-sourced 6.4-litre V8 and a six-speed manual transmission.
The Jeep B-Ute is based on the Jeep Renegade, but has been fitted with a variety of performance parts. In addition to unique front and rear fascia, the B-Ute flaunts a hood with heat extractors, wider fender flares, a roof rack and a 1.5-inch lift kit. It's equipped with a 2.4-litre four-cylinder engine and a nine-speed automatic transmission.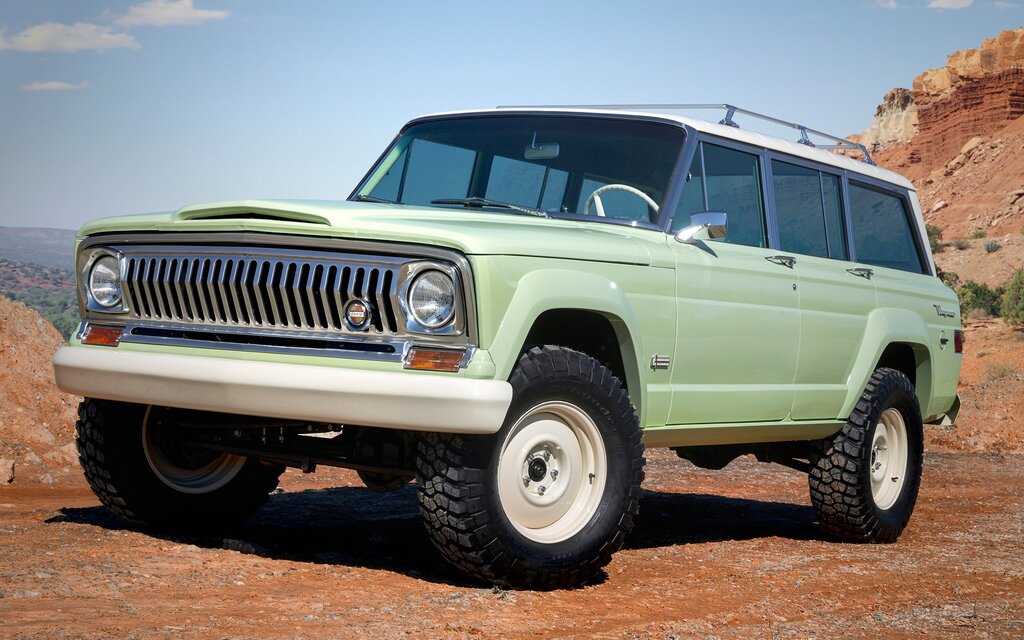 The Jeep Wagoneer Roadtrip pays tribute to the golden age of family travelling. It was built using a 1965 Jeep Wagoneer body, but bolted to an updated chassis. It rides on a wheelbase five inches longer than the original SUV's, along with a wider track. The body was stretched and fender flares were added to accommodate the extra length and width. The reinforced frame ensures up-to-date off-road capabilities, further aided by Dana 44 front and rear axles with lockers as well as a four-link suspension with coilover springs. The Wagoneer Roadtrip's cabin features original bucket seats and door panels, but trimmed in leather. This '65 Wagoneer was equipped with a 3.8-litre straight-six engine, dubbed Tornado, but the concept relies on a 5.7-litre V8 and a four-speed automatic transmission.
The Nacho Jeep is another concept created to display various accessories available in the Jeep Performance Parts catalogue. It started out as a two-door 2018 Jeep Wrangler Rubicon, but painted in a blazing Nacho yellow colour. The hood was designed to accommodate a cold air intake on the turbocharged, 2.0-litre four-cylinder engine. The Nacho Jeep also boasts an extensive lighting system with A-pillar LED projectors, bumper-mounted LED projectors as well as a rear four-colour, off-roading scouting light. The vehicle also received a two-inch lift kit, 37-inch tires, bigger rock rails, tube doors and black Katzkin leather upholstery.
The Jeep Jeepster uses a selection of components from the Jeep Performance Parts catalogue as well, and is inspired by the 1966 Jeepster's colours and style. Using a Wrangler Rubicon as a base, this concept features a two-tone, red and white appearance along with a roofline chopped by two inches and a raked-back windshield. Unsurprisingly, it gets a two-inch lift kit, a full complement of LED lighting and Katzkin leather seats.
The Jeep J-Wagon looks a little tamer than some of the other concepts in this bunch, and it's based on a four-door Wrangler Unlimited Sahara. It flaunts a gray paint job, dark tinted windows, Brass Monkey trim, a JPP hood that designed to accommodate a snorkel and camel-colour Katzkin leather seats.
Share on Facebook