2018 Toyota Corolla: Name Recognition Shouldn't be Enough to Sell Cars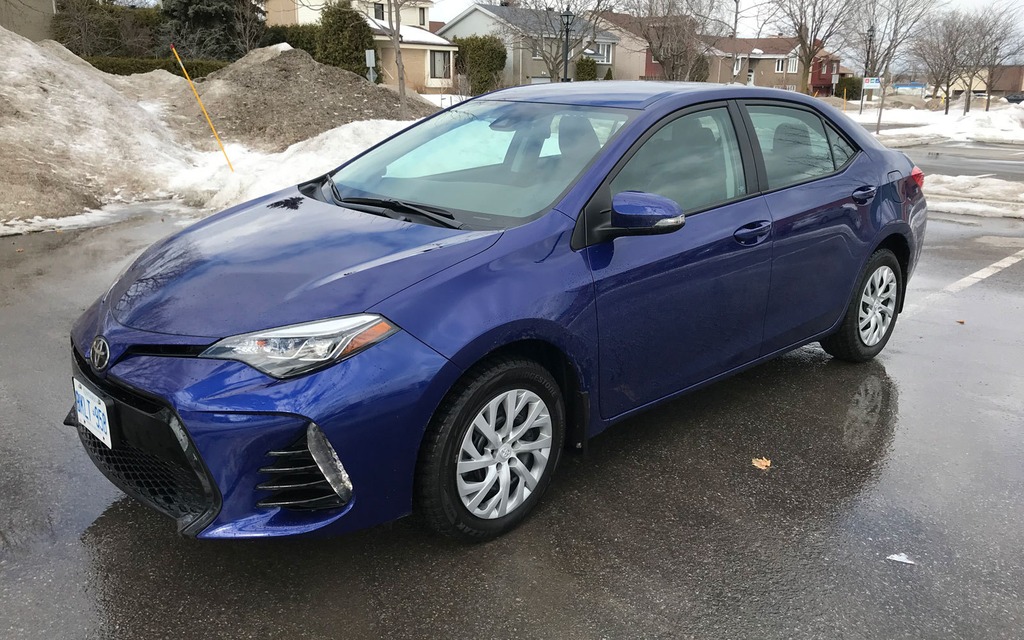 Strong points

Spacious interior
High-quality finishing materials
Bulletproof reliability

Weak points

Floaty steering feel
Very poor handling
Underpowered
Full report
The Toyota Corolla is one of the highest-selling vehicles of all time. It enjoys foolproof name recognition and a well-deserved aura of bulletproof reliability. It's because of these facts that Canadians continue to buy the car in droves. For fiscal year 2017, the Corolla was the eighth most popular vehicle sold, moving 50,322 units (an increase of 10% over 2016). Out of all compact vehicles, only the Honda Civic sold more than the Corolla with 69,030 units in 2017.
I recently had the opportunity to try the 2018 Toyota Corolla for a week, and I found myself disliking it.
Let's start with the positives first. The test vehicle was a Corolla SE with a starting MSRP of $20,905 before freight and delivery charges. The SE includes a slew of options such as automatic climate control, heated front sport seats, sport fabric upholstery with leatherette accenting, a 4.2-inch information display, piano black trim, leather-wrapped steering wheel and 16-inch wheels with covers.
The Corolla SE's interior is very well done. Vehicles at this price point tend to make use of inexpensive plastics in large amounts and while there is certainly plastic present, the texture and look of it doesn't feel cheap. The buttons are decidedly high quality and a pleasure to manipulate. Ergonomically, everything works and is where it should be. The only thing I would add is a pocket on the door armrest to be able to grab it and close it from the inside. There is a handle, but it's odd to have to reach for it and isn't located in the correct place. Almost all vehicles have these pockets, but for some reason it's absent here.
For a compact car, the interior is cavernous. You'll be able to transport four adults comfortably with legroom to spare. The trunk is similarly huge and will eat your suitcases for breakfast.
Toyota's infotainment system does the job nicely. The menus are clean and intuitive enough to figure out right away. I think something that bears mentioning is the impeccable Bluetooth connectivity. Not all manufacturers have figured this out. I've tested cars where you get in and it takes minutes before the phone can connect. Or let's say you receive a call while streaming a song and then you lose the ability to play music afterwards. Nothing like that happens here. It connects in a split second and works every time.
Under the hood we have one engine option: a 1.8-litre four cylinder engine delivering 132 horsepower and 128 lb.-ft. of torque. This is coupled to either a six-speed manual transmission or a continuously variable automatic with intelligent shift (CVTi-S), depending on the chosen trim level. The power is just enough to propel the Corolla for daily driving duties. Highway passing is possible, but things get noisy as you need to extract the full force of this engine. I tend to get the worst fuel economy possible since I do only city driving, but I will just say that it was on par with the other compacts I recently tested.
Where the Corolla fails is in regards to its driving dynamics. I'm sorry to report that this car simply doesn't hold the road in a way that is worthy of a top-tier manufacturer like Toyota. The car's steering is squishy and transmits no road feel whatsoever. There is noticeable body roll when turning corners and at highway speeds, the car would sway to the point where I didn't even feel safe passing eighteen wheelers. I inquired with Toyota if the vehicle was recently serviced or had its tires changed (new tires—especially winter rubber—can sometimes have an effect on handling), but the car hadn't.
Prior to writing this review, I made sure to do my due diligence. I wasn't about to give one of the most popular cars ever a poor rating because perhaps there was an issue with this one vehicle. I went to my local Toyota dealer and asked to test drive another Corolla SE. While it wasn't as poor as the first Corolla, it still exhibited the same squishy steering and body roll. From a comparative standpoint, I recently tested the Mazda3 and Hyundai Elantra and both displayed excellent driving dynamics.
So where does that leave us? I can only conclude that Toyota has let the ball drop a little bit and assumed that the Corolla's prior reputation will carry it no matter what. The vehicle does remain a reliable and well-made car that's built to last. If you don't care too much about how the car handles then this could be an option for you. In fact, I imagine that is exactly the category in which most potential buyers fall into. If you do a lot of highway driving, I would recommend exploring other options, as the Corolla will leave you a bit lacking.
Share on Facebook