2018 Toyota RAV4 Hybrid: the Ideal Road Tripper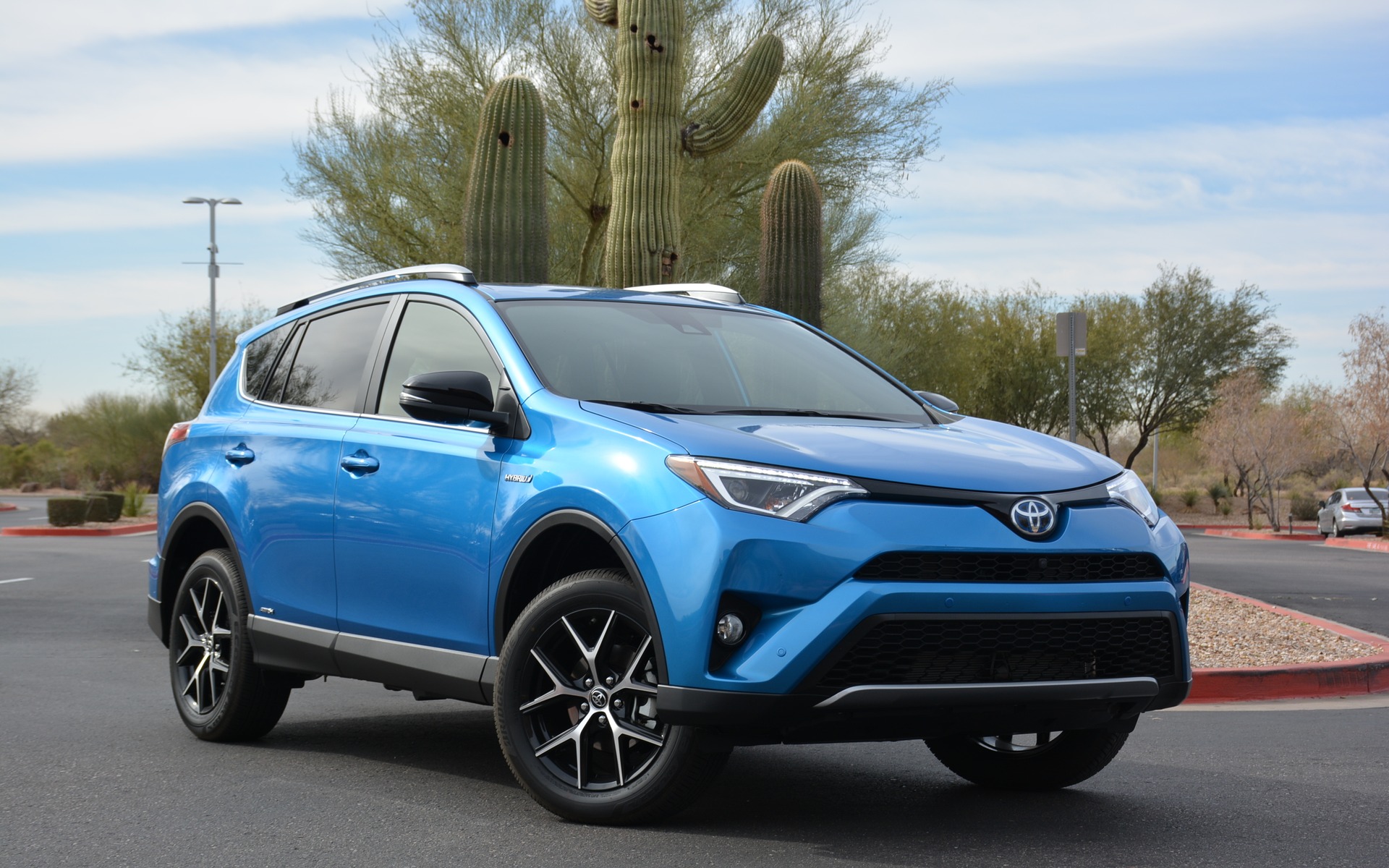 Strong points

Exceptional fuel economy
Quiet and composed ride
Suite of safety features

Weak points

Looks could be polarizing
Steering column sits too low
Minimal USB ports
Full report
For the second year in a row, the Toyota RAV4 topped all SUVs in Canadian and American sales for 2017. It couldn't be better timing for the sleek and angular-shaped compact crossover SUV, as the light-truck segment accounted for 68.6 percent of the market share at the end of 2017, according to DesRosiers Automotive Consultants Inc.
Another thing the RAV4 has going for it: a hybrid option. It was first introduced in the fourth-generation mid-cycle refresh as a 2016 model, using the same technology found in the Lexus NX 300h. Only in the RAV4's case, it can be seen as less of an afterthought and one to be utilized by the mainstream brand.
What makes hybrids special are its gas savings and the reduction of greenhouse gas emissions, achieved without having to wait for hours on end to get a full electric charge. With that in mind and springtime approaching, it only made sense to take the RAV4 Hybrid on a road trip to test out some real-world fuel economy numbers.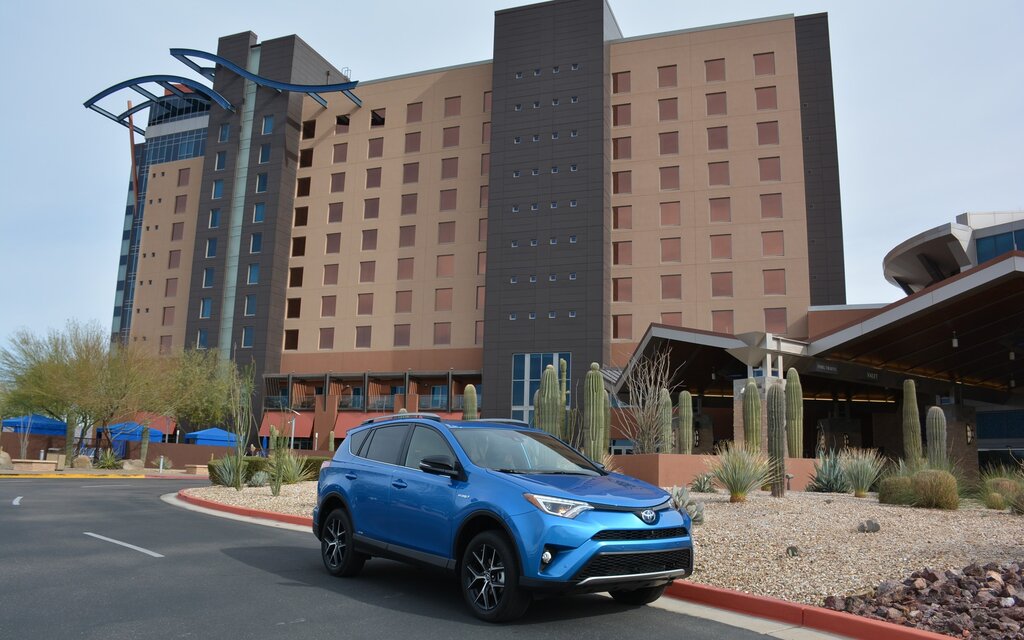 The test venue
I had the perfect venue in mind: spring training baseball in Arizona. It's called the Cactus League where 15 major league baseball teams play in 10 stadiums throughout the Phoenix Metropolitan Area; all the other teams play in Florida in what is called the Grapefruit League.
Out of the 10 stadiums, the two furthest away are only 80 kilometres apart, all within driving times of 50 minutes or less. When going on a trip with family or friends, it's hard to not to see the 2018 Toyota RAV4 Hybrid as an ideal cruiser. Not only is it efficient and possesses a full suite of safety technology in its Toyota Safety Sense Plus, it's spacious and comfortable for up to five adults.
My home base would be in Chandler, south of Mesa, where the furthest east ballpark of Hohokam Stadium sat. My plan was to take in three games in two days, making sure to reach a park in both the far east and west.
As I was coming up with this idea, a friend mentioned that I would be stuck in traffic most of the time, but I felt optimistic about my chances; and even if there was traffic, wouldn't that be better for fuel economy anyways? More coasting, braking and battery regeneration.
Fuel economy results
The test vehicle offered up was a middle-trim SE hybrid. It's powered by an Atkinson-cycle, 2.5-litre four-cylinder engine that combines with three electric motors and a nickel-metal hydride battery pack to produce a net total of 194 hp and 206 lb.-ft. of torque. A continuously variable transmission (CVT) is matched to all hybrids aiding in an official fuel economy rating of 6.9 L/100 km in the city and 7.8 L/100 km on the highway.
I picked it up at the airport and from there, I was ready to go straight to my first game in Mesa. Instantly, the power was felt off the line from its high torque curve. Once up to speed, the RAV4 stayed quiet and content with a seamless interplay between the engine, electric motor and transmission.
After the first leg from the Phoenix airport to Mesa, I wasn't sure how successful this test was going to be. I averaged 7.9 L/100 km in a 20-km drive that saw plenty of highway driving. I chalked it up to the highway speed, as well as rushing a little to get to the game on time. That's still a decent fuel economy number, and I was also able to settle in comfortably, find the USB charge port (only one up front), and store my bags in the trunk with plenty of room to spare.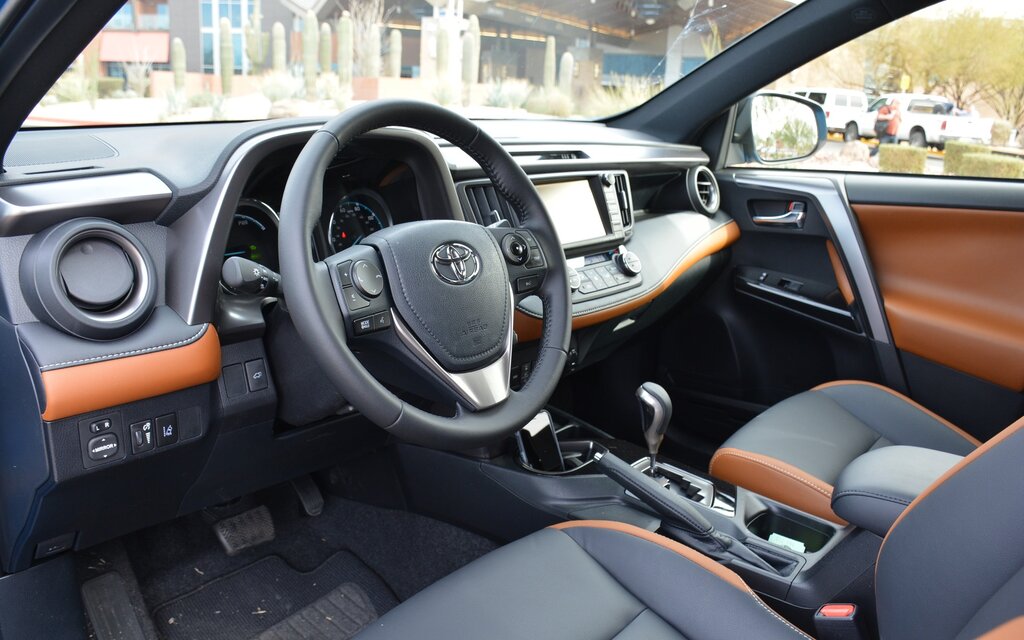 A drawback however, would be found in its steering column. Personally, I like to sit closer to the steering wheel, and the steering column couldn't be raised enough, forcing me to accidentally bang my knee on multiple occasions when exiting the crossover.
After taking a pit stop at the hotel to check-in and drop off my bags, the next leg would be the longest from Chandler to Peoria, including a stopover in North Scottsdale to pick up a friend for the night game. The Peoria Sports Complex address was plugged into the upper-tier, seven-inch touchscreen with navigation and I was on my way.
This driving stint would also be mostly highway, but I took a few service roads to avoid the congestion. Sport mode was chosen on those side roads, but rapidly turning corners only produced steering corrections and some body roll. While back on the highway, the RAV4 was placed in Eco Mode and that's where it shined to the tune of 6.2 L/100 km over the 113-km stretch. This had a lot to do with some stop-and-go traffic, which added a bonus in fuel savings. To put this into perspective, I averaged 58 km/h on the way there, as opposed to 74 km/h on the way back. In that back stretch, I would only manage 6.8 L/100 km; still good, but not earth shattering.
Day two would see my best fuel economy numbers—averaging a 5.4 L/100 km mark from Chandler to the Tempe Diablo Stadium in Tempe, and a 6.0 L/100 km rating from the Tempe game back to the airport.
Considering the official combined rating of the vehicle is 7.4 L/100 km, the 2018 Toyota RAV4 hybrid performed admirably on this day with a lot of credit equally being attributed to the powertrain and the slow moving traffic. Averaging 43 km/h did the trick, and there's nothing wrong with being patient and taking in the sights of beautiful Arizona and its vast array of mountains as its backdrop.
How did it fare?
At a starting price of $34,790 and $38,995 for the SE trim, the 2018 RAV4 Hybrid fared exceptionally well for this fuel economy test. Given that the gas-version SE is only $2,500 less, the hybrid is definitely something to keep in mind, and it will only get better when the all-new 2019 version gets released next year.
Arizona and spring training baseball provided the perfect testing ground from stadium-to-stadium. After 287 km driven with the A/C blowing, I was able to average 6.4 L/100 km, a full one litre less than its official combined rating. On top of that, the ride was smooth, quiet and spacious—an all-around hit for any road trip vehicle with standard AWD to boot.
Share on Facebook