2019 Mercedes-
AMG GT

4-door Coupe: More Doors, More Fun for Everyone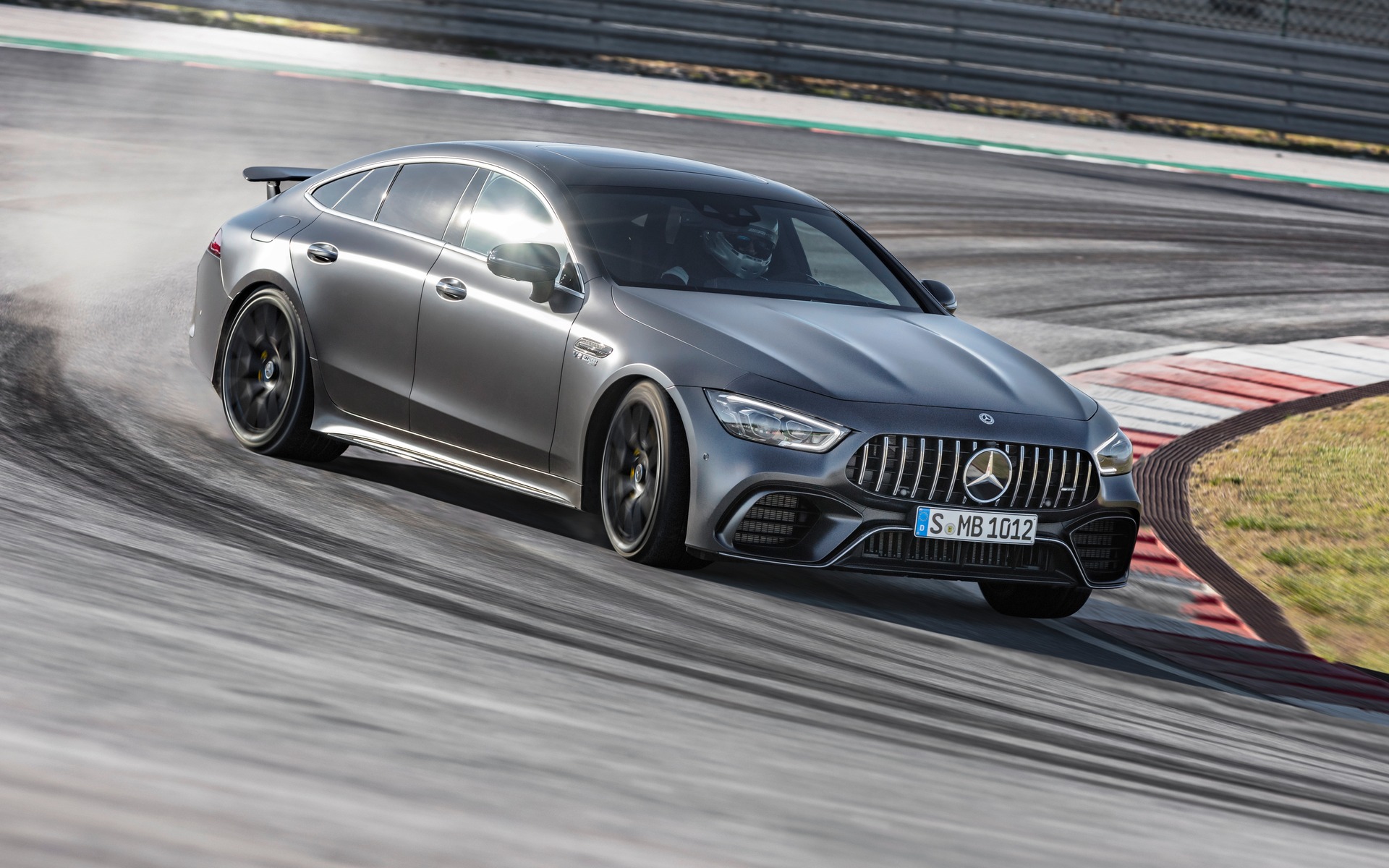 This might get a little confusing, but a new AMG model will soon be hitting the streets, and it's called the GT. But there's already an AMG GT in the brand's lineup, which is a two-door coupe. This new GT is a four-door coupe. Or a sedan, if in our minds, a four-door automobile is a sedan by definition.
The 2019 Mercedes-AMG 4-door Coupe made its world debut at the Geneva Auto Show, and while it's touted as a brand-new model, it does look a lot like the recently-introduced, third-generation Mercedes-Benz CLS. Also a four-door coupe. Or sedan. Whatever.
The CLS and the four-door AMG GT are strikingly similar, but the latter boasts a fastback profile, a liftgate instead of a conventional trunk as well as slimmer taillights. Up front, the GT receives a couple of power bulges on the hood and the AMG-exclusive Panamericana grille—wait, Mercedes is calling this one a Shark Nose.
Three engines will be available in the 2019 Mercedes-AMG GT 4-door Coupe destined for the Canadian market. The GT 63 4MATIC+ will be equipped with a twin-turbo, 4.0-litre V8 that develops 577 horsepower and 590 pound-feet, connected to a nine-speed automatic transmission and—as its name suggests—all-wheel drive. The automaker claims the car will blast from 0 to 100 km/h in 3.4 seconds and reach a terminal velocity of 310 km/h.
The GT 63 S 4MATIC+ will get the same mill, but tuned to produce 630 horsepower and 664 pound-feet, while its AWD system will add a drift mode. The extra muscle will help the GT 63 S reach 100 km/h in 3.2 seconds and a top speed of 315 km/h.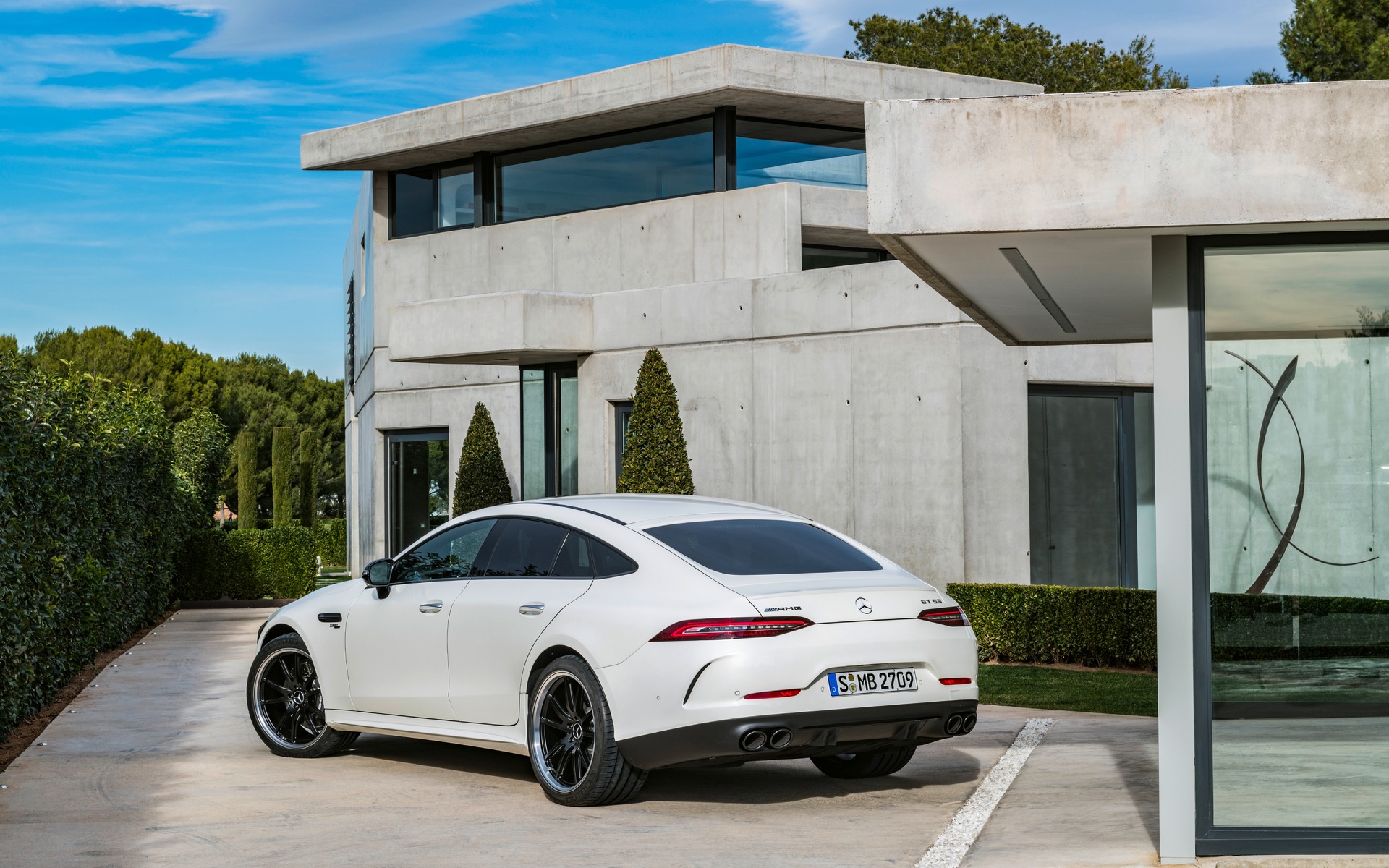 The tamest of the trio, the GT 53 4MATIC+, will offer a twin-turbo, 3.0-litre inline-six with an electric auxiliary compressor, good for 429 horsepower and 384 pound-feet. However, the compressor can temporarily add 21 ponies and 184 lb.-ft. at wide-open throttle, allowing the car to run from 0 to 100 km/h in 4.5 seconds. Top speed is set at "only" 285 km/h.
Four-wheel steering will be standard on the GT 63 and GT 63 S variants, optional on the GT 53. Obviously, the AMG DYNAMIC SELECT drive mode system will be included with Comfort, Sport and Sport+ settings, and the GT 63 S adds a Race mode as well.
A number of trim packages should be available, including a Night Package, a Chrome Package, two carbon fibre packages and an aerodynamic package. The GT 4-door Coupe's cockpit is very similar to what's found in the CLS, save for an all-new, silver-trimmed console. The brand's Widescreen Cockpit, which consists of two 12.3-inch screens set up side by side, will be standard in the V8 versions and optional in the six-cylinder GT. The ENERGIZING comfort control system, recently introduced on the Mercedes-Benz S-Class, will be available, too.
The GT 4-door Coupe can be fitted with a rear bench seat to accommodate three occupants, or two individual seats for four-passenger capacity. Trunk space is rated at 395 litres, with another 60 litres available under the load floor. Folding down the rear seatbacks expands the trunk to 1324 litres.
Pricing hasn't been announced for the Canadian market yet, but the new 2019 Mercedes-AMG GT 4-door Coupe should hit dealerships starting this summer.
Share on Facebook