2018 Audi R8 V10 RWS: The Rear-wheel-drive R8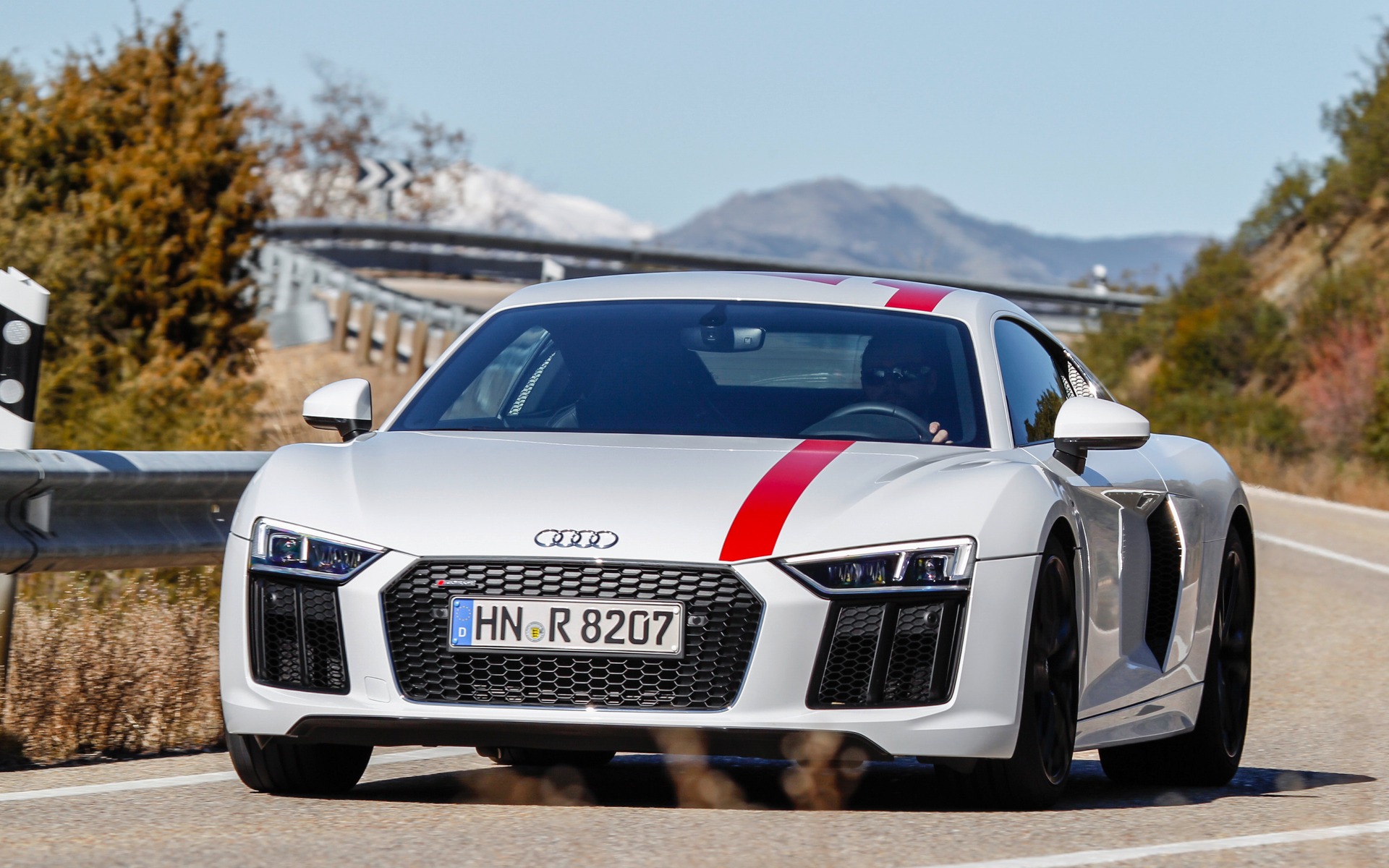 Strong points

The exquisite sound of the naturally aspirated V10
Quality assembly and finish
Exclusive
A more spirited R8
A bargain-priced R8

Weak points

V10 has 533 hp (not 602)
Trunk is small
Limited production
Only two colours for Canada
Paddle shifters are plastic
Full report
MADRID, Spain – Wow! The R8's naturally aspirated 5.2L V10 is still as impressive. It howls as revs climb smoothly all the way up to 8700 rpm in what is an instant response to our foot mashing the accelerator. The experience can only be described as nirvana.
Except that in this case, the V10 breaks from tradition by not sending its torque to all four wheels. Instead, the engine is connected to the rear wheels only. Welcome aboard the Audi R8 V10 RWS (which stands for Rear Wheel Series). As the brand's first-ever RWD car, it was designed to appeal to performance driving enthusiasts.
A Naturally Aspirated V10 That isn't Afraid of Heights
Since it doesn't come equipped with quattro all-wheel drive, the R8 V10 RWS is 50 pounds lighter than a conventional R8. However, the RWS loses a little grip at launch, taking 3.7 seconds to sprint from 0 to 100 km/h—that's 0.3 second more than what a R8 quattro can achieve.
We should also point out that the RWS doesn't come with the most potent version of the Audi V10, namely the R8 V10 plus that pumps out 602 horsepower. Instead, its mill delivers 533 horsepower at 7800 rpm and 389 lb.-ft. of torque at 6500 rpm. These dizzying numbers should give you an idea of how much this V10 likes to rev high.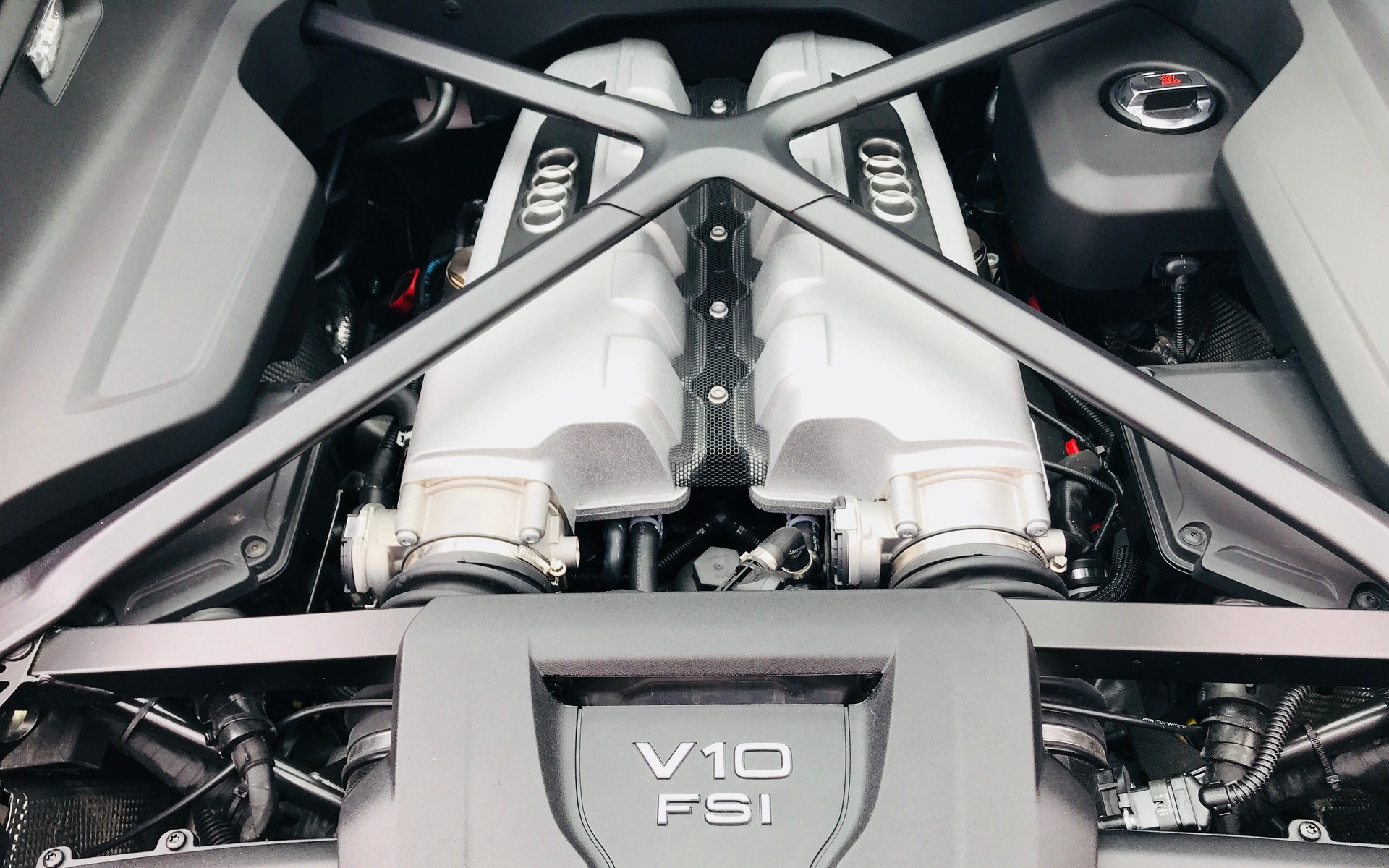 Impressively dynamic
We got to try this most recent version of the R8 on public roads in the Madrid area, as well as on a test track where we could push its limits in a secure and controlled environment. Our first finding was that the R8 V10 RWS is more snappy and direct. The steering hasn't changed, but the geometry and suspension calibration have been adjusted. The damper settings are firmer and the RWS comes with a bigger anti-roll bar up front.
Essentially, they made changes as needed to accommodate the new weight distribution. That explains why the RWS can tackle corners more quickly and responds immediately. When you exit a curve, you'll notice that the R8 RWS sticks to the ideal trajectory, even while accelerating. That's because the rear wheels have a higher camber angle, allowing the tires to grip the asphalt better. Note that the R8 V10 RWS does not come with a rear torque vectoring differential or damper control because it has a simple mechanical limited-slip differential and conventional damper suspension instead.
It's simple and incredibly effective, both on the test track and road, where the R8 V10 RWS demonstrated remarkable poise, while remaining fun and playful.
In Comfort mode, it does a remarkable job tempering uneven road surfaces (which are few and far between in Europe compared to home). Meanwhile, Sport mode allows for slight side-to-side movements without triggering the electronic stability control system.
When tackling country roads, we mostly drove in second and third gear with the revs high and the V10 serenading us. Full disclosure: the R8 V10 RWS isn't dramatically more radical than the R8. It's a little lighter and more playful, but the difference isn't as pronounced as when you compare the Porsche 911 GT3 to a regular Carrera.
From 1 to 999
What about its looks? The R8 V10 RWS stands out with Audi Sport badges that replace the traditional Quattro inscription, black alloy rims with five dual spokes, and a special plate on the dashboard confirming that it belongs to a limited series of just 999 units. The R8 V10 RWS is available in Coupe and Spyder body styles, but Canadians will only have access to 60 units of the Coupe in either Ibis White or Metallic Mythos Black. You can also choose to have a red stripe added.
The power seats are swathed in leather and heated, while the Audi virtual cockpit is present and accounted for. The infotainment system includes Apple CarPlay and Android Auto. The front trunk offers a capacity of just 112 litres, despite the fact that they removed the front-end components of the all-wheel drivetrain.
The R8 V10 RWS will become available in Canada in early summer 2018 for $163,000. That`s a bargain price for an R8, and doubly so when you consider that this is a limited-edition version.
Share on Facebook