2018 Tesla
Model X

: Space-age Family Commuting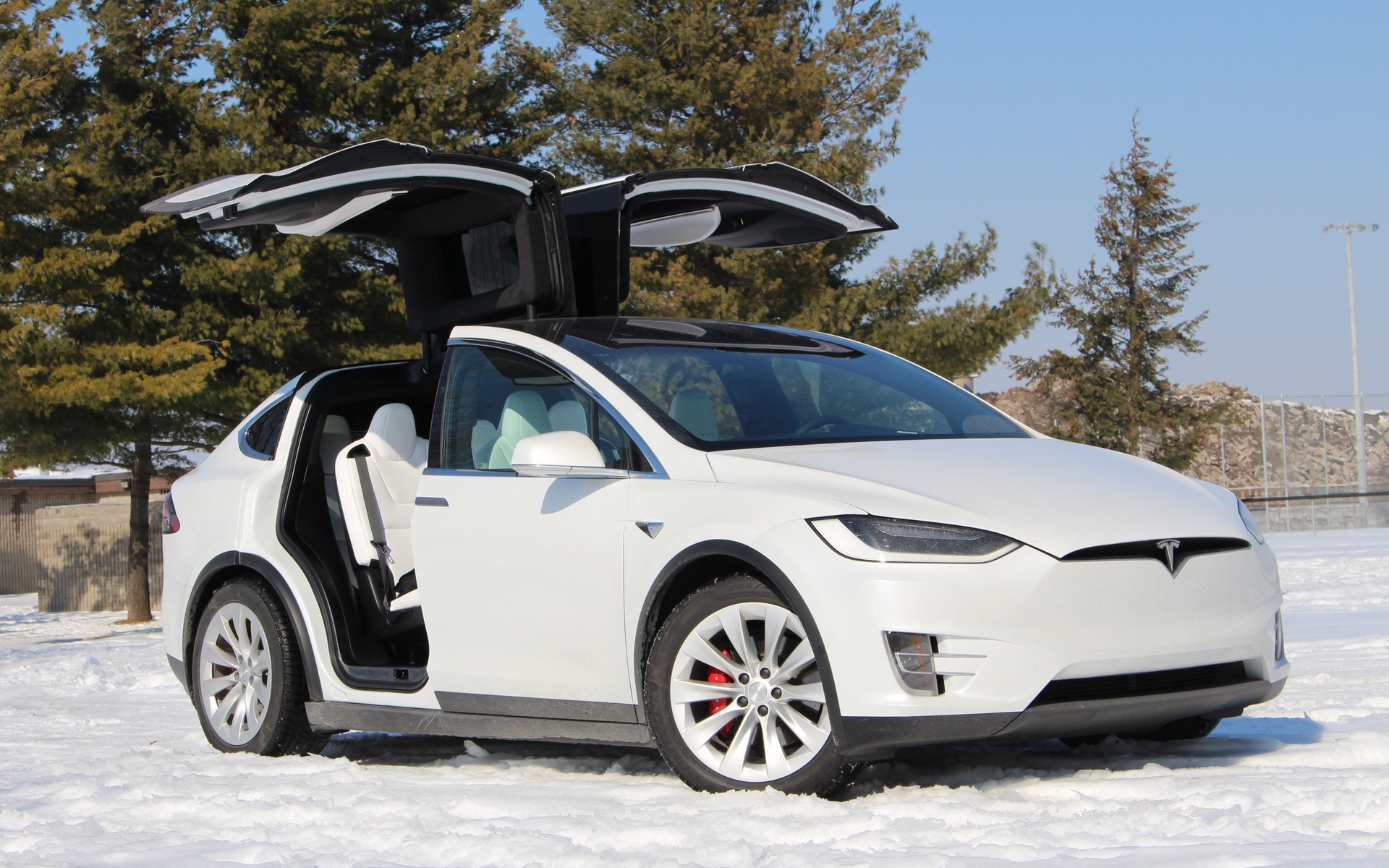 Strong points

Wickedly fast
Amusing driving experience
Interesting infotainment system

Weak points

Falcon Doors are a hassle
High price
Unknown long-term reliability and resale value
Full report
Although Tesla's long-term survival isn't yet guaranteed, the EV maker from California undeniably was a game-changer in the automotive industry. It proved to the world that electric powertrains can be an alternative to combustion engines, at a price, of course.
Despite being on the market for a few years now, the Model S' sales are slowly increasing every year, and so are those of the Model X. Production of the Model 3 is off to a very slow start, due to assembly line teething problems, which is a big concern for the automaker. We'll see how they progress in the coming months.
Meanwhile, we had the opportunity to drive the 2018 Tesla Model X P100D in the Canadian winter. This five-, six- or seven-passenger SUV offers tremendous performance, an amazing level of quirkiness and some irritants.
First of all, every Model X includes all-wheel drive in Canada. As these lines are being written, three versions are available on our market: the $102,300 75D, the $123,800 100D and the $181,700 P100D. These prices exclude freight and delivery charges as well as any applicable provincial rebates.
The 75D and 100D are both equipped with a small electric motor at each axle, which produce a combined 518 horsepower and 488 pound-feet of torque. Tesla claims a 0-100 km/h time of 5.2 seconds, a top speed of 210 km/h and a driving range of up to 381 kilometres for the 75D. The 100D gets to 100 km/h in 4.9 seconds, reaches a top end of 250 km/h and boasts a range of up to 475 km.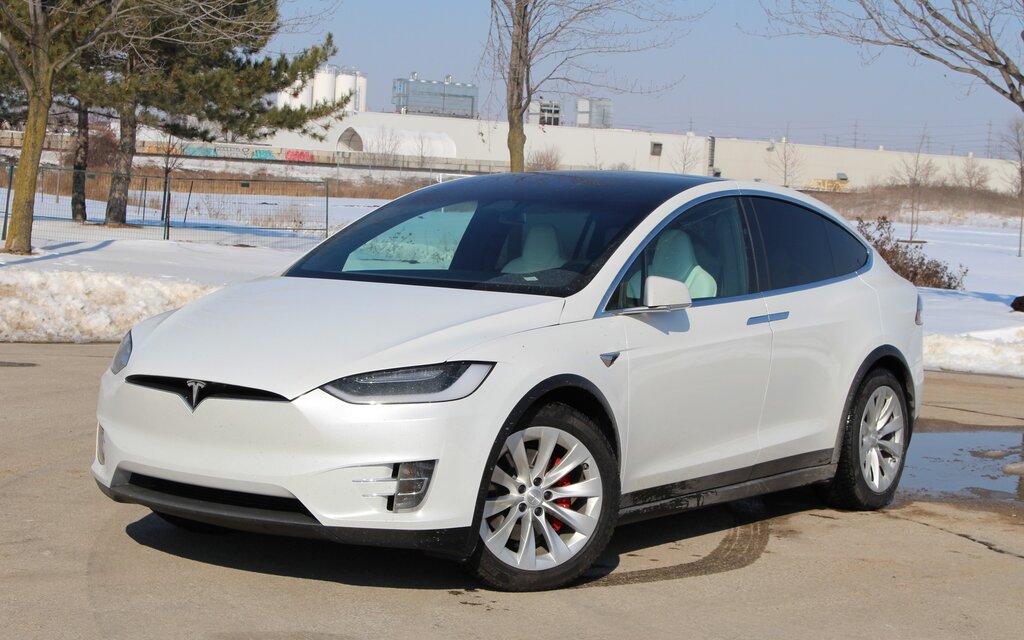 The hot-rod P100D benefits from 762 horsepower and 831 pound-feet of torque, thanks to a bigger electric motor at the rear, good for a 0-100 km/h dash of 3.1 seconds. It has a driving range of up to 475 km.
According to Tesla, a full recharge at home can vary between 6.5 and 10 hours, depending on the charger output. Using the Supercharger network can replenish 80% of the battery in about 40 minutes.
Activate the Ludicrous Speed mode, and things can get violent. The Model X doesn't necessarily become quicker, but stomping on the accelerator instantly summons maximum torque, which pins you to your seat and makes you feel as if you've been shot out of a cannon. A cool feature, but frankly, owners likely won't activate it too often. And Tesla warns that excessive use of the Ludicrous Speed mode will wear down the battery more quickly.
On the pothole-riddled city streets of Toronto, the Model X's standard air suspension did a good job of soaking up those imperfections. Out in the countryside, the Tesla's AWD system seemed to manage traction in the slippery stuff pretty well, too.
Interior space is more than adequate up front, and three people won't have trouble sharing the 60/40-split, second-row bench seat. The third-row seat is a pricey $4,000 option, but the six-passenger layout—which replaces the middle bench for two individual chairs—is even more expensive at $7,900. Thanks to the rear Falcon Doors, it's fairly easy to hop into the rearmost seats, although the second-row seatbacks and fore-and-aft sliding cushions are a little stiff to operate.
We did feel claustrophobic sitting back there, as the roof and rear pillars are close to our heads, but otherwise, it's fine for short commutes. Cargo space with all rear seats folded down is rated at 2166 litres in the seven-passenger version; that's not as good as in most midsize luxury SUVs, but still a usable amount.
The expansive windshield, which extends over the heads of front-seat occupants, is fantastic as it makes the cabin much airier. However, we're concerned about its replacement cost when (not if) a stone will end up cracking it. Then again, if we have the means to purchase a near-$200K automobile, we can afford changing the windshield. Oh, and the wiper arm-mounted washer fluid nozzles spray said fluid too close to the edge of the windshield, which then spreads onto the driver's side window, drying up and cutting down visibility.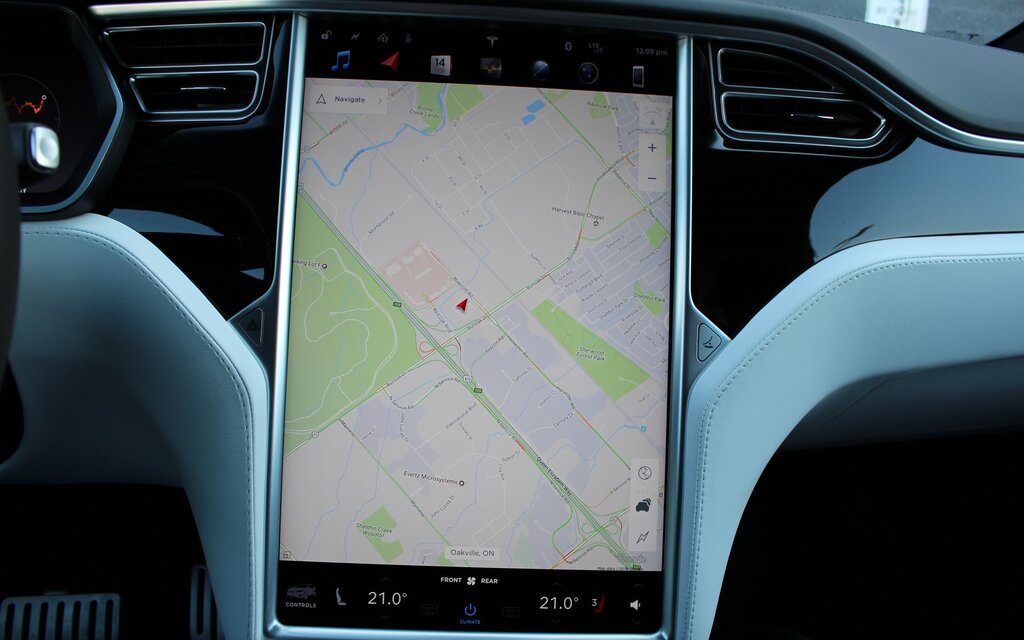 The huge centre stack touchscreen may seem overwhelming at first, but it's actually quite easy to poke through menus once you get the hang of it. The navigation map can be full stretched out, which is superb, and there are countless vehicle settings we can go through, from suspension and steering firmness to personalising the displays and even activate Easter eggs, such as the Christmas mode that gets the Model X to engage in a festive light show accompanied by Falcon Door flapping and holiday music blaring through the speakers. Not particularly useful, but a cool feature to show family and friends.
Autopilot works as promised. Once set, it follows the flow of traffic and can slow down to a stop if the vehicle in front does the same. One flick of the turn signal is all it takes to make the SUV change lanes on its own, and all we have to do is occasionally nudge the steering wheel to convince the system we're still alert and standing by. It takes some time to trust the vehicle doing the driving, though, and a tug of the wheel can deactivate the Autosteer feature, but not the adaptive cruise control, so that's something we must be aware of at all times.
It's amazing how fun the 2018 Tesla Model X is, not only for its speediness, but for the fully digital driving experience it provides. It's refreshing to say the least. On the other hand, we'll probably get tired of waiting for the articulated rear doors to open and close. If there's something standing in their way—and there will be if you have smartphone-addicted kids not paying attention—they don't fully open, which means we must close them, and try again. The fit of these doors isn't always spot-on, which can be worrisome for long-term ownership. Simply put, the Falcon Doors will always be the Model X's Achilles' heel.
And priced at close to $200K with options, the Model X also doesn't feel as prestigious as a Range Rover, a Porsche Cayenne Turbo S or a Bentley Bentayga. However, people interested in a Tesla are likely more concerned about the sophistication and the EV experience than the need to flaunt a luxury-brand badge. We can criticise Elon Musk's marketing strategies, but we can't deny that his company is building revolutionary vehicles at the moment.
Share on Facebook