2019 Infiniti QX50: Innovative Engine, Conventional SUV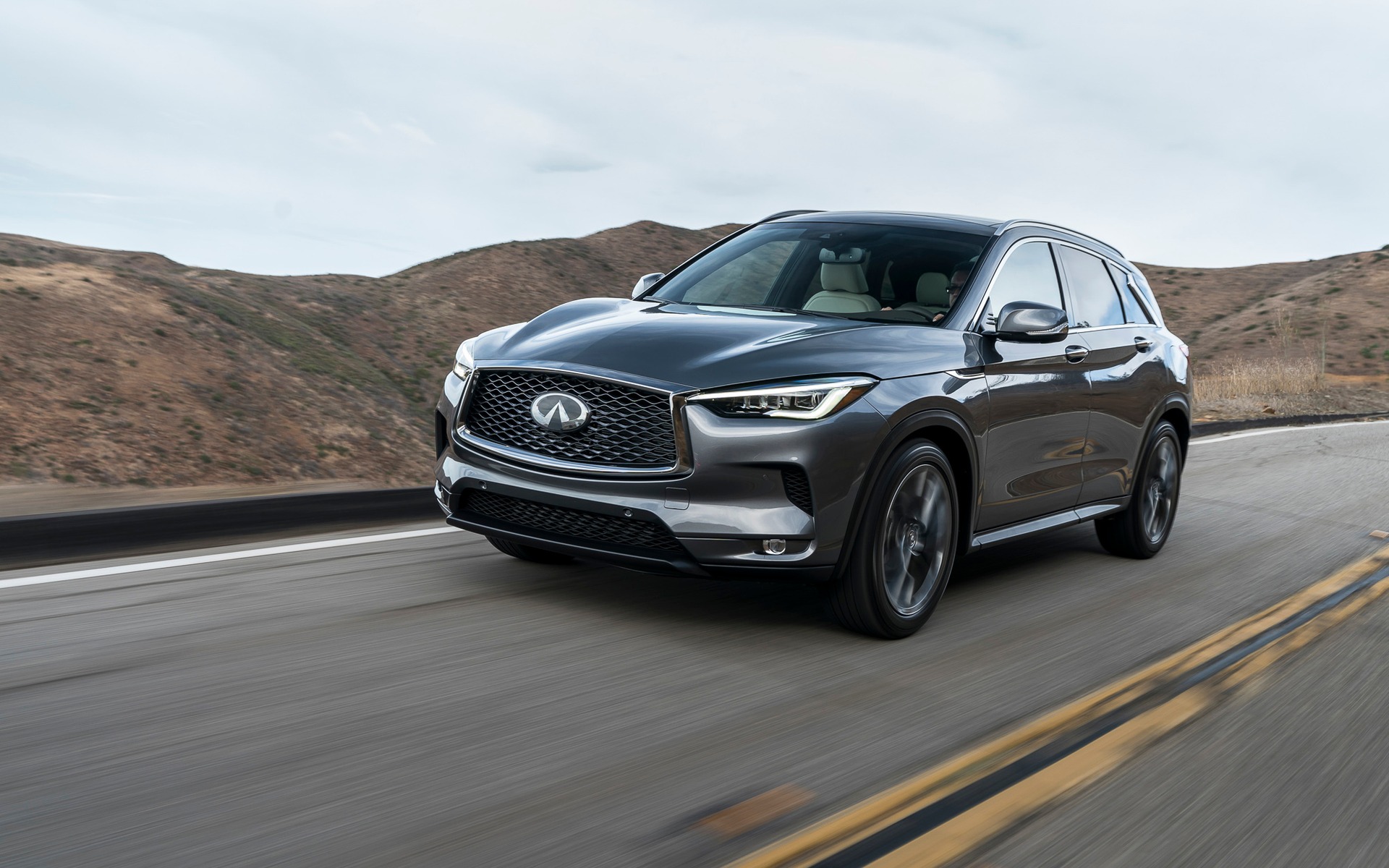 Strong points

Innovative engine
Roomy cabin
Advanced driving aid systems
Standard heated front seats and steering wheel
Very rigid structure
Good handling

Weak points

Noisy engine in flat-out acceleration
Unresponsive CVT transmission
Light steering
Short on equipment
Full report
LOS ANGELES, California – Call it a sign of the times: Infiniti has chosen an SUV in which to inaugurate its innovative variable valve timing drivetrain. It promises to combine the performance of a turbocharged engine with the sobriety of a diesel. Introduced as the world's first variable compression ratio engine, the VC-Turbo (VC for Variable Compression) is the product of a long development process that included some 300 registered patents.
Unlike a conventional gas engine with a fixed compression ratio, the VC-Turbo engine features a variable compression ratio thanks to a system of rods that helps adjust piston travel in real time within a six-millimetre range. Thus, the engine functions with a compression ratio that varies between 8:1 for high performance, and 14:1 for improved efficiency.
During our test drive in the Los Angeles area, the performance of this new type of combustion engine garnered all the attention. The VC-Turbo runs like all other turbocharged engines, and if you want to know what's going on mechanically, you really have to keep a close eye on the scale that indicates the compression ratio in real time.
Select this function and it will be displayed between the instrument panel's two gauges. The scale goes from "Power," which indicates that it is functioning with an 8:1 compression ratio in flat-out acceleration, to "Economy," with a 14:1 ratio at cruising speed. Without the variation display to remind you of Infiniti's technical innovation, you'd think you were driving a conventional gas engine.
It's worth noting, however, that this engine—which delivers 268 horsepower at 5600 rpm and a maximum torque of 288 lb.-ft. between 1600 and 4800 rpm—proved rather noisy in flat-out acceleration, which isn't really in keeping with the QX50's "premium" status.
A CVT
Unfortunately, the only available gearbox for the QX50 is a continuously variable transmission that isn't very responsive, despite the fact that it has eight pre-programmed speeds. This leads to lag between throttle input and delivery of the torque to the drive wheels. As unpleasant as ever, this lag that often afflicts CVT gearboxes undermines part of the fun of driving a QX50 and makes you wonder how much better the experience would be if it had a conventional seven- or eight-speed automatic gearbox.
As for fuel consumption, Infiniti is promising 10.0 L/100 km around town and 7.8 on the highway for a combined 9.0 L/100 km. On our test course, we recorded 12.5 L/100 km city and 9.9 highway. In the canyons around L.A. (like Mulholland Drive or Topanga Canyon), the QX50 demonstrated very good handling because of its very rigid structure and only its overly light steering marred our pleasure.
Premium, but not without some shortcomings
Infiniti is a premium brand, and while the QX50 features superb leather upholstery, open-pore wood trim, a panoramic roof and ProPILOT Assist electronic driving aids, some equipment and accessories are conspicuous by their absence.
For example, the QX50 offers a heated steering wheel and heated front seats, but the back seats are not heated, a surprise considering its status as a luxury vehicle, especially when you realise that these features are available on a Hyundai Elantra. Also, Apple CarPlay and Android Auto do not come standard. Finally, the QX50 has three USB jacks in front, but only one in the back, foreshadowing inevitable arguments between your children or teens wanting to charge their phones or tablets.
Basically, there are some shortcomings that need to be corrected. However, the QX50 scores points for roominess with sliding rear seats that can provide more legroom for passengers or more cargo capacity, depending on the position.
The price range in Canadian dollars was not announced at our meeting in Los Angeles. However, we know that, in the United States, all-wheel-drive versions (front-wheel-drives variants are also offered in the U.S.) vary from USD$38,350 to USD$45,150. Since Infiniti is relying on the QX50 to win over new clients, we're expecting Canadian prices to be attractive enough to help Infiniti increase its market share.
Share on Facebook