2018 Porsche Camp4: Listen to Kees!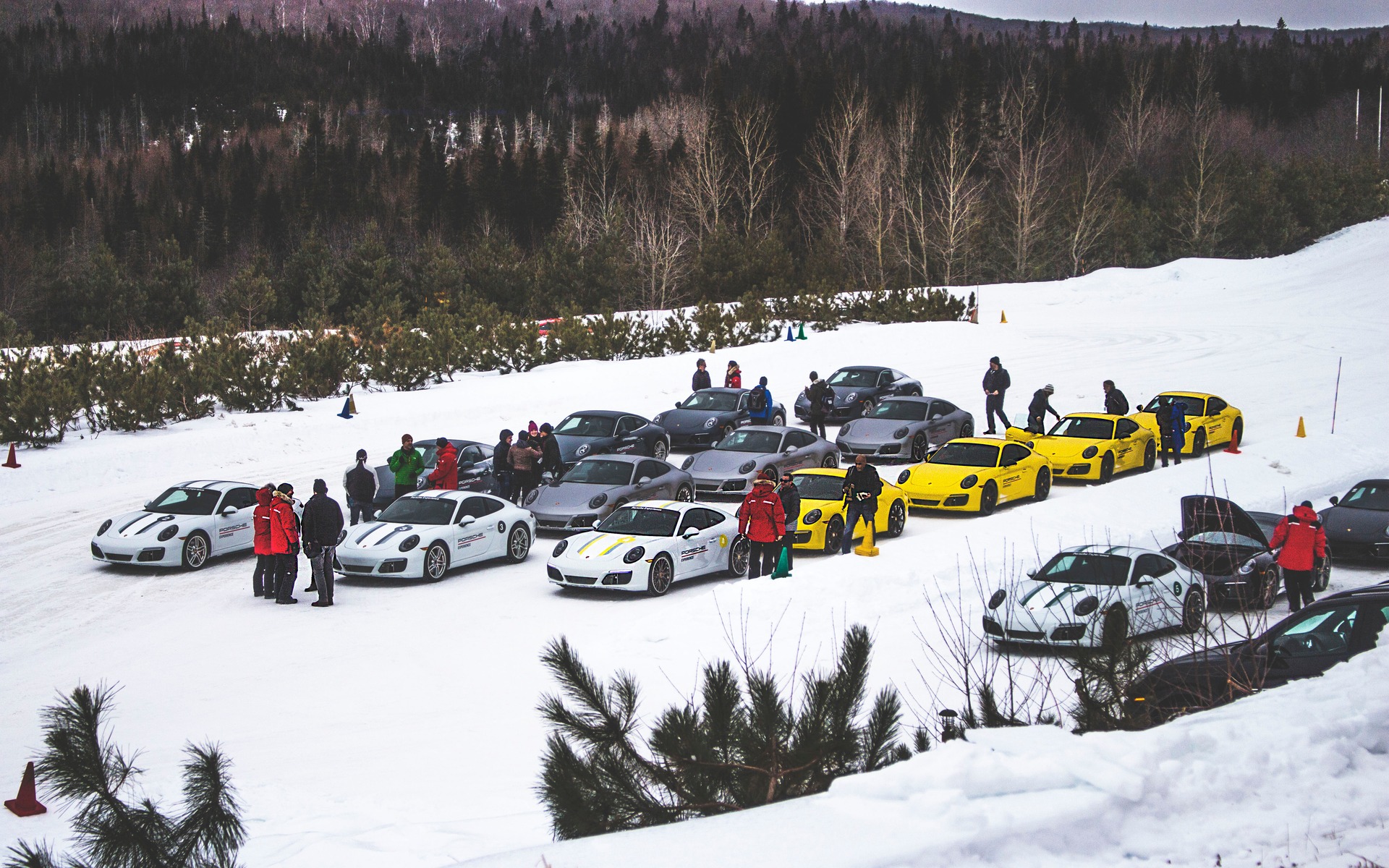 NOTRE-DAME-DE-LA-MERCI, Québec – My instructor's name was Kees Nierop. The man, who seemed to be in his early sixties, kept rambling on about how he was the senior of seniors. That's great, but I had already heard such claims. It wasn't the first time I participated in an advanced driving program, and definitely not the first time I had come across an experienced driver. That being said, the idea of being guided by one of Porsche's most experienced instructors was reassuring.
"Come on Mr. Nierop, let us drive the Porsches!" I told myself.
Impatient to get behind the wheel, I listened to our leader as he reviewed some important safety guidelines; a typical procedure in these events. Suddenly, out of nowhere, the man yelped out: "If I catch one of you pretend to be better than the rest, if anyone tries to be a hero here today, they'll be immediately removed from my group!"
And it was at that moment that Kees had just won all of my respect. I had instantly realized that I still needed a lot of practice to consider myself a "professional driver."
Let's Slide Together
At first glance, Camp4, Porsche's advanced winter driving program, may seem a little superficial. With a $5,000 price tag, it can easily come through as a playground reserved exclusively to the very wealthy. In reality, it would be possible to rent an exotic supercar for an entire day, for less money.
But the experience goes far beyond a simple ride in a German sports car over a snowy road. This is a real training program, a school, a totally unique experience that will, and trust me when I say this, transform you into a much more experienced driver.
Camp4 is accessible to everyone, no need to own a Porsche, nor be friends with your local Porsche dealer to attend. All you need is a valid driver's licence, be over 21 years of age, and that's it. Once you've enrolled, either through a Porsche dealership, or from the Porsche Canada website, you're good to go.
Participants are first invited to a night at the Esterel Resort, in Québec's Laurentian region, followed by a quick briefing in the morning, where an instructor explains the differences between understeer and oversteer in slippery conditions. Everyone then hops onto a bus and heads over to the Mecaglisse facility.
"Real" Porsches
Once at the track, students are immediately introduced to a team of instructors as well as a beautiful lineup of Porsche 911 Carrera S and 4S. This year, the 911 is the only car offered for the event, each fitted with studded Nokian winter tires. According to Porsche, having participants shifting through different models (like the 718 Boxster/Cayman) proved to be confusing for participants in the past, and caused adaptation issues. That's why the carmaker has narrowed things down to only one model, the iconic 911.
Once everyone is ready to go, each team is assigned a colour – I was part of the blue team, with Mr. Nierop steering the ship – and then quickly thrown into the action.
Throughout the year, Mecaglisse is open to the public, but during the winter months, it's reserved exclusively to Porsche Canada for its event. This means that nobody, except Camp4 participants and organisers/instructors are allowed within the compound. No salt, sand, or exterior influences can disturb the event, which ensures total control over the circuit's surface.
Step by Step
The program is actually similar to the driving courses you'd find in a driving simulator such as Gran Turismo. Each participant must follow its instructor in their respective 911, which are all equipped with PDK automatic gearboxes (of course, Kees drives a manual), towards a section of the track where advanced winter driving techniques, such as oversteer, understeer, slalom and hard braking, are teached. Everything is of course performed over a fresh layer of ice, and in some cases, traction control (PASM) is completely deactivated!
Each sequence is a precursor to the next, and each session is part of a larger, final exercise where participants are asked to complete a full lap using their new found skills. It's a lot harder than it looks! On a several occasions, I found myself spinning the car out from too much throttle, with Kees yelling at me through the walkie-talkie for not listening to his tips. He's a strict teacher, but we were learning fast! At the end of the day, I had the opportunity to sit in the passenger seat, with Mr. Nierop at the wheel. The man knows how to drive his Porsches!
For some, the Camp4 program may seem a little expensive, but once you realize what you've learned, the cars you've driven and the driving knowhow you've inherited from such experienced instructors, you quickly understand where your money went. At the end of the day, each participant is given a certificate of completion, which grants you access to the next level, if that's your thing.
As I returned home through the Laurentian region's snow-covered roads, I felt a lot more confident behind the wheel. Let's just say that pushing Porsches at their limit on ice all day changes your perspective of dangerous driving. If you can afford it, whether you're a Porsche owner, a potential one, or simply seeking to improve your driving skills, the Camp4 experience isn't just immensely fun. You'll actually use your new-found knowledge in your everyday life.
Share on Facebook