2018 MINI Cooper S E Countryman ALL4: Electrified, not Electrifying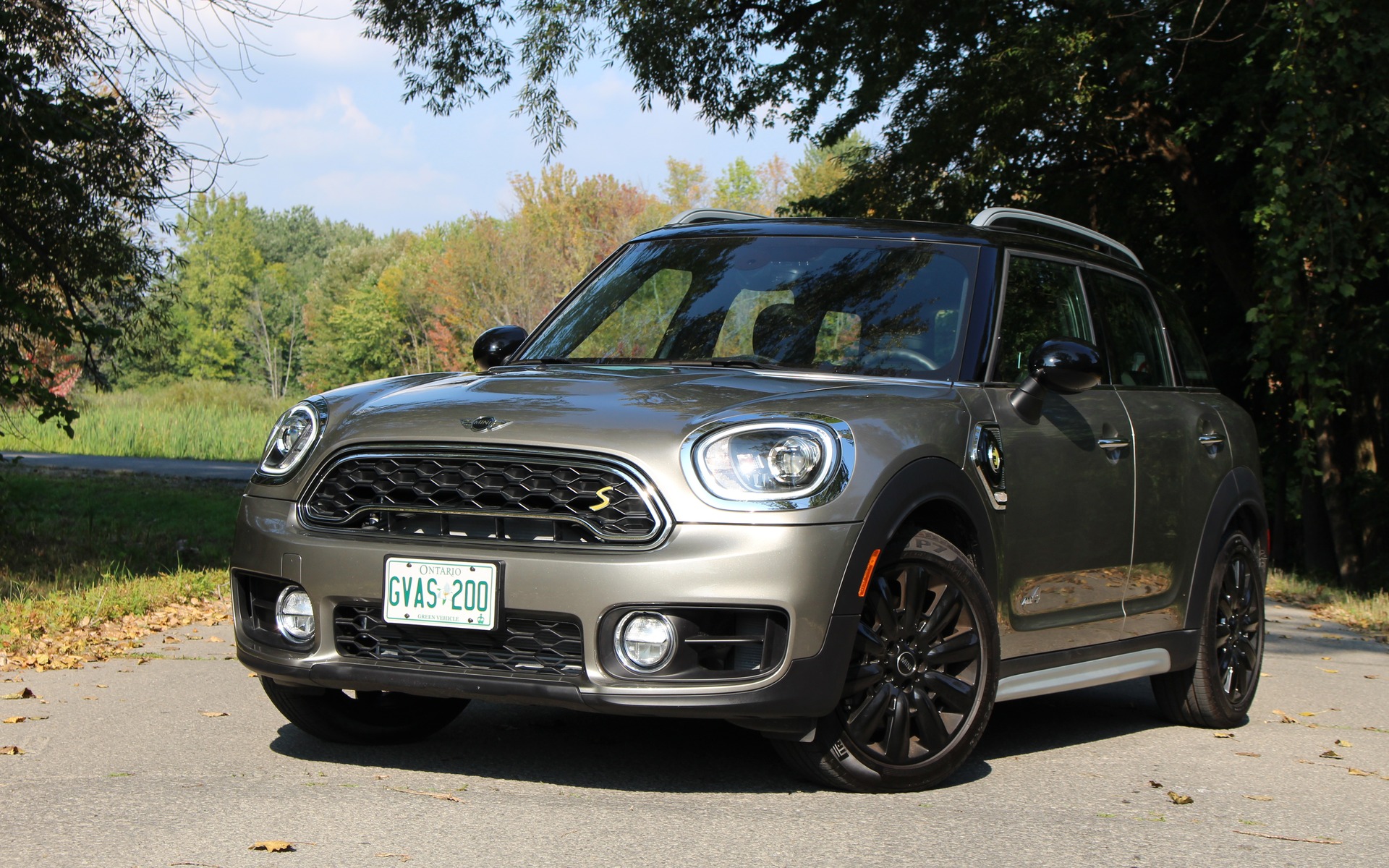 Strong points

Unique style
Fairly fuel efficient
Good straight-line performance

Weak points

Disappointing EV range
High price
Extra weight reduces fun-to-drive factor
Full report
As most automotive manufacturers are aiming for the same goal of producing emissions-free and self-driving vehicles, the MINI brand must figure out a way to keep pushing its distinct and fun-to-drive character. A fully electric MINI will be officially unveiled in the coming year, but for now, we get a taste of the brand's electrification strategy in the form of the 2018 MINI Cooper S E Countryman.
It's the biggest model in MINI's lineup, and it shares its architecture with the smallest vehicle in BMW's product range, the X1. In some other markets, the X1 can also be equipped with a plug-in hybrid powertrain, but in the U.S. and Canada, the Countryman benefits from this exclusivity for the time being.
This powertrain includes a turbocharged, 1.5-litre three-cylinder engine—the same one found in base MINI trim levels —that produces 134 horsepower and 162 pound-feet of torque, an 87-horsepower electric motor and a six-speed automatic transmission. Combined output is rated at 221 hp and 284 lb.-ft., and since the electric motor is mounted on the rear axle, the Countryman PHEV is considered an all-wheel-drive vehicle.
Because of its output, MINI decided to stick an S badge on the plug-in hybrid variant—although it's a yellow S instead of a red one. Usually, the S trims mean better performance and enhanced handling characteristics. In a straight line, the PHEV can reach 100 km/h in a claimed 6.8 seconds, 0.4 second less than with the 189-hp, S Countryman. And it's only 0.3 second slower than the 228-hp John Cooper Works Countryman.
That's fine. But what sets the 2018 MINI Cooper S E Countryman ALL4 apart is the extra weight of the PHEV components—126 kilograms (278 pounds) more than the S Countryman.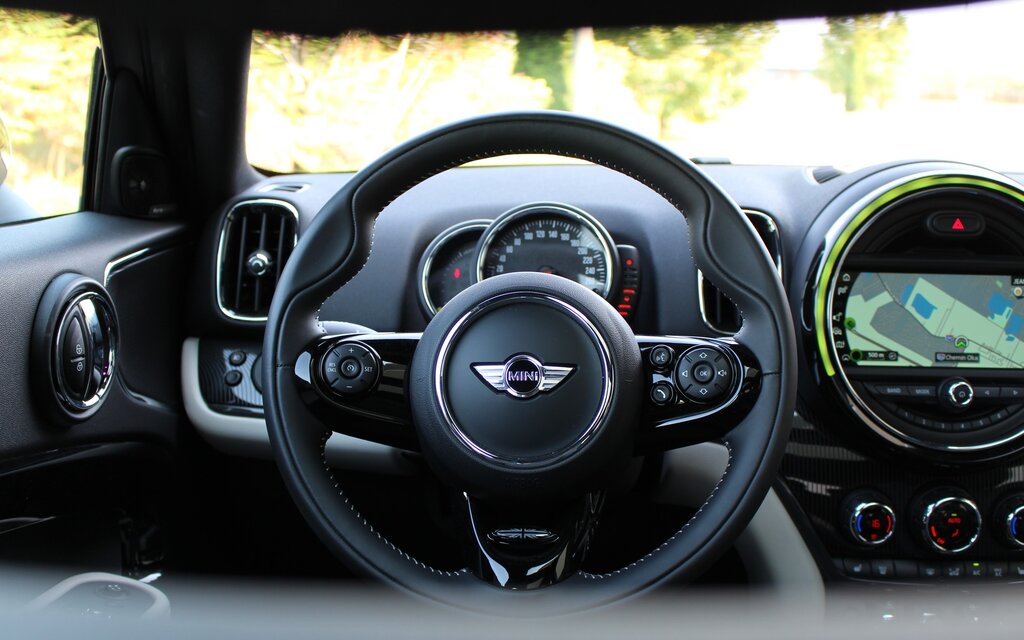 Obviously, the Countryman isn't as flingable as a MINI hatchback, but as far as subcompact crossovers go, it's still one of the most agile on the road. The PHEV version's extra mass takes away that advantage. Oh, it still offers an amusing drive, but it feels as though there are two passengers sitting in the back seat—all the time. Load up the Cooper S E Countryman with real people, and MINI's trademark handling disappears.
The compromise is being able to drive in pure electric mode and save the planet, right? Yes, but not for very long. The S E Countryman's EV driving range is estimated at just 19 kilometres, which we'll go through in no time, especially if we hit the highway. On a 240-volt outlet, charging time is pegged at 3.25 hours. The 120-volt charge cable is short, so we can't park very far from a domestic power outlet if we're away from home and want an energy boost. A bigger battery pack would've added some extra range, but at the expense of even more dry weight, and we don't want that.
Overall, the 2018 MINI Cooper S E Countryman ALL4 boasts a fuel economy equivalent rating of 3.6 Le/100 km. In comparison, the Mitsubishi Outlander PHEV boasts a rating of 3.2 Le/100 km, and even the Chrysler Pacifica Hybrid is rated at 2.8 Le/100 km.
Once the battery pack reaches its minimal state of charge, the Countryman's regular fuel economy ratings are set at 8.4 L/100 km around town and 8.8 on the highway. During our week-long road test, plugging the vehicle in whenever we could, we averaged 6.4 L/100 km. Compared to the regular Cooper S Countryman, the plug-in version is more efficient in city driving, but consumes more on the highway. It also has a much smaller fuel tank—36 litres instead of 61—so we might end up stopping for fuel more frequently. And every MINI requires mid-grade, 87-octane fuel—super unleaded is recommended.
The Cooper S E Countryman ALL4 looks very much like any other variant, but can be recognised by the aforementioned yellow S badges as well as yellow and chromed E badges that are grafted onto the front fenders and the hatch of the vehicle.
Inside, the MINI's cheery design, with circular shapes, unique toggle switches and ambiance lighting, remains. Fit and finish is good, but as usual, some plastics feel and sound hollow. The infotainment system can be easily operated, thanks to its console-mounted multifunction knob, and as electrified vehicles usually offer, the S E Countryman can be programmed to charge on a determined schedule, for areas where electricity is cheaper at night, for example. When the vehicle is plugged in, the cabin can also be preconditioned before our departure.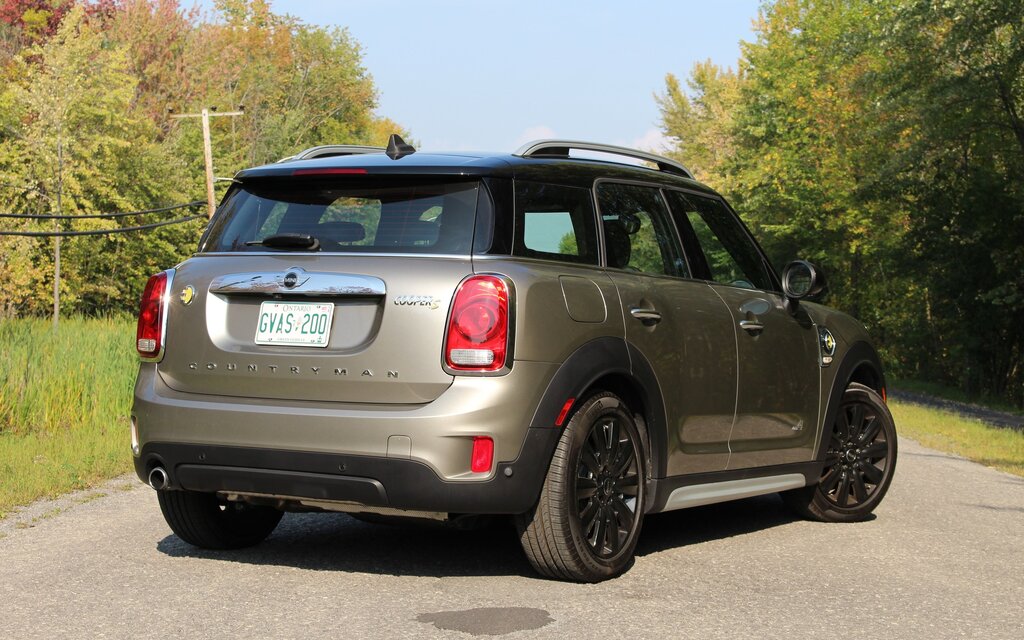 Space is sufficient up front, but tight for three people in the back seat—no surprise, given the size of the vehicle, and its subcompact rivals aren't any better in that regard. Cargo space in the PHEV variant is the same as in the regular versions of the Countryman, rated at 450 litres. However, with the rear seatbacks folded down, maximum volume is 1275 litres, or 115 less than in other Countryman trims. Room was needed for the battery pack.
And then there's price. The 2018 MINI Cooper S E Countryman ALL4 starts at $43,490 before freight and delivery charges, and our test vehicle featured about $6K worth of options. Fifty thousand bucks is a lot of dough for a MINI.
In comparison, a loaded Mitsubishi Outlander PHEV costs about the same, but has better range and more interior room. A fully equipped Toyota RAV4 Hybrid is listed at $42K, and will consume about 7.5 L/100 km without the hassle of having to plug in it. However, these SUVs aren't as stylish and fun to drive as the S E Countryman.
Since we're talking about a plug-in hybrid, there are government purchase and lease incentives in Ontario (up to $7,730), British Colombia ($2,500 before taxes) and Quebec ($4,000).
If a MINI is what we want, and we need room for the kids or carpooling, the Countryman is the one to get. We'd save a ton of money and go for a Cooper S Countryman, which will consume a little more fuel than the plug-in version, but will cost about $10K less.
Share on Facebook