2018 Nissan Armada: Big is the Word of the Day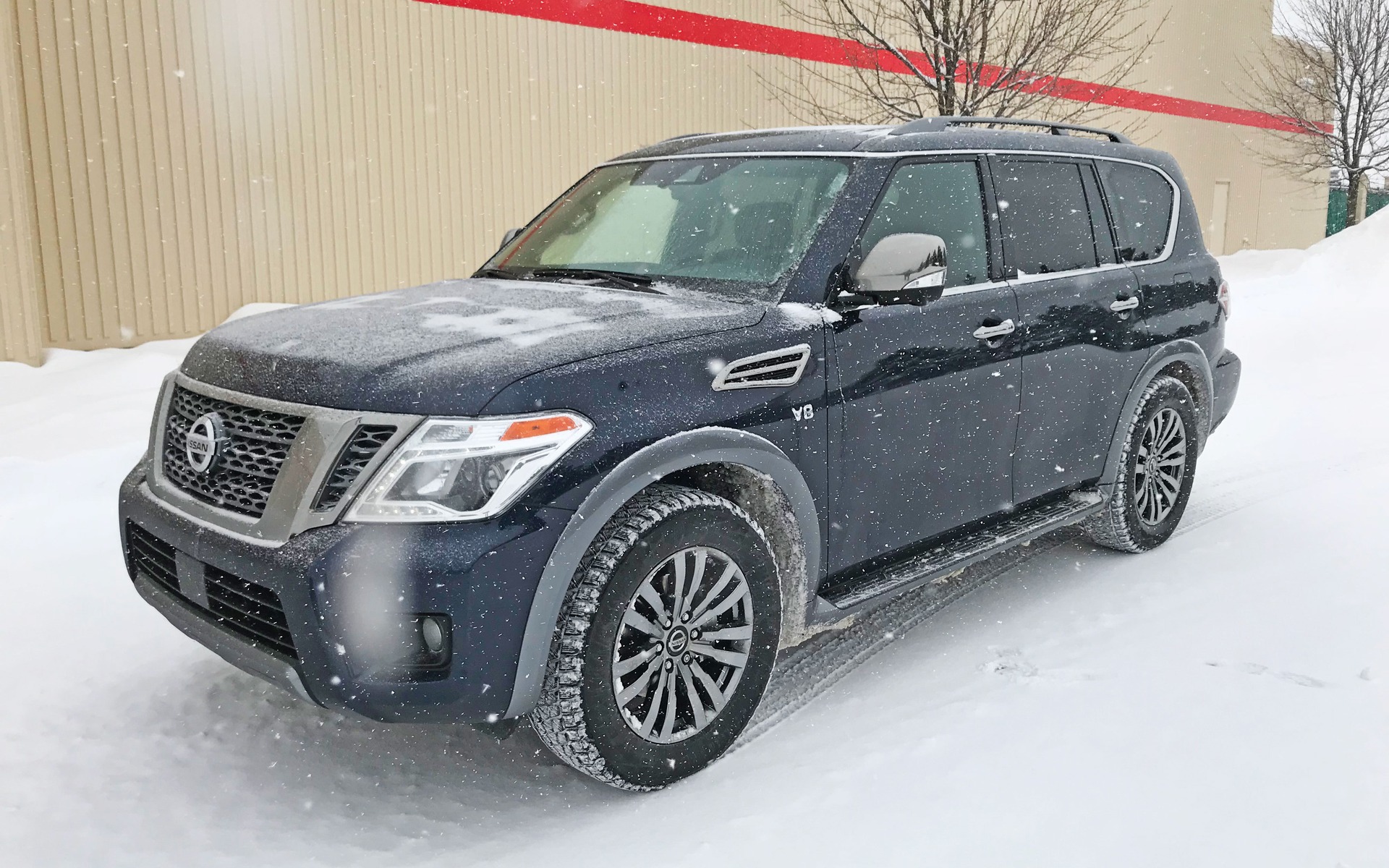 Strong points

Modern looks
Quiet interior
Intuitive infotainment system

Weak points

Fuel economy
Loud engine
Pricier than the competition
Full report
There are many people who may require a very large SUV, but not necessarily the luxury nameplate often associated with such brethren. The Nissan Armada would be an excellent choice in that regard because it's nicely appointed and optioned as many other luxury SUVs are, but doesn't cost "too" much. Normally, these barges can run above $100K, but given the Armada is a Nissan, it's priced a tad lower than you may think at $64,998 ($67,063 after freight and other fees).
Introduced way back in 2004 and only redesigned last year meant the vehicle was long overdue for a change. In automotive terms, thirteen years is an eternity, but better late than never. The new Armada now sports Nissan's current design language including the V-motion front grille. Standard LED daytime running lights and standard LED headlights are nice touches. The shape and silhouette of the Armada remain quite boxy, but with a modern twist to it. The rear is a bit iffy in my opinion and resembles the Toyota Sequoia a bit too much. However, the overall look is still quite positive with similarities to its Infiniti QX80 cousin.
Inside the spacious cabin we find standard Nissan accoutrements, but the leather and dash trimmings make for a very upscale appeal. Brushed wood lines the centre stack and the infotainment system is similar to the Infiniti interface rather than what you'd find in an entry-level Nissan. I did enjoy the rear DVD entertainment system in particular because I have three young boys. Nissan's system is a breeze to use and I must underscore how big of a point this is. You see many automakers make unbelievably complicated rear-seat DVD systems to the point where they are borderline unusable. I was able to pop in a disc and go with little to no effort as it should be.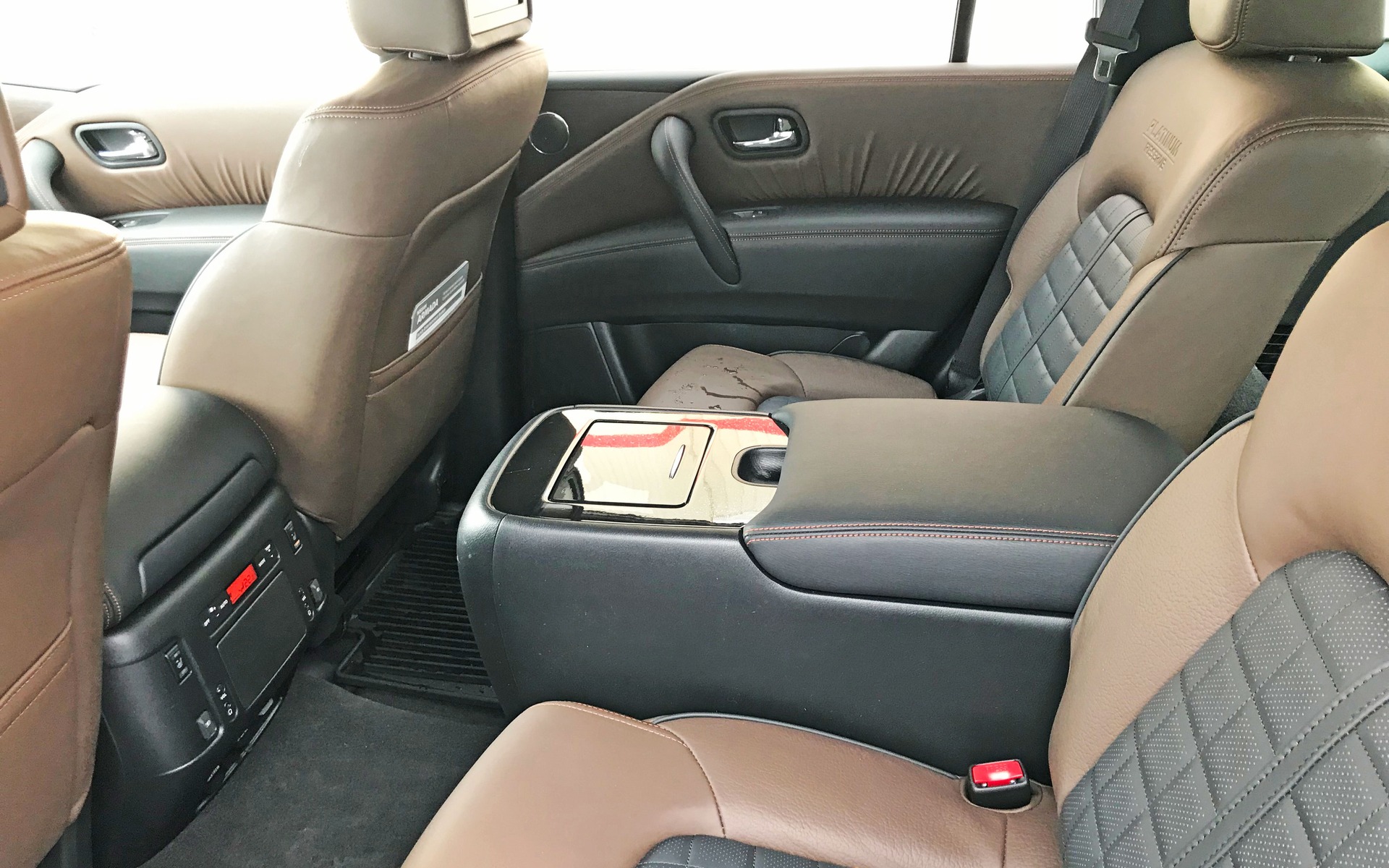 Speaking of the three boys, there is ample space for the whole crew in the Armada. Even the third row can be accessed with ease if a child seat is attached in the middle row, thanks to Nissan's seat folding system. In fact, they were one of the pioneers of such a system that has since been duplicated in many of the competition's offerings. Adults will also be very comfortable in all three rows of the Armada.
The driving position is like driving your living room recliner in terms of comfort. The tiny sunroof looked a bit out of place in the massive surface area that is the roof, but if you're looking to cut costs I suppose you need to start somewhere. The Armada has library-level interior noise levels thanks to the use of acoustic glass on the windshield and the front side windows, as well as through expanded use of sound absorption materials.
Under the hood we have a 5.6-litre Endurance V8 engine which makes 390 horsepower and 394 lb.-ft. of torque. Towing capacity is rated at up to 8500 pounds (3856 kg). The engine is loud, but smooth and capable. The 4x4 system ensures you won't ever get stuck in inclement weather and the Armada handled a massive snowstorm like a champ during the week I had it. The truck will also glide over bumps and potholes likes it's nothing. One nice feature that Nissan engineers deserve praise for is the fact that the heater automatically turns on full blast when using the remote starter. No need to worry about setting it the night before.
The large dimensions make it a bit of a task to navigate supermarket parking lots, but potential buyers already know this. You'll also get a few dirty looks just because it's such an overwhelmingly large vehicle. My city-only fuel economy was well over 20 L/100 km.
Competing with the Armada are the Ford Expedition, GMC Yukon, Chevrolet Tahoe and Toyota Sequoia. The Expedition was just redesigned and starts at $60,149. The Yukon 4WD starts at $59,025, the Tahoe 4WD at $58,015, and the Sequoia at $60,190. Our Platinum Reserve test vehicle costs $74,998 and comes already optioned out to the teeth including 20-inch wheels, chrome trim on the grille, door handles and mirrors, two-tone leather seating with unique stitching, DVD system and all the safety gadgets you would ever need. It also has one less seat (7 passenger versus 8 passenger) because of the centre console in the middle row.
The 2018 Nissan Armada is a great-looking and spacious truck that can be had at an attractive price compared to luxury SUVs, but slightly more than its direct competition. It's arguably the most modern-looking in its class and should be at the top of anyone's list in the market for a large SUV.
Share on Facebook