2018 Mitsubishi Outlander PHEV: Time to Lead the Pack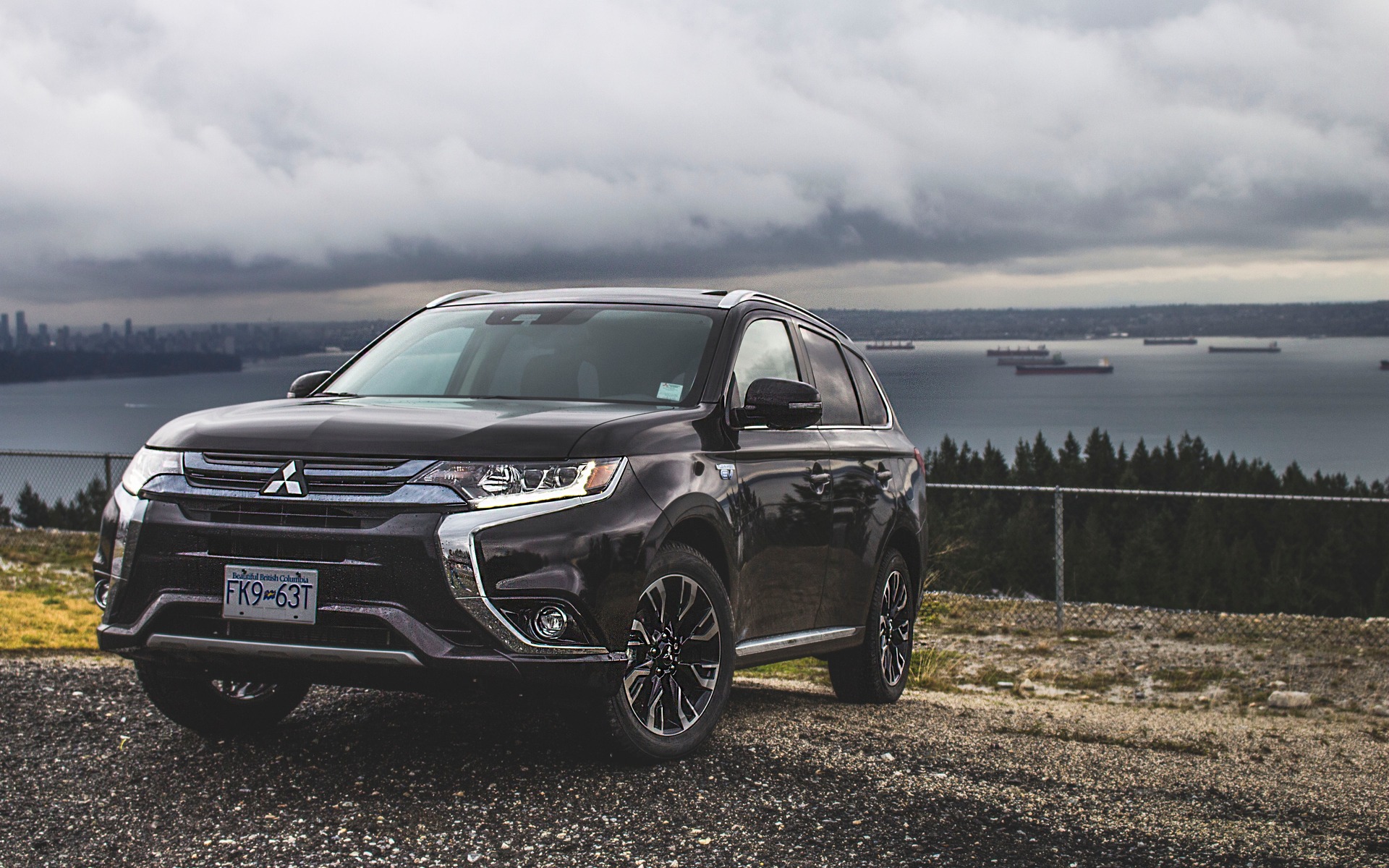 Strong points

The first compact SUV of its kind in Canada
Class-leading cargo space
Innovative four-wheel-drive system

Weak points

Anemic gas engine
Dated interior
Expensive
Full report
With very few new products and entirely deprived from development, Japanese carmaker Mitsubishi Motors, now affiliated with the Nissan Renault group, is currently playing catch-up with its extremely aggressive competition.
The Outlander, an SUV that sits between the compact and midsize category and currently being outranked by the Honda CR-V and Toyota RAV4 in the sales war, remains Mitsubishi Motors' battle horse. In order to better challenge its rivals, the carmaker has fitted it with plug-in hybrid technology, making it, at least for now, the only SUV of this size to be configured this way. Finally, Mitsubishi is ahead of its competition.
But for How Long?
Mitsubishi Motors invited journalists and members of the media to Vancouver, British Columbia, to sample its new baby. The PHEV, which stands for "Plug-in Hybrid Electric Vehicle," offers the possibility of driving in full electric mode up to 35 km, says Mitsubishi Motors. Its batteries can either be charged via a conventional 110-volt home outlet (eight-hour charge time), or through a public quick charging station (25 minutes for an 80% charge).
Add plug-in hybrid tech to an SUV, and you've got yourself a winning formula, and Mitsubishi Motors knows this. People are buying utility vehicles by the truckloads, and, well, in case you haven't noticed, electric vehicles are the future. For now, the only SUV that competes against the Outlander is the Volvo XC60 T8, a vehicle that sells for quite a lot more and only gets 27 km of range. What's more, although Mitsubishi claims a 35 km range, we managed to hang just under 50. Not bad!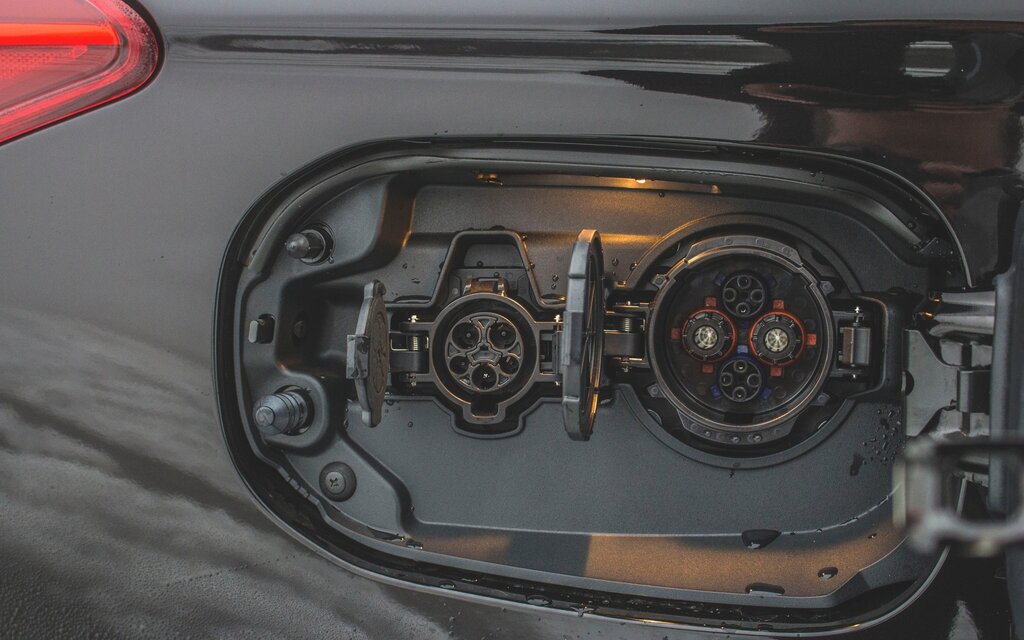 Once its batteries run flat, the vehicle becomes a conventional hybrid where a 2.0-litre, four-cylinder gasoline engine pumping out 117 horsepower is coupled to two electric motors—one up front, one at the rear. The only available transmission is a continuously variable automatic (CVT). While the people at Mitsubishi refused to share with us total horsepower output, our best guess is in the vicinity of 200 hp.
Two hybrid modes are available: Series Hybrid, which utilizes the gas engine as a generator to provide electricity to the electric motors, as well as recharging the batteries up to 80%, and Parallel Hybrid, which puts the gas engine in priority and uses the electric motor as a means to improve fuel economy. In this setting, Mitsubishi promises a 9.2 L/100 km combined average, numbers we had no trouble achieving on B.C.'s steep inclines. For an all-wheel-drive vehicle, that's good, but not great. A Mazda CX-5 or even a Honda CR-V can achieve this, and in some cases, do even better!
A Hybrid with Multiple Personalities
That being said, there's more to this Outlander than a simple charge port grafted onto its rear fender. Its hybrid system features different available modes to allow drivers to take full advantage of the available technology in order to use as little petrol as possible. And it works for real!
Take the regenerative braking for instance. In the PHEV, it offers five different levels of regen, all controllable via steering wheel-mounted paddles. During our drive, we tested the feature heading down Cypress Bowl, a ski resort located just north of Vancouver. Using the paddles, it was possible to slow down the vehicle without touching the brake pedal, all while recharging the batteries. Once at the bottom, we had a half-charge at our disposal, allowing us to drive back into town in full EV mode.
Another interesting feature is the fact that Mitsubishi's S-AWC all-wheel-drive system remains activated in all drive modes. It's even possible to get a full 4x4 lock in full EV, a first in the segment. And with Mitsubishi being a leader in vehicle warranties, its batteries are fully backed for ten years, just like the rest of the car.
Finally, there's the available cabin and cargo space, which aren't sacrificed with the presence of batteries. Once that rear seat is stowed, the Outlander gives way to 2208 litres of available space, superior to both the Honda CR-V and the Toyota RAV4. As a matter of fact, the Outlander is among the most spacious compact SUVs currently on sale.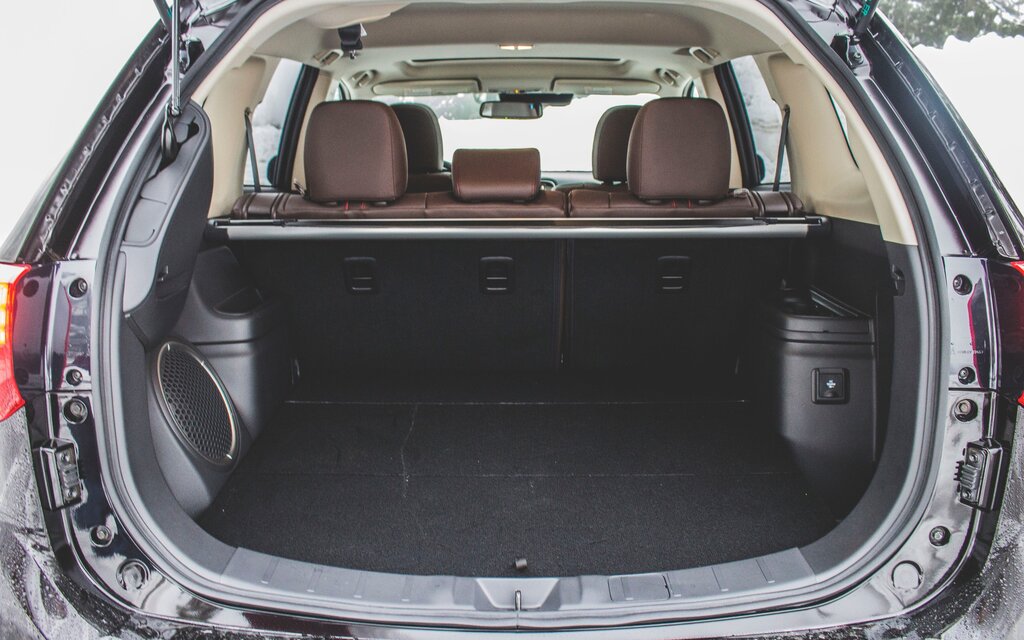 There's a Big "But"
While the Outlander PHEV comes through as a rather revolutionary vehicle overall, it remains somewhat dated. Remember, this is essentially the same vehicle as when it was first released in 2014, and it shows. Sure, Mitsu has given it some updates to increase its levels of refinement—our tester was fitted with attractive burgundy-coloured leather seats and a two-tone cabin—but the quality of the materials used, sound deadening and the compliance of the suspension feel like they belong in a vehicle from another generation. The 2.0-litre gas engine often seems overstressed, lacking the power needed during steep inclines, buzzing furiously through the engine bay.
And then, there's the real downer: its price. With an entry price of $42,998, and climbing all the way to $49,998 for a fully spec'd GT, the Outlander PHEV is not exactly affordable. Especially considering you could buy a Toyota RAV4 hybrid, which pulls better fuel economy numbers for less money. Granted, the Toyota can't be plugged in, allowing the Outlander to set itself apart. In British Columbia, the PHEV is eligible to a $2,500 incentive (before applicable taxes). In Quebec, it's eligible to a $4,000 rebate. In Ontario, you'll get almost $10,000 off, a much better deal.
To sum it all up, the 2018 Mitsubishi Outlander PHEV remains a desirable product and for now, there are no other vehicles out there that offer the same formula. Even with a high price tag, the fact that you can drive it without burning a drop of gasoline makes it a clever little offering.
But for how long will it be unique? Once other carmakers inevitably release their compact plug-in hybrid SUV, will the Outlander be able to keep up? Only time will tell. At least, for now, it feels great to see Mitsubishi's technological know-how back in action. It's time to drop this drivetrain in some fresh new vehicles!
Share on Facebook