2018 Nissan Pathfinder: Slight Tweaks for this Year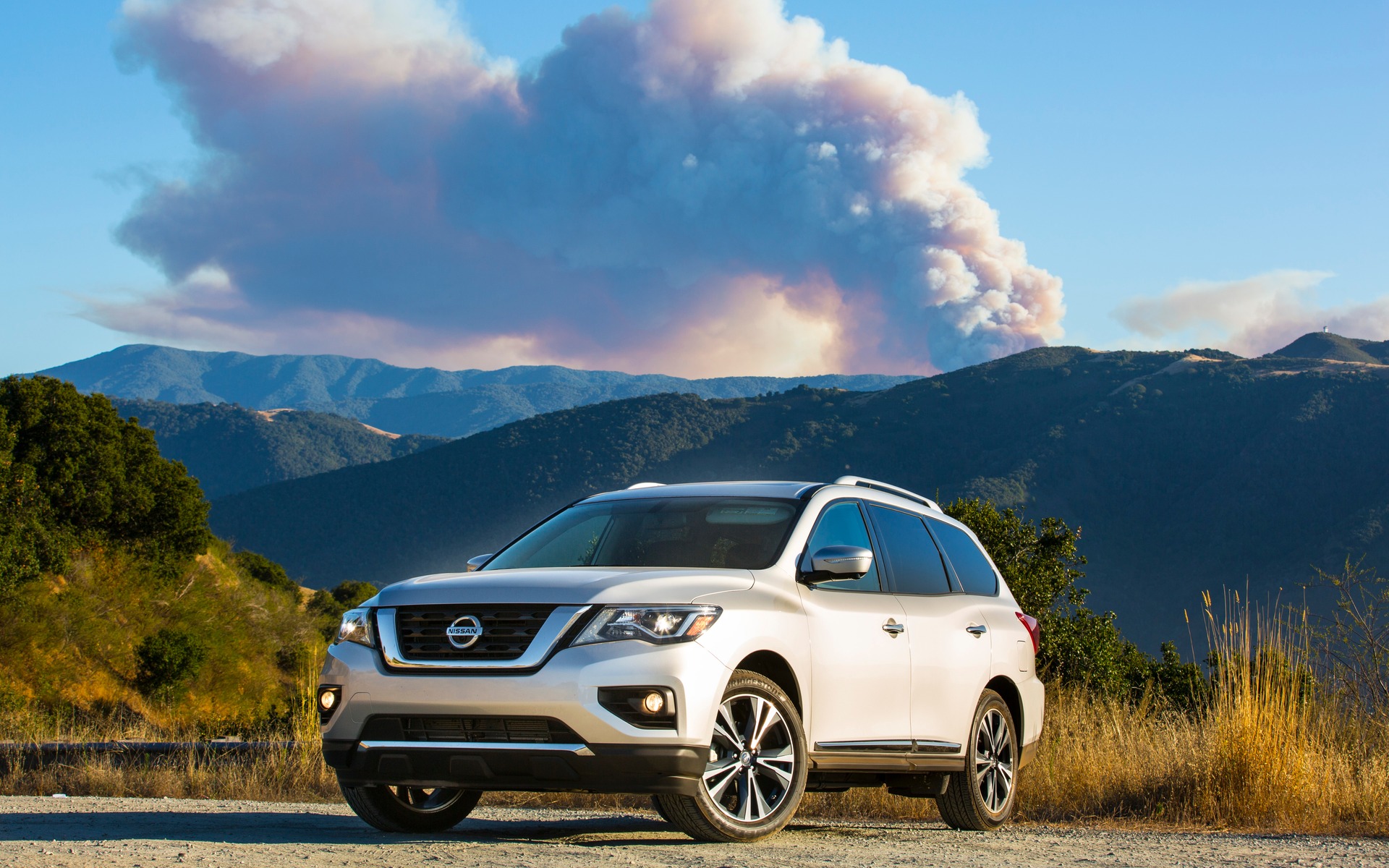 Strong points

Modern good looks
Rear-seat DVD entertainment system
Little details like the remote start functionality
Very capable in all weather conditions

Weak points

Poor interior dash design
Lazy throttle response
Only one engine option
Full report
Way back when the Nissan Pathfinder hit the market in 1986, it was decidedly a different beast. Sporting a body-on-frame design meant it was a true sport utility vehicle which was constructed more like a truck versus a car. Over the years, it has evolved into a unibody construction, so technically that means it's actually a crossover and has more car-like driving characteristics. It actually shares its platform with the Nissan Altima, Maxima, Murano and Infiniti QX60.
The current-generation Pathfinder with its new underpinnings came to market in 2013 and had a facelift just last year for its mid-cycle refresh. The update included new headlights, grille, hood and bumper up front as well as other changes in the rear. The updated appearance incorporates the latest Nissan signature design elements including the new "V-Motion" grille and boomerang-shaped headlights with LED daytime running lights. For 2018, the vehicle remains essentially the same except for a few minor things:
Automatic Emergency Braking is now standard on every version of Pathfinder, which helps avoid or reduce the severity of potential frontal collisions;
A Rear Door Alert system can help remind customers of anything that may be forgotten in the rear seat—pets, valuables, dry cleaning, groceries, etc.—with a series of visual and audible notifications;
The Midnight Edition package is now available on the SL trim instead of the Platinum, featuring exclusive black 20-inch Midnight Edition aluminum-alloy wheels, black mirror caps and black spoiler.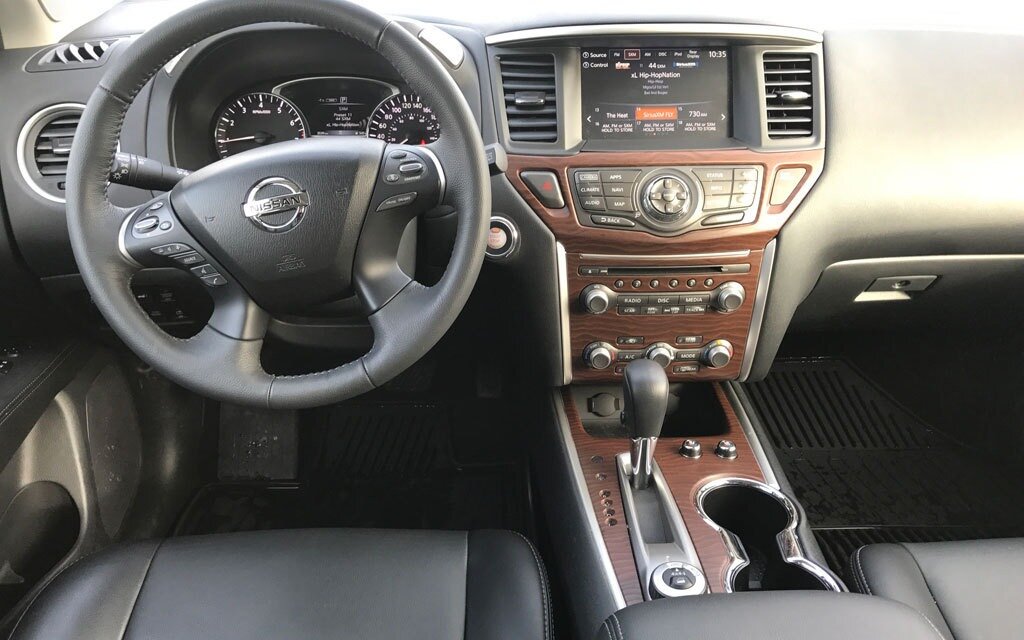 The Pathfinder's interior is functional, but unfortunately, not very visually appealing. I was hoping they would redesign it with the facelift, but no such luck. It's not like this is a signature Nissan style, either. Both the Rogue and Armada have beautiful interior dashboards and controls, yet the Pathfinder looks like it got its inspiration from two decades ago. I didn't find any issues with the overall layout, so my criticism is strictly visual.
The Pathfinder has a three-row configuration and can seat up to seven people. What I like is the ease of access to the third row—especially when a child seat is fixed onto a middle-row seat. Nissan pioneered this system a few years back, called "Latch and Glide," and has since been mimicked by many competitors. Another helpful option is the ability to slide the middle-row seats back and forth to give rear occupants more or less legroom. I wouldn't try stuffing a six-foot adult into the third row, but for all intents and purposes there is adequate space.
If you have kids then you'll want to opt for the rear-seat entertainment system. It places two screens in the rear headrests so your little ones can enjoy a movie and leave you alone while you operate the vehicle. One thing that I will say is that the majority of the systems on the market today are just dreadful to operate. Nissan's system was one of the better ones and didn't take too long to figure out. You just pop in a DVD, hit play and it starts. I've experienced systems where the rear occupants are the only ones capable of operating the system, and they might not be old enough to figure out how. I really appreciate being able to watch the movie on the front screen (when the handbrake is engaged and vehicle isn't moving, obviously). Nissan gets this right.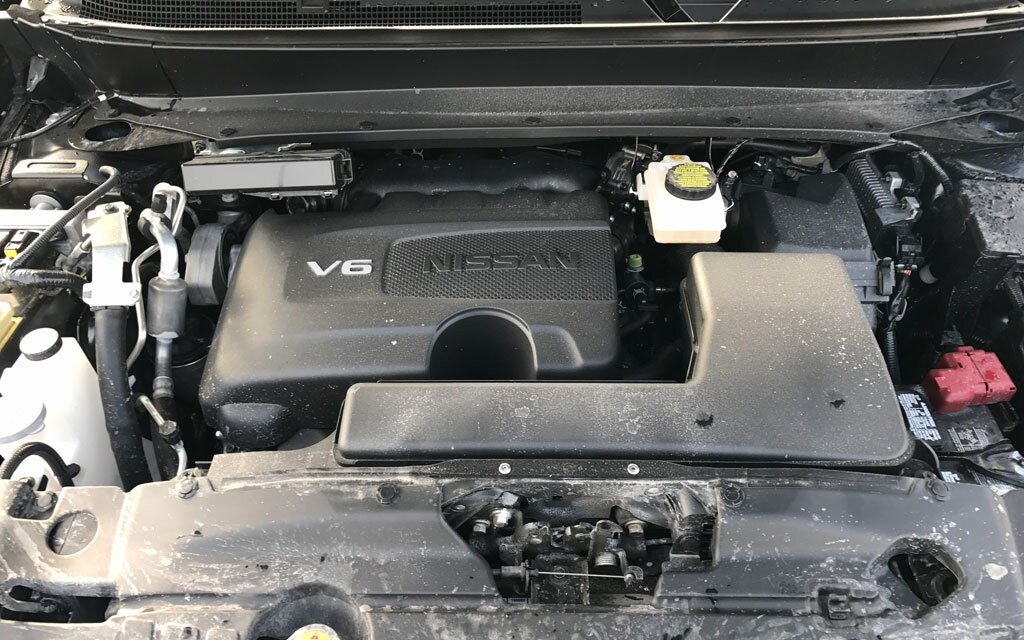 Under the hood, we find the revised 3.5-litre V6 engine from last year's update, which featured more power, torque and towing capacity compared to 2016. Many parts were altered or replaced, including the combustion chamber design, pistons and intake manifold. Power for the V6 was increased to 284 hp (from the previous 260 hp) and torque is now rated at 259 lb.-ft. (up from 240 lb.-ft.). This remains the only engine option.
Throttle response is a tad slow and the engine is a bit noisy. Other than that, the Pathfinder handled the snowstorms quite well with firm steering and good suspension feel. Speaking of snowstorms, another really nice thing that Nissan has done is make it so that the climate system goes full blast when you use the remote starter function. That means even if you forgot to put the fan all the way up before parking the night before, it doesn't matter because the vehicle does it for you.
The 2018 Pathfinder comes in four trim levels including S, SV Tech, SL Premium and Platinum. The Platinum test vehicle had options such as unique 20-inch alloy wheels, LED headlights, a Bose 13-speaker audio system, cooled front seats, woodgrain panelling, a dual panorama moonroof and more.
The Pathfinder continues to be a must-try for anyone shopping in this segment. If you don't mind the old-school interior, the vehicle offers plenty to make it an enticing buy.
Share on Facebook