2018 Ford F-150: Minor Tweaks to the Industry Leader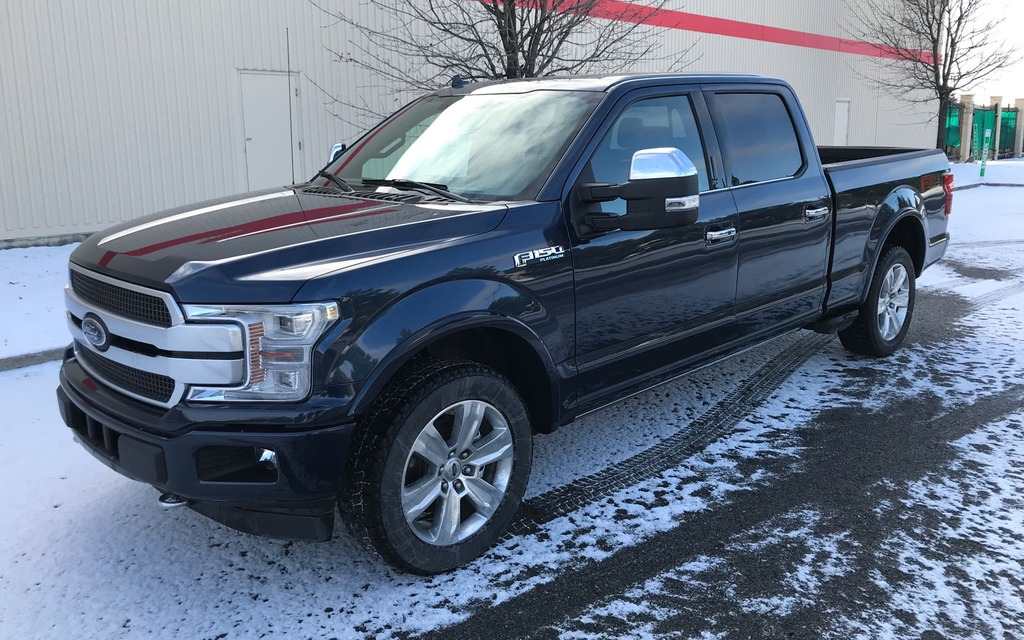 Strong points

Wide range of engine options
Comfortable, functional interior
Smooth ride

Weak points

Climate buttons too small
Fuel economy suffers in city
Can get pricey
Full report
Ford's crown jewel undergoes a slight refresh for 2018 and continues its success as the best-selling vehicle in Canada. It sure looks like that gamble to move toward a new aluminum-based construction for this generation has paid off. With significant weight savings in the bank, Ford was able to offer smaller and more fuel-efficient engines to power the truck. I love bold moves and tinkering with your prized possession was certainly a big one.
Even though this happened for the 2015 model year, I'll probably be talking about it in every F-150 review for the next few years because it's such a great story. The F-150 remains the absolute benchmark for pickup trucks. It's the measuring stick by which all other brands use to gauge themselves and rightly so.
For 2018, the F-150 undergoes a few changes to keep things fresh and interesting. Ford characterizes its exterior facelift as "major," but that may be overstating things somewhat. The lights, grilles, bumpers, tailgate and wheels have all been changed to offer different front and rear designs. However, the rest of the vehicle remains largely the same. The headlights have been extended inward and now meet with the grille which has been extended outward. The hierarchy of the grille remains the same, meaning that lower-end trims will get a black unit where the higher-end variants boast large chrome bars to ensure they stand out more. It's a modest change which won't ruffle too many feathers.
We also see some interesting changes under the hood of the 2018 F-150. The base 3.5-litre V6 engine is replaced by a naturally aspirated, 3.3-litre V6 making 290 horsepower and 265 lb.-ft. of torque (up from 282 horsepower and 253 lb.-ft.). The optional 2.7-litre, turbocharged EcoBoost V6 puts now makes a bit more juice, rated at 325 horsepower and 400 lb.-ft. of torque. The 5.0-litre V8 engine remains in the lineup and now makes 395 horsepower and 400 lb.-ft. of torque (up from 385 hp and 387 lb.-ft.).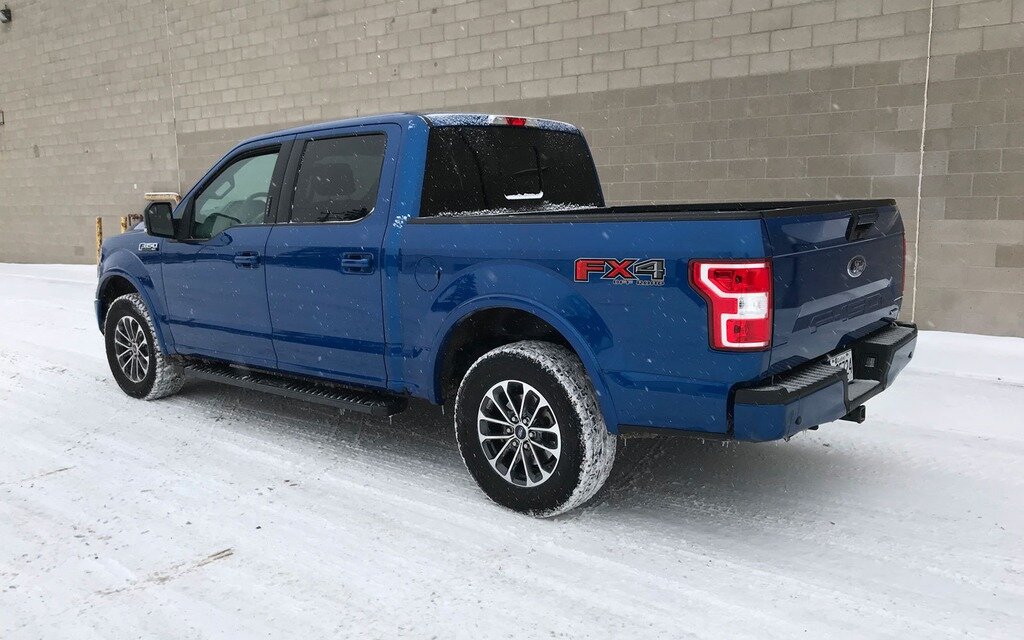 The new V6 gets a six-speed automatic transmission with selectable drive modes and the rest of the lineup features a 10-speed automatic. We also just got word that Ford is introducing a new 3.0L Power Stroke diesel V6 engine which should hit dealers this spring. Output is 250 horsepower and 440 lb.-ft. of torque.
I had both the 5.0-litre V8 and 2.7-litre EcoBoost in consecutive weeks so it was nice to be able to compare the two. I should mention that my daily mileage is very low and all city, so naturally I experienced very poor fuel economy on the V8 (upwards of 20 L/100 km) and average fuel economy on the EcoBoost (around 17 L/100 km).
The V8 has a nice amount of power and torque for towing purposes, but can also be smooth and graceful when not under load. I especially liked the 4A drive setting which essentially gives you the functionally of all-wheel drive using the 4x4 system. When the system detects spin (and it detected it a lot during the snowstorm we had that week) the vehicle switches into 4 High. Because four-wheel drive is a little more complicated and involves moving parts which connect the front and rear driveshafts, it takes a split second longer to engage. The process is noticeable, but negligible and Ford deserves credit for making it as smooth as it is.
The 2.7-litre V6 was more suited to daily driving purposes and performed well enough to make me forget about wanting to splurge on a larger engine. If you have something to tow, it may not be the ideal choice, but I still think it's a great powerplant that performs admirably.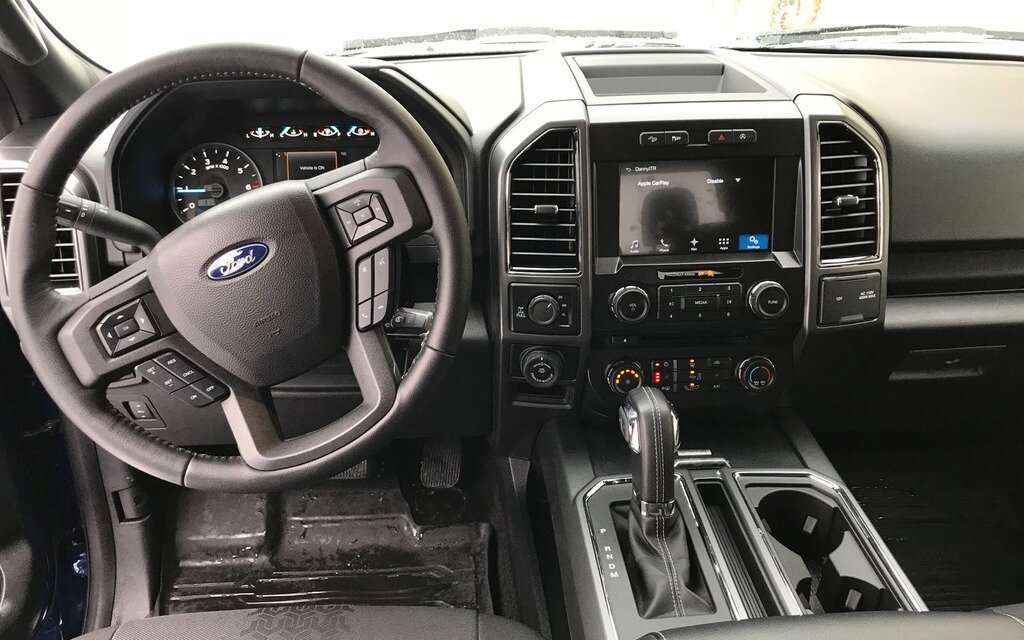 There is some interior refreshing on most trims, including colour and material changes for seats, instrument panel and console trim. The King Ranch's interior leather colour is changed to Kingsville, Platinum changed to Dark Marsala, while the Limited variant now gets Navy Pier. Leather-trimmed buckets with flow-through console are available on the base Lariat.
Ergonomically, the F-150 is stellar all around with a very well laid-out cockpit. The unique interior door handles are easy to use and the seating position is very comfortable. Ford has done a great job with their SYNC 3 infotainment system as I found it intuitive and well designed. Climate controls are either digital or physical buttons, which is yet another aspect that Ford gets right. One thing that I will point out is that on the higher-end versions, the climate control buttons are too small and too tucked away to get at easily.
You can option out an F-150 upwards of $90,000 for the top-of-the-line model, but the bread-and-butter XLT and Lariat SuperCrew 4x4s will hover in the $42k-$55K range, depending on the equipment.
There wasn't much not to like about the 2018 F-150. Ford's formula is proven and the F-150 continues to be the benchmark truck for those who need it and those who just want it. I don't expect that to change anytime soon.
Share on Facebook