2017 Land Rover Discovery: the Heavyweight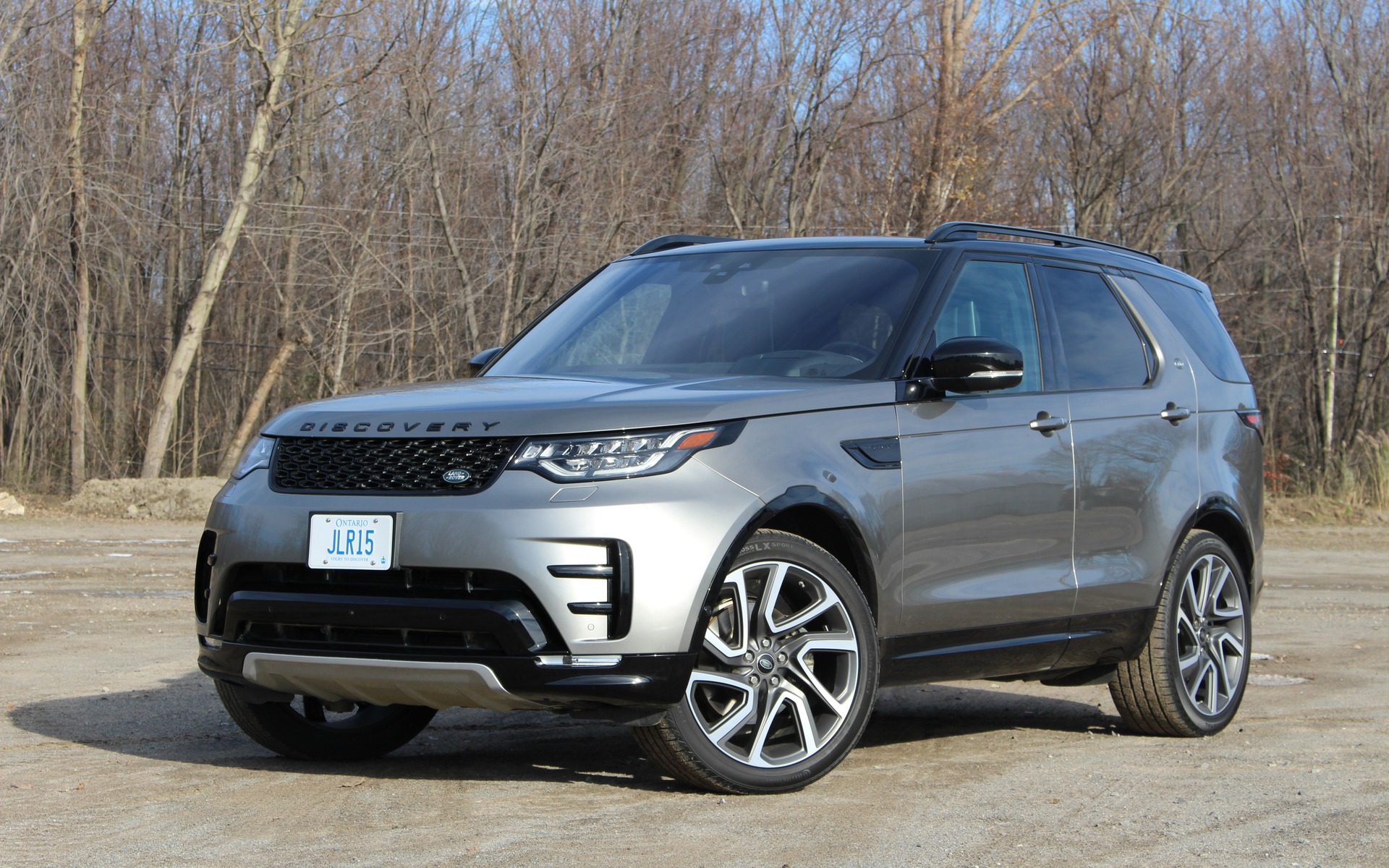 Strong points

Superb towing capacity
Off-road prowess
Lots of available comfort and convenience features

Weak points

Price shoots up quickly with option packages
Feels heavier than it is
Limited rear outward visibility
Full report
After being shaped like a box for almost 30 years, the Discovery boasts an all-new look. Well, not altogether new, since it shares design cues with other products of the English manufacturer, such as the smaller Land Rover Discovery Sport as well as the Range Rover Sport.
It's much more aerodynamic than the LR4/Discovery 4 it replaced. Sleeker bodywork reduces both wind noise and fuel consumption, so that's a good thing. Its round posterior makes the vehicle look very narrow, despite being 20 mm wider than the LR4. On the other hand, the midsize, seven-passenger SUV lost the squared-off shape that distinguished it from its rivals such as the Acura MDX, the Audi Q7, the Buick Enclave and the Volvo XC90.
The new Disco looks good, no doubt, but its new design might end up doing more harm than good. In addition, the optional 22-inch alloys that dressed up our test truck clearly define the owner's disinterest in exploiting the vehicle's off-road capabilities. In 2016, 764 units of the LR4 were sold in Canada, and from May to November 2017, the Discovery racked up 591 sales, so it's a little early to tell if Land Rover customers are embracing the new look.
Under the hood, we still get the supercharged 3.0-litre V6 that develops 340 horsepower and 332 pound-feet of torque. As before, it's connected to an eight-speed automatic transmission and—obviously—standard all-wheel drive. The 2017 Land Rover Discovery's fuel economy figures are slightly better than the LR4's, due in part to a curb weight drop of about 600 pounds, and we managed a respectable—if unimpressive—average of 12.7 L/100 km during our test.
For greater efficiency, buyers can now turn to the brand's Td6 turbo-diesel engine. This 3.0-litre V6 develops 254 horsepower as well as a stout 443 pound-feet of torque from 1750 to 2250 rpm. With the diesel engine, the Disco needs an extra second to acceleration from 0 to 100 km/h (8.1 versus 7.1 with the gas engine, according to LR) and surprisingly, maximum towing capacity drops from 8201 to 7716 pounds (3720 to 3500 kg).
On the flipside, the diesel mill is more than 40% more efficient around town and 30% less thirsty on the highway, which is a huge plus. Urban dwellers should definitely choose the Td6 engine in the Discovery, although it does make the SUV feel more truckish. Come to think of it, the Disco drives like it's bigger than it actually is, no matter which engine is shoved underhood.
The interior design is elegant and tasteful, and cabin materials—the leather upholstery in particular—are of high quality. The overall look is restrained as to not upstage the more lavish Range Rover products, but that's ok. A five-passenger layout is standard, while the third-row seat can be added as an option.
In the HSE Luxury variant, those rearmost seats can also be heated, a feature few manufacturers offer. If that's not enough to impress our neighbours, the entire two rows of rear seats are can electrically raised or lowered at the touch of a button. Negative folks will say it's great until it breaks, but we'll try to stay positive here.
An eight-inch infotainment system touchscreen is standard, but we can upgrade to a ten-inch interface for a few hundred bucks—which every buyer will likely do. The InTouch Pro system with navigation is fairly easy to use, and offers plenty of on-screen climate and audio controls in addition to a few physical buttons for quicker access.
An on-board Wi-Fi hotspot will keep kids quiet and content (a data subscription is required) and there are several USB ports for keeping our portable devices charged. An optional rear-seat entertainment system embeds two eight-inch screens in the front-seat headrests and includes HDMI connections. From a technological standpoint, the 2017 Land Rover Discovery is up to date.
As was the LR4, the Discovery is an excellent road tripper for the family, and there's up to 2406 litres of cargo space when all rear seats are folded down, in case we spotted some interesting pieces of furniture at a yard sale. The power-operated inner tailgate is more of a burden that actually being useful. What's missing are the LR4's massive window surface and three roof panels, which filled the cockpit with light.
Base price is set at $61,500 before freight and delivery charges, while our loaded HSE Luxury tester rang in at a mouth-dropping $100K. The sweet spot is the mid-grade HSE, which should cost between $75K and $80 with a few options such as seven-passenger seating and the Luxury Climate Comfort Package.
That's a few thousand dollars more than a fully equipped MDX or Enclave, and about as pricey as a nicely equipped XC90 or Q7. The 2017 Land Rover Discovery is a competent, comfortable and techno-rich SUV, but it doesn't raise the bar in the midsize luxury utility segment. However, its great off-road capabilities, its impressive towing capacity and its available diesel powertrain set it apart from its rivals, so if that's what we're looking for, the Discovery is an interesting choice.
Share on Facebook